Opportunities for Teachers and Students
Do you know U.S. teachers or K-12 schools who want to globalize their classrooms by offering more opportunities to learn new languages or study abroad? Schools and students can access these opportunities today with the help of fully-funded grants/scholarships that are supported by the Bureau of Educational and Cultural Affairs of the U.S. Department of State and implemented by American Councils for International Education.

Start or Grow your Arabic/Mandarin Program

The Teachers of Critical Languages Program (TCLP) aims to help
U.S. K-12 schools start or grow an Arabic or Mandarin Chinese language program.TCLP places EFL teachers from China and Egypt in U.S. host schools for an academic year where they teach Mandarin or Arabic language and culture. TCLPprovides teachers' salaries, healthcare, roundtrip airfare, training, professional development funds, and ongoing program support. For more
information and to apply, please visit http://www.tclprogram.org/.
 
TCLP Application Deadline: January 22, 2014
---
SWCOLT Awards and Grants
There's still time to apply!
Seeking Recipients for SWCOLT Awards and Scholarships
'Tis the season to honor a great world languages teacher!!! Adjusted deadline for nominations: January 31, 2014
Excellence in Classroom Teaching Awards
SWCOLT Awards
Visit our site to nominate a teacher to receive an award at the SWCOLT 2014 conference in Utah:
http://www.swcolt.org/#!awards/c8k2
The Excellence in Classroom Teaching Award recognizes outstanding teachers of Languages Other Than English. One individual may be recognized at each of the following levels: elementary, secondary, and post-secondary . Any teacher residing in the nine state SWCOLT area(California, Nevada, Arizona, New Mexico, Utah, Wyoming, Colorado, Oklahoma, Texas can nominate or apply. http://www.swcolt.org/#!awards/c8k2
The Friend of the Profession Award recognizes an individual or organization not directly involved in the teaching of second languages that has made a significant contribution to the profession. Any teacher residing in the SWCOLT region may nominate/apply. http://www.swcolt.org/#!awards/c8k2
Honorary Lifetime Memberships are awarded to members who have made significant contributions to SWCOLT and to the language teaching profession. Any teacher residing in the SWCOLT region may nominate/apply http://www.swcolt.org/#!awards/c8k2
---
Scholarships
SWCOLT Teacher Scholarships Available 2014
Visit their site to apply for a scholarship: http://www.swcolt.org/#!awards/c8k2
The Centro MundoLengua Scholarship offers a wonderful opportunity for a high school Spanish AP Teacher to participate in Centro MundoLengua's AP Summer Institute for Teachers in Sevilla, Spain, from June 22 to July 5, 2014. The scholarship includes tuition, room and board with a Spanish family (an individual room), course materials, completion certificate, cultural activities in Sevilla, and a welcome breakfast and farewell dinner. http://www.swcolt.org/#!awards/c8k2
The Universidad Internacional-The Center for Linguistic Multicultural Studies Scholarship offers a two-week opportunity to study language and culture in Cuernavaca, Mexico anytime in 2014. The scholarship includes registration and two weeks of course work. Transportation and lodging expenses are not included. http://www.swcolt.org/#!awards/c8k2
The Cemanáhauc Educational Community Scholarship offers Spanish language classes and intensive study of the arts and history of Mexico in an atmosphere of total immersion in the language and culture in colonial Cuernavaca, México. It is designed for a K-16 Spanish teacher who has had few previous opportunities to travel to Latin America, and who needs an opportunity to increase his/her oral fluency. http://www.swcolt.org/#!awards/c8k2
---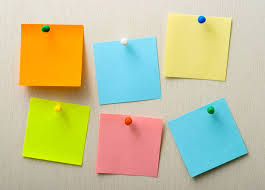 Post-Its In the Classroom
Are you a fan of Post-Its?  Do you have difficulty walking by the stickies display at Target and Staples? 
Here are some ways you can feed your addiction in class.
Working on a verb?  Give each students a stack of the smallest stickies you can find.  Have students write the infinitive and all of its forms on different stickies.  Write the subject pronouns on a different stickies.  (For one verb you'll use 13 stickies one for the infinitive, six for the subject pronouns and six for the verb forms.)  Have them also write some words to make sentences with that verb.  (For example if you're doing "to be" and adjectives have them also write stickies with "nice," "big," or "smart.")  Call out different questions and have the students hold up the correct form.  Then ask them to mix up all of their verb forms and subject pronouns.  Tell students to switch desks with their partners and to put their partners stickies back into order.  Lastly, have students make some sentences with the words you had them write down.  Students love playing with the stickies and switching chairs with their partners and they can put all of their stickies in their binders when they're done. 
Use stickies to plan:  Check out this teachers amazing system for lesson planning.
Still want more ways you can use stickies in class?  Mindsinbloom.com offers a list of 35 great way to use stickies in class.