Last week, a 2nd Ward neighbor was hit by a car at the corner of 15th & Bloomfield. A car driving north on Bloomfield Street, barely stopped at the stop sign and turned left onto 15th and hit him in the crosswalk in the middle of the day and did not stop. Thankfully, his injuries were limited to a broken leg. This is a picture of the Black Jeep (notice the rims and the formation of the stickers on the windshield). If you have any information please call Hoboken Police at 201/420-2100.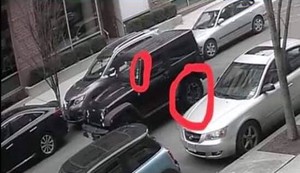 This is a story we are hearing with more frequency not across 15th Street, but across the city.
Pedestrian Safety has been in our local vernacular for a long time, especially under former Mayor Zimmer, with the main focus being improved street design and planning where we have made a number of positive changes. Last week, the administration put out this
video
which highlights Parking and Transportation Director Ryan Sharpe (who specializes in street planning) discussing Complete Streets for Hoboken. With this video, the administration also announced that they will soon be introducing Vision Zero for Hoboken with their stated goal of reducing traffic related injuries to zero by 2034. This is a great initiative and you can click
here
to learn more about what Jersey City has done since they announced their own version of Vision Zero last February.
There is certainly more we can and need to do now, in parallel – some lower hanging fruit that focuses on changing the behavior of everyone who uses our streets. Just after the accident in my neighborhood I reached out to Mayor Bhalla and shared just a few ideas centered around creating a Culture of Safety in Hoboken that we don't yet have:
Branding Hoboken as a pedestrian city - eg. having signs at our entrances that say something like "Welcome to Hoboken, where pedestrian safety is our number one priority".

Creating a #ShareTheResponsibility type campaign - Although some residents believe car drivers should bear most of the burden of changing behavior, I believe it is as much about making all users of our streets do their part including:

Cars stopping at stop signs, b

ikes stopping at all stop signs and riding with traffic instead of against, and p

edestrians not crossing midblock and not looking at their phones as they cross at an intersection.

Educating Hoboken residents on how they can and need to do their part today.

Creating safety weeks throughout the year and include resident advocacy - eg - residents donning t-shirts and handing flyers out to every car entering and leaving Hoboken that say "Pedestrian Safety is Our Priority" to raise awareness.
How you can be more involved now:
This is about raising as much awareness as possible and you know I believe that more voices are always better.
Almost every person in Hoboken walks out their door every day to go somewhere. That means everyone is a pedestrian. Even if you own a car and use it a lot or ride your bike to and from places. I know it sounds like I am stating the obvious, but we forget this sometimes when we talk about how best to use our roads. At the core, we are all pedestrians and ensuring pedestrian safety touches everyone one of us. And we all need to do our part.