Reduced Price Private/One to One Classes in SE1
BAND NIGHT IN DECEMBER !
Italy Adventure 
 From the Archive 
Link of the month
If you are looking for fabulous Retro Inspired prints, cards, wrapping paper etc  then you should  check out the wonder that is
PENNY CHOO 


Delivering a bit of yesterday today!
Click on the logo for details
Don't forget to say we sent you !
Private/one to one dance classes price reduced @ Vermouth 49, Bermondsey
Beginners, Improvers and Private 1950s Jive/Rock n Roll Classes, please click the picture below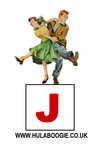 Miss Aloha produces a hour long, monthly radio show exclusively for
Rockabilly Radio, expect
vintage & retro sounds from and influenced by the 1950s
All shows can be found on Mixcloud.
Click the photo to find the shows

at Mixcloud
HULA BOOGIE ! NEWSLETTER NOVEMBER 2019 
Aloha Folks ! 
If you are gearing up for the party season you might be pleased to know we have a reduction on Private / One to One sessions at one of our venues.  Don't miss out on this festive saving.
We will have a Live Band in December ! So come on down and get boppin' and jiving as the last one was fabulous !
Inbetweem that all, Reverend Boogie & myself will be Djing and teaching Jive in Inzago, Italy, in November!
Scroll down for all news.
If you have any questions or feedback
please do contact us !
Aloha 'til later !
Miss Aloha
MONDAY 16th December 2019 
We have another night of LIVE MUSIC 
in December  with THE LEW LEWIS TRIO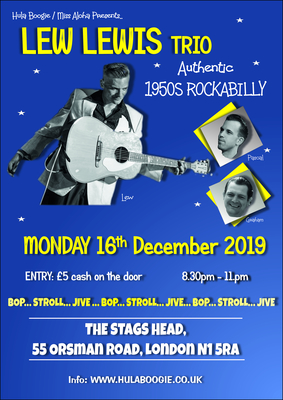 Another round of authentic rockabilly originals and covers from a Hula Boogie favourite, featuring special guest, (direct from Switzerland), Pascal Amman on guitar.
Come on down and bop, jive and stroll the night away at our last session for 2019
£5 cash on the door
Click on the poster for more details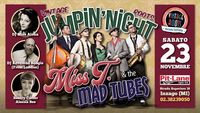 Miss Aloha & Reverend Boogie will be DJing at Vintage Roots Jumpin' Night in Inzago, Italy on
23rd November 2019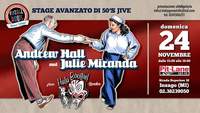 They will also be teaching an
A
dvance 1950s jive class
the next day
!
Click on the pictures for full details !
See if you can spot Miss Aloha in this music video from 2015. Miss T & The Mad Tubes featuring Big Jay McNeeley.  Miss Aloha was assistant to Big Jay during his time at  Vintage Roots Festival