Thank You
for
Your 2015
Membership
Registration
   You have added your voice to the only organization whose sole purpose is to maintain the viability of the McKay Scholarship Program.
   We will keep you informed of any issues affecting the MSP.
We bid fond farewell to Jacky Egli.  Jacky's been on the board of directors since 2008.  She's retiring
to NC.  She has been an invalu
able member of our board.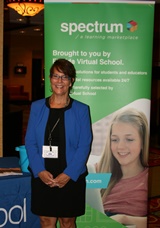 What a great conference we had in Orlando.  The venue, the speakers and the overall atmosphere was extremely positive and beneficial to all that attended. This year was our largest attendance so far with over 150 registered attendees.
    The lineup of presenters truly fulfilled the theme "No Limits to Learning".   Everyone left the conference with great information and ideas for making their schools more effective educationally. 
   Our concerns and agenda for the next legislative session were discussed.  The Coalition will continue to work to remove the deductions of FLVS courses from the student's scholarship.  We are also working to develop a more effective Transition to Work component for our 18-22 year old students.
    A special thanks to Jacky Egli for serving as the Conference Committee Chairperson.  She did an outstanding job putting everything together and organizing the event. 
   If you missed this year's event makes sure you put the conference on your calendar for next year.  Renew your membership, if you have not done so, and lift your voice with ours to keep the McKay Scholarship strong.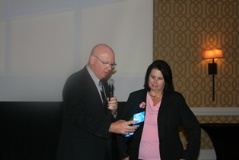 President Steve Hicks and Senator Kelli Stargel
Distinguished Service Award
   Senator Kelli Stargel was awarded the Distinguished Service Award from The Coalition at the annual conference.  Sen. Stargel has always been a champion for the McKay Scholarship in both the House and the Senate.    
   Last year, she helped to provide more services to students who have disabilities but are not eligible for the McKay Scholarship.  She sponsored the Personal Learning Savings Account bill which will provide scholarships to students with autism, cerebral palsy, Down syndrome, intellectual disabilities, Prader-Willi syndrome, or Spina bifida.  Over 1,000 children have already been accepted to receive this scholarship. 
   Great job, Senator Stargel!

FLVS serves students on the McKay Scholarship.  The statute allows for McKay Scholarship students to enroll in no more than 2 courses per year.  Parents should be aware that the cost of the course is deducted from their scholarship amounts. For more information go to
www.flvs.net
.