I'm back in Buenos Aires and am excited  to be performing in two live shows in the coming days.
I am also available for individual tango lessons or guidance in Buenos Aires for visitors.
 Next December/January I will be hosting a
Tango Tour to Buenos Aires
!
 Contact me to have your input as we work on the details of this tour.
I'm excited to be offering several series of online classes in August and September.  
North Indian Classical Dance Kathak

for beginners is a 6 week series on Sundays from 10-11:30 am PT.
 This class is good for absolute beginners, for those needing a refresher and for those who want to understand rhythm in general and train their bodies for other dance styles.  I am also be teaching a
4-week series on

Turkish Zeybek in 9/4 Rhythm

on Saturdays from 11:30-13:00 PT.

Zeybek is a family of dances from the Aegean region of Western Turkey danced by men and women.  It is a great way to explore irregular rhythms and for those of you interested in Turkish dances such as Roman or Karşılama, here is an opportunity to understand more about the facinating family of rhythms based on 9! If you missed the first session you can still catch up with the recording.
On the 
Pomegranate Garden Dance platform
 this Sunday I will 
be offering an in-depth look at the 
Armenian Diaspora
with a Cultural Talk on August 14th followed by a workshop series on Armenian Diaspora dances from the USA on August 21 & 28 and September 4th. In the fall we have more lectures and workshops scheduled:
At the end of September I will be in Germany to teach
workshops on
North African and Egyptian dance in Neumarkt on September 17-18.
 We will have a Cultural Talk the 16th, which will be a survey of dance in North Africa.
On September 24-25th I'm excited to have the
Intro weekend of a new ANAR DANA Germany
project in Göttingen.
 Whoever comes to the Intro Weekend can help us choose our new repertoire!  
Then I fly to Seattle 
for ANAR DANA
.  
ANAR DANA Seattle has a
Cultural Evening on Afro Iranians and the Bandari Region of Iran 
that is open to the public and also on Zoom! 
It is your

last chance to join ANAR DANA Seattle
on the first weekend of October.  We are open to accepting new dancers. Come see what a marvelous community of movers and learners awaits you!  We are currently working on the following dances: Algerian Nailiyat, Egyptian Baladi, multi-ethnic songs and dances from Central Bosia, Henna celebrations from Elazığ in Turkey, Armenian "Uzundara", Iranian Bandari and Afghani Logari.
Awaken Your Dancing Body!
continues to inspire me profoundly.  People around the world join for this hour of deep exploration of the body.  This is a class for all levels of experience and capability.  In fact we have had people using the class to recover from major injuries. Class is EVERY Wednesday and Saturday at 10am PT and people who attend regularly have seen a big difference in their bodies. You can write to me to join the Whatsapp announcement group for these classes. Come discover new things about how your body moves! Here is what one student has to say:
Believe it or not, things have gotten more difficult for my work in this (hopefully) last phase of the pandemic.  So

I am especially

grateful to those of you who support my work on  the
ANAR DANA Patreon Page

.  We have new material every month: performance videos of ANAR DANA and of me (including some cool vintage footage) as well as  Cultural Talks you may have missed or want to review and interviews with some of our diverse and fascinating community members.  Please check out what we have to offer!!! This is a great way to support our work even if you can't attend events.
I look forward to dancing and exploring with you!
***********************************
Time zones for your reference:
10:00 am PT (UTC-7) West Coast USA =
14:00 ART (UTC-3) in Argentina =
19:00 CEST/MESZ (UTC+2) in Western Europe
************************************
Every Wednesday & Saturday  
10-11 PT (UTC-7)
Awaken Your Dancing Body!
15 Euros for drop-ins or 50 Euros for 4 classes in one month or 80 Euros for 8 classes in one month. Men & women, old & young are all welcome to join! 
Join the Whatsapp group for easy communication.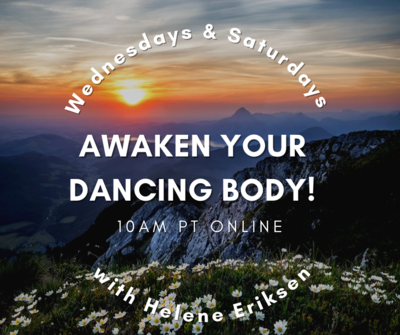 *********************************