SPOOKS AND WALKING DEAD: GREAT AND GOOD
THE ROAD TO FURY IS PAVED WITH GOLD
PIRACY JAIL TERM "NO DETERRENT"
ANTI-PIRACY COMPANIES TEAM UP
…AND FOPP'S BFI PROMOTION
A ONCE IN A LIFETIME RELEASE
I DON'T WANNA BE A PINHEAD NO MORE
CONSUMER RIGHTS ENTER DIGITAL AGE
YEAR'S BEST SELLERS SO FAR…
---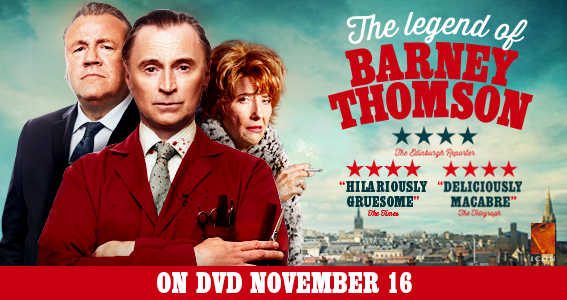 ---
If you can't read this newsletter or see the ads, please click
here
It was a good week for...

eOne, with both Spooks and the latest Walking Dead excursions off to a strong start…

It was a bad week for… Pity the poor pirate talking about his jail term…
They may spend much of their time under the radar and hidden away, but the undercover operatives from Spooks burst into broad daylight this week as eOne released The Greater Good got off to a good start, parachuting into top slot in the Official Charts Company's midweek charts after selling more than 30,000 units in its first few days on sale. It leads an eOne friendly chart, with the company's fifth season of The Walking Dead in at number four as the second highest new entries in the midweeks. Commenting on eOne's strong start to the week, the company's Stephanie Don said: "
We are delighted with the success of Spooks - The Greater Good and The Walking Dead Season 5 with both titles dominating the charts this week. It's always a pleasure working with such eagerly awaited and beloved properties, and is a testament to the outstanding marketing campaigns and extensive retailer support we received."
There's a trio of further new entries in the Official Charts Company's midweek charts too, all heading for the top 10 on Sunday night when the full week's chart is unveiled, are Arrow – The Complete Third Season at number five, and Thomas & Friends – Sodor's Legend Of The Lost Treasure and Man Up at numbers eight and nine respectively.
Next week's big release is, of course, Mad Max Fury Road and Warner has been ramping up for the physical release on Monday October 5, which follows hot on the heels of its groundbreaking digital bow (it claimed a first after appearing on games download platform Steam). The major had director George Miller in town supporting the release and is looking forward to its release. Commenting on the actioner – one that is certain to end up on many year-end Best Of lists, ours included, Warner's deputy director of marketing for the UK Martin Gough said: "With event level set up at retail, director George Miller in town to promote the release, a robust media plan including digital outdoor and an innovative social campaign generating buzz amongst the core fans we're all set for a fantastic release."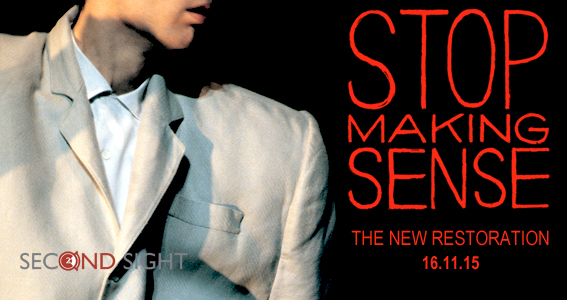 ---
Also due on Monday – and with PR kicking in that included a whopping five page feature in Friday's Guardian, as well as a front page flash – is the anniversary edition of Back To The Future. As well as celebrating its 30th anniversary this month, October 21 2015 is also the date Doc and Marty travel to in the second film of the trilogy, making Universal's release all the more prescient. As the major's catalogue manager John Partridge said: "
In amongst all the online memes about self-tying shoelaces and hoverboards comes a wealth of activity from Universal to support the new boxset releases on Monday. Highlights include exclusive press interviews with stars Michael J Fox, Christopher Lloyd and Lea Thompson, who were in town recently for London Comic Con. Lloyd also appears on a new bonus disc of content exclusively available in the new boxset – a new short film" Doc Brown Saves the World" in which the good doctor explains exactly why some of the more outlandish inventions from the 2015 of the movies didn't come to pass. As for the SKUs themselves – casual fans are catered for with a standard four-disc DVD and BD boxset whilst the frequent DeLorean flyer can choose between individual and boxset steelbooks from Zavvi or the amazing Flux Capacitor boxset which boasts a 50-page book of never before seen images (different content to the US edition) and special light up packaging. It might not transport you into the future, but it will take you back to 1985…" Marketing includes a vod campaign with a new 30 second trailer, a digital campaign on Wikia with a countdown clock and new trailer, social campaign offering up new content and leafleting in the Jurassic World release, as well as PR. Oh, and there's also a further four Michael J Fox titles riding on the back of it…
Before we go on to more forthcoming product, here's one of the strangest stories of the week, as a former illegal camcorder Phillip Danks, who has been released to home detention after serving part of a three-year sentence for filming and uploading Fast & Furious 6 on to the Internet, spoke out. And although he did say he didn't think jail was an effective deterrent, he did bemoan the fact that his prison term meant he couldn't get a job, had no prospects and had put an intense strain on his family and said it "wasn't worth it". (That sounds like a deterrent to us, to be honest with you.) He told Torrent Freak: "I was locked up with all sorts of people, including murderers, bank robbers etc. I remember one guy who I worked with in the kitchens who had been sentenced to 18 years for killing someone. He got out and within six hours was arrested again for killing his victim's friend. To be honest I was somewhat of a celebrity in prison, amongst both prisoners and staff alike. Not one person (including my offender manager) thought the punishment fit the crime. Personally I believe locking people up will not work, prison is easier now than ever. I had (which everyone gets) a 22in Sharp TV with 135 channels, a phone in my cell, a kettle, and my own shower and bathroom facilities.
In all honesty prison was comfortable, I was never scared or even worried about the people around me. So no, prison does not work. Prison isn't a deterrent for the most heinous acts of crime, let alone 'copyright theft'. "Prison has affected my life dramatically. I lost my home due to not being able to keep up with rent, I lost my car, job, and everywhere I go I'm not recognised as someone who does good things, I'm just 'that guy who's been in prison'. I applied for a job at a sports shop last week, where I have worked before and known the manager for 13 years. His response was 'we do not employ ex-cons'. So it's even difficult to gain employment. Life was more of a strain on my family then on me. Whilst I was in prison I sadly lost two of my uncles and my grandad, all of whom I never got to say goodbye to because I was refused leave to go to funerals. I am not a religious man but was forced to pray at the chapel because it was the only way to say goodbye. People really need to think twice. Going to prison is an extremely tough strain not on yourself, but on your family. You will lose respect from loved ones, friends and work colleagues. Prison never has a happy ending, it will always hang over you wherever you go. Simply put, prison isn't worth the kudos you get from being the first to leak a movie, stay away from it all and be happy with your family."
Some potential bad news for illegal downloaders as two companies involved in the fight against the scourge of our industry have announced they have joined forces to work together in the UK. Law firm Hatton & Berkeley is working with German anti-piracy data experts Maverick Eye to target illegal downloaders, using the "education and reprimand" philosophy they have already employed to UK-based illegal downloaders of the Robert Redford film The Company You Keep. The two believe that the increased legal backing they have in this country will help target people. A joint statement said: "Since July this year, Hatton & Berkeley and Maverick Eye have been busy working with producers, lawyers, key industry figures, investors, partners, and supporters to develop a program to protect the industry and defend the UK cinema against rampant piracy online. The entertainment industry can expect even more from these experts as they continue the fight against piracy in the UK." Maverick Eye's Patrick Achache added: "We look forward to supporting Hatton and Berkeley in their program in the UK. Hatton & Berkeley understands the needs of their clients. They understand the big picture. Working with Robert (Croucher), we will be able to provide them with the support they need for efficiently and effectively dealing with the problems of piracy." Illegal downloaders can expect letters in the post and further legal activity…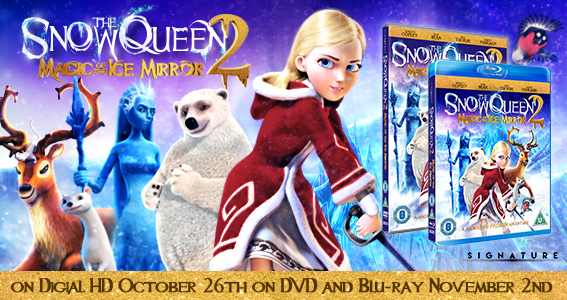 ---
In case you hadn't noticed, the James Bond marketing machine is truly kicking into gear, with front covers aplenty (we spotted Daniel Craig on a welter of magazines in our local newsagent this week) with everyone from Empire to the Mail On Sunday's Event digging out those features about the cars, the gadgets, the girls, the baddies and the theme tunes again. And as well as the theme tune to Spectre making waves this week, the video industry is starting on the drafting activity with a raft of opportunities. Chief among these is a gorgeous set of Bond titles from the 007 catalogue with their own, bespoke, exclusive artwork appearing in hmv stores. Commenting on the range, hmv's David Athey said: "Bond is obviously a huge opportunity this Q4 and while the boxset will lead the line, we're very pleased to be able to offer hmv's high street and on-line customers something different. The exclusive Blu-rays feature two iconic elements from the world of Bond: sleeve art taken from the opening credits of the films, along with original theatrical artwork within the gatefold sleeve, which we're sure will appeal to gifters and collectors alike."
Meanwhile, Fopp stores have been working closely with the BFI on a huge promotion for the film organisation's DVD arm. It follows on from the success of similar initiatives in recent years and furthers the links between the two. Commenting on the promotion and its success, the BFI's head of video Sam Dunn said: "Fopp and BFI DVD have been working together for a number of years to establish an impactful annual campaign which runs during the London Film Festival, and each year the improved sales results are a testament to its success. Last year saw 24,500 units sold in under three and a half months, this year we hope that the exciting selection of titles will deliver results to top 2014." Fopp's Laurence Cane said: "The BFI catalogue is made up of an eclectic mix of credible classics, world cinema, TV & documentaries and Fopp's annual campaign has proven to be a consistent hit with Fopp's customer base, who are often looking for something different to the mainstream. With overall sales on the BFI catalogue continuing to grow for us each year it is always a pleasure to support what the BFI does." It joins a number of other high profile promotions in the thriving retailer, taking in the likes of Shameless, 88 Films and Dogwoof.
The man in the big suit is back… Independent label Second Sight has this week announced that the film described by many, including Rolling Stone, as the "greatest concert movie ever made", Stop Making Sense, is coming to Blu-ray and DVD on November 16. The innovative live film, which starts with front man David Byrne strolling on to stage, alone, with a tape recorder and ends with a full live band, assorted backing singers and more joining the singer, by now wearing the aforementioned big suit, is more than 30 years old, but Second Sight's version promises to be the definitive take on the definitive live film. The company's Chris Holden said: "This film is a real personal favourite which I saw a couple of times at the cinema when released. To acquire it for the Second Sight catalogue all these years later is a real thrill. The existing material that has been used for previous releases I didn't feel was good enough, there was a lot of dirt, scratches and other damage. A lot of time has been spent addressing these issues and over 60,000 instances of marks have been removed. The film looks infinitely better than it has for any previous release. And so, not the same as it ever was."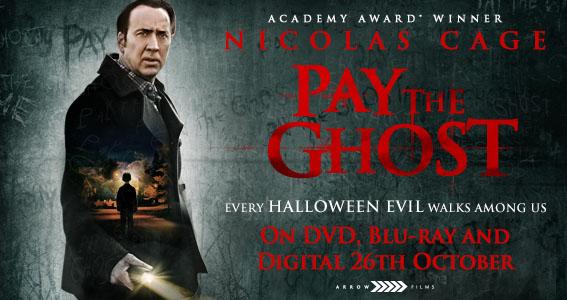 ---
Acquisitions news and Metrodome, has been busy again, picking up a whole raft of films at the Toronto International Film Festival (TIFF). Its haul includes a welter of films due to air at the London Film Festival. The acquisitions include The Daughter, starring Geoffrey Rush; Bang Gang (A Modern Love Story); French horror The Fear; Penelope Cruz starrer Ma Ma, from acclaimed Spanish director Julio Medem; hip hop documentary NWA & Eazy-E: The Kings Of Compton, which arrives on the back of hit biopic Straight Outta Compton and SXSW hit Brand: A Second Coming, a film following comic Russell Brand on his new voyage of political discovery. The latter will air at LFF before a theatrical bow on October 23 and DVD and vod release in November Commenting on the impressive line-up, Metrodome's ever-eloquent head of acquisitions Giles Edwards said:
"
Our typically mercurial slate for the remainder of the year and on into 2016 represents world cinema at its zenith and the depth of filmmaking talent around the globe at its most inspiring. Each filmmaking team is virtuosic. each story exemplary, each movie an aesthetic coup."
Don't know about you but we're still wading through a whole bunch of check discs and screener links for films that aired at Film 4 FrightFest. We've already written here about one or two of our favourites, including Lionsgate's excellent Turbo Kid (out on Monday October 5) and we've seen another doozie this week in the shape of Studiocanal's excellent We Are Still Here. It's got that right mix of the modern and classic in horror terms, offering plenty to old 1980s VHS genre fans such as ourselves. It's due from the label on October 19, just ahead of Halloween. Commenting on the release, Studiocanal's Emilie Barra said: "We Are Still Here is a tense and chilling ghost story from the producers of The House of the Devil and Cheap Thrills.
Starring scream queen Barbara Crampton (Re-Animator), it tells the story of a grieving couple that discovers vengeful spirits in their new home.
The film was one of the breakout hits of this year's FrightFest with Sci-Fi Now giving it eight out of 10 in its recent FrightFest round-up and it will also feature at Grimmfest this weekend.
We are targeting fans of horror, old and new, as well as seasonal Halloween DVD buyers.
We have given the DVD a mirrorboard O-ring to highlight the creepy artwork and to give it impulse-buy appeal." It joins a wealth of Studiocanal's FrightFest friendly horror titles, all of which are featured on the company's Horror Vault Facebook page over here…
We've already written about the rather excellent new incarnation of Danger Mouse and the adventures of the rodent-like secret agent finally arrived on screens this week as CBBC began transmission of the programme ahead of Fremantle releasing the accompanying DVD of his new capers. It quickly became the most watched show on CBBC this year, beating its rivals and outperforming CBBC's normal ratings for the channel and in the key demographics. Commenting on its success, Fremantle's Grahame Davidson said: "
We're absolutely delighted with the viewing figures for Danger Mouse which is the number one show on CBBC year to date. The positive reaction across the entire media spectrum – retail has been tremendous – sets up the forthcoming DVD and digital release of Danger Mouse – Mission: Improbable nicely ahead of launch on November 2."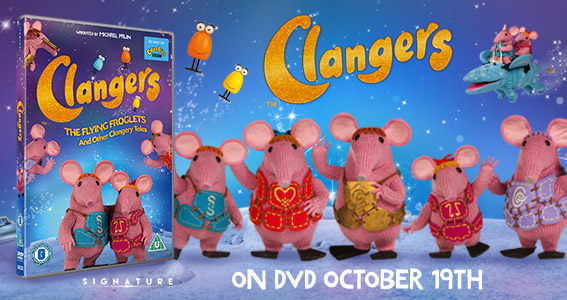 ---
It's a busy time ahead for RLJ Entertainment's Acorn imprint, which is enjoying a raft of releases in the coming months, not least on October 12, when it has a slew of titles entering the market. Titles due on that day include Pompidou, the semi-silent TV comedy series from Matt Lucas, with full support from the comic and his near 1 million Twitter followers. Also coming on the 12
th
is, ironically, the 12
th
series of New Tricks. This set features The Top 10 moments picked from all 117 episodes. And on the same date comes The Complete New Tricks for the first time ever, all 12 series in a lavish and collectable boxed set. For sci-fi fans, there's Dark Matter Season One, the exciting series which recently aired on Syfy to popular acclaim from sci-fi fans of Syfy and more. And last but not least, also on October 12 comes Britain's
first ever transgender sit com, Boy Meets Girl which aired on BBC2 starring Rebecca Root along with Denise Welch and Harry Hepple. RLJ Entertainment md Stuart Shaw said: "Remember, remember the 12
th
of October which while not exactly rich in gunpowder, treason and plot, is remarkably rich in sci-fi drama, silent and transgender comedy and some celebrated New Tricks. For one month it's a solid representation of why the Acorn label leads in TV on DVD. And with some more great boxed sets building up towards Christmas, this is definitely lighting the touchpaper of a great Q4."
Arrow Video has sent genre fans into meltdown this week after unveiling the full specs and details of its forthcoming Hellraiser package, which collects the first three films in a lavish four disc set, with documentaries aplenty, new interviews and featurettes and a 200 page hardback book. The set is limited to 5,000 copies, which if its recent success with Videodrome is anything to go by, will be snapped within days by devotees of Clive Barker and his Pinhead creation. Commenting on the set, Arrow Video's Ewan Cant said: ""We're thrilled to finally be able to reveal the full artwork and specs for our forthcoming release of Clive Barker's inimitable Hellraiser. Featuring the first three instalments in the classic horror franchise, we've entitled our limited edition set The Scarlet Box as a nod to Barker's (and the character of Pinhead's) latest literary outing, The Scarlet Gospels. As a life long Barker fan, it has been a true labour of love putting this release together, and we hope it shows on resulting package. Special thanks goes to Clive Barker's official archivists Phil and Sarah Stokes for their invaluable assistance on this project. With their help, we've produced what we think will be the definitive release Hellraiser and its first two sequels."
We've been asked to point out that the Discovery deal inked between the channel and Sony Pictures Home Entertainment (see last week's newsletter) doesn't cover all Discovery channel output in the UK, much of which will still come through the Go Entertain operation. The SPHE deal will take in the Racing Extinction and How It's Made strands, Go Entertain has the other Discovery titles. We're happy to clear that up…
Plenty of coverage this week for new consumer legislation which came into effect. The reason? Well, under the Consumer Rights Act 2015, digital content is, for the first time, protected by law, meaning that if it's not as described, consumers can demand action against the retailer. It also enshrines 30 say no quibble refunds for damaged goods and states that mail order deliveries are the retailer's responsibility until they arrive with the consumer, meaning retailers can't blame couriers.
And, just like the circle of life, we come back to where we started in our news section and the Official Charts Company. For the organisation has celebrated the end of the third quarter by releasing the list of the year's 40 bestselling DVDs and Blu-rays thus far. And it's no surprise to see Paddington sitting pretty at the top, with more than 1 million units shifted. It's followed closely by The Hobbit – Battle Of The Five Armies (843,000 units) and, at number three, Fifty Shades Of Grey (811,000). Number four is The Hunger Games: Mockingjay Part 1 (639,000) and at number five, capping a great year so far for Studiocanal, is The Imitation Game (554,000). Outside of the feature film sector, the bestselling TV title thus far is Game Of Thrones Complete Fourth Season and in the special interest arena another Universal title, Charlotte's Three Minute Belly Blitz is the biggest seller so far in 2015. You can see the full listing here.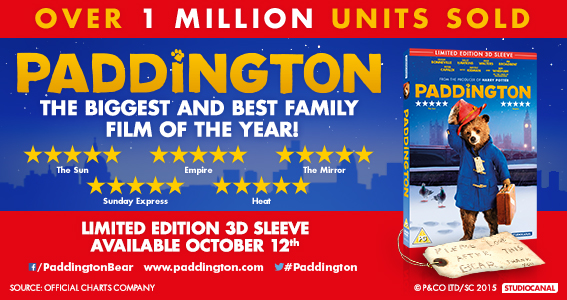 ---
QUOTE OF THE WEEK
"The movie industry do staggered releases to build up suspense with a movie but I for one know this does not work. As you know movies are (usually) released in the company they are created in, hence James Bond and Fast 6 being released here in the UK first. However, this just creates an unnecessary window for pirates to grab the film before anyone else. It gives them the opportunity to obtain maximum results from being the first group or person to leak the movies online because people who cannot watch it at the cinema will be wanting a pirate copy to give them their movie fix."
Illegal camcorder and uploader Philip Danks explains how it works (as he sees it)…
AT THE MOVIES
Little in the way of new releases from last weekend's crop of newbies made the UK box office top 10. Miss You Already and Solace, with just under £500,000 and £400,000 respectively, were the two. Legend, meanwhile, is now the highest grossing homegrown 18-rated film ever after outstripping Trainspotting.
Looks like it won't just be live action films expanding the Ghostbusters universe, as it has emerged this week that ghost maestro Ivan Reitman is working hand in hand with Sony on a feature length animated film. Little else is known about the tooned Ghostbusters, but fingers crossed it will be an improvement on the previous animated TV series based in the franchise...
TV now and not content with the current series or the impending sayonara for Clara Oswald, plans are afoot for a new Doctor Who spin-off. The offshoot, aimed more at a teen audience, will land next year...
Sticking with TV and the hardest working men in show business, Phil Lord and Chris Miller, the men behind the likes of the Jump Street franchise, the Lego Movie and one of our current favourite TV shows, the excellent Last Man On Earth, are now working on another TV series. The new outing will be based on the hit podcast Serial...
SITE OF THE WEEK
Head over to our old pal Nick Gibbs-McNeil's ace

kidzcoolit.com

website, where our very own junior correspondent Albie Murray has contributed reviews of the likes of Moomins On The Riviera and Pan…
TWEET OF THE WEEK
TRAILERS OF THE WEEK
The Bond hype continues to build…
One of this week's most talked about…
Everything but the kitchen sink in here…
To subscribe to The Raygun newsletter, please email info@theraygun.co.uk
with subscribe in the subject matter
To unsubscribe, email info@theraygun.co.uk with unsubscribe in the subject
For editorial or advertising queries, contact tim@theraygun.co.uk