A New Find - PacaBuddies!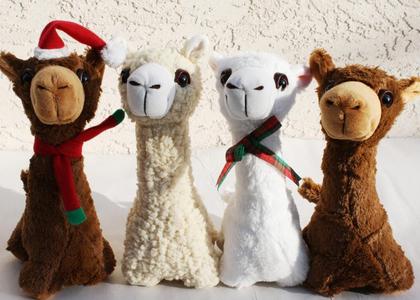 PacaBuddies (L to R): A, B, C, D
These cute PacaBuddies are adorable.
Make great gifts!


Don't wait. Available at wholesale for a limited time.
Wholesale: $9 each
Suggested Retail: $19.95
Minimum order: 16 PacaBuddies
Order any mix (A, B, C, D). Just add to Socks order form.
---
Order Now - New Small size
Women's Small (or Kid's Large)

USA Made Alpaca Socks at Wholesale
Showcase alpaca fiber warmth
with easy selling alpaca socks
MADE IN USA !!
Please consider these
Made In Pennsylvania
alpaca socks for your farm store or boutique.
Made at a 100 yr old mill in Southeastern PA, these Superwarm alpaca socks are what alpaca is all about! Warm, strong and soft. Excellent winter socks.

Extras received with qualifying orders:
1. Receive popup tabletop ad poster*
2. Be listed on Choice's Retailer webpage*
3. No postage on larger order*
4. No hassle return Guarantee.
If they don't $sell, we take them back!
* For qualifying orders.
---
Show off Quality USA made Alpaca!
Our top selling Superwarm socks make excellent ambassodors of alpaca quality, warmth and comfort for your store.
Available in:
* Cocoa Brown in Medium(Womens), Large (Mens) and X-Large
* Black in Medium(Womens), Large (Mens) and X-Large

* NEW Women's Small/Kids Large in both colors.
Alpaca sock for cold weather work and fun, including:
Skiing / snowboarding
Hunting / fishing
Snowmobiling
Hiking / Camping
Construction / Fire / Police
Farmers / Ranchers
Motorcyclists / Mountain Bikers
Birkenstocks
Cold feet at home and even in bed!
many other uses! What will you do with yours?