Enjoy your winter getaway at a private villa with concierge service and enjoy a 20% discount for 2017. Sea Horse Ranch luxury resort in the Dominican Republic offers private villas ranging from three to six bedrooms, with 24/7 concierge service and security.
The 250 acres of sprawling grounds along the Atlantic ocean feature lush tropical gardens and exclusive amenities such as semi-private sandy beaches, two ocean front pools within a grotto cove, a Tennis Club with five clay courts, an Equestrian Center and one of the North Coast's best seaside gourmet restaurants, The Beach Club.
Sea Horse Ranch provides full concierge service and is happy to facilitate a memorable travel experience for all their guests. Whether it's arranging for child care, a personal chef, introducing a guest to hidden treasures of the local beach towns or helping a guest stock their refrigerator full of particular favorites, Sea Horse Ranch is known for their personalized service.
SPECIAL OFFER: Reserve your 2017 winter villa vacation (Jan – March, 2017) by December 1, 2016 and receive a 20% discount. Must mention this special offer at the time of reservation.
---
Culture & Art: Adolfo Faringthon Curates Jazz Festival Exhibit
Acclaimed visual Artist Adolfo Faringthon of Sosua, Dominican Republic, will curate a 20 Year Retrospective Exhibit featuring the art and memorabilia of the Dominican Republic Jazz Festival.
The traveling exhibition will debut on September 26th, 2016 at Bellas Artes in Santo Domingo, continue on in October at Casa de Cultura in Puerto Plata, and from November 2016 until January 2017 will be on view at its final location, Casa de Arte in Sosúa,
Adolfo Faringthon is the Jazz festival's Artistic Director, and the exhibit will include the original artwork and festival posters that he created for 16 of the 20 years of the Dominican Republic Jazz Festival, along with other festival highlights and memorabilia.
This exhibition will feature the most complete collection of the 20th edition festival tee-shirts, emblematic photography, multi-media presentations, full poster collection, original autographed pieces by artist Arturo Sandoval, Dave Valentine, and Giovanni Hidalgo, and more.
The 20th Dominican Republic Jazz Festival will take place November 8-12, 2016 with dates in Santo Domingo, Santiago, Puerto Plata and Cabarete. During the month of October, a cultural street fair featuring live jazz by local artists and FEDUJAZZ students will be held every weekend in Sosúa, on Pedro Clisante Street, to promote and celebrate arts and culture. For more info, visit the Dominican Republic Jazz Festival website, link below.
---
Run for Sosúa!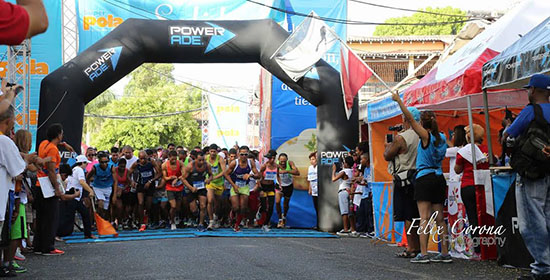 Sea Horse Ranch is a proud sponsor of the Sosúa 10K road race, organized by the Sustainable Development of Sosúa (ADSS), which will be held on Sunday, October 16, 2016 at 7:00 a.m.
The Sosúa 10K is a ten kilometer (6.2 miles), running competition to be held on the streets of downtown Sosúa, Dominican Republic.
Advance registration required. To reserve a place, please contact event organizers at adssosua@gmail.com, or call 809-653-7993. Come out to support the athletes as they compete in this annual event, and cheer on all the participants as they race to the finish.
---
Featured Property: Villa Luna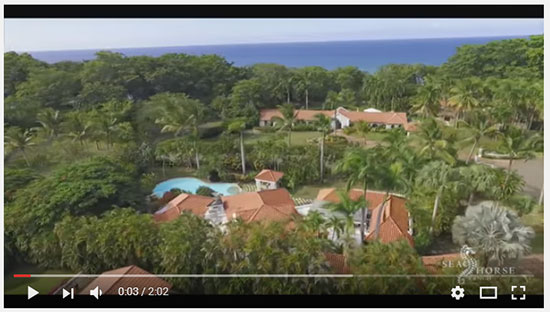 Villa Luna is a stylish haven that combines beach-house inspired interiors with luxurious Caribbean design. This 4 bedroom, 4 bath villa epitomizes coastal living with seamless transition between indoor and outdoor access, enjoying ocean breezes and lush tropical garden views.
Verdant plantings frame the impressive walking path to the front door. Inviting Caribbean furnishings grace the living room that opens onto ample tiled terraces to the ultra-private pool surrounded by soaring palms and mature tropical plantings.
All four bedrooms feature ensuite spa white bathrooms with modern furnishings and fixtures. The commercial style kitchen features stainless steel counter tops and appliances and is designed for chefs that cook, socialize and entertain. Basil, arugula, chives, cucumbers, thyme, rosemary and coriander thrive in the raised herb gardens.
Located in one of the best areas of Sea Horse Ranch, enjoy The Beach Club restaurant and lounge for drinks, lunch or dinner, and indulge in the oceanfront swimming pools in the El Bosque nature preserve, all within a few minutes' walk. Villa Luna is perfect for families or couples seeking a vacation experience unparalleled in the Caribbean. It is a wonderful primary or second-home investment that enjoys superb rental potential.