GOING UNDERGROUND WITH UNIVERSAL…
…AND THE MUMMY IS ALL WRAPPED UP
THING IS WHAT IT USED TO BE
MANGA HAS THE HALO EFFECT
…AND RACES AHEAD IN PR STAKES
STRANGER THINGS IN AND ON TOP
THEATRICAL MARKETING EXCELS
QUOTE OF THE WEEK
TRAILERS OF THE WEEK
---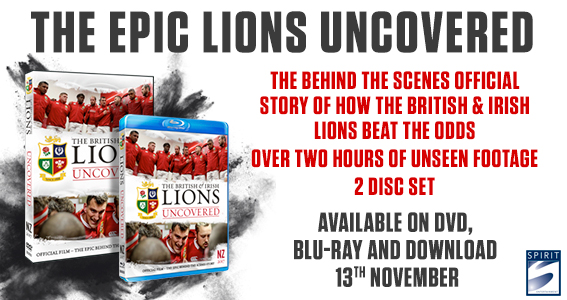 ---
If you can't read this newsletter or see the ads, please click here
It Was A Good Week For... Fast & Furious 8 followed hot on the heels of Wonder Woman…
It Was A Bad Week For… Google takedown notices now total 3 billion…
Launches and events aplenty, titles selling big numbers… Yes, Q4 is well and truly here. And after an impressive week one for Wonder Woman (we covered it here last week, of course, but the Official Charts Company has confirmed it sold 180,000 in its first week on sale), it's been Fast & Furious 8 that has come screeching out of the blocks this week. According to the Official Charts Company's midweek bulletin, the title went from 0 to 94,000 copies in its first three days, with a further Fast & Furious Collection also notching up sales, it was at number 38 in the midweeks. Commenting on its success, Universal's Poonam Chudasama said: "Fast 8 has had a solid performance this week so far supported with a bold 360 media campaign and a strong set up from our retail partners which will continue throughout Q4 into the seasonal period."
Fast & Furious 8 has managed to depose the mighty Wonder Woman from top slot after one week, although, as noted aboVe, it was an impressive week one performance from the year's biggest superhero movie. Elsewhere in the midweeks according to the Official Charts Company, The Crown from SPHE, another title covered here last week, is at number six, with another based on a real-life drama, Churchill, a place below it at number seven and, just further down, The Shack from eOne. A new outing for Thomas & Friends, Journey Beyond Sodor, is at number 13, with another pre-school favourite, Peppa Pig: My First Cinema Experience, at number 25. All Round To Mrs Brown's is new at number 22, while the sixth season of Once Upon A Time is at number 40.
Winston Churchill has been everywhere this week, from The Crown from SPHE, where he's played by John Lithgow, to, a place below it, Lionsgate's Churchill, where the lead role is taken by Brian Cox. Lionsgate marked the release by hosting a cigar smoking masterclass at The Den in Wardour Street in the heart of London's Soho, with entertainment and men's lifestyle magazines being told how to choose, cut, light and smoke a cigar. Among the publications on hand (a heavy cold prevented us from going to smoke cigars, for obvious reasons, although the accompanying whisky would have helped), Loaded was there to film a session with the cigar sommelier which it aired intercut with scenes from the film, while Digital Spy, Candid Magazine, The Idle Man and Gentlemen's Good were also on hand, which further aided social media buzz. There was also a media drop to select publications. Lionsgate's Ben Grunbaum said: "Sales have been really positive this week and this is in addition to fantastic EST sales across all key platforms. Being a great British film we're looking forward to strong catalogue sales in its lifecycle."
Also entering the top 10 this week is The Shack, which has proved, once again, that any Christian-related film will, if it's presented and marketed correctly, be picked by its target market in great numbers. And, like Signature and Kaleidoscope before it, eOne has managed just that with this Sam Worthington starrer. Commenting on its success, eOne's Jeff Suter said: "It's great to see The Shack in the top 10 this week. It's a film that appeals to a very specific audience and its fantastic that this audience are seeking out the DVD this week. Our campaign focused heavily on Christian and church going audiences across the UK and there has been a huge amount of engagement with the campaign across a wide range of media. It has also been key to have strong distribution across the supermarkets and non-traditional outlets."
---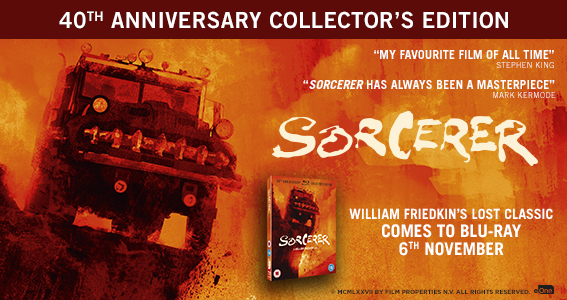 ---
We've praised it here already, but HMV's excellent Premium Collection imprint continues to go from strength to strength. HMV is continuing to add titles to its ever-growing Premium Collection and, what's more, the retailer is bringing more and more high profile titles to the range. It's sticking to its specs for the imprint, with each release offering dual format discs as well as a download, with additional features, sumptuous packaging and other goodies, such as posters, booklets and artcards. Recent additions have included Halloween-friendly titles alongside such biggies as The Shining and A Clockwork Orange, while November will include a brace of Humphrey Bogart classics and more. Commenting on the ongoing Premium Collection releases, HMV's John Delany said: "The only@hmv Premium Collection continues to support a wide range of essential classic films on Blu-ray. This week saw the release of House Of Wax starring the great Vincent Price, including a 3D Blu-ray version (which is only fitting for the biggest 3D film of the 1950s!), alongside the The Haunting, Stephen King's Pet Sematary and a new Special Edition of Stanley Kubrick's A Clockwork Orange. November sees the release of The Maltese Falcon and The Big Sleep which are both incredible examples of the Film Noir genre, and of Bogart's screen presence, while Frank Capra's Lost Horizon celebrates it's 80th anniversary this year. It's also the fifth title from the 1930s that we've released in the range, following: Public Enemy (1931), Little Caesar (1931), King Kong (1933) and Adventures Of Robin Hood (1938). That just goes to show the longevity of classic cinema. None of these releases would be possible without the support and collaboration of our studio partners: SPHE, Universal, Paramount and especially Warner, and the colleagues in hmv stores who present the range to our customers across the country with inspiring displays and a shared passion for the releases."
Meanwhile, as well as earning plaudits from HMV for its work on the Premium Collection, Warner had also been enjoying success with another of its catalogue initiatives. Iconic Moments, as covered here recently, has returned to the shelves and given a further boost to the sector. Commenting on its successes, Warner's head of catalogue Colin Thomas said: "Iconic Moments has performed fantastically well for us, building on last year's success. Retailers have seen great results and are continuing to promote the collection through to the New Year. We are thrilled to see our catalogue titles continue to do well at retail."
---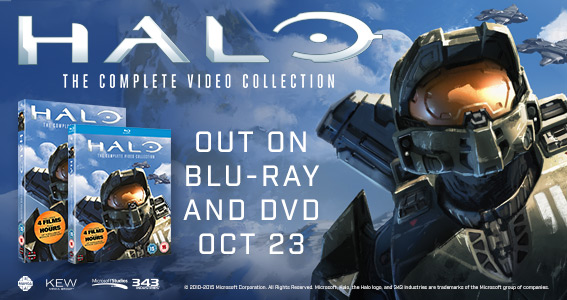 ---
A rather unusual event took place this week at the site that's caused headaches to anyone who's been in the West End of London in the past few years – and given its location (overlooked by Universal, BASE and old Momentum office among others, a stone's throw from Fox and other big studios, agencies and more) that's a fair few for our industry. We are, of course, talking about Crossrail, with the hugely important Tottenham Court Road station hosting the first and last ever screening at the Crossrail station, which will open along with the rest of the brand new London underground line, in December 2018. For Universal put on a screening of the Monday October 23 release of The Mummy. The Tom Cruise starrer, which revived the franchise, kicks off with a scene based around the excavation work for the train line, so it was the perfect location for the event. Assorted media companies were on hand to cover the event and review the film, with LBC even recording interviews underground in the station. It was a novel and fascinating event, with experts and archeologists on hand to show us what had been discovered before the real work on the station began (it was less Knights from the crusades' tombs and more piccalilli jars, but to be honest, that was preferable for us anyway). Check our twitter for more…
The screening was part of the campaign for the Monday release of effects heavy blockbuster, part of the Dark Universe of classic horror franchises, which Universal was also aiming to position as a standalone blockbuster. It renewed its partnership with Amazon and replicated much of the impressive – and hefty – activity it had put behind the theatrical release. It also added TV, 10 second spots are being created (there was enough awareness of the film to allow for these), with Videology spots used, and further digital activity in Facebook through promoted posts and AV on YouTube in the form of pre-roll advertising. Commenting on the release, Universal's Lucia Magadan said: "It has been great to be part of the start of a new franchise for Universal and to get to collaborate with so many departments to not only support home entertainment, but also the theatrical release. I am looking forward to see what's next for the Dark Universe!"
---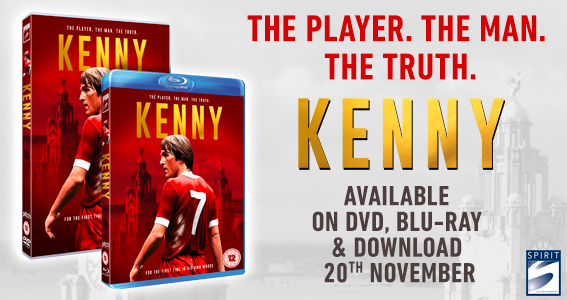 ---
Expect to see the Arrow Video imprint making a return to the charts next week, as it is set for one of its bestselling weeks in its history thanks to two big releases from the acclaimed label. The titles could well prove to be among the biggest ever on the specialist genre label, one that has pointed the way forward for independents in recent years. Here's the company's Mike Hewitt, who said: "Q4 really kicks off in style for Arrow Video next week with two huge releases. First off, we're incredibly pleased to have both our releases of John Carpenter's masterpiece The Thing find their ways out to eager fans. Both the Limited Edition and the Steelbook sold out within a weekend on announcement three months ago, and we have been working tirelessly ever since to ensure we delivered the absolute highest quality in both our restoration of the film itself and original supporting extra features. Our standard release of this title will hit shelves everywhere on November 20, and for more insight on our restoration work, read this great feature by our Head of Restoration James White - http://bit.ly/2yWT1ll." Hewitt continued: "Monday also sees the release of our boxset George Romero Between Night and Day, a fantastic tribute to this incredible auteur who occasionally made films not about zombies. The three films here, There's Always Vanilla, Season of the Witch and The Crazies are all underrated gems, and worthy of discovery to honour a true filmmaking legend who sadly passed away earlier this year. And Q4 doesn't let up for us either. With the release of the amazing South Korean revenge thriller The Villainess (October 30), Blaxploitation film JD's Revenge (October 30), sci-fi classic The Incredible Shrinking Man (November 13), Steve Buscemi's Animal Factory (November 20), and finally our Limited Edition release of Brian de Palma's Carrie on December 11, we have one of our very biggest and best ever Arrow Video line-ups, and a great wintry treat for all cult and genre fans. And there's so much more to come in 2018!"
It's been a good week for Acorn, or rather its releases, as the company's home entertainment titles earned a whopping 24 nominations for the National Television Awards. The nods came across 11 different series and help showcase the breadth of titles available from the company. They take in everything from Line Of Duty, Broadchurch and The Missing to dramas such as The Good Karma Hospital and Doc Martin as well as comedy in the likes of the Tracy Ullman show and daytime drama (A Place To Call Home). Acorn md Stuart Shaw said: "With Q4 approaching, it's great to see so many of our hottest series being brought to the front of our customer's minds. With box sets of all major series available this holiday season, just to be nominated is reward enough… although we are obviously looking forward to winning in all our categories."
---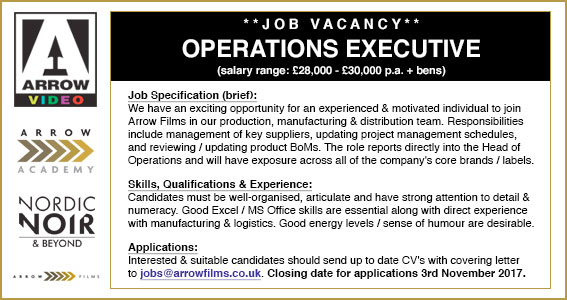 ---
London Film Festival drew to a close with some impressive figures along the way, not least a huge turnout of punters drawn to its different locations around the capital and beyond. There were more than 180,000 attendees for the huge raft of films showing at the event, with a further 28,000 seeing screenings of the likes of Breathe, Battle Of The Sexes and Loving Vincent around the UK. A slew of stars attended, while more than 1,000 press and media delegates were accredited (ourselves included and more on this in the coming weeks). Winners included Loveless, directed by Leviathan helmer Andrey Zvyaginstev, which the jury plumped for as its best film. The Russian title has been picked up by Altitude for UK release.
Meanwhile, as reported here last week, Rakuten TV was one of the key sponsors, backing the archive screening of Shiraz, an epic tale from India, complete with a new live score. The event further helped raise the service's profile, as UK country content manager Marnie Watson, who said: "We were proud to be a sponsor of The 61st BFI London Film Festival and were excited to present the remastered Indian classic, Shiraz: A Romance of India, at the Archive Gala at Barbican, with a brand new film score by renowned musician, Anoushka Sankar, and her 8 piece band. It was truly a special evening reflected in the rapturous standing ovation from the near 2,000 strong audience. It was great to be a part of and also discovering new films that we can't wait to bring to our customers next year for that cinema at home experience - The Shape of Water, Downsizing, Breathe and Killing Of A Sacred Deer to name but a few." Incidentally, it's worth noting that the BFI's video arm will be bringing Shiraz to the UK home entertainment market in the coming months. Commenting on the release, the BFI's Phil Roberts said: "Shiraz will be released theatrically and as a DVD/Blu-ray by the BFI in Q1 2018"
---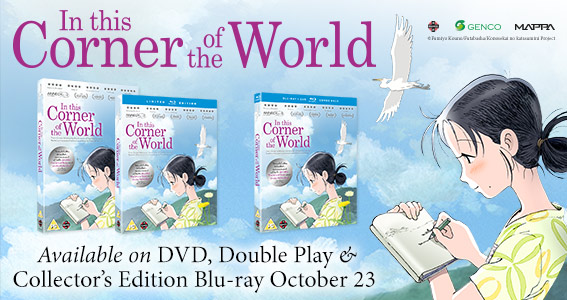 ---
Video game to film adaptations – and the the reverse film to video game ones – are notoriously difficult to get right, not only in terms of the product itself, but also marketing. So kudos must go to Manga for its successes with the Halo brand, which has now shifted some 280,000 across its releases. Here's the company's Andrew Hewson on the success of the franchise ahead of the release of Halo The Complete Video Collection on Monday October 23. He said: "Starting out as a first-person shooter video game, Halo has become a massive multi-media franchise including best-selling novels, films and merchandising. "We were very quick to acquire the films early on when I believe other distributors were quite hesitant, this was due to the fact that Forward Unto Dawn was readily available for free on Youtube. However, we saw the potential and appetite from fans for a physical copy and luckily it paid off, becoming one of the biggest selling DTV releases in 2013. From then on it was just common sense to license the other three Halo films when they became available, whether they be live-action or animated! The Halo franchise to date has sold more than 280,000 copies across DVD and Blu-rays so we have very high hopes for Halo: The Complete Video Collection. We have a great campaign as well as good distribution, plus a very dedicated fanbase!"
Micky Flanagan is gearing up for the live document of his massive An Another Fing tour, released in November through Spirit, and the stand-up comic's standing within the comedy world was highlighted this week when he was presented with the keys to the O2 arena. He earned the accolade thanks to a whopping 21 shows played at the huge venue in south east London, with the idea being initiated after Prince's record-breaking run of 21 nights there. A dozen of the 21 dates were on the current tour, with the Spirit release featuring his new set, due on November 20. Moreover, Flanagan is currently as big as it gets when it comes to live comedy, as Spirit's Robert Callow said: "An Another Fing was the biggest comedy tour in 2016 without Micky going on stage due to pre-sales of tickets and it's also the highest grossing comedy tour of 2017 too. Based on the phenomenal support we are receiving from our retail partners combined with the massive marketing drive which will be fully supported by Micky we are confident of replicating Micky's incredible live success in the Home Entertainment arena…" Flanagan followed up the O2 gig with dates at Wembley Arena, with Spirit taking along retailers to see the irrepressible Cockney comic on stage and also hear about his plans to support the release. More on this in the coming weeks.
Monday October 23 also sees a new lease of life being given by Lionsgate to Princess Bride celebrating its (gasp) 30th birthday. The company has been concentrating on PR efforts to push the release, which as well as a Blu-ray and DVD release is also being released into cinemas for a day. Commenting on the release, Lionsgate's Dan Gilson said: "On Thursday October 19 we hosted a special screening for fans of the film, including media and influencers, with The Princess Bride themed rainbow cocktails, a macaroon station and even our own Wesley character for a photo opportunity. We are targeting book bloggers, sending them a copy of the book alongside the DVD and encouraging them to post across their channels to increase social chatter and engagement across the fanbase. Additionally, influencers who could not attend the screening but are big fans of the film, were sent some The Princess Bride rainbow macaroons and a DVD to once again increase social conversation of the one-day re-release. The publicity campaign has also focussed on features across online sites celebrating the anniversary and re-release with highlights from: Den Of Geek, Metro, Express Online and Little White Lies."
A title we've been tracking for some time, Universal's horror title Cult Of Chucky, which sees the vicious doll revived for another outing (he is, as the major points out, the "last killer standing from the 80s horror icons"), also arrives in stores on Monday October 23. It premiered at FrightFest in August, as we reported at the time, with talent (stars Brad Dourif and Jennifer Tilly, director Don Mancini) supporting with an appearance and press junket, some of which was held back for the release. Further support comes in the shape of online activity, with the trailer appearing on different platforms, including Chucky's own Facebook page. There's also an online tutorial from Youtube stars Elli and Macs. Commenting on the release, senior product manager Steve White said: "Cult of Chucky is a fantastic new addition to the franchise, and is guaranteed to delight (or horrify!) fans of the unkillable killer doll."
Also out on Monday is Alone In Berlin, due from Altitude, another quality release from the company. The company's home entertainment head Adam Eldrett said: "Starring Academy Award Winner Emma Thompson and Golden Globe Nominee Brendan Gleeson the film oozes class and that was seen during the theatrical run, our screening event at the imperial war museum delivered some fantastic awareness ahead of home entertainment release and the title is being distributed fantastically well. We have supported the release with a press and online campaign as well as capturing all the good will from it's theatrical outing from a PR perspective, there are some really strong reviews appearing today for the film across the board.
---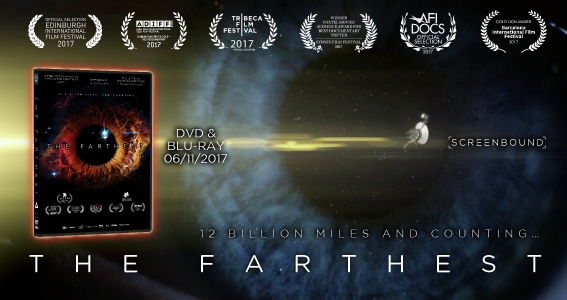 ---
Joy at Netflix, as the company has unveiled strong growth, with increases in subscribers in both the US and internationally saw it pass the 100 million mark globally. Its share price rocketed on the back of the strong figures, with the company also saying it had earmarked between $7 and $8 billion for new programming in 2018, with between one and two of its own titles arriving each week…
And if anyone doesn't believe the lure of the svod service, they just need to look at the coverage Netflix received when it released details of another of its recent findings based on data. The company has seen a huge growth in binge racers, as it has dubbed them – members who whizz through a new series, getting through an entire season in 24 hours. Binge-racing grew from some 200,000 members to more than 5 million between 2013 and 2016. And even if it's not as prevalent in the UK (12th in the list according to Netflix), the story achieved coverage everywhere. Heck, even a job ad for an anti-piracy specialist became a major news story, as journalists used it to highlight the company strategy. As ever, the quote with the binge racing release was perfectly formed to highlight the benefits of the service, this is smart PR here. "There's a unique satisfaction that comes from being the first to finish a story -- whether it's the final page of a book or the last, climactic moments of your favourite TV show." said Brian Wright, Vice President, Original Series. "Netflix allows you to watch in a way you never could before, and there's nothing better than seeing a show engage our members and ignite a passion for viewing."
With Stranger Things due imminently on the svod service, Netflix is kicking up its marketing ahead of the second series. One of the most impressive elements has been its hook-up with Top Shop, with the retailer selling a whole line of related gear, with Stranger Things-inspired retro t-shirts aplenty, decking out its flagship store with arcade games and other 80 ephemera and, next week, hosting screenings of the series…
Talking of marketing, plaudits are due to Studiocanall for its remarkable Paddington efforts on the theatrical front this week, not least for getting one of the Royal Family to dance with the bear on a station platform, while Disney's campaign for its latest Marvel title at cinemas, Thor Ragnarok, has included a press tour that's earned coverage everywhere, and a promotion offering free haircuts. Oh, and we've been hugely impressed with eOne's work on Death Of Stalin, which has given a huge profile to the comedy.
Video on demand of a different kind now, as it's been announced that one of our favourite directors, and one who's been featured on here regularly for some time, Nicolas Winding Refn, is to launch his own digital offering under the banner of byNWR.com. Kicking off early in 2018, it will feature quarterly volumes looking at specific areas, each offering a monthly film – three per quarter – alongside reams of other content. And, what's more, working alongside the likes of svod service Mubi, agency Bureau, record label Milan and the Harvard Film Archive, it's all free too. The first quarter will look at lost and undiscovered 1960s exploitation films from the deep south of America.
---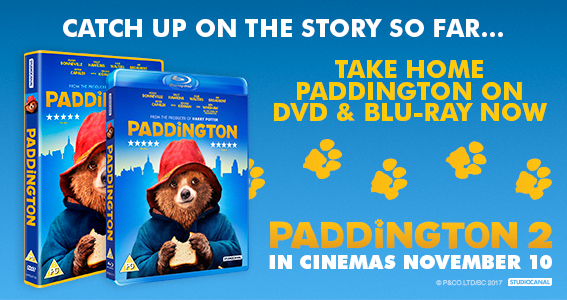 ---
"This 3 billion figure shows how hard the creative sector has to work to police its content online and how much time and resource this takes. The BPI is the world's largest remover of illegal music links from Google, one third of which are on behalf of independent record labels. We now have a voluntary code of practice in place in the UK, facilitated by Government, that requires Google and Bing to work together with the BPI and other creator organisations to develop lasting solutions to the problem of illegal sites gaining popularity in search listings. Other intermediaries should follow this lead and take more responsibility to work with creators to reduce the proliferation of illegal links and disrupt the ability of illegal sites to capture consumers and build black market businesses that take money away from creators."
BPI chief Geoff Taylor talking to TorrentFreak.com after it was revealed that Google had received 3 billion takedown notices for illegal and copyright infringing sites…
The Lego Ninjago Movie arrived with all the force of a real brick being chucked, as its opening weekend saw the film climbing to the top of the UK box office charts, taking £3.64 million in its opening frame. Another new entry arrived in the shape of The Snowman, which took £1.38 million, with Blade Runner 2049, now with £1.19 million, sandwiched between them. Polish title Botoks took £793,000, coming from nowhere into number five, ahead of other newbies The Ritual (£424,352), Loving Vincent (£274,036) and The Party (£234,985).
The typically self-effacing Ron Howard posted a few seconds' worth of footage onto Twitter this week, announcing that shooting had wrapped on the as yet untitled Star Wars spin-off film featuring Han Solo. He had, of course, taken over the reins from Phil Lord and Chris Miller, Lego Movie directors who exited in the summer. Veteran director Howard ends up revealing the title after being handed a card seemingly by Chewbacca: Solo: A Star Wars Story.
Everyone's favourite Brit star Riz Ahmed has this week been closely linked with that fella Shakespeare, as talk turns to a new adaptation of Hamlet. And it seems as if Ahmed is set to play the Danish prince in a new updated take on Will's work, set in modern-day London and playing around political upheaval and uncertainty. Netflix is backing it…
Legendary Japanese comic Lone Wolf And Cub has ling been ripe for a Hollywood-backed filmed adaptation, the episodic Japanese version having borne out the notorious video nasty Shogun Assassin (it was two tales stitched together in the editing room). It's moved a step closer this week as the Paramount-backed version, produced by Fast And Furious helmer Justin Lin, has signed up a writer. Andrew Kevin Walker, who scripted Seven, will pen the new version of the tale that follows an assassin and his young son seeking vengeance for their murdered family.
The revolution will not be televised, apparently…
Skating on thin ice here…
As Thor lands in cinemas, here's more Hemsworth…
Get ready for some punishment…
Andy did you hear about this one?
To subscribe to The Raygun newsletter, please email

info@theraygun.co.uk
with subscribe in the subject matter
To unsubscribe, email

info@theraygun.co.uk

with unsubscribe in the subject
For editorial or advertising queries, contact

tim@theraygun.co.uk