Preliminary victory for Lt. Ehren Watada!
Judge blocks Army from second court martial of Iraq War resister; declares retrial would likely violate Fifth Amendment protection against "double jeopardy". Army not giving up yet.
October 27 reports and photos
Sara Rich marches for daughter and all resisters in Seattle. AWOL Spc James Circello addresses New Orleans rally. Statement read in Chicago. Hundreds of "Dear Canada" letters gathered in SF.
Under investigation for 'search & avoid'
Army has begun a very official "unofficial" investigation of out-spoken Iraq veteran Eli Wright, an active duty soldier at Fort Drum, New York for speaking to a reporter about pretend Iraq missions.
Dear Canada: Let U.S. war resisters stay!
Sign the appeal online. We'll mail three letters on your behalf to key Canadian officials requesting that scores of U.S. Iraq War resisters be allowed to remain in Canada. After signing the appeal, get involved in this effort by visiting our "Dear Canada" resources page for downloadable petitions, action leaflets, and more.
---
"Preliminary" victory for Lt. Ehren Watada!
Federal judge bars Army retrial of officer who refused Iraq War
By Jeff Paterson, Courage to Resist. November 11, 2007
Civilian federal Judge Benjamin Settle blocked the Army's plans for a second court-martial of prominent Iraq War military resister First Lieutenant Ehren Watada. Judge Settle's preliminary ruling last Thursday found that a retrial would violate Lt. Watada's Fifth Amendment protections against being tried for the same crime twice—known as double jeopardy. [Ruling by Judge Settle (PDF). November 8, 2007]
Lt. Watada became the first officer to publicly refuse to deploy to Iraq in June 2006. He was charged with "missing troop movement" and "conduct unbecoming an officer and a gentleman," and faced up to six and a half years in prison. His case has remained undecided since military Judge Lieutenant Colonel John Head declared a mistrial in Lt. Watada's February 2007 court martial, over the objection of the defense.
No court martial can now take place unless Judge Settle reverses himself, or the military successfully appeals to the Ninth Circuit Court of Appeals in San Francisco, or the U.S. Supreme Court—all of which are unlikely.
In Thursday's ruling, Judge Settle detailed numerous problems with the military's handling of the first court martial. Lt. Watada's Seattle-based civilian attorney Ken Kagan outlined the following points contained in the 33-page ruling:
1. The remedy sought by Lt Watada—a writ of habeas corpus in a pretrial setting–is rare but appropriate; 2. Lt. Watada will suffer irreparable injury if relief is denied; 3. Lt. Watada is likely to succeed on the merits; 4. Military Judge Head abused his discretion in rejecting the Stipulation of Fact; 5. Even if Judge Head did not abuse his discretion in rejecting the Stipulation of Fact, there was still a lack of "manifest necessity" for declaring the mistrial; 6. Judge Head failed to adequately consider possible alternatives; 7. The balance of potential harms weighs in Lt Watada's favor; and; 8. The public interest favors granting relief.
"This is an enormous victory, but it is not yet over," noted Kagen.
Underscoring this statement, the Army Office of the Staff Judge Advocate has since announced they plan to file additional briefs before Judge Settle issues a final ruling. "We look forward to the opportunity to further explain to the District Court judge the full extent of the protections and safeguards that are afforded to a military accused."
Never the less, this week's ruling is a major victory for Lt. Watada and all war resisters. In San Francisco's Chinatown, Asian-Pacific Islanders Resist and the Watada Support Committee called for Lt. Watada's immediate release. Courage to Resist (photo right) joined San Francisco Poet Laureates Jack Hirschman and Janice Mirikitani, former S.F. criminal prosecutor David Chiu, and Reverend Norman Fong at a press conference turned celebration.
---
Oct. 27 anti-war protest reports and photos
In Seattle, Washington, Courage to Resist member Sara Rich, mother of Army Spc. Suzanne Swift, and her son marched with a banner urging support for war resisters (photo right). Our friend Gerry Condon of Project Safe Haven was seen helping with the large "Stop the Illegal and Unjust War in Iraq—Support Lt. Watada's Courage to Resist" nearby.
In San Francisco, California, Courage to Resist organizers (photo below) marched with Veterans for Peace, the Watada Support Committee, and many other military-related organizations calling for an immediate end to the U.S. occupation of Iraq.
After the march down Market Street to Dolores Park, volunteers collected hundreds of signatures for our "Dear Canada: Let U.S. war resisters stay!" initiative. We also helped construct a walk-through "military experience" with the help of Iraq Veterans Against the War (IVAW), American Friends Service Committee, Military Families Speak Out, and counselors of the GI Rights Hotline. The interactive theater installation featured recruiters (including Iraq War resister Pablo Paredes) out front, introduction to boot camp, and the real costs of war. Iraq War objector Marine L/Cpl Stephen Funk parked the IVAW tank nearby.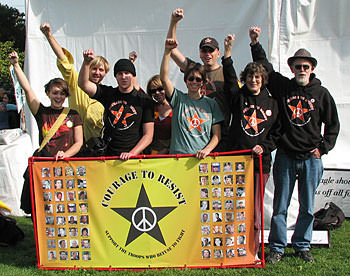 In New Orleans, Louisiana, state-native Sgt. James Circello, an active-duty war resister and former paratrooper, was the keynote speaker at the Washington Square Park rally calling for an end of the occupation of Iraq, the restoration of the U.S. Constitution, and for the rebuilding of the Gulf Coast.
James did 6 years of active duty before going AWOL during Easter of 2007. He said that he could no longer morally be a part of the destruction of Iraq. He has been actively speaking out as a member of Iraq Veterans Against the War and Courage to Resist and is a fugitive from the military because of his AWOL status.
Standing with James on stage were Green Beret Bob Smith (3 combat tours in Viet Nam), Viet Nam combat veteran Pat Dooley (1st Cav), Vietnam Combat Medic Dave Collins (1st ID), Iraq War vet Justin Cliburn of Lawton, Texas, Iraq War vet Amanda Fontenot, retired Air Force vet and gubernatorial candidate Vinny Mendosa, and infantry vet Ward Reilly who was a Viet Nam era war resister. (Report from New Orleans Voice for Peace).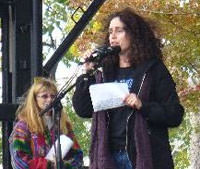 In Chicago, Illinois, Joan Davis of Vietnam Veterans Against the War (photo right) read a statement on behalf of Courage to Resist at a rally of thousands:
There are those who dismiss war resisters as "cowards." However, we know better. It takes exceptional courage to resist unjust, illegal, or immoral orders. For many in the ranks it's their first-hand experiences as occupation troops that compel them to take a stand and risk the stockade. These Iraq veterans turned anti-war heroes include: Agustin Aguayo, Eli Israel, Mark Wilkerson, Suzanne Swift, Camilo Mejia, and Chicago native Eugene Cherry…. Courage to Resist offers a challenge to the entire peace community to help provide the needed political, emotional, and material support to all military objectors critical of our government's current policies of empire. An important part of ending this war is supporting the troops who refuse to fight.
More Courage to Resist photos from Oct. 27
---
Under investigation for speaking of "search & avoid"
Update November 3, 2007: The Army has begun a very official "unofficial" investigation of out-spoken Iraq veteran Eli Wright, an active duty soldier at Fort Drum, New York. Apparently the story below prompted right-wing bloggers to press the military to take action against Eli—for either the actions described, or simply talking about them. The military might take action to keep "search and avoid" missions from again becoming an "open secret"—as during the Vietnam War. We'll keep you posted on developments, including possible action alerts if needed.
Ill-Equipped Soldiers Opt for 'Search and Avoid'
By Dahr Jamail, Inter Press Service. October 25, 2007
Iraq war veterans now stationed at a base here say that morale among US soldiers in the country is so poor, many are simply parking their Humvees and pretending to be on patrol, a practice dubbed "search and avoid" missions....
"We'd go to the end of our patrol route and set up on top of a bridge and use it as an over-watch position," Eli Wright, also an active duty soldier with the 10th Mountain Division, told IPS. "We would just sit with our binoculars and observe rather than sweep. We'd call in radio checks every hour and say we were doing sweeps."
Wright added, "It was a common tactic, a lot of people did that. We'd just hang out, listen to music, smoke cigarettes, and pretend."
The 26-year-old medic complained that his unit did not have any armored Humvees during his time in Iraq, where he was stationed in Ramadi, capital of the volatile Anbar province.
"We put sandbags on the floors of our vehicles, which had canvas doors," said Wright, who was in Iraq from September 2003 until September 2004. "By the end of our tour, we were bolting any metal we could find to our Humvees. Everyone was doing this, and we didn't get armored Humvees in country until after we left."
---
"Dear Canada: Let U.S. war resisters stay!"
Please sign the appeal online
"DEAR CANADA: LET U.S. WAR RESISTERS STAY!"
www.couragetoresist.org/canada
"I am writing from the United States to ask you to make a provision for sanctuary for the scores of U.S. military servicemembers currently in Canada, most of whom have traveled to your country in order to resist fighting in the Iraq War. Please let them stay in Canada..."
Courage to Resist volunteers will send this letter on your behalf to three key Canadian officials--Prime Minister Stephen Harper, Minister of Citizenship and Immigration Diane Finley, and Stéphane Dion, Liberal Party--via international first class mail.
In collaboration with War Resisters Support Campaign (Canada), this effort comes at a critical juncture in the international campaign for asylum for U.S. war resisters in Canada.
After you've signed the appeal, join the campaign to support our U.S. war resisters in Canada by visiting the campaign resources page. Download, print, copy and distribute the "Campaign Action Leaflet" (PDF), the legal-sized petition (PDF), and the single signature letter (PDF) among other tools.