Dear Friends & Neighbors,
Maryland's 2017 legislative session is in full swing, and I have much to report. As you can imagine, the election of Donald Trump is causing great uncertainty in numerous areas of state policy. But I'm doing everything I can to defend the values of Silver Spring and Takoma Park as we navigate through this difficult period.
Below you can read about some of the efforts I'm undertaking with my colleagues to protect our neighbors from Trump's unconscionable actions on immigration, health care, and more.
Ordinarily, right now I'd be telling you about some of the bills I'm working on right now, but I'm going to save that for my next newsletter. Please stay tuned and stay involved, as we fight back against the daily threats posed by our new President.
As always, please don't hesitate to contact me with any questions or concerns. We'll get through this, if we stand together!

P.S. Please see the invitation for "District 20 Night in Annapolis" below. I hope you can join us THIS MONDAY for a night of good food and conversation. There's much to discuss!
OBSTRUCTING TRUMP'S IMMIGRATION POLICIES IN MARYLAND - When Governor Larry Hogan announced that he wanted to keep refugees out of Maryland, we got our first taste of the GOP's fearmongering rhetoric about immigrants. Now that Donald Trump is launching a direct assault on our neighbors, I'm working hard to fight back:
STOPPING OUR POLICE FROM AIDING WITH FEDERAL DEPORTATION - I'm cosponsoring the Maryland Trust Act (HB 1362), which rejects efforts to have Maryland resources used for assisting the federal government in deportations. The Washington Post explained: "The legislation would bar police and sheriff's departments from complying with federal requests to hold undocumented immigrants longer than required under local guidelines; prohibit local authorities from arresting individuals for immigration purposes; and try to restrict federal agencies from removing people from schools, hospitals or courthouses. It also would prevent the state from participating in any form of religion-based registry, an idea that President Trump has suggested he might pursue for Muslims." 23 out of 24 Montgomery County Delegates support the bill, though County Executive Ike Leggett opposes it. We're working on trying to convince him to change his mind.
EMPOWERING MARYLAND'S ATTORNEY GENERAL TO SUE TRUMP'S TRAVEL BAN - I was proud to vote for a bill (HJ 3) giving our elected Attorney General Brian Frosh more leeway in suing the Trump administration. The Baltimore Sun reported on the reasons for this reform: "Democratic state lawmakers on Wednesday gave Maryland's attorney general broad authority to bypass the governor and sue the federal government on a range of issues, an unprecedented expansion of power for the office.... Frosh had sought Hogan's permission to challenge the constitutionality of Trump's travel ban. The governor did not respond to the request."
STOPPING DEPORTATION OF MARYLAND COLLEGE STUDENTS - I'm cosponsoring a bill (HB 272) to resist Maryland colleges from providing information about students that the federal government may use to deport them. The Baltimore Sun reported on the fears leading to this legislation: "Maryland university leaders are taking steps in advance of the inauguration of President-elect Donald Trump to protect undocumented students from deportation, joining a national movement that could bring the schools into confrontation with the coming administration.... Following Trump's election, Wallace Loh, president of the University of Maryland, College Park, urged students and faculty this week to call on lawmakers to preserve the program, known as Deferred Action for Childhood Arrivals, or DACA. Freeman Hrabowski, president of the University of Maryland, Baltimore County, told students and faculty that he's working to understand options under state and federal law to make the school a sanctuary campus for undocumented students."
PROTECTING MARYLAND AGAINST OBAMACARE REPEAL - With Donald Trump and the Republican Party initiating plans to repeal the Affordable Care Act (aka Obamacare), we are working to protect health insurance coverage for Maryland residents:
RESOLUTION TO CONGRESS AGAINST OBAMACARE REPEAL - I'm the lead sponsor of a resolution (HJ 9) urging Governor Larry Hogan to join with Maryland's Congressional Delegation in defending the Affordable Care Act. The Takoma Voice covered our efforts: "The package includes a resolution calling on Maryland's congressional delegation and the governor to oppose efforts to repeal the ACA. The resolution argues that the ACA is critical to providing insurance to approximately 400,000 Marylanders. Several Democratic legislators defended the role that the ACA has played in reducing Maryland's uninsured rate. They also sought to paint the resistance to repeal as a potentially bipartisan effort, at least among voters, by highlighting that rural, traditionally Republican parts of the state saw some of the biggest gains in their insured rate under the ACA. Among those was Delegate David Moon, D-20, who said that any repeal of the ACA would be 'war on rural Maryland,' employing a phrase Republican leaders often use to accuse Democrats of over-prioritizing urban parts of the state and neglecting or being out-of-touch with rural areas."
RAPID RESPONSE TO FEDERAL REPEAL OF THE AFFORDABLE CARE ACT - As the Republicans begin unraveling Obamacare, I've cosponsored a bill (HB 909) to create a commission to monitor the changes to Maryland's health care system and provide recommendations for how the state can respond.
---
OVERRIDING GOVERNOR LARRY HOGAN'S CLEAN ENERGY VETO - While dealing with the fallout of Donald Trump's policies on Maryland residents, we took some time to override Governor Hogan's veto of the Clean Energy Jobs Act. I was proud to vote to protect the expansion of renewable energy in our state. The Maryland Climate Coalition explained the issue: "The Clean Energy Jobs Act (SB 921/HB 1106), a bill to ensure that Maryland gets 25% of its electricity from renewable energy sources like wind and solar by 2020, up from the current goal of 20% by 2022, passed the General Assembly during the 2016 legislative session. Unfortunately it was vetoed by Governor Hogan in May. We are disappointed in the Governor's decision to veto this widely-supported bill that would have meant cleaner air and thousands of new, family-supporting jobs in Maryland. Luckily, the bill passed the General Assembly with veto-proof margins."
---
Please join me this Monday in Annapolis for District 20 Night!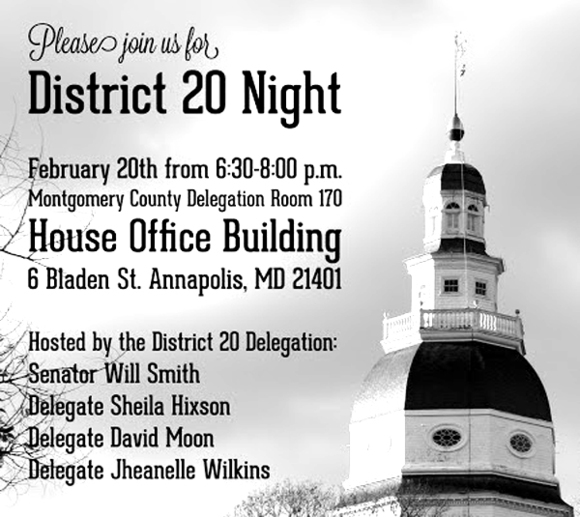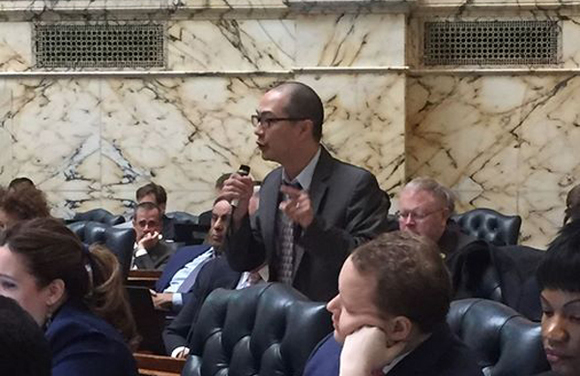 On the House floor defending our bill to give the Attorney General more powers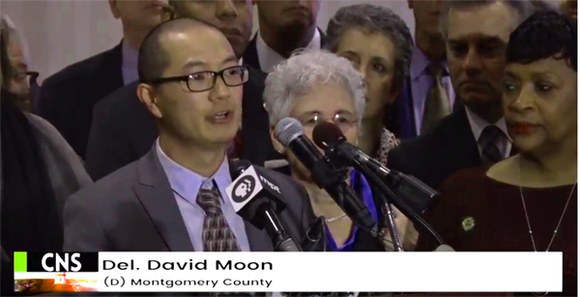 Speaking at a press conference about Obamacare repeal