---
| | |
| --- | --- |
| | May 2019 |
Reduced stress. Increased productivity. Improved well-being.
Forte Organizers helps individuals and families stay organized at home, as well as teaching business people organization skills at work.
In celebration of Mother's Day, enjoy this throwback article that helps women organize their purses.
Did you know that delegating one 15 minute task per day at work,

gains you

1 hour, 15 minutes

per week?
Sometimes it is hard to delegate work, so here are some things to keep in mind when handing off tasks to others:
Get over the fear of losing control.

Make yourself available for advice,

meet regularly.

Give up tasks, even if you like to do them.

Focus on the results, not on how it gets done.
Remember to let go of Perfectionism when delegating. The process will never be perfect, so learn from your experiences and make adjustments as you go. In the long run, you will save yourself a lot of valuable time.
It's that time of year again, Garage Sale Season!
After your garage sale, immediately box up the unsold items and head to Goodwill or the donation center of your choice. Don't bring them back into your home. You've made the decision to part with these items, now do it!
FREE! Tackle It!
Conquer your to-do lists and everyday tasks
Wednesday, May 8, 10:30 am-12:00 pm
Clark County Library,
201 S Fountain Ave, Springfield, OH 45506
Call (937) 328-6903 for more information.
FREE!
Positive Mindset Workshop
Jump over all of the hurdles in your way, get organized and experience a new inner calm.
Wednesday, May 15, 6:30 pm-8:00 pm
Woodbourne Library,

6060 Far Hills Ave, Centerville, OH 45459
Call (937) 435-3700 for more information.
CALDWELL BANKER FREE SHRED DAY
Saturday, May 4, 2019, 10:00 am to 12:00 pm.
Caldwell Banker Heritage, 535 N. Main Street, Springboro, OH 45066
Lose Your Stuff, Find Yourself...
May is "Older Americans Month." Here is a little tip from Lori's book "Lose Your Stuff, Find Yourself" that is applicable to not only Seniors, but everyone.
"Get your home organized while you're healthy and capable of making smart decisions. If you become ill or need to downsize in a hurry, having an organized home will make it easier for everyone involved."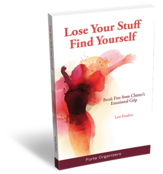 Pick up a copy of Lori's book by using this link:
Amazon.com
One More Thing...
Happy Mother's Day to all of the special women in our lives. May your day be filled with happiness and love.
"A mother is she who can take the place of all others but whose place no one else can take."

—Cardinal Mermillod