PUTTNAM ON EMBARRASSING WINDOWS…
…AND MAKES INDUSTRY BREXIT DEMANDS
"VIDEO REVOLUTION" REVIVED UK FILM
JEDI SHIFTS MORE THAN 500K WEEK ONE
MAKING WAVES WITH QUEEN'S AWARD…
ONLINE RETAILER CELEBRATES, AND GROWS
PHYSICAL DECLINE "DRAMATICALLY OVERPLAYED"
101'S BLACK IS THE NEW BLACK
…AND A BIG NIGHT FOR MANGA'S BIG FISH
UNIVERSAL IS ON THE PITCH…
AMAZON FOURTH BIGGEST UK RETAILER
AT THE MOVIES
TRAILERS OF THE WEEK
---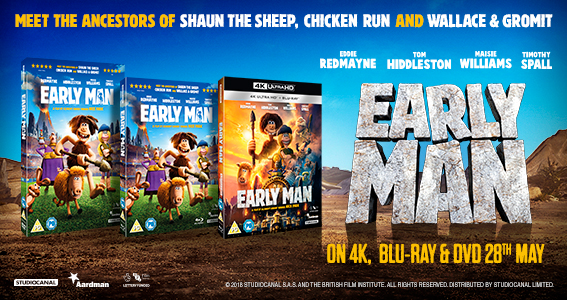 ---
If you can't read this newsletter or see the ads, please click here
It Was A Good Week For… Physical media, whose demise has been "overplayed"…
It Was A Bad Week For… Those sticking to rigid windows, a "burning embarrassment" to the industry…
It's an unwritten rule that, sooner or later during his annual state of the nation presentation, Film Distributors Association president Lord Puttnam, the FDA figurehead would turn his attention to windows. Even Puttnam himself acknowledged its inevitability at his annual keynote address to FDA members, the industry and more, at the event held this week at BAFTA. And when he did, he gave it to exhibitors with both barrels, calling for an urgent need to address windows and describing it as a burning embarrassment to the entire industry. "I sound like a broken record as far as release windows go, little has changed in the last year," he said. "But for the record, broken or otherwise, the public will have the last word on the issue." And he continued, as, ever, warming to his theme: "Imagine a business that having launched a product that may have cost hundreds of millions to produce, promote and distribute, exposes it to the marketplace for, say, six weeks, then withdraws it from any form of legal consumption for a couple of months or more – that is manifestly not a business that's maximising the interests of its customers or its shareholders. Yet that's exactly what the UK's theatrical window arrangements do to distributors. Independent films, in particular, can only lose out as a result of this hopeless lack of commercial flexibility. Cinema operators tell me they need a protracted window of exclusivity, affecting all mainstream releases, to protect their investment in real estate, otherwise cinema visits will fall. But I've still seen no evidence of that being the case."
Lord Puttnam continued to heap opprobrium on the industry for its failure to act, adding: "When even the French announce a review of outmoded windows, you know you're behind the curve." He praised Sky for its commitment and investment in Monster Family, noting that it was trying to break the mould. He touched on numerous other subjects too – Puttnam's speeches are never anything if not fascinating – including the theatrical revenue sharing model and current offers of free cinema tickets. This is pertinent to our business as he raised the spectre of giveaway CDs (and DVDs) which did so much to devalue the business in the early 2000s. It was, he noted, almost like "a cry of despair". As a peer sitting in the House of Lords, Puttnam also touched on Brexit and the needs of the film and wider creative industries. He said: "An increased investment in the production and distribution of creative content with a distinctive British voice could help to deliver a form of national rebranding, renew confidence and play an important role as we seek to redefine our relationships with the rest of the world." He said there were four key areas the government should assess when it came to Brexit and the film industry to ensure a smooth transition. These included an immigration system that enables the creative industries to attract talent, new takes on successful EU programme, trading including territorial rights and IP enforcement. On the latter two, Putnam said: "An agreement that enables our future trading arrangements to be as frictionless as possible, with reciprocal market access for the distribution of UK and member states' film and TV productions. it must be as easy as possible for UK businesses to work with partners in the EU and it's imperative that the existing flexibility to license content on a territorial basis is preserved. The UK [must continue] to be recognise as one of the best countries in the world in which to protect and enforce intellectual property rights. It's essential that a robust IP regime enables creditors o turn their ideas into revenues."
---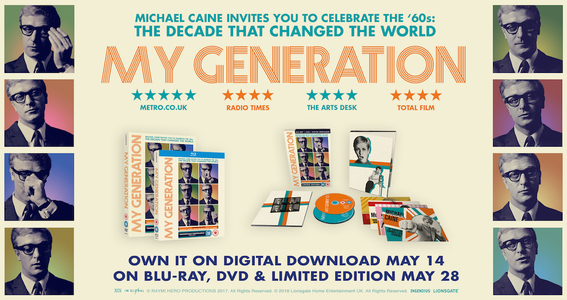 ---
Meanwhile, after the Puttnam keynote address, the FDA also took the opportunity to unveil a new book, Stairways To Heaven: Rebuilding The British Film Industry. Penned by Geoffrey Macnab, it look at how the British film industry reinvented itself and pulled itself from the doldrums. And it includes a fascinating chapter entitled The Video Revolution, which is well worth some of anyone in our industry's time. It includes the likes of Iain Muspratt, former Choices supremo, as well as the role VHS played in the revival of Britfilm's fortunes. As Palace chief Stephen Woolley reminisced in its pages: "The spark that ignited the industry was Palace, but Palace's spark came from the VHS world, the video world. It really was this opportunity for independent companies and independent people to suddenly partake in the business. Someone like me, who was a big film fan, could suddenly jump in. There was this brief moment when the pool was open to everyone." At the launch event, a panel discussion, which included former minister Chris, now Lord, Smith, concurred. Another former Palace staffer and key film industry veteran, Daniel Battsek said: "The commercial aspect of the video business game us the life blood to jump into the theatrical business. A new break bull by the horns." The book, essential reading from what we've dipped into thus far, is available from ibtauris.com.
Video, albeit in its updated, disc and digital friendly form, can still help swell the coffers of the mayors after a profitable theatrical release too, as evinced by the film that's about to spend its second week at number one Star Wars: The Last Jedi. The film had a sterling first week on its physical release according to the Official Charts Company, further cementing the franchise's reputation as a home entertainment goldmine. It shifted some 582,000 units in its first week on sale, comfortable making it the biggest debut of 2018. Into its second week, the Official Charts Company's midweek bulletin, selling some 70,000 copies in its first three days on sale from Monday April 16. It held off the challenge of a raft of new entries, with Fox's latest animated excursion, Ferdinand, a new entry at number two. The latest animated outing from within Batman's world, Suicide Squad tale Hell To Pay, was in at number five. Signature's adventure Guardians Of The Tomb was at seven, with Apocalypse Tomorrow at number 19, Universal's Better Watch Out at number 23 and the latest Still Game TV outing at number 26.
Back to number 19 and disaster tale Apocalypse Tomorrow represents another success for independent 4Digital Media. What's more, with more to follow form a newly reinvigorated indie label, which as we've noted earlier this year, is expanding its staff too and showing further ambitions. As the company's Tony Taglienti noted, it's bigger than new release offerings form majors too: "Apocalypse Tomorrow has overtaken Universal Pictures' Better Watch Out. It's always fantastic when an independent overtakes a major in the charts, it proves that there will always be room for independents and successes like this are what keeps the indies going. Indies such as us offer variety and choice to consumers who often get bored with overworked, all-singing, all-dancing Hollywood films that are 90 per cent CGI. We're delighted with the success of this one and we hope we've got more to follow this year too. We appreciate the support from retailers, now we'd like to see more done to celebrate independents and campaign them in store and on-line."
Things are looking good for Signature too, with an impressive EST release this week for its indie horror hit Pyewacket, due on DVD on Monday April 23. It's been aided by Signature's marketing efforts as well as the support of the likes of FrightFest. The film had built pre-awareness with a screening at FrightFest's Glasgow event earlier this year, with a further screening taking place in London for genre enthusiasts last Friday, aptly the 13th. Commenting on the event, FrightFest's Paul McEvoy said: "The special preview screening of Pyewacket in partnership with the fantastic folks at Signature Entertainment was an enormous success. The film looked and sounded absolutely incredible at The Dolby Screening Theatre on Soho Square. We were delighted to screen to some lucky FrightFest competition winners who all thoroughly enjoyed the film. This was a brilliant follow up to our FrightFest European premiere of the film as part our special weekend within the Glasgow Film Festival in early March, where once again the film played to a wonderful, receptive audience."
---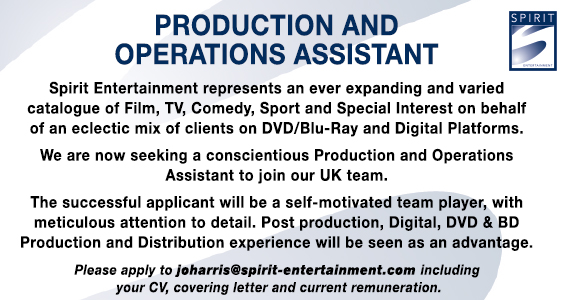 ---
Congratulations to retailer Rarewaves, after the online operation scooped the huge accolade of picking up a Queen's Award for Enterprise in the international trade category. The company, which sells DVDs and entertainment product to the UK and beyond, with a US operation too, has seen its international revenues soar by more than 120 per cent, which helped it earn plaudits and the all-important gong. Commenting on the win, Rarewaves Chairman Brad Aspess said: "Winning any award is always fantastic, but this one is something special. It gives the business, our wonderful team and the many stakeholders we work with the recognition they deserve. We never in our wildest dreams thought we would actually win, so we are obviously delighted." Business development director Rob Evans added: "It's an unbelievable achievement and we are extremely proud. The whole team has worked tirelessly to get us to this point, and we see this as only the beginning of what this incredible company can achieve."
We spoke more to the company after its success – chairman Brad Aspess and development director Rob Evans will be going to Buckingham Palace later in the summer to collect the retailer's award – about its operation. Launched by Aspess, a familiar figure to many in the industry given his long-standing involvement in entertainment and retail, more than 10 years ago, it's an online marketplace retailer, with product available through this party operators such as Amazon, eBay, Fnac, Rakuten, PriceMinister and GAME – it has no direct sales through its own site. Evans said: "We work directly with major studios and also wholesalers to offer as many DVD and Blu-Ray products to as many people as possible around the world. We've grown have grown dramatically and have featured in the Sunday Times Fast Track listing twice, most recently this year. We are continuing to grow, offering more products to more consumers around the world. We employ 20 people in our head office in Chiswick and have a further team of 10 in the US in our Florida office. We have a vibrant business development team who are constantly engaging with new studios to enable them to offer their product to an ever increasing online customer base."
One interesting post made by online operator Rarewaves – and a point certainly worth noting when the latest Record Store Day is taking place as the latest and most significant date in the ongoing vinyl revival – is that the move away from physical product in the film world has been exaggerated, and is a touch premature. As Rob Evans said: "We believe the decline in physical film product has been dramatically over played and we continue to see growth. The public's buying habits are constantly changing and we are at the forefront of providing the convenience and flexibility to allow consumers to access the great product that they still love." Its a view echoed in music circles, as ERA's Record Store Day co-ordinator Megan Page said in an interview this week: [Record Store Day] is a reminder to the industry that they wrote off an important format and culture way too soon."
---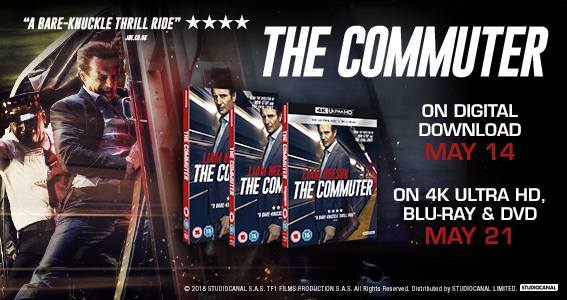 ---
Independent label 101 Films is further widening its scope after this week announcing the launch go a new imprint, the Black Label. The label, which joins an ever-growing slate from the company, will focus on catalogue titles across multiple genres. It will give them a new lease of life and, with new additional material available in dual format, and, in limited edition form, booklets, slipcases and, to give further collectability, the latter will be numbered too. The first two titles under this banner are due in May in the shape of a classic old Palace title, The Grifters, and David Cronenberg's eXistenZ. Commenting on the launch, 101 Films' Tim Scaping said: "The thinking behind the Black Label is to bring together titles from various genres and eras that are revered by many but perhaps remain under-appreciated by broader audiences. The extras will be more extensive than on our catalogue releases in the past, with newly commissioned commentaries, interviews and documentaries, and the Limited Edition versions will come with a slipcase and booklet. With eXistenZ and the Grifters we have two fantastic titles to start off with and we're looking forward to expanding the collection over the coming months and years."
Japanese anime special Anime Ltd has revealed it has picked up the UK rights to Mirai, forthcoming title from Japan that will be receiving a world premiere at next month's Cannes film festival. Screening as part of the Director's Fortnight, it'll be the first ever Japanese animated title to earn that honour. The film, from Mamura Hosoda, is a family tale of a boy and his baby sister and will debut at UK cinemas later this year ahead of its home entertainment bow from Anime Ltd. Company president Andrew Partridge said: "Working on Mamoru Hosoda's Mirai is a dream come true for the whole team here at Anime Limited in the UK and France. To see it come to Cannes and be the first ever world premiere of an anime there, as well as only the second ever anime in Director's Fortnight, is a huge honour and a great starting point for people to see the film. We can't wait to see what people think of it!"
Of course the pioneers of the anime-related theatrical release, the company which effectively wrote the book on how to put out Japanese films at cinemas for limited theatrical bows ahead of a home entertainment offering, was Manga. And the company was at it again this week, giving a debut to Big Fish And Begonia at cinemas on Wednesday night. The title will benefit from further screenings between now and its eventual arrival on physical and digital formats later in the summer, with an early July date earmarked. Commenting on the release, the company's Andrew Hewson said: "We are incredibly proud to be bringing this beautiful epic to the big screen in the UK and Ireland. Big Fish & Begonia is a gorgeous fantasy adventure that will transport you right back to when you first watched a Studio Ghibli or Disney film – it is that distinctive and powerful!"
---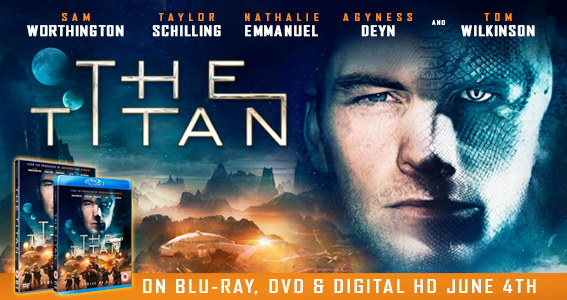 ---
Forthcoming release news now, and one of the highest grossing documentaries at the UK box office in 2018, with £100,000 and counting), Alexandra Dean's Bombshell: The Hedy Lamarr Story arrives on DVD on Monday April 23 courtesy of Dogwoof. The film's cinema release back in early March, supported by the BFI and topped off with a Susan Sarandon-starring screening and Q&A at the BFI Southbank, has helped to raise expectations for this doc biography of Hollywood icon - and also inventor - Hedy Lamarr. Commenting on the release, the documentary specialist's head of home entertainment Daniel Green said: "Having the backing of the BFI, as well as a superb press pieces with the film's director Alexandra Dean and exec producer Susan Sarandon, has really helped Bombshell to reach a much wider audience then would have previously been possible. The DVD has been Amazon's best pre-ordering doc since early March and should translate into one of our best week one results of the last few years. We can't wait to introduce Hedy - and her beautiful mind - to home audiences."
Also due, via Universal, is the third, and final, instalment in the Pitch Perfect series, Pitch Perfect 3. In a smart move, the major is including an additional disc with extra material in all SKUs and formats, including the box sets featuring all three of the films. As noted here previously, the day before release, Sunday April 22, sees a screening of all three films taking place for competition winners and select media, a a learn to a cappella workshop also taking place. All marketing assets, including a TV spot during Britain's Got Talent, will mention the bonus disc, with other elements including vod, outdoors and digital elements. There's also loads of social activity, including takeovers and sponsorship on the likes of Shazam and Spotify. Product manager Emily Evans said: "I have loved working on my favourite film franchise, it's been aca-awesome. I'm just sad it's over!"
Figures of the week come from GlobalData, which suggested that Amazon is now the fifth biggest retailer in the UK, accounting for £4 in every £100 spent. It's beaten only by the big four supermarkets. Globaldata's senior retail analyst Sofie Willmott said: "Its dominance in the retail market considering it primarily sells non-essential items in comparison to the grocers who benefit from selling indispensable, everyday goods, and that it does not have any physical stores in the UK, is evidence of how Amazon has continually innovated and succeeded in meeting consumer needs, in terms of both product range and shopping experience.'' It came in a week when Amazon also announced that it has now exceeded the 100 million mark in terms of Prime members globally…
---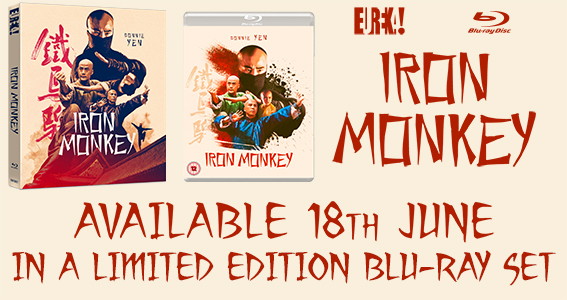 ---
"Over the last decade, at least 42 countries have either adopted and implemented, or are legally obligated to adopt and implement, measures to ensure that ISPs take steps to disable access to copyright infringing websites, including throughout the European Union, the United Kingdom, Australia, and South Korea,"To date, in at least 17 European countries, over 1,800 infringing sites and over 5,300 domains utilised by such sites have been blocked, including in the following four countries where the positive impact of site-blocking over time has been demonstrated,"
MPA Canada in a submission to introduce site-blocking. The UK is one of those four countries, with 171 sites and more than 2,000 domains blocked, ahead of Portugal, Italy and Denmark.
Taking in more than £4 million at UK cinemas in its opening weekend, Rampage, featured here last week, has deposed Peter Rabbit from the top of the box office chart. The only other new entry in the top 10 was horror Truth Or Dare, with just under £1 million in receipts.
This week's big comic book rumour is that the original Wonder Woman, Lynda Carter, is in the frame for a role in the forthcoming Gal Gadot-starring and Patty Jenkins directed sequel…
Looks like the Harley Quinn film is back on track too… Cathy Yan is being lined up as the second female director for DC comic fare after the aforementioned Jenkins, taking on the reins with Margo Robbie set to star…
Oh, hang on, there's more. Some fella called Steven Spielberg, is also lining up a comic book film of his own. Blackhawk is an older idea, one create by legendary figure Will Eisner, back in the 1940s, and sees a group of pilots getting involved in all kinds of World War 2 hi-jinks.
Stranger Things news, of which there hasn't been much recently, the odd picture aside, but this week has seen more emerge about the third outing of the 80s homage, with the news that Jake Busey and Cary Elwes are joining the cast for the new series…
More from the horror that could be this year's most talked about…
To subscribe to The Raygun newsletter, please email
info@theraygun.co.uk
with subscribe in the subject matter
To unsubscribe, email

info@theraygun.co.uk

with unsubscribe in the subject
For editorial or advertising queries, contact

tim@theraygun.co.uk