BETWEEN US - Fall 2018 / Entre Nous - Automne 2018
NB got together to #MakeMemories
Le NB s'est rassemblé, et a fait #ungestedignedemémoire
                     Bathurst -­ Belledune -­ Boiestown - Doaktown -­ Edmundston ­                              Fredericton - 
Grand Manan -­ Miramichi-
Moncton ­- Rexton -­ Sackville ­             
Saint John - 
St. Andrews - St. George -­Tracadie -­ Woodstock
The Alzheimer Society is pleased to welcome Investors Group as its first-ever national title sponsor for
the Walk for Alzheimer's. This past May, 1712 enthusiastic walkers joined together to raise awareness and funds to support families in New Brunswick living with Alzheimer's and other dementias.
A grand
total of $180 000 was raised in 16 communities across the province, 
and we could have not done it without a team of countless volunteers,
21 sponsors and HUNDREDS of contributors and patrons!
We were able to capture beautiful 
memories from all locations,
clic

k here to view the album 
La Société Alzheimer a le plaisir d'accueillir le Groupe Investors

en tant que tout premier commanditaire en titre pour la Marche pour

l'Alzheimer. En mai dernier

, 1712

 

marcheurs enthousiastes

 se sont

rassemblés pour un but commun : recueillir des fonds essentiels et

accroître la sensibilisation au nom des 15,000 Néo- Brunswickois qui

vivent avec l'Alzheimer ou une autre maladie cognitive. Un grand total

de 

180,000 

$ a été amassé dans 

16

 

communautés 

de la province, et

nous n'aurions pu y arriver sans l'aide précieuse d'une équipe de

bénévoles incroyables, 

21 généreux commanditaires

, et le soutien

de 

CENTAINES

 

de contributeurs et donateurs 

!




Nous avons capturé de merveilleux moments aux différentes locations, cliquez ici pour visionner l'album photo.

    

 

 

      
         
 
Thank you to our Sponsors!
Merci à nos commanditaires!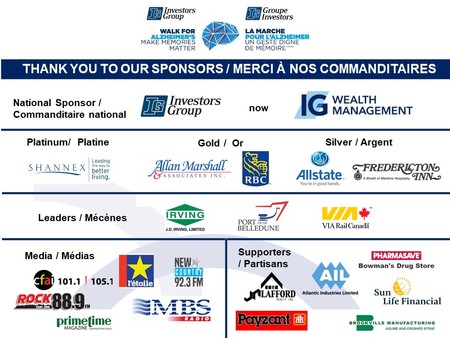 FISHING FOR MEMORIES


Le 23 juin, la 8e collecte de fonds « Pêcher pour la mémoire » a eu lieu à Hampstead, NB. L'une des plus grandes levées de fonds consacrée à une seule journée de pêche dans la province, avec plus de 150 pêcheurs qui se sont rassemblés et ont amassé 3950 $. Fondé en 2012 par Donald Paterson et Jason Belyea, qui ont été témoins de la lutte du père d'une amie proche à travers les stades avancés de la maladie d'Alzheimer. Les fonds levés par « Pêcher pour la mémoire » a permis de recueillir plus de 24 000 $

Nos remerciements sincères aux TRÈS nombreux commanditaires et félicitations aux gagnants de chaque catégorie : enfants, jeunesse et adulte, incluant le grand gagnant du tournoi qui s'est mérité un Alumacraft Jon Boat, un don très généreux de Toque Motorsports.




On June 23rd, the 8th annual Fishing for Memories fundraiser was held in Hampstead, NB. One of the largest single day fishing events in the province, more than 150 anglers gathered together and raised $3950! Since it was founded in 2012 by Donald Paterson and Jason Belyea after witnessing the father of a dear friend struggle through the late stages of Alzheimer's disease, Fishing for Memories has raised more than $24,000!




Sincere thanks to the MANY sponsors and congrats to all the winners in the kids, youth & adult categories, including the Grand Prize winner who took home an Alumacraft Jon Boat provided by Torque Motorsports!



| | |
| --- | --- |
| | |
| | |
ANNUAL GENERAL MEETING /

ASSEMBLÉE GÉNÉRALE ANNUELLE




On June 23, the Alzheimer Society staff, board of directors and supporters joined together to celebrate and reflect on the past year. Curious to know what we've been doing? Click here to read the annual report.




Le 23 juin, l'équipe de la Société Alzheimer, le conseil d'administration et ses partisans se sont réunis afin de célébrer et faire le bilan de la dernière année. Vous êtes curieux de savoir ce que nous avons fait? Cliquez ici pour le rapport annuel.



| | |
| --- | --- |
|                     | |
| | Équipe de la SANB Team Members |
PAULINE SPATZ LEADERSHIP AWARD
Each of us can look back on our lives, and share stories of people who may have crossed our paths unexpectedly, but left an indelible mark. In lives of many of those who met her, one of those people was Pauline Spatz. In her honor, in 2017 the Alzheimer Society of New Brunswick enacted an award to be given to and individual or a group who live the same values that Pauline demonstrated by making her community a better place to live. 

The 2018 laureate is Ms Valérie Duboquet.

Short bio (video you tube)




 

Nous pouvons tous faire un retour en arrière sur la vie et partager des histoires au sujet de gens qui ont croisé notre chemin, et qui ont marqué notre vie à jamais. Pauline Spatz était l'une de ces personnes et en son honneur, la Société Alzheimer du Nouveau-Brunswick a institué un Prix octoyé à un individu ou un groupe reflétant les mêmes valeurs que Pauline a su démontré en améliorant la vie de sa communauté.

La lauréate 2018 est Mme Valérie Duboquet.






 
In the News / Dernières nouvelles
Le mercredi 5 septembre 2018, marque la date de publication de la Charte canadienne des droits des personnes atteintes de maladies neurodégénératives, élaborée par un groupe consultatif de la Société Alzheimer constitué de personnes atteintes de démence des quatre coins du pays, est publiée.
Pour lire la nouvelle Charte 
https://bit.ly/2NP50W5
On Wednesday, September 5, 2018, the Canadian Charter of Rights for People with Dementia, developed by an Advisory Group to the Alzheimer Society of people living with dementia from across the country, is being released.
Read the new Charter. 
https://bit.ly/2oICxGj
September is World Alzheimer's Month and the launch of our annual Coffee Break fundraiser! All funds raised through this campaign fund vital support programs for New Brunswick families facing dementia. To learn more 

https://bit.ly/2w8LZqD

 

Septembre est le Mois mondial de la maladie d'Alzheimer, et le lancement de notre événement de collecte de fonds annuel Pause-café ! Tous les fonds recueillis grâce à la campagne servent à soutenir des programmes essentiels pour les familles du Nouveau-Brunswick qui doivent relever le défi des maladies cognitives. En savoir plus 

https://bit.ly/2BFKK7w



Laughter, awareness and fundraising! The ASNB was invited to take part in the   

IG Wealth Management

 Comedy Tour. Thanks to their generosity and engagement we got treated to our own little event spotlight at The Fredericton Playhouse and Casino NB (Moncton).

Rire, sensibiliser et amasser des fonds. Nos sincères remerciements à notre commanditaire national 

#IGPatrimoine

mmmm  de nous avoir invités à leur Comedy Tour (jeudi soir à Fredericton et hier soir à Moncton). Nous sommes très reconnaissants de la générosité et de l'engagement que vous nous démontré et nous ne pouvons demander meilleur donateur que vous!

#MoisMondialAlzheimer



Alzheimer Society of New Brunswick, 
320 Maple Street, Suite 100
Fredericton, New Brunswick, E3A 3R4
-------------------------------------------
Société Alzheimer du Nouveau-Brunswick, 
320, rue Maple, bureau 100
Fredericton (Nouveau-Brunswick) E3A 3R4