NO GLOOM ON BLACK FRIDAY…
…AS ZAVVI EXPECTS TO BEAT 2015
TOUR HAS A GRAND RESULT
WUAKI OFFERS BLACK DEALS…
…AND BOASTS RECORD BREAKING Q4
BFG AND TREK NECK AND NECK
GIANT STUNT HELPS BIG WEEK
GHOSTS RETURN TO HAUNT THE CHARTS
DALEK POWER IS UNDIMINISHED
MIDWEEK CHARTS UPDATE
FCPA REWARDS CINEMA STAFF…
…AND UNVEILS ITS ANTI-PIRACY EFFORTS
BROTHERHOOD PIRATE SUSPECT NICKED
DISNEY GOES BIG ON NEW RANGE…
…AS DORY SWIMS INTO VIEW
GREENGRASS COMES HOME
THE ROAD TO STORES
AMAZONS' ROUTE TO MARKET
YOUR NAME HERE
TRINITY'S HOLY ALLIANCE
TRUST GOES ROGUE
QUOTE OF THE WEEK
AT THE MOVIES
SITE OF THE WEEK
TWEET OF THE WEEK
---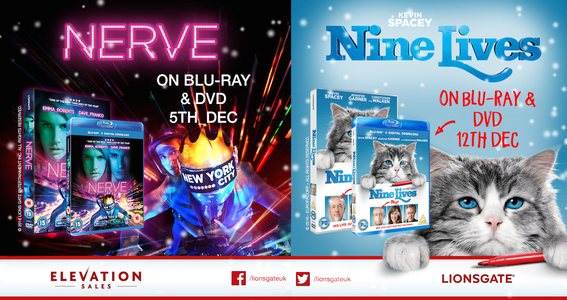 ---
If you can't read this newsletter or see the ads, please click here
It Was A Good Week For... Star Trek Beyond and The BFG going head to head…
It Was A Bad Week For… A man suspected of offering snide copies of Brotherhood via the dark web arrested…
And as Black Friday disappears from view for another year – and cyber Monday looms – it'll be a while before the dust settles and everyone gets a good idea of how things went. But there were some deals to be had out there – hmv stores opened early to cater for the demand, while, as reported last week, other retailers had activity going on beyond mere one or two days' worth. We'll have a full round-up next week when there's a better grasp of the figures, but we had a good trawl through the likes of Amazon, hmv and Zavvi this week and picked up some good bargains ourselves. Commenting as the day itself kicked off, Amazon UK country manager Doug Gurr said: "We've had a great response from customers to The Black Friday Sale so far and today we're sharing lots of brand new deals to help people get a head start on their Christmas shopping. We're also delighted to have over a thousand Marketplace businesses participating in The Black Friday Sale, helping them to promote their products to more customers."
Another site we ordered some product from on Black Friday (hey, we do buy films too, you know) was Zavvi, which offered up the likes of the outstanding Kubrick Blu-ray box set for £19.99 among other goodies (we picked up a Planet Of The Apes Blu-ray boxset and Naked Lunch Steelbook, seeing as you're asking – just over £20 for the lot). Commenting ahead of the event, head of DVD, Blu-ray and toys Steve Cook said: "We used the Black Friday message on the day only, as we didn't want to dilute the message across several days, but we did tease it on social and through key affiliates to build anticipation. We used Black Friday to promote some amazing new deals with a focus on both gifting and self-purchase, and also launching some new exclusive film products. I fully expect our Black Friday sales to dwarf 2015 numbers."
More on Black Friday and Cyber Monday next week, but it's worth noting that Amazon enjoyed another huge success, this time on its svod Prime service, as the big budget The Grand Tour series, the new outing from Jeremy Clarkson and co, made its debut last week to a huge fanfare and, the service said, record viewing figures, overtaking previous record holder Man In The High Castle. It earned some strong reviews, lots of viewer social media approval and a high score on Rotten Tomatoes too. Commenting on its success ahead of the second episode going live on Prime (it was due on Friday November 25), Amazon's Jeff Bezos said: "The guys are back, doing what they do best – the chemistry between Jeremy, Richard and James is what makes The Grand Tour so entertaining. Their creativity, along with the amazing production quality and 4K HDR streaming, has Prime members responding in a big way. Kudos and congrats to the whole team."
---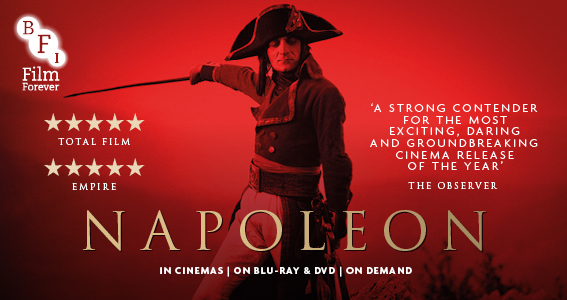 ---
Interesting to see the vod and other online operators using Black Friday to offer cheaper deals, chief among them has been Wuaki, which has been pushing offers throughout the week across the UK and its other territories, with more activity to come. As the company's Simon Homent said: "We launched our Black Friday offers in all countries on Monday, and have a second wave of even better offers being added just for the weekend. The response so far from customers has been very strong."
And how has Q4 been progressing for those same companies? With plenty of upfront, exclusive windows for digital HD, it's a strong slate for them and, according to Wuaki's Simon Homent, things are progressing well. He said: "We've been breaking our own records almost every week in November thanks to the amazing slate of movies being released. This week is on course to break the records again with the strength of new titles we have. We've seen some of our strongest market shares to date too that we are delighted with. We're very excited to see this grow further in December right up to our busiest week of the year over the Christmas weeks."
And what of the new releases that have been selling this week? Well, there's a right old ding-dong at the top of the charts, as Star Trek Beyond and The BFG battle it out for top slot. At the halfway stage, the two were neck and neck, with the latest adventures of the Enterprise slightly edging it ahead of the Roald Dahl tale according to the Official Charts Company's midweek bulletin. Both were well into six figure sales, the former selling 150,000, the latter just 3,500 units behind it.
The BFG was boosted by its stars Mark Rylance and Ruby Barnhill, who turned out on Monday to help launch the title with a stunt by London's Tower Bridge. The pair were on hand as eOne took some five hours preparing a snow covered scene with giant props inspired by the film. As Rylance said: "I like the idea of The BFG jumping over Tower Bridge that seems like something he would have done. And because he brought his bag and stuff, it's almost as if he'd come for it and got too nervous and then jumped away and hid. It was lovely." His co-star, who plays the film's young protagonist added: "I'm absolutely amazed to be here with Mark and it's really lovely to be here in the snow and it's great to know that so many people really love the BFG and are excited about the DVD."
The stunt was part of eOne's big, big campaign for the title and by the end of the week, as The Raygun went to press, the company was certain it was pulling ahead from Star Trek's initial warp speed. As the company's Stephanie Don said: "We're phizzwhizzingly delighted with the results so far on The BFG - to sit in the #1 chart spot heading into the weekend is fantastic and demonstrates just how beloved The BFG is with the British public. We were delighted to host Mark Rylance and Ruby Barnhill at The BFG's launch event on Monday with a magical snowy photo call in front of Tower Bridge, and it's been a privilege to bring this much-loved film to life on DVD and Blu-ray."
---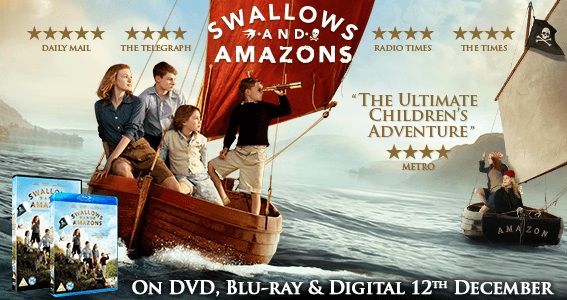 ---
Some more chart news now, and also performing well this week is Ghostbusters, a new entry in the midweeks at number four. Here's SPHE's Kate Jeremy on the extensive campaign and reaction to its first week sales: "From day one our ambition with Ghostbusters was two-fold: to build on the success of the much-loved existing franchise and to bring in a whole new family audience. Our campaign kicked off with a very successful digital EST release on the November y and this week we launched our fantastic physical consumer offering across DVD, Blu-ray and 4K Ultra HD with an extended edition featuring over three hours of bonus content, bespoke artwork and compelling retailer exclusives to ensure this title was giftable, family-friendly and perfect for our core Ghostbusters fans. We've had a lot of fun engaging fans and raising awareness for the title, from Halloween right through to release week. Highlights include working with online influencers, gaining some great support and interview pieces from director Paul Feig and creating stunt-level events such as the huge Stay Puft installation at Comic Con in both London and Birmingham and participating in the annual Hamleys Christmas Toy Parade which took place last weekend. Families were treated to an incredible display of the new-look Ecto-1, 20 fully-costumed Ghostbusters fans and a 6 metre high inflatable Stay Puft which was hailed by media as the star of the show! Finally brand activations with activations with Dunkin Donuts, Minicabit, South West Trains and Northern Rail have leveraged awareness for the title even further, really helping to eventise the release and broaden recognition. We are delighted with sales so far this week and expect the title to perform brilliantly in the run up to Christmas."
It's been a good week for BBC Worldwide too, with not one but two entries showing strongly in the midweeks, as first the latest from YouTubers Joe and Caspar in the shape of Hit The Road USA, a sequel to the pioneering travelogue from the two stars, landed at number nine in the midweeks, with, two places lower down, the "new" Doctor Who Power Of The Daleks. As outlined here previously, the release took reanimated some of the missing episodes from the second incarnation of the Timelord in the 1960s to give the once thought lost story a new lease of life, and its work has paid dividends. Commenting on its success, BBC Worldwide's Nancy Twynam said: "We've been thrilled by the sales figures for Doctor Who: Power of the Daleks. Considering the series is 50 years old, we rolled out a thoroughly modern promotion across social media, PR and marketing which included partnerships with Twitter and the BFI. The perfectly integrated campaign sustained the story from announcement to release, keeping fans interested and excited and the media on tenterhooks about this clever reimagining of one of the Doctor's most celebrated adventures."
Elsewhere in the midweeks, the Beatles were in at number six with the eagerly awaited Eight Days A Week documentary, while further down the listing Sarah Millican was in at number 13 with Outsider, while the boxset of the recent Star Trek films was at number 19. As we predicted last week, Fantastic Beasts has given a further fillip to the the Harry Potter series, with the complete set at number 28. The final new entries in the top 40 are Christmas With The Coopers at 34, Romesh Ranganathan's new live comedy outing a 35 and the seventh season of Still Game at number 37.
---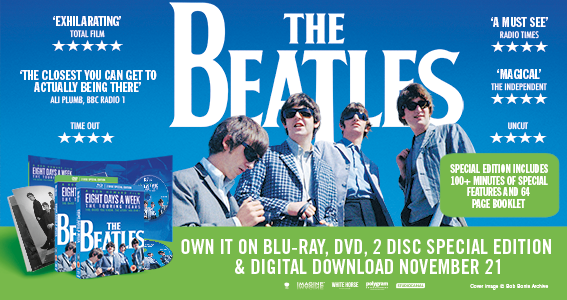 ---
To the Charlotte Street Hotel in the heart of London's West End, where the Film Distributors' Association was helping unveil the newly launched Film Content Protection Agency, aka the FCPA, the new studio and MPAA-backed body. It also saw cinema staff being rewarded for their vigilance, with 14 staff members from multiplexes and beyond around the UK were rewarded for their vigilance in helping prevent piracy by spotting people illegally filming movies in the cinemas. They were given cash rewards by the organisation, with their work helping stop the likes of The BFG, Suicide Squad, Finding dory and Bollywood film Kabali being filmed and spreading across the Internet as illegal downloads. Mark Batey, FDA Chief Executive, said: "On behalf of UK film distributors we would like to thank all of today's awardees for their excellent support and essential vigilance, which has helped to safeguard so many releases this year. Our shared goal is to keep UK theatrical releases as secure as possible, and we look forward to progressing our partnership work in 2017."
The new chief of the FCPA Simon Brown outlined the ongoing threat of piracy, downloads and illegal cam cording during a presentation. One fascinating fact he revealed is that more than 90 per cent of all pirated films are from illegal camcordering in cinemas. He outlined some recent cases, including an ongoing one where, using encrypted data on films crewed in digital friendly cinemas and CCTV footage, a suspected pirate was caught after filming two separate new releases on Fridays. The first screening in Fridays is the key time to catch pirates, according to Brown. "The pirate world don't pick and choose," he noted. "They want whatever's out there." He did add, however, that special notices were being sent out to cinemas to warn staff to be extra vigilant before big releases, particularly ones that were out in the UK first or day and date. Mark James from online security company Mark Monitor further outlined some of the problems, outlining how pirates use adverts on illegal streaming and download sites to earn cash and highlighted the ongoing efforts to find films that have been illegally uploaded.
And as the presentation was taking place, the City of London's specialist anti-piracy task force PIPCU was announcing it had arrested a man in Maidenhead on suspicion of offering up illegal copies of Noel Clarke's Brotherhood film, not released officially on DVD until Boxing Day, on the dark web. The 35-year-old man has been bailed to appear in January 2017. The arrest was made with the help of Entura International. Detective Inspector Michael Dodge of the Police Intellectual Property Crime Unit said: "Protecting the creative industries is of paramount importance to the UK and the Government estimates that it contributes £84.1 billion to the economy. Intellectual property crime is not a victimless crime as not only do hundreds of thousands of jobs rely on it but the money made funds organised crime groups that can also be involved in people and drug trafficking." Producer Jason Maza added: "The importance of protecting film from theft is something I have always felt strongly about as without it the industry has no future. I'm so happy that the Police Intellectual Property Crime Unit (PIPCU) and Entura were able to act so quickly to stop this thief in their tracks and hope that this arrest acts as a warning to those out there considering such behaviour in the future." Entura's Elliott Ingram from Entura International said: "It's gratifying to see justice delivered for the UK creative community. At Entura, we're proud of the role we play in protecting creators and innovators in the film, TV, and music industries, and we believe in supporting a safe online environment for consumers to enjoy content. With the ongoing support of PIPCU and other law enforcement agencies, we aim to help the arts to flourish in the digital age."
---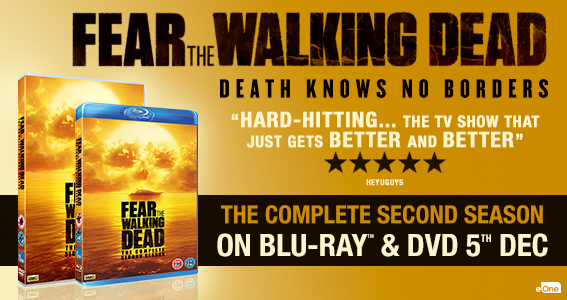 ---
Launching on Monday is a smart and innovative idea from Disney, as the studio looks towards the growing in interest in bespoke artwork, clever packaging and the vinyl revival for its new Big Sleeve Collection. It's a range of six titles available in dual-format within 12" by 12" sleeves (that's the same as a vinyl album for the more metric among you). The range includes the new to physical formats Finding Dory, as well as entrants from the Star Wars, Marvel and Disney Classics worlds. As well as plentiful extras, the range also features four artworks within each of the sleeves. Commenting on the range, Steve Woodward, head of UK and EMEA home entertainment marketing, Walt Disney Studios, said: "Disney's Big Sleeve is a celebration of the physical format, it is a collectable / giftable package that contains a DVD and Blu-ray version of the movie, bonus content and four beautiful artwork cards. It's a special way to treasure magical movies for years to come and also a fantastic gift for Christmas. We're excited to see how consumers will react to this new premium SKU. Dory joins 5 other titles (Star Wars TFA, Beauty and the Beast, Guardians of the Galaxy, Aladdin, Cinderella) in stores Monday."
Sticking with Disney, and Finding Dory, the film, the year's most successful animated outing, is arriving in stores in assorted SKUs alongside the Big Sleeve version. It will come with all the assorted noise you'd expect from such a big title, with its theatrical success showing that the franchise is still alive and kicking (or swimming) despite the 13 year gap between the original Finding Nemo and its long-awaited sequel. Here's Disney's Steve Woodward, again, on the release. He said: "Finding Dory was hugely successful, it went on to be the #1 animated move movie at the box office this year and we're hoping to see that success continue this Monday on BD3D, BD and DVD. The film will also be released on the new, premium, Big Sleeve format.'
Also due on Monday November 28 is another sequel to another strong franchise, although the Bourne series is a touch harder-hitting than the animated Pixar one. The latest addition is, of course Jason Bourne, with Matt Damon returning to the franchise alongside director Paul Greengrass. The star will feature heavily in the marketing, which includes TV, outdoor, radio and online activity, with a major promotion on Absolute Radio. Commenting on the title, Universal digital and product marketing manager Poonam Chudasama said: "As a huge fan of the Bourne franchise I have loved working on this release."
Back to eOne on the forthcoming release trail and due from the company early in December is David Brent: Life On The Road, the feature film outing for Ricky Gervais' character who made The Office such a huge success. As anyone who's worked with him before will testify, Gervais gets right behind home entertainment releases and this will be no exception. As the company's Thom Leaman said: "We're now just over two weeks out from the HE bow of 'the funniest film of the year' David Brent: Life On The Road, and buoyed by great looking pre-orders we're brimming with confidence. We've put together a massive no stone unturned above the line campaign hitting the gifting market in the broadest possible terms as well as targeting the millions of Gervais fans out there. We're blessed to have the amazing support of Ricky Gervais who is delivering certainly the most comprehensive HE talent support I've ever been involved with. Ricky will be making a host of TV and radio appearances in the coming weeks supporting our release and also getting involved in some our broader PR activations and will help us put the cringe back into Christmas."
Also on the way, this time from Studiocanal, is one of our favourite family outings of the year, the rather wonderful Arthur Ransome adaptation Swallows And Amazons. It's delightful and very British adaptation of the classic that makes for a marvellous romp with spies and other secrets being confronted by two groups of kids in the Lake District. Commenting on the release, the company's Olivia Dean said: "It's full steam ahead for the release of Swallows and Amazons on DVD, Blu-ray and digital download on December 12. Positioned as a whole-hearted family adventure and the perfect gift for kids this Christmas, we're supporting with a heavy-weight media campaign utilising the striking creative and emphasising the strong reviews. Publicity highlights include extensive coverage from a press trip we conducted to the Lakes, full of outdoor activities and a fascinating written feature from Andrea Gibb, the screenwriter about taking Swallows from Arthur Ransome's classic novel to screen success. Key promotional activity includes the distribution of bespoke teaching resources with IntoFilm and activity sheets sent to family-friendly venues nationwide as well as a competition courtesy of Cumbria Tourism to win a family holiday to the Lakes. With great support from physical and digital retailers, we're looking forward to a strong result this Christmas."
Congratulations to independent label Anime Ltd which has scored a major box office success with Your Name, which scored a single day record-breaking gross at cinemas on November 25 and has also enjoyed what it claims is the widest-ever release for a Japanese anime title. Its total on the day as part of the release which saw the indie imprint partnering with National Amusements, was just under £110,000 and it has now earned a touch below £140,000 at UK cinemas. It has also enjoyed a raft of strong reviews which further sets it up strongly for its home entertainment bow next year. Commenting on its success, Andrew Partridge of Anime Ltd said: "I am ecstatic and humbled by the support anime fans have shown for Your Name. Also I am thrilled that UK media who have from Radio 4's Front Row right through to The Sun shown tremendous love for Makoto Shinkai's masterpiece and helped in our ultimate aim to break anime out firmly into the mainstream psyche and box office where we think more work is to be done over the coming weeks." Speaking later to The Raygun, Partridge added: "We anticipate setting a home ent date once the theatrical release ends but as soon as we can we plan to open up pre-orders in what we would anticipate will be a key must-own anime title of 2017." James Dobbin of National Amusements commented: "We are thrilled with last night's results particularly as the cinema distribution included a large number of multiplexes in key cities but also plenty of smaller towns across the UK and Ireland. We're committed to bringing a regular strand of anime to the big screen and this success gives us a great platform to build on in 2017."
Last week's newsletter featured news about the recent shake-up in the S&D sector, with Fusion and Wildstar among those we looked at following the changes during the summer. And here's another of those affected, the new Trinity Creative Partnership set-up, which is looking after the likes of Second Sight. Here's the company's Andy Lyon on its outlook for the future. He said: "Trinity Creative Partnership Ltd are upbeat about the future of the business. We have a strong and diverse collection of labels with many of them experiencing fantastic growth against a difficult market. Our retail partners are very supportive. we look forward to a very exciting end to 2016 and continuing into 2017 for all of our retailers and labels alike."
We didn't have room last week to mention Sony and its launch of the second season of the excellent Breaking Bad spin-off Better Call Saul. The major organised a tequila-themed event, adding a bit of bite to its marketing. Commenting on the launch, Emma Fawcett, Publicity and Promotions Manager, Sony Pictures says; Jimmy McGill, aka Saul Goodman, is the ultimate hustler. We wanted to target media and fans with a fun event that would capture the very essence of his character. Complete with special 'Slippin Jimmy' cocktails, the Season 2 box set launch party saw Paul Wilson - star of the Real Hustle - share his insider tips and tricks on the art of deceit demonstrating how to pull the perfect con without raising suspicion."
And we'll end again with more from Disney, as the Industry Trust for IP Awareness has partnered with the major and Lucasfilm for its latest Moments Worth Paying For campaign advert which has landed in cinemas. In one of its highest profile trailers yet, it features the star of Rogue One: A Star Wars Story, Felicity Jones talking about the importance of paying for legitimate product and why copyright is crucial. You know the drill by now, but scoring such a high profile partner for a bespoke ad is something of a coup for the Trust. Commenting on the new spot, Disney's Lee Jury said: "The Moments Worth Paying For campaign is a great addition to the educational work the Industry Trust does for protecting our film industry. Nearly 40 years ago British creativity brought Star Wars to the big screen and it's fantastic that British talent in front and behind the camera is set to captivate cinema audiences around the world again with Rogue One: A Star Wars Story. We hope this trailer, featuring Felicity Jones, will inspire film fans to support the films they love and to watch them as they are meant to be seen – on the big screen." Sylvia Dick, Head of Audience Engagement at The Industry Trust for IP Awareness said: "Star Wars: The Force Awakens was highly anticipated last year and Rogue One: A Star Wars Story is expected to be just as fantastic. It's really amazing to be working with Disney and Lucasfilm again and is such a great addition to the Industry Trust's educational work. We hope the trailer continues to inspire audiences of all ages, male and female, to head to the cinema for everything films have to offer, those moments that are really worth paying for." You can see the trailer here…
---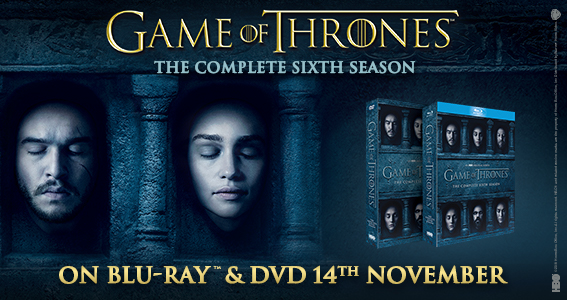 ---
QUOTES OF THE WEEK
"We are delighted with our agreement with Rakuten, a global brand in innovation whose experience and know-how in the fields of big data, communications and e-commerce will contribute to the future success of FC Barcelona".
"This agreement puts us at the forefront of sports club sponsorships, which has always been an objective for the current Board of Directors. We hope this partnership between Rakuten and FC Barcelona brings unparalleled sporting and commercial success, and helps the club achieve its goal of being a reference point worldwide".
FC Barcelona president Josep Maria Bartomeu announcing that Wuaki parent Rakuten is the new sponsor for the football team, with its name appearing on the shirts…
"This partnership opportunity is set to power our global brand strategy and, more importantly, as the Global Innovation and Entertainment Partner, we are looking to bring the collective power of our brands like Viber, Wuaki, Ebates, Kobo, PriceMinister to build a cool innovation framework that will deliver innovative solutions and services to fans, members and players
""I am very excited about joining the Barça community as I have personally followed the team for decades and have long admired their unique playing style and professionalism, their commitment to success and their culture of nurturing young talent – all values we share at Rakuten".
Hiroshi Mikitani, Chairman and CEO of Rakuten Inc on the same deal, which sees the company becoming the club's "entertainment partner…
It was all about Fantastic Beasts And Where To Find Them, as the latest addition to JK Rowling's unstoppable Potter world opened at UK cinemas with more than £15 million in receipts. Andre Rieu's Christmas With Andre became the biggest ever event cinema release with more than £1 million in receipts.
Lost In Space is trying to find itself again, after the 1990s take on the classic US sci-fi series failed to kick off a major franchise. The film is a Netflix exclusive and this week indie queen Parker Posey has been announced to star as the baddie Dr Smith, joining Toby Stephens in the Neil Marshall helmed adventure.
Big news in the world of comic book spin-offs this week is the fact that Frank Miller's outstanding Hard Boiled, a superlative ultraviolent outing, could finally be heading to the big screen. What's more, everyone's favourite Brit director, the prolific Ben Wheatley, could be behind the camera for this. With incredible buzz surrounding his forthcoming Freefall, his name is in the frame for the adaptation, and what's more he wants Tom Hiddleston to star…
As mentioned last week, here's a director on the importance of physical product for a Soda release…
"Where are you all coming from?"
Here's some Fences building…
Scorsese's been a bit quiet recently…
Incredible buzz building for this…
Another Pixar franchise gets revived, although this has been upsetting parents…
To subscribe to

The Raygun newsletter, please email
info@theraygun.co.uk
with subscribe in the subject matter
To unsubscribe, email
info@theraygun.co.uk
with unsubscribe in the subject
For editorial or advertising queries, contact
tim@theraygun.co.uk