Armchair Adventurer 2018
Dear Friend of PST,
Come experience Lawrence Howard telling Polar Opposites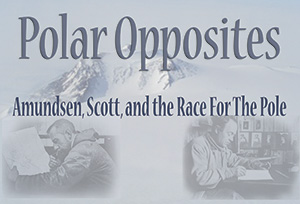 at
Nordia House
this Saturday, March 24 , 2018. Bar Service will be available during intermission. Young adults are welcome provided they are accompanied by a parent or guardian.
Polar Opposites is a story of the heroic and tragic events that played out on the frozen continent of Antarctica over one hundred years ago, as Roald Amundsen and Robert Falcon Scott vied for primacy at the South Pole. Lawrence Howard is a "captivating yet disarming raconteur" (Review by Oregon ArtsWatch)
Portland Story Theater's 2017-2018 Season is generously supported by The McIvor Family Charitable Fund; Tonkon Torp; Diane Ponti and Ward Greene; Ronni Lacroute, Polk Family Charitable Fund; John Moe; Dana and Steve Dennis; members of the Portland Story Theater Board, Founders' Circle, and Narrative Network, and many other individual supporters, as well as by the Oregon Community Foundation; The Collins Foundation; James F. and Marion L. Miller Foundation; Meyer Memorial Trust; The Kinsman Foundation; The Autzen Foundation; NW Natural Gas; and
The Oregon Cultural Trust. Thank you!
Photo and Artwork: O'Dubhda