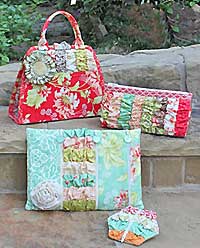 The Zip To It! is a 28 page mini-book by Serendipity Studio featuring a collection of accessories perfect for electronic gadgets, craft & sewing projects, and more. Each features easy to install zippers with an adorable ruched detailing to tie the collection together. Patterns include:

The Hexie Pouch, which is a super easy little project and is perfect for carrying your earbuds or loose change.

The Tablet Sleeve is perfect for your small computer or tablet. The dimensions of this sleeve will accommodate devices such as the iPad and Microsoft Surface, as well as other tablet-type devices.

The Triangle Bag is what really inspired this whole collection! I love how the ruched sides come together along with those adorable triangle ends! This bag is useful for so many things...various art supplies, sewing notions, toys for a young girl, or line it with a laminate and it would make a great makeup bag! Finished dimensions: 10" wide x 4 1/2" tall x 4" deep.

The Project Portfolio looks like a bag, acts like a bag, but is really a portfolio that opens out and lies flat!