SHOP PICKUP HOURS
 
Tuesday: 12 - 2

Thursday: 4 - 6

Saturday: 10 - 2

 

Things have changed quite a bit in the last few weeks and we cannot express enough how much we have appreciated your patience and suport as we navigate these new waters. We had to make several changes to the way we do business and while we suspect there might be more changes in our future, we are starting to get a better feel with this new business model.

 

If you haven't been following along, here are the big changes at ReBelle.

We are currently closed to the public. You can still place orders for one of our Contactless Curbside Pickup blocks or for shipping, but we can't interact with you in person or let you in the shop. We can, however, communicate with you via email or phone and make sure you have exactly what you need for that quarantine project.
There are currently no classes happening at ReBelle. If you were in a class with sessions left, those will be continued once we reopen, but all classes starting in April or May are cancelled and we will be issuing refunds.
Since we believe community is very important, especially in these times, we are doing extra stitch-ins and knit alongs throughout the next two months (more details below.) All of these are happening on Zoom and have been really fun so far. These are also free so if you find yourself feeling isolated at home, please join us for some knitting and laughs.

We miss y'all so very much. Please keep in touch and share your isolation projects with us. We love to see what you are creating, the projects that people have been sharing with us have been bright spots for us in these otherwise uncertain times.

 

Don't worry, even though it might not be for a while, we will reopen our doors one day. To quote our fearless leader 

"We will get through this, we will get through this together."



There are THREE ways to order from us: you can e-mail us at rebellegirls@gmail.com, you can call us at 859-389-9750, or you can order some of the kits we have assembled at
mkt.com/rebelle
. If you order by phone or e-mail we will send you a Square invoice and you can choose to pick up your order during curbside pickup hours or have it mailed directly to you. For curbside pickup, give the shop a call when you arrive and we will place your order on the porch.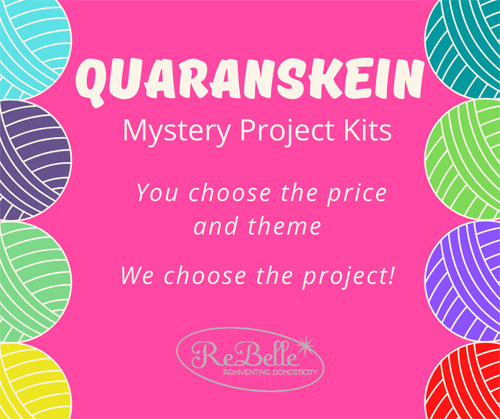 You may have heard of other shops doing something called QuaranSkein, well we are going to do it too. QuaranSkein packages are custom made as they are chosen with a lot of love and care. We will try to have them ready by the next curbside pickup window, but they may take up to 72 hours. We will send you an e-mail when your pickup is ready. We are adding a limited number of these to our online shop.
mkt.com/ReBelle
1
. You choose the price point and purchase from the
online store
.
2. Choose a word or phrase for your package theme (wildflowers, tequilla Tuesdays,afternoons with Andy, anthing you can imagine.)
3. List any preferences - knit/crochet, yarn weights, favorite types of projects, techniquesyou do/don't enjoy.
4. Do you want the package to include the required needles/hooks/notions?
5. Would you like the yarn wound into a ball or left in the skein?
Shipping - $6, pickup - free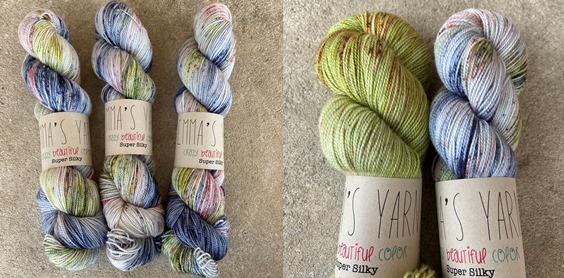 We have the new April colorway from the Emma's Yarn Crazy Beautiful Color Club! Is it possible that these are getting better and better? Anyway, we couldn't help but notice how nicely this month's colorway paris with last month's colorway. Two color shawl anybody? We think these would make an amazing
Lazy Hiker.
If you are sitting at home with extra reading or spinning time, you might think about grabbing the Spring Issue of PLY Magazine which is all about fluffy furry animal fibers- everything from bunnies to chinchillas to dogs to sea otters. You will learn all about the special properties of these fibers as well as how to prepare them for spinning. Even if you aren't a spinner, this one is a pretty interesting read. Looking for PLY backissues? Just ask, we might have the one you want.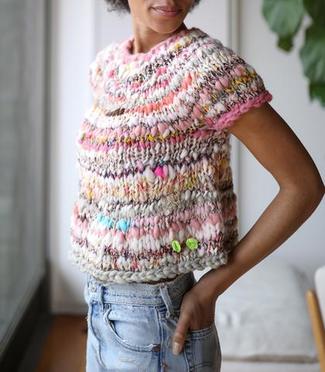 Knit Collage Knit-A-Longs are great for many reasons. There are FIVE patterns to choose from, it comes with an online class to guide you through the project, you get to knit with some amazingly unique yarns, and the projects are mostly on US size 17 needles, so it shouldn't take you forever to finish! Knit Collage is hosting their own Zoom KAL on Wednesday evenings in May and ReBelle will be hosting one every Saturday in May from 12-2pm. Sarah is going to be knitting the Kaleidescope Sweater and the Sunburst Pillow, but she will be happy to help you with any of the patterns during the KAL.
To see all the styles check out the video and blog post
here
.
Please order your kits from us! The Knit Collage KAL is often very popular and has been known to sell out of kits, so let us know what you want right away! Please send us an e-mail with the following information: which pattern, what size, what colorway (you may want to pick a second or third colorway in case your first choice is sold out), and whether you would like it shipped to you or to pick up at the shop (include your address if you would like it shipped).
For April's shop KAL, we will be knitting the Odyssey Shawl by Joji Locatelli out of Malabrigo Dos Tierras. Odyssey is a three color crescent shaped shawl with simple, yet elegant detailing. It is the perfect combination of mindless and interesting to keep you going. 
The shawl knits up  fairly quick on US8 needles and uses 3 skeins of Malabrigo's Dos Tierras yarn, but if that yarn doesn't fit your style we have several other compatible yarns for this pattern including Malabrigo Arroyo. 
All ReBelle knit alongs are free and open to the public. You are welcome to attend as many or as few of the KAL sessions as you like.
Join Zoom Meeting
Meeting ID: 653 637 724
We still have a few kits in our
online shop
available for curbside pickup or shipping and the pattern can be found on Ravelry or you can print it in the shop. Pattern information
here
.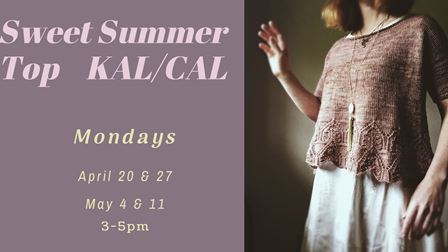 For those preparing for the warmer months, we are starting a Sweet Summer Top Knit/Crochet along at the end of April. This one has a little less structure than the Odyssey shawl because each person will pick their own pattern that falls in the category of summer top and we will knit/crochet them together. 
Robyn created a
Ravelry bundle
with several pattern ideas if you need some help finding the perfect pattern. She is also available if you need help finding a pattern for a particular yarn.
Join Zoom Meeting
Meeting ID: 179 860 905
Password: summer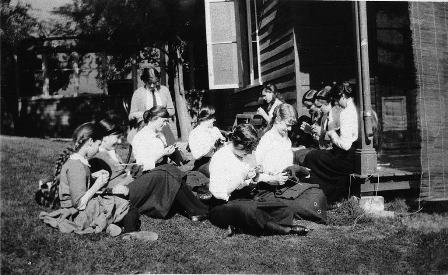 We have decided to host Tuesday evening (7-9pm) stitch-ins on Zoom every week until we reopen the shop. Community is important and we found that these virtual meetups are a great way to fight cabin fever and to connect with other crafters. Plus, if you find yourself stuck on a project, there will always be someone there to help you out. All stitch-ins are free, join us every Tuesday at 7pm!!
Join Zoom Meeting
Meeting ID: 797 040 230
Password: knitnight