Friday, January 25: Support G.I. Resisters!
Help stop the war... Support of U.S. war resisters seeking sanctuary Canada.
Washington DC * New York City * Dallas * Los Angeles
Minneapolis * Seattle * San Francisco
What you can do today and tomorrow:
Vigils and delegations are planned at Canadian Consulates in seven cities across the United States tomorrow. Check for locations and times below and come out to join us!
These events will underscore that many Americans hope that the Canadian Parliament votes (possibly within a few weeks) in favor of a provision to allow war resisters to remain. With most legal appeals exhausted, a political solution in now required. Supporting the war resisters in Canada is a concrete way to demonstrate your support of the troops who refuse to fight.
The following day, Saturday, January 26, the War Resisters Support Campaign (Canada) has called for a Canada-wide mobilization to ensure that deportation proceedings against U.S. war resisters cease immediately, and to support a sanctuary provision.
In December, Courage to Resist organizers Jeff Paterson and Lori Hurlebaus attended a meeting of the Standing Committee on Citizenship and Immigration of the House of Commons in Ottawa that adopted a motion that was a critical victory for Iraq War resisters seeking sanctuary. It's now possible that the full House of Commons may soon vote on this resolution. However, in the meantime, deportation is becoming a real possibility for some of the resisters. It is critical to build momentum in the wake of this important first victory.
Today the fate of approximately 200 U.S. war resisters in Canada is at a very critical juncture. Your support can make a difference. Let the Canadian government know that you support U.S. servicemembers that are taking a stand against the Iraq war. They should not be deported to face prosecution for following their conscience and upholding international law.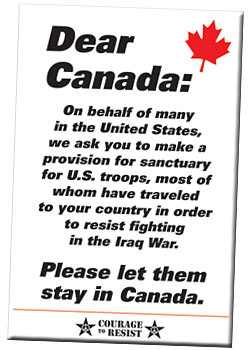 WASHINGTON DC
3 PM Rally
Consulate General of Canada, 501 Pennsylvania Ave. NW (at Constitution Ave) [map]. Sponsored by DECOI, Iraq Veterans Against the War-DC, Veterans for Peace Phillip Berrigan Memorial Chapter and Courage to Resist. Info: outofiraq@riseup.net
View and print event 8.5"x11" event PDF
NEW YORK CITY
12 Noon - 2 PM Vigil
Consulate General of Canada, 1251 Avenue of the Americas (behind Rockefeller Center) [map]. Sponsored by War Resisters League and Iraq Veterans Against the War-NYC. Info: youth@warresisters.org, 212-228-0450
DALLAS
1 PM - 2 PM Vigil
Consulate General of Canada. Vigil to support delegation at North St. Paul Street and San Jacinto Street [map]. Sponsored by the North Texas for Justice and Peace. Info: hftomlinson@yahoo.com
LOS ANGELES
10:00 AM - Noon Vigil and Delegation
Consulate General of Canada, 550 South Hope Street (at Sixth Street next to the LA Public Library) [map]. Sponsored by Interfaith Communities United for Justice and Peace. Info: efisher@log-an.com
MINNEAPOLIS
Noon Vigil - 1 PM Delegation
Consulate General of Canada, 701 Fourth Avenue South (at South 7th Street) [map]. Sponsored by Twin Cities Peace Campaign, Iraq Veterans Against the War-Minnesota, and Truth in Recruiting. Info: truthinrecruiting@riseup.net
SEATTLE
12 Noon Vigil
Consulate General of Canada, 1501 4th Ave. (between Pike and Pine Streets) [map]. Sponsored by Project Safe Haven. Info: projectsafehaven@hotmail.com, 206-499-1220
SAN FRANCISCO
Noon - 1:00 PM Vigil
1:00 PM Delegation
Consulate General of Canada
580 California Street (four blocks north of Montgomery St BART) [map]. Sponsored by Courage to Resist with Veterans for Peace Chapter 69, Cindy Sheehan, and the Raging Grannies. Info: courage@riseup.net , 510-488-3559
Saturday, January 26 Pan-Canadian Events
Events in Toronto, Ottawa, Vancouver, Victoria Grand Forks, Nelson BC, Saskatoon, Sudbury, and Thunder Bay. More info