THE KING'S SPEECH SPECIAL – WHY WE'VE DONE IT
THE MARKETING CAMPAIGN IN FULL
RETAIL WELCOMES THE SPEECH
WHAT'S HAPPENING IN STORES
SHOUTING OUT LOUD: THE PR PUSH
GONGS GALORE: AWARDS ROUND-UP
---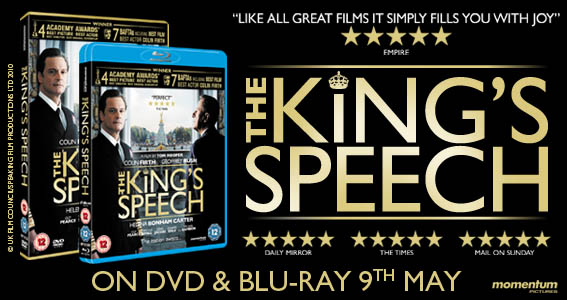 ---
It's the biggest British film by a country mile for more than 10 years, its won award after award and has rewritten the rule book about quality film-making for everyone, especially for UK directors and producers. It's proved that decent films – and good guys – can come first; that record-breaking, box office successes don't need to be mindless popcorn fare for teenagers too. It is, of course, The King's Speech and now it's coming to DVD and Blu-ray. To mark the occasion, and because the film is such a one-off, we at The Raygun have decided to do something equally unique ourselves. Here is a special one-off edition of The Raygun newsletter devoted entirely to The King's Speech, looking at some of the film's history and, crucially, how Momentum is preparing for its May 9 release.
Normal service with The Raygun newsletter will continue tomorrow, with all the industry news – and more – from the past seven days…
So how do you market the most successful British film for almost 20 years, and what is now one of the most successful films ever in this country? That's the challenge that's been facing Momentum ever since it became apparent that the film had become a bona fide phenomenon. Not only is it the most successful film of 2011 so far, but it's also the year's most talked about movie. How, then, can you convert that success into sales? Well, you can start with the timing. Momentum happens to have circumstances on its side – as you can't have failed to notice, the Royal Wedding between Prince William and Kate Middleton is taking place at the end of April, so the release has been carefully timed to coincide with the event, which, strange is might sound, is providing the perfect launchpad for Momentum's release. "With TV schedules all about the Royals, our TV campaign launches around the Royal Wedding and runs through May on ITV1, Channel 4, Five and all relevant terrestrial channels including a sponsorship on the Yesterday channel," said Momentum's Kristin Ryan, charged with marketing the film for its imminent release. There's similar opportunities with newspaper, radio and outdoor as Ryan continued: "Royal Wedding keepsake newspaper and magazine issues are also the launch point for our campaign and continue through weekend supplements pre-release, day of release ads across a varied range of publications and into weekend supplements post-release. Our radio campaign runs on Classic FM from the weekend pre-release through release week and our outdoor campaign will be focused around the London Underground two weeks pre-release to capture the increased footfall in the city's capital for the wedding and then heavyweight National Rail from release date." Online elements will take in all audiences from students to families, from regular DVD purchasers to an older audience. That same group of older, irregular DVD buyers will also be targeted via activity with the likes of the National Trust and Chelsea Flower Show. "This will ensure our older audience are well aware of the home entertainment release," said Ryan.
For retailers, the DVD and Blu-ray release of The King's Speech is giving them the perfect opportunity to – at last – get a slice of the phenomenon that is The King's Speech. What's more, there is a feeling among some that, in a rather flat 2011, the film could help inject a bit of life and a spark back into the industry at a time when it needs it most. HMV's Andy Anderson is one of the industry's most enthusiastic advocates of the film. "I think it's absolutely brilliant," he told The Raygun. "It's appealed to a market that doesn't go to the cinema. My mother- and father-in-law went to se it, the last film they'd seen before that was Gandhi, they hadn't been to the cinema for 30 years. Momentum really worked it, helping it build and build and keeping Colin Firth and the others in the papers. It'll do really well on DVD, a lot of the market who went to see it, they don't download, they don't pirate films. My mother-in-law doesn't have a clue about downloading, the only thing she knows how to do is go out and buy it. It will be one of those films that people who only buy a few titles, such as The Lion King, Shawshank Redemption and so on, will go out and buy. I really hope Momentum does well with it, a title like this couldn't have happened to a nicer company."
Meanwhile, Momentum is also planning to make a deafening noise in retailers' stores and carry that street party atmosphere from the wedding through to its release of The King's Speech. As well as pre-release standees, the company is also looking producing in-store decoration packs sent out before the Royal Wedding, enabling stores to dress themselves up ahead of April 29 and raise awareness at a time when there'll be increased footfall in stores. In the week of release there'll be a wealth of different stock carrying point of sale units, as well as more – T-shirts for staff, bunting and, better still, paper crowns are being given to counter staff to ensure that, as Momentum said, The King's Speech is "a major-in-store event".
---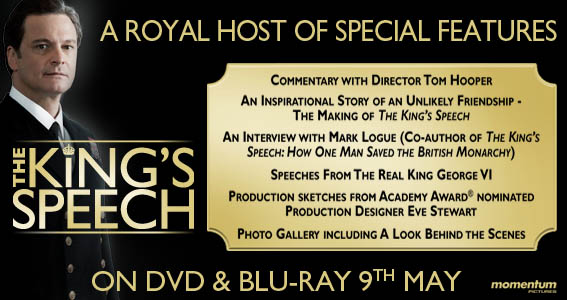 ---
You might think that, with its £44 million plus UK box office haul, pretty much everyone who's going to see The King's Speech has seen it. Not so, some pundits believe. Writer and box office expert Charles Gant, who writes fantastic regular columns in The Guardian and Sight And Sound analysing UK box office trends and more, as well as being Heat's film critic, believes that there's plenty of life in it yet – and it could fulfill that potential on DVD and Blu-ray. In a specially commissioned piece for The Raygun's website, Gant said it was a "further tantalising possibility". He quoted Momentum chief Xavier Marchand, who said in Variety: "The amazing thing is we got to £40 million in the UK without fully tapping the under-30s. The ticket mix is still heavily weighted to 35-plus, with about 30 per cent of the audience over 65." Gant added: "In other words, while there's certainly a huge older audience that will want to own the treasured film on DVD, perhaps buoyed by hoopla over the royal wedding, there's also an equivalently large audience that has yet to see it. DVD, download and pay-per-view is where these more youthful film fans can finally catch up." For Gant's feature and more on The King's Speech, see here.
One thing that The King's Speech hasn't been short of is publicity. Newspapers have been – and still are – full of mentions of The King's Speech and even the most tenuous link is being used to create editorial. Among our favourites have been the fact that one of the locations for the film has also been used for swingers' parties (from the News Of The World, natch), and there have also been upmarket ones – much of the coverage of the impending demise of the UK Film Council has been illustrated by, and featured numerous mentions of the film. There have been a wealth of stories about stutterers and what the film meant to them, about its language (and US PG-13 version with the swearing taken out), and plenty about the historical elements too; it has prompted a reassessment of the history of the monarchy during the 20th century But the challenge for Momentum and its agency Romley Davies now is to heat up the film again. As Momentum's Kristin Ryan said: "With PR activity around the theatrical release so widespread our challenge for the DVD is to find new and exciting angles and partnerships." There are some great ideas – there'll be a plaque unveiled in Harley Street celebrating therapist Lionel Logue and a specially commissioned King's Speech rose – as well as feature ideas such as Royal weddings through history, Royals on film (heck, we've even done our own feature on that) and inspirational speeches and the power of speech. And that's in addition to the standard coverage, which will take in "blanket" review coverage, competitions, interviews with the talent and loads more. It promises to be "the definition of a broad campaign", with media targeted across the board, from student to retirement publications, ancestry and history magazines, and both women's anf men's mags too. Promotional partners on board include (deep breath) A Suit That Fits, Dermatologica, St. Ermin's Hotel, Warner Leisure Hotels, Classic British Hotels, Emma Bridgewater and Kleshna jewellery, while youth and school-based initiatives are also being considered. Romley Davies' Sally Young said: "The publicity campaign for The King's Speech is definitely making the most of the huge level of interest in the film whilst also generating new coverage angles. With a holistic approach that incorporates traditional and non-traditional outlets we're really hooking into the goodwill the film has generated amongst journalists and audiences alike. In addition, the huge array of third parties keen to work alongside us in promoting the film really does serve to underscore the unprecedented popularity of this homegrown success."
Those awards in full… We've been trawling through a lengthy list of awards picked up by The King's Speech – it's nearly 50 in total, in the key categories of best picture, director, actor, supporting actress and actor and screenplay. There are the first ones – the film picked up five gongs at the BIFAs (British Independent Film Awards), pointing a route to its potential success; there are the key ones – those four Oscars (picture, director, actor, screenplay), five BAFTAs, a Golden Globe – and lots more, from festivals and locations around the country. It had an additional 75 nominations too – taking into account the categories it succeeded in, the film boasted a whopping 120-plus nominations.
We've mentioned it, but The King's Speech is now the most successful Royal-themed film ever. And what are the others? The Queen? King Ralph? Home entertainment scribe Jessie Mellor has had a look at the most successful regal films ever in a right Royal feature on our website now.
---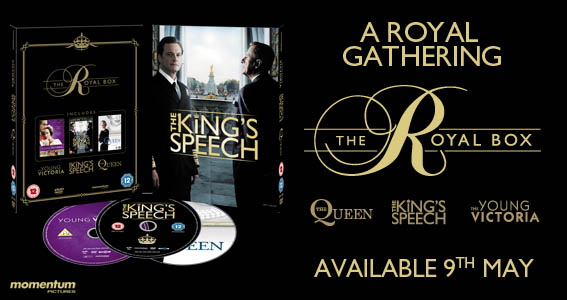 ---
On our website soon we'll be giving you a closer look at some of the DVD and Blu-ray extras for The King's Speech, offering up a sneak peek at some of the additional material. Momentum's close involvement with the film from its inception means that the extras have been created very much with the UK market in mind. As well as a Making Of feature and other behind the scenes footage, there is also real-life footage of King George VI giving speeches, and a new interview with Lionel Logue's grandson, talking about his relative's life and joining the dots between real-life events and those portrayed in the film. And the packaging? Well, the release comes in a suitably regal gold box with a premium gold foil tipped O-ring. In addition to that, there's a further premium triple pack, smartly entitled The Royal Box, which will include Young Victoria and The Queen alongside The King's Speech.
"I have a feeling my career's just peaked." Colin Firth on picking up his best actor Oscar at this year's Academy Awards.
"I think I found your next film." Director Tom Hooper's mum after seeing a read through of the original play.
"The moral of the story is listen to your mother." Hooper, picking up his Academy Award.
"My father always said to me, I would be a late bloomer."
Octogenarian King's Speech writer David Seidler on winning Oscar for best original screenplay.
It seems even the rats of New York are keen to see what all the fuss is about when it comes to the King's Speech as actor Edward Norton had an altercation with one this week while watching the Oscar winning film at a cinema in Manhattan. However, we're sure director Tom Hooper is hoping humans outnumber the rodents who are making up the phenomenal £125 million and counting box office receipts of his £9 million drama. Hooper, who cut his teeth on Eastenders and The Damned United, has now been tipped to direct the big screen version of the popular musical Les Miserables, which has been pulling in audiences in the West End for over 25 years. Hooper will be keen to overshadow memories of the lacklustre 1998 non-singing take on Victor Hugo's tale which starred Liam Neeson and Uma Thurman. The question is – will Hooper cast his gilded main man Colin Firth in the role of Valjean, the poor Frenchman pursued for stealing bread?
Talking of Firth, he has continued his quiet domination of the award season by picking up the Jameson Best Actor gong at the recent Empire Awards. After completing the remake of the Michael Caine and Shirley Maclaine classic Gambit, in which he'll share screen space with Cameron Diaz and Alan Rickman, the humble Oscar winner is hoping to leave Hollywood behind for a while and return to the British stage. He is in talks to star alongside his English Patient stable-mate Kristin Scott-Thomas in Harold Pinter's Betrayal. Let's hope he can stop the charming and incessant smiling we've seen of late to do justice to Pinter's cleverly constructed tale of lust and dishonesty.
Helena Bonham Carter, Colin's brilliant Queen from The King's Speech, has swapped sweeping regal tales for something much more unassuming with a small appearance as Nigel Slater's mum in Momentum's recent release, Toast. This decidedly British fare sees Bonham Carter playing Mrs Potter in a nostalgic culinary comedy drama starring Freddie Highmore. Summer will also see the release of another much more high-profile Potter with Harry Potter And The Deathly Hallows, in which she shines as Bellatrix Lestrange. But the busy lady is also rumoured to be up for Tim Burton's latest, Dark Shadows. Described as a 'gothic soap opera' which found a faithful audience on US tv in the Sixties, it will, of course, star Johnny Depp, who has apparently always been obsessed with the lead character Barnabas Collins. You'd think Bonham Carter would be a shoo-in for any Burton film but she always asserts she has to go through the casting process like everyone else.
Hear the original speech taken from an original His Master's Voice 78rpm single (ask your parents or grandparents if you don't know what a 78 is…). More importantly, this is also featured on Momentum's additional features for the release…
And here's the first many in the UK saw of the film, issued a few months before its theatrical release, the original theatrical trailer:
The King's Speech. In Lego.
One of the funniest King's Speech spoofs we've seen, from US comic Jimmy Kinnel's chat show and featuring "Sir Michael Tyson":
To unsubscribe, email
info@theraygun.co.uk
with unsubscribe in the subject
For editorial or advertising queries, contact
tim@theraygun.co.uk