Carnival – February – The celebration of Carnival marks the beginning of Holy Season (the Christian season of Lent, the six weeks before Easter), and is a spectacular cultural event unique to the Caribbean and Latin America. Carnival in the Dominican Republic is celebrated throughout the country during the entire month of February, with famous parades and street parties held every Sunday in La Vega, Santo Domingo, and Puerto Plata.
Distinguished by colorful costumes that symbolize religious and traditional characters, each town adds its own twist to the event. Check local news outlets, or consult with our concierge for parade details.
Whale Watching – January through March - The Dominican Republic is considered one of the Top 10 places in the world to observe Humpback Whales in their natural habitat. From mid-January through mid-March, whale watching tours offer a unique opportunity to see incredible spectacles of whales' courting behavior, as well as exhibitions of affectionate motherly love towards the new born calves.
The Humpback Whales are migrating along the North Coast and can be seen usually mid-morning right along the beaches at Sea Horse Ranch, among other points along the coast.
Samaná Bay, located on the Samaná Peninsula on the North Coast of the Dominican Republic – 3 hours from Sea Horse Ranch – offers a unique boating experience of this incredible natural phenomenon to witness displays by the most active species of whale in the Atlantic.
Our concierge can arrange a tour for you with a Marine Mammal Specialist on an environmentally safe excursion, so please contact us for more details.
---
Romantic Valentine's Celebration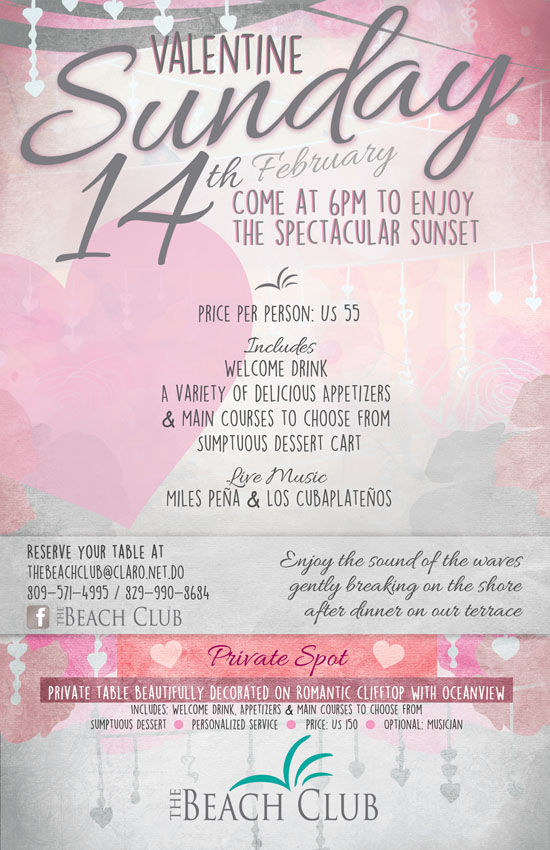 Sea Horse Ranch is offering special savings on all villa rentals for Valentine's Day. Receive 15% off reservations on four night stays or longer and also receive a complimentary couple's spa massage.
We invite our guests, and welcome all visitors, to celebrate with a romantic dinner for Valentine's Day (Sunday, February 14) at The Beach Club at Sea Horse Ranch. A special menu will be offered, complete with live music and the stunning seaside ambience of The Beach Club. Enjoy a spectacular sunset, with dinner beginning at 6pm. For dinner reservations and more details, please call The Beach Club at (809) 571-4995.
---
Summer Day Camp for Children at Sea Horse Ranch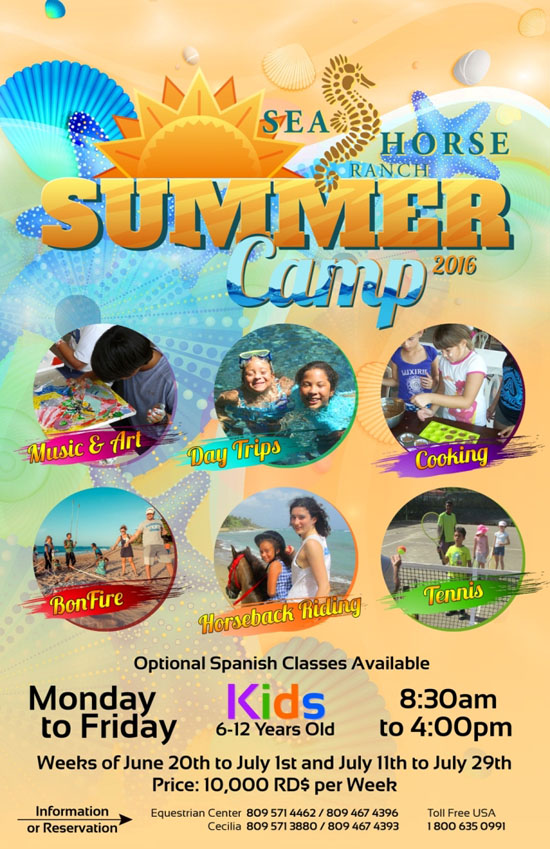 Summer Camp at Sea Horse Ranch is open for all children ages 6-12. Registration has begun, and the dates for Camp are June 20 to July 1, and July 11 to July 29, 2016. Summer Camp is created for long term residents and tourists alike, and offers optional Spanish classes, in addition to the many other fun and educational activities, such as art, music, water sports, tennis and horseback riding.
The Summer Day Camp at Sea Horse Ranch is held Monday through Friday, from 8:30am – 4pm, and is five weeks long. A week-long break is held after the first two weeks of camp, giving families time to travel and explore the island. We can help our guests coordinate trips to places such as the Samaná Peninsula, or the nation's capital, Santo Domingo, ask us for more details.
Please contact us for accommodation options. Special long term rates are available for villa rentals at Sea Horse Ranch for the six week period that Summer Camp is held. Call us today at 1-800-635-0991.
---
Featured Property – Villa Sirena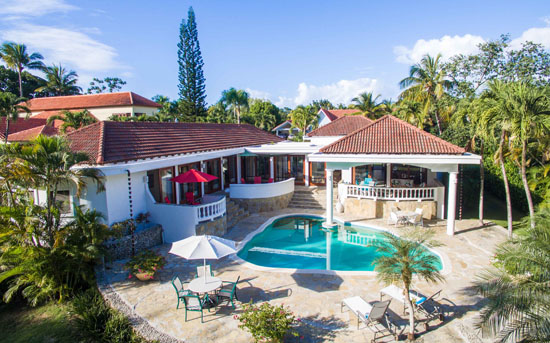 Villa Sirena is a luxurious three bedroom, three bath exclusive property that sleeps six comfortably. A master suite with a King size bed features an enormous bathroom with an oversized bathtub and shower, a walk-in closet and art deco glass detailing. Both guest bedrooms feature private bathrooms with walk-in showers and colorful tropical tiles. Both guestrooms have queen sized beds, and all bedrooms feature air-conditioning.
The outdoor area provides ample space for entertaining. A two-tiered pool patio is surrounded by citrus plantings and provides privacy with lovely hibiscus and bougainvillea hedges.