SHOP HOURS
Monday: CLOSED
Tuesday: 12 - 6
Wednesday: 12 - 6
Thursday: 12 - 7
Friday: 12 - 6
Saturday: 10 - 6
Sunday: 12 - 4

 

 

 

 

If you live anywhere near Lexington Kentucky, chances are you may have heard about a little thing called March Madness.  The ReBelle girls are only marginally excited about sports balls, but we get thouroughly excited about yarn balls.  In that spirit we have created a bracket for Yarn Madness.  Pick up a bracket in the shop or download one here and drop it off at the shop by March 18th.  Then there will be five rounds of voting online and/or in the shop to correspond to basketball games.  We will award one point for each correct line and the person or persons with the highest score will receive a prize.  We will also be entering everyone who correctly predicts the winning yarn into a drawing for an additional prize!  

 

Mark your calendars for our annual March Madness SALE on March 26th & 27th!!

 

Also, in March we will be doing a knit-a-long on Sunda

ys. We will be knitting Mrs. Jekyll and Little Hyde, a reversible hat with lace on one side and stripes on the other.  It calls for a light fingering weight yarn.  The knit-a-long will be Sundays, March 13th, 20th and 27th from 2-4pm at ReBelle and there is no charge.  Facebook event here.

 

 
In anticipation of warmer weather, we've restocked our Old Dominion Cotton from Cestari and we've added 5 new colors!  This cotton is soft and hand dyed in gorgeous semi-solid colors.  This yarn is made from cotton grown in Virginia and it is milled and dyed in Virginia as well.  Old Dominion Cotton is perfect for baby blankets or other baby items like bibs and clothes, but it's also good for shawls, washclothes or adult garments.  It's a DK or light worsted weight, working up nicely on a size 7 and there's a whopping 250 yards per each 100g skein.
We are restocked and have three new colors in Cestari Traditional 2-ply yarn.  This yarn is made from Targhee sheep, who are unique because their wool does not felt.  That's right, you can wash this wool in the washing machine and it will not shrink!  This yarn is also unique because the sheep are raised and the wool is milled and dyed right in Virginia.  This yarn also contains some of the original lanolin.  I like this because it is not drying to your hands when you knit with it like some other yarns can be, it also adds a degree of water resistance to the finished product.  We have this great yarn in three natural colors, two dyed colors and one marled color.  It's Aran weight with 170 yards per 100g and it's great for everything from sweaters and blankets to hats, mittens, leg warmers and diaper covers.
We got a huge order of Malabrigo!  The highlights are 4 colors of Arroyo, 5 colors of Mecha (above) 8 colors of Rios and 7 colors of Worsted (both below).  Three of those Rios colors are actually NEW colors, Illusion, Tormenta and Nimbus Gray.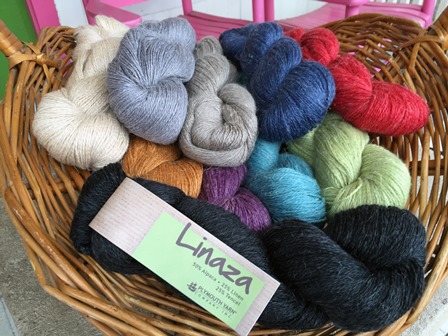 We already had to place another order for one of our newest yarns, Linaza.  Linaza is a light fingering weight blend of 50% alpaca, 25% linen and 25% Tencel with 440 yards per 100g skein.  Since we had to reorder already, we added three new colors as well.  Linaza is great for shawls or light weight garments and it's perfect for the
Mrs. Jekyll and Little Hyde
hat if you are thinking of joining us for the knit-a-long.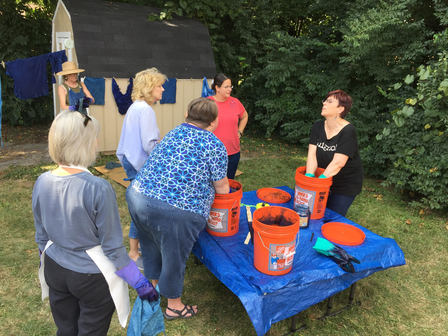 Mark your calendars for April 9 & 10, it's time for some Indigo dyeing!  The indigo plant has been used to create deep, beautiful blues for thousands of years.  We are offering two resist workshops, Batik and Shibori, the day before, and borth include the dye workshop in their price with an additional savings if you sign up for both resist workshops.  For those who only want to dye, you can sign up for the Indigo Workshop on its own.  You can reserve your spot and pay for the classes 
here
.  The facebook event is
here
.
Shibori Wrap
Saturday, April 9th, 10am-12pm $45
Batik
Saturday, April 9th, 1-4pm $55
Indigo Dyeing
Sunday, April 10th 1-5pm $35
Sign up for both Shibori Wrap and Batik for only $85!
The yarn of the month for March is Taria Tweed.  Taria Tweed is a super soft blend of 40% merino wool, 30% llama and 30% silk.  Soft tweeds are not easy to find, so we were delighted when we found Taria Tweed.  It's an aran weight yarn with 135 yards to 100g and it knits up nicely on a size 9 needle.  We've knit the
Cupid Cowl
 (shown above) with just one skein and we've paired it with Noro Taiyo or Cascade Rabat to make the
I Crocodile
hat (shown below).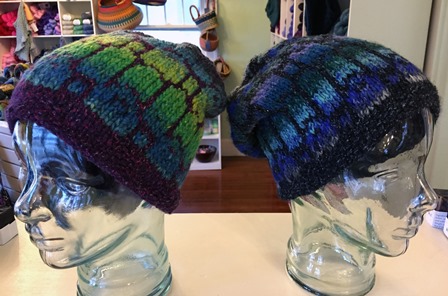 Featured Upcoming Classes
 

 

 

Introduction to Drop Spinning ($35)

 

Come join Robyn a fun afternoon of learning to spin yarn on a drop spindle. Drop spindles are an inexpensive way to get a taste of what goes into the creation of yarn. In this class you will learn basic spindling techniques and some simple plying methods. This is a beginning class so no prior experience is needed. The class price includes a drop spindle and 4oz of combed top, if you already have the supplies you can take $15 off the class price.

 

Saturday, March 12th 1-3pm

 

 

 
Granny Square Class 

($15)




Come learn to crochet 3 different styles of granny squares with Raellyn. You will need to bring a size H or I crochet hook and worsted weight yarn. Beginners welcomed, but some crochet experience is needed.

Tuesday, March 29th 6-8pm




 
 

 

 

Goat Milk Soapmaking Workshop ($25)

 

Join Sarah and learn about different kinds of soap making! Resources will be provided and active participation encouraged. During the workshop we will make two cold processed soaps, one with goat's milk and one without. We will also explore adding colorants, essential oils and exfolliants to further enhance our soaps. Participants will have some input on the scent. Each participant will get a bar of each soap made during the workshop.

 

Sunday, March 13th 4-6pm