You may see these
Spring Beauties
on the Patapsco walk 
Photo by Wikipedia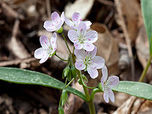 Shopping with Amazon.com?  Please use this link and Chesapeake Audubon will receive .5% of your total purchase amount!
Sunday, April 2,  2-5 pm     Leader: Bryan MacKay
Patapsco Valley State Park, Signs of Spring Walk
Join naturalist Bryan MacKay for a 2 mile stroll along the paved Grist Mill
Trail as buds begin to swell and birds begin to sing. Learn about early
season plants and history of the valley; we may even see a few birds! We
will also walk 300 yards uphill on a trail to see a beautiful cascade. To
register please contact Bryan at mackay@umbc.edu or at 410 747 7132, at
least a day in advance.
Intro to Bird-Friendly Gardening Workshop with Patterson Park Audubon
Monday, April 3, 6-8PM, Towson Branch of Balt. Cnty Public Library
Wednesday, April 5, 5:30-7:30PM, Enoch Pratt Free Library, Roland Park
Welcome, gardeners! Come learn how to transform your urban dwelling into a native wildlife paradise! Audubon experts will be on hand to share practical tips and scientific support for gardening with native plants outside urban homes. Leave with resources you need to beautify your outdoor space and attract birds, butterflies, and other beneficial wildlife! Please register in advance: baltimore@audubon.org or 410.558.2473
Thursday, April 6, 9-1030AM, Audubon Wetlands Tour
Visit Pickering Creek Audubon Center to learn about the 90 acres of constructed wetlands created in partnership with Chesapeake Wildlife Heritage. Learn about the value of large-tract habitat restoration projects to birds, other wildlife and the Chesapeake Bay.  Expect to see waterfowl and wading birds, migrants, and raptors.  We'll tour about two miles of trails on foot across flat but uneven ground.  Delightful views of the wetlands from two viewing platforms will be enjoyed along the way.
This program is supported through a grant from Waterfowl Chesapeake. Free.  Registation required by calling 410-822-4903
Saturday, April 8, 9am    Leaders: Fred Brundick and John
Landers,  Cromwell Valley Park, Photographing Nature                
 


Bring your camera and binoculars--John Landers and photographer Fred
Brundick will take you around wonderful Cromwell Valley Park. This will be a
great way to get into practice just as the flowers, butterflies, and birds are
beginning to show their stuff. To register, contact Fred at gpferd@gmail.
com or 443-752-5607.
Monday, April 10, 1-2PM, Tales & Trails for Tots- Best Nests with Pickering Creek Audubon
$5 per child with adult
Exploring the outdoors with your young one is the number one way to help them form a lifelong bond with nature. Come on an adventure of reading and the outdoors. Storytime, followed by a tot-sized walk will open eyes to the wonderful world of nature, while sharpening your skills to be their guide and teacher. Appropriate for children ages 2-5.  Registration required by calling 410-822-4903.
Looking Forward:
April 19 - Ponding at Pickering Creek
April 22 - Feathers and Flowers at Susquehanna State Park
April 22 - Spaghetti Dinner - Travel to Cuba with Hugh Simmons
April 24 - Intro to Bird-friendly Gardening with Patterson Park
April 29 - Nature Walk at Billy Goat Trail
April 29 - Saturday Walk at Patterson Park
Volunteer  with Chesapeake Audubon!
Patterson Park Audubon 
Saturday, April 1, 9-1030AM, Habitat Garden Team. We are building bird habitat in Patterson Park and need your help! These native gardens provide food and homes for the park's wildlife, and learning spaces for students. Tools, gloves, water, and snacks provided. Service hours awarded to helpful students. No need to register. Meet at the wetland garden, uphill from the Boat Lake.  See their

volunteer page

for information.
Pickering Creek Audubon Center: 
Saturday, April 22, Gardening Day.
  9AM-12PM,  Volunteers of all ages are welcome. We will be weeding and cleaning out garden beds at the Center. Volunteers are encouraged to bring a brown bag lunch and stay for Canoe cleaning and volunteer paddle afterwards.  Call 410-882-4903 to register.  More information can be found on their
volunteer page.