February 9th 2016 special notice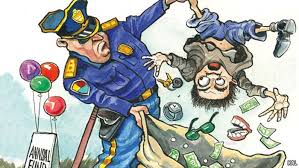 We hate running more than one email a week as sending out over 6,000 emails is costly but this is realy needed. And we forgot to mention the luncheon tomorrow covering the blackmail political persecution.
Senator Loveless's SB 1189. tje anti civil forfiture bill is being blocked by Senate leadership and the deadline for committee action will be here before we know it.
Please call Senate Pro Tem Brian Bingman at
405-521-5565
405-521-5565
and Floor Leader Mike Shulz at
405-521-5612
405-521-5612
and request that SB 1189 be given a fair hearing. Be sure and mention the Sooner Tea Party, an individual's voice carries little weight but if they know you are with a large group they take notice of what you say! We don't care if you are with us on other things, just use our clout on this issue.
Send this message out to all your contacts too and request phone calls and emails. Please call and email your own senator as well and give your address so they know you are a constituent.
Gerhart to Speak at Tulsa County Republican Mens Club on Wednesday
A tale of political blackmail or freedom of speech? This month we go on a politcal education of what can be said and what happens when you step on the wrong toes...

Al Gerhart and his attorney Kevin Adams will join us for this amazing abuse of power...false imprisonment, civil rights violations, shake down, and having his guns taken away all to be given his life and freedom back by a higher court. This is an amazing story from a political activist you do not want to miss to better equip yourself and your political activism.

Billie has got word today we will have an amazing Mexican lunch with dessert and drink all for $10. Please RSVP,
918-638-9977

When: 2/10/2016
Where: Brookside Baptist Church Fellowship Hall
3615 S Peoria Ave, Tulsa, OK 74105
Time: 11:30 to 1:00
Kevin Adams is a
trial attorney with an office in Tulsa
.
Mr. Adams is a past president of the Tulsa Criminal Defense Lawyer's Association, a former board member of the Oklahoma Criminal Defense Lawyer's Association and the 2003 recipient of the Oklahoma Criminal Defense Lawyers Association's Clarence Darrow Award which is given to one attorney in the state for outstanding criminal defense. Mr. Adams has had over
forty (40) jury trials and numerous appeals in both state and Federal court.
Al Gerhart was born in Arkansas but moved with his military family to Oklahoma at a very young age, settling in Sallisaw Oklahoma where he graduated in the Class of 76.

First jobs were framing houses, then a Carpenters Union apprenticeship in Tulsa Oklahoma, then back to Arkansas were he founded a successful furniture factory, then back to Sallisaw for a few years.

Since 1992 Al has lived in Oklahoma City where he founded a cabinet shop and countertop shop specializing in higher end cabinets.
Called into politics in 2009 as he saw the beginning Tea Party floundering in chaos he was one of the co founders of the Sooner Tea Party that ultimately grew into one of the largest and most influential Tea Party organizations in the state.

The Sooner Tea Party puts out a 10 pm Sunday night newsletter that goes out to over 6,000 Oklahoma citizens and is considered required reading for legislators, political consultants, political activists, and state agency heads.

A combination of confrontational politics, unparalleled inside sources at the Capitol, and tracking pixels to gauge the response of the readers has made the Sunday night STP newsletter a potent political voice in Oklahoma.
--
Darren Gantz - Retirement-Benefits-Insurance
918-638-7430
e