MIJNWATER ALL OVER THE NEWS
We publish Mijnwater News to keep you up to date on the highlights at Mijnwater B.V, our work in the field, innovations in mine water technology, the findings of the Interreg partners, and to share with you any responses we have received from throughout the region. Mijnwater B.V. is helping to ensure Parkstad Limburg is energy-neutral by 2040. Our website and social media feature very regular updates from our organization or the organizations we cooperate with and support.
If you have any other business contacts who may benefit from this information, then please feel free to e-mail it to them. If you would like to receive news from us in your mailbox, then please use the 'Subscribe' button on our homepage:
www.mijnwater.com
.
Mijnwater movie. Sit back and enjoy!

National Science Weekend (Weekend van de wetenschap): open day on Saturday 5 October!

Cross-border connection through the mines

Work in progress: Douvenrade, Heerlerheide, Brunssum, the Netherlands

Brunssum Energy Day (Energiedag Brunssum): 12 October 2019

Mijnwater power station is hot!

Collaboration with Wonen Zuid

Mijnwater on location

My Mijnwater – online customer portal
Mijnwater movie. Sit back and enjoy!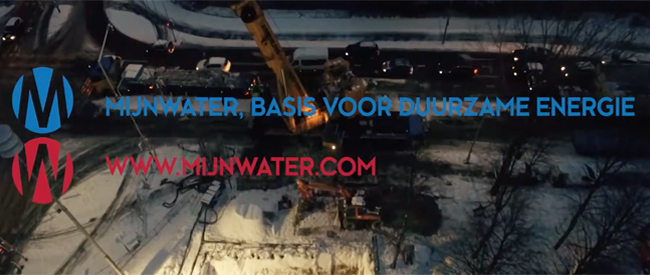 Think carefully, develop, and take action! Mijnwater's mission is to heat and cool buildings in a sustainable way. We do this using mine water energy. We explain all about how it works in our recently released 'Mijnwater movie'. Just sit back and enjoy!
Open house on October 5th
National Science Weekend:'Find out for yourself!'

National Science Weekend (5 and 6 October) is the go-to event for science and technology!
On Saturday 5 October, Mijnwater B.V. will participate by opening the doors of Maankwartier ('Moon Quarter') power station Heerlen to the general public. The theme of the day is experience: how does a heat pump system work and how is mine water energy supplied to Maankwartier's residents, shopkeepers, and office workers? How come they keep nice and warm in winter and pleasantly cool in summer? And why don't they need natural gas any more?
Take the unique opportunity to look behind the scenes at Mijnwater B.V. on this date.
If you would like to visit us on 5 October, please click on the following link.
We need you to register so that we can split the visitors into four groups on the open day (maximum group size: 30 people).

For more information, please visit: www.weekendvandewetenschap.nl.
Cross-border connection through the mines
Member of Parliament for North Rhine-Westphalia enthusiastic about Mijnwater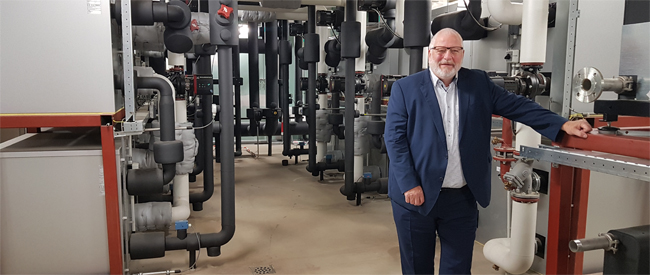 On 15 May 2019, Mr Karl Schultheis (MP for North Rhine-Westphalia (NRW) visited Kreis Aachen), Parkstad Limburg City Region and Mijnwater B.V. Some time ago, Karl Schultheis, originally a historian, wrote an essay on mining history in Germany. While he was still a minister, he was closely involved in the 'Green Metropolis' cross-border project. Karl Schultheis wrote enthusiastically about Mijnwater and recognizes the opportunities for rolling out the concept across national borders, whether at a local level or connected to our main pipeline.
'Mining in our region has long since disappeared, but the tunnels are still there. I was able to see for myself that they could still be useful in the new area around Heerlen's train station and was enthusiastic about this unique, pioneering European pilot project that repurposes mining structure to produce geothermal energy. This heats an entire new district with mine water in winter and cools it in summer. This is a good and climate-friendly solution, which I would also like to see in Aachen. For example, I could imagine a cooperation between Mijnwater and STAWAG (Stadtwerke Aachen AG) in Aachen's new Richtericher Dell district. This possibility now needs to be examined.'
René Verhoeven of Mijnwater B.V. showed Karl Schultheis around the new Maankwartier district and the Mijnwater power station. Karl Schultheis quickly realized what mine water energy was all about. He understood the technology not only because his father used to be a motor mechanic, but also because being in charge of the science agenda in North Rhine-Westphalia means he is very knowledgeable on the subject. In addition to his technical expertise, Schultheis was immediately struck by the fact that investing in an urban area like Maankwartier would be hugely valuable to the city. On Maanplein square, he paused to consider the magnificent idea behind the design by artist and Maankwartier's spiritual father, Michel Huisman, to use this new part of the city to remove the barrier between north and south. Purely by coincidence, they bumped into Michel Huisman at the same time.
'Below ground, we are quite literally connected to one another,' says René Verhoeven. 'There is no boundary post indicating where the national border lies between Dutch Limburg and Germany. The mining tunnels beneath Parkstad Limburg run seamlessly into the former mines in Germany, just across the border at Kerkrade. The idea of organizing a cross-border mine water project, for example in Richterich, as Karl Schultheis explained, is not such a bad one. After all, the Willem-Sophia Mine continues further underground into Germany.'
Work in progress: Improvements at Sevagram's Corridorflat complex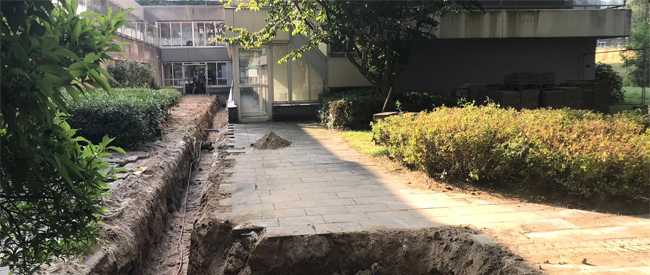 The beginning of August saw the digging of the trenches for the pipelines to the Corridorflat complex. The homes in Sevagram's Corridorflat complex in Douvenrade no longer come up to today's standards. Sevagram decided to implement a number of measures to improve comfort in these apartments. Mijnwater B.V. will fit all 88 apartments with the latest HR++ glazing and new ventilation grilles in the windows. In addition, the central boiler is being replaced by another system. The apartments will be disconnected from the gas grid so that after the renovation, they will be completely free of natural gas. Work started in August 2019 and should be completed by the end of December.
Work in progress:
Comfortably warm on Marcellusstraat and Tacitusstraat in Heerlen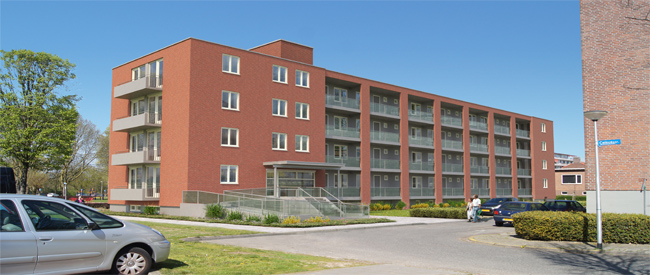 Wonen Zuid is planning to refurbish its apartments on Marcellusstraat and Tacitusstraat. They also intend to tackle a number of issues in the areas of energy and sustainability. Wonen Zuid has decided to connect the apartments to our heating grid and supply them with sustainable energy. Provided that we have the approval of the residents, we will start work in the autumn. The entire refurbishment will be completed by the summer of 2020. Wonen Zuid, Mijnwater B.V., and the other organizations involved in carrying out the work, will keep the residents informed of developments during this period.
Work in progress:
Brunssum follows...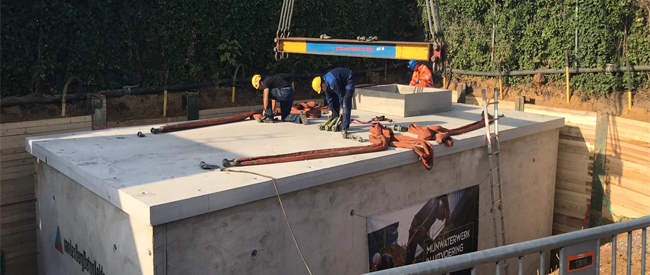 Following work in Heerlen, it is now Brunssum's turn. On 5 September, Mijnwater's fifth
prefabricated heat pump cellar was installed. The heat pumps are used to connect the apartment on Pastoor Savelbergstraat in Brunssum, as well as the new building at Tarcisius and in the De Egge district, to sustainable mine water energy. So far, this is being done using CHPs (heat and cold storage) rather than mine water. Mijnwater B.V. is constructing a closed-loop network of pipes to supply the apartment (and later the new building in the vicinity) with heat in the winter and cooling in the summer. The work started after the building industry holiday.
Saturday 12 October 2019: Brunssum Samenergiek Day
The 2019 'Brunssum Samenergiek Day' will be held on Lindeplein square from 11:00 AM to 3:00 PM on 12 October. Throughout the day, you will be able to obtain information on how to cut consumption and generate your own energy. Mijnwater B.V. has a great stand where the public can get acquainted with mine water energy in a fun way. At the Brikke Oave cultural centre, anyone who is interested will be able to attend a lecture on the potential of the Emma and Hendrik mines; where Brunssum once used to extract coal from the mines, one day it may well be mine water energy.
In the event of bad weather, the whole event will be held in the Brikke Oave. The 'Energy Day' is being organized by the Energiek Brunssum energy cooperative in association with the Municipality of Brunssum. For more information about Energiek Brunssum, please visit:
https://www.facebook.com/energiekbrunssum/
.
Mijnwater power station is hot!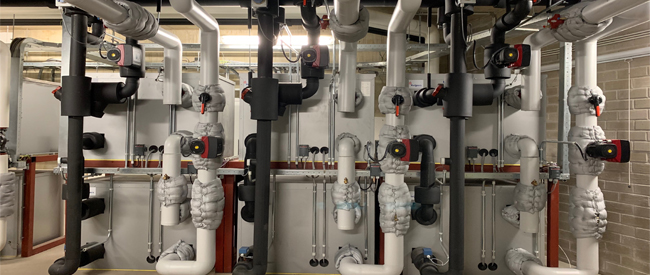 Our power station in Maankwartier is hot! From apprentice to entrepreneur. Not only do technical engineers come and see how our system works, senior secondary vocational and higher professional students have also been showing a keen interest in it. The custom presentations and guided tours are proving to be extremely popular.
At this point, we would like to draw your attention to three group visits in particular.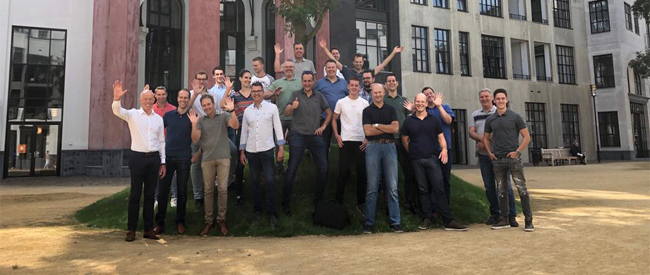 1. Volantis Group
On the 29 August 2019,
the Systems & Energy division paid a working visit to Mijnwater, calling on various sites such as Maankwartier, our power station, and one of the cluster cellars. They made their way from the power station to one of the cluster cellars, after which they visited Maankwartier. René Verhoeven, Concept Design Manager at Mijnwater, showed the group around. This is what the team had to say: '
Mijnwater B.V. is taking on a tremendous challenge when it comes to making the urban area more sustainable. As a partner, we feel deeply involved in their mission'.

2. Second-year Process Engineering students from Vista College
On 5 September, Vista College (Arcus) visited our power station.25 second-year process engineering students learned about the establishment of the mine water project and the developments to date. The students came from the Heerlen region and were astounded to discover you can use mine water to heat and cool homes. They got a great deal out of their visit. A few students said they were interested in doing an internship at Mijnwater.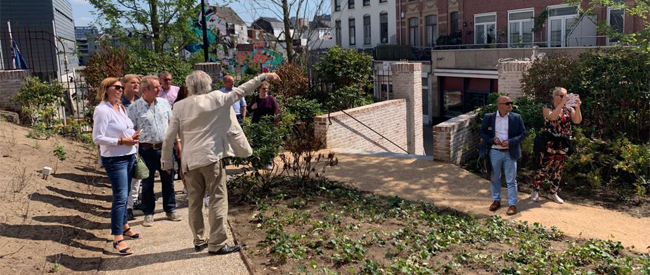 3. 'Aardgasvrij Nijmegen' Project Group
On Thursday 22 August, during a working visit by the 'Aardgasvrij Nijmegen' Project Group (a group working on eliminating the use of natural gas in Nijmegen), there was a meaningful exchange of experiences regarding the sustainability of the urban area and the approach to heat districts without the use of natural gas.
The day started in

Maankwartier, Heerlen

with a guided tour by Michel Huisman (artist and creator of Maankwartier) and concluded in Brunssum with the project 'Proeftuinen Aardgasvrije Wijken', a project that experiments how to eliminate residential districts' use of natural gas. Louis Hiddes, Director of Mijnwater, explained Mijnwater's approach in the Maankwartier power station.
Collaboration with Wonen Zuid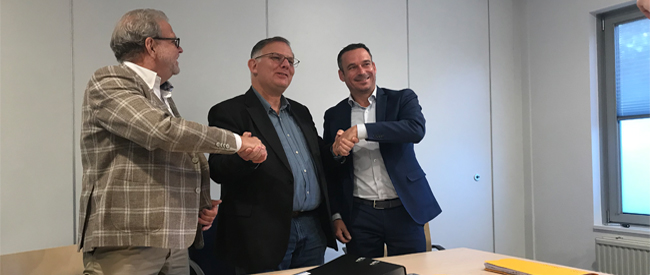 Fridaymorning, 20th of September 2019, a contract was signed between Mijnwater B.V., Maasveste Berben Bouw and Wonen Zuid for connecting the existing flats to Mijnwater energy. A first for Mijnwater in a most recent collaboration with Wonen Zuid.
Wonen Zuid is a housing association that lets homes in Central Limburg and Parkstad Heuvelland. In recent years, they have been concentrating increasingly on sustainability. The areas of focus range from environmentally friendly demolition, the construction of sustainable homes and making existing ones more eco-friendly, to informing tenants about the economical use of energy. The main motive for Wonen Zuid is achieving greater living comfort and lower energy costs for its customers. However, it is of course also important to make a positive contribution towards our environment.
Renovation and greening of 96 apartments on Marcellusstraat and Tacitusstraat in Heerlen
Wonen Zuid is making these existing apartments energy-efficient by installing improved roof and wall insulation and new windows with HR++ glass. In addition, solar panels will be installed on the roof to generate electricity for the communal spaces. The houses will be completely gas-free
thanks to mine water energy. Heating and hot tap water will therefore be supplied in another way. Existing Wonen Zuid buildings on Marcellusstraat and Tacitusstraat will be the first to be connected to the mine water grid.
Mijnwater on location, partner meetings and conferences

In September, October, and November, we are taking part in a number of European partner meetings and congresses.
6th HeatNet NWE Partner Meeting, 19 and 20 September 2019

AAB Netherlands visiting Heerlen, 27 September 2019

National Science Weekend

, 5 October 2019

Workshop on the latest insights into the HeatNet NWW project

@European week of Regions and Cities, Brussels, 10 October 2019

B&W Brunssum visiting Heerlen: 10 October 2019

Brunssum Energy Day/Market, 12 October 2019

Celsius Summit

, Brussels: 17 and 18 October 2019

Career-Day-on-Tour

: JetNet & Technet school visit, 22 October 2019
HeatNet NWE Webinar: Mijnwater and University of Amsterdam present the experiences and lessons learned. 29 October 2019 (Attend webinar?) Click here.
My Mijnwater - digital customer portal

Our online customer portal, My Mijnwater, will be available for use from mid April. In just a couple of steps, users connected to mine water energy will have access to their own safe and secure account. Customers will be able to log in to view their digital invoices and final statements and also check their monthly energy consumption.
'My Mijnwater' can be found in the top navigation bar on our website. The login screen takes visitors to mijn-energiefactuur.nl so that they can view their invoice

.

www.mijnwater.com

.

In the past, Mijnwater B.V. used to extract energy from the water in the mines, but this mine water now just serves as a storage reservoir. Mijnwater is a

new type of district heating grid that, thanks to the development of the first independent pipe network in Europe, can supply connected customers with both heating and cooling. When a building cools down (or heats up), residual heat (or residual cold) is left over. This residual heat or residual cold is exchanged by the Mijnwater B.V. grid via underground cellars where heat exchangers and pumps have been installed.
In this way, it is possible to reduce the CO2 emissions of connected buildings by 65%. Through the PALET (Parkstad Limburg Energy Transition) project, the region is embracing Mijnwater's district heating grid, which aims to

connect 30,000 homes in Parkstad to the heating and cooling grid by 2030. For the rest of the Netherlands, Mijnwater has the proven potential to making cities free from natural gas.