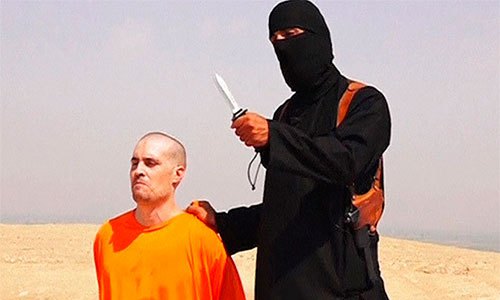 Bagdad Mary Refuses to Block Muslim Extremists
Infiltrated into Oklahoma
Yeah, we know, Mary Fallin is biding her time waiting for her appointment to a federal cabinet post or as a head of a major federal office. She has sucked up to Obama every chance she had including doing her best to force the State Insurance Exchange, otherwise known as Obama Care, down our throats.
But now she is going even further by refusing to stand up to the Obama Administration's efforts to resettle massive amounts of Muslim extremists into Oklahoma despite her full knowledge that there will be many terrorists or terrorist supporters mixed in with the "refugees". So it is fitting that we add another nickname to Mary's long list; Bagdad Mary, after the infamous Bagdad Bob of the second Gulf war that continued to lie about American forces entering Bagdad even though you could see the tanks in the background of the video.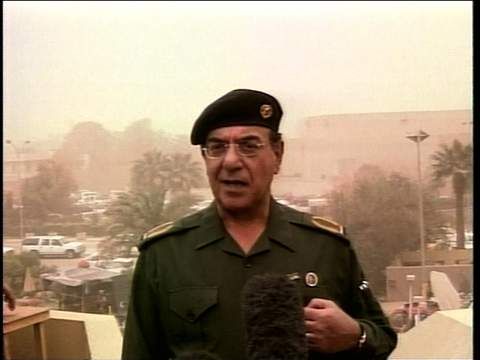 Yes, she is giving mouth service, asking the Obama Administration to suspend the resettlement program, but no she has not closed Oklahoma as she is perfectly capable of doing.
Meanwhile Adam Soltani, executive director of the Oklahoma chapter of the Council on American-Islamic Relations, says the refugees are not a threat and will not carry out terrorism in the United States. The Tulsa World quoted him as saying:
"Syrian refugees are as much victims of ISIS as everyone else," he said. "ISIS has killed more Muslims than they have anyone else in the world.".
Obama of course is refusing to resettle Christian Middle Eastern refugees as it is not at all about saving people but about seeding vast swaths of radical Muslims throughout the world where they can breed generations of Muslims, subsisting on tax payer dollars to grow the brood of potential terrorists. The eventual goal is the overthrow of secular governments, the Constitution, and the imposition of a worldwide caliphate and the imposition of shariah law. Along the way Obama and the liberals generate terror attacks, giving an excuse to crack down on civil liberties and further spreading the police state.
The Daily Oklahoman and the rest of the media will continue to slander anyone that stands up against the agenda as the Muslims are dug in tight into the State Chamber of Commerce. Petro dollars go a long way in convincing special interests to buddy up with groups like CAIR.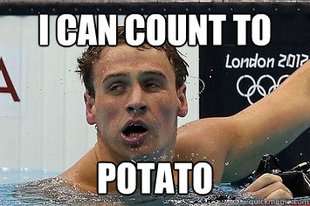 We Got's to Run De Ball, We Got's to Throw De Ball
And We Got's to Run for Senate District 39
By The Watchman
Everyone has watched the talented athlete being interviewed and we cringe as the guy shows that while he can play football or baseball well he is also a complete idiot when it comes to doing anything else as he has focused on playing sports to the detriment of the rest of life. So when we see a coach run for office we're not sure how this is going to work out. The first we heard about this candidate was in this article
The Okie » Dave Rader Announces Bid for Tulsa Senate Seat
. Yes we're talking about former Tulsa Hurricane football coach Dave Rader. This is not the first time Coach Rader has been considered for an elected office.
The next article of interest we found was this
David Rader - Wikipedia, the free encyclopedia
. Here we found a lot of information about Coach Rader that a lot of people are unaware of. He is a graduate of Will Rogers High School in Tulsa and the University of Tulsa. He also played for two teams in the NFL. As a head coach for the University of Tulsa Hurricane, he took them to two Bowl Games. He also coached at the University of Alabama and the University of Mississippi.
The next item of interest we found was this
Dave Rader for State Senate
. This is an announcement of his candidacy for the Oklahoma State Senate. We found it troubling that he indicated one of the reasons he decided to run was the ending of Senator Brian Crain by term limit. We find this a little disturbing since there have been other openings in the State House that he has had the opportunity to run for but hasn't.
The next item of interest we found was this
David Rader - Wikiwand
. This is a more chronological view of his career from Wikipedia.
We next went to
www.votesmart.org
to see if they had any information on his campaign. We were disappointed when there was nothing on file for Coach Rader for either as a U.S. Congressional Candidate or as a Candidate for the Oklahoma State Senate.
We next went to
www.followthemoney.org
to see if they had any information on his campaign finances. We could not find where he received any donations to his campaign here either. We did find where he donated three hundred and fifty dollars to the Republican Party while still employed at the University of Tulsa.
We next went to
www.ok.gov/ethicscommission
to see if they had any information on his campaign finances. We found that there were no financial reports filed. Hmmm, is this guy serious about running or not?
In conclusion we cannot make a call on Coach Rader at this time. Most of what we have been able to find speaks highly of the Coach as a coach, but there were a couple of things that we need to watch. First, what qualifications does the guy bring to the table for running a government and making public decisions? Second as a businessman, we can't help but wonder how much support he'll get from the Oklahoma State Chamber of Commerce. We will watch his campaign reports and see who donates to make a judgment call. We don't need another Chambercrat in the Senate.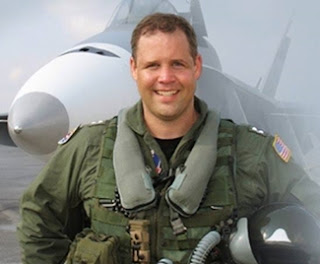 Another Example of Why the Average Oklahoman
Doesn't Trust the Mainstream Media
By the Watchman
It should be clear to every American that the Lame Stream, oops we mean Main Stream Media is biased and leans towards the extreme left spectrum of the political scale or it serves the agenda of the State Chamber of Commerce. Even in this great state of Oklahoma, there is a liberal/special interest bias displayed in one of its leading newspaper, The Oklahoman. The bias in this paper is so severe that it has a rather colorful nickname. The Daily Disappointment. Clearly this is a ship that has run aground.
Integrity should be important to a news organization. Before a news station or newspaper reports a story, they should have all their sources lined up and verified. To liberal/special interest owned reporters the truth seems to be whatever they say it is. This is expected in the editorial section but it is shameful in the general news areas of a newspaper or news show. It's like they have no real concept of what the truth really is. They seem to bend over backwards for Democrats, yet are perfectly willing to strike low blows against Republicans. You see it every day in the papers and on the television stations. All you need to do is look at the softball questions asked of Democratic candidates at their debates and compare them to the questionable and hateful questions asked of the Republican candidates at their debates. Wake up people and open your eyes.
This story came to our attention when we read this article
The Okie » Oklahoman: "Friend of a friend" landed OK congressman in ethics probe over free trip
. Are the allegations true, maybe. Should the public have the right to know, definitely. Yet this same paper fails to publish articles that even hint at impropriety of Tom Cole or Hillary Clinton's involvement in a cover-up of actions at Benghazi. Nor have we seen articles regarding her involvement with an illegal computer server in her home that has been hacked by various foreign powers for the classified information stored on it. This article was written on October 18, 2015.
With a minimum of effort both papers would have been able to find this
Congressman Jim Bridenstine Comments on Travel Review | U.S. House of Representatives
. The date on this is May 13, 2015. That's a full five months before they published their stories, yet they made no mention of it. That is sloppy reporting by anybody's standard or it shows a complete liberal bias by the papers and the author involved. When can Congressman Bridenstine expect a full apology from these papers and when can the state see a full accounting of the author's misdeeds by his termination. This is not Oklahoma standards of journalism.