Annual Newsletter 2011-2012
We are so very proud of our three choruses, and the great year we've had! And wait until you hear about next year! Our choruses are open to all, with no auditions, and represent the rich diversity and high standards of the Ithaca community.

 

The Ithaca Community Chorus and Chamber Singers (ICC&CS) is the original chorus, and it celebrated its 35th anniversary last year! With many other arts and cultural organizations in Ithaca, it grew from the hard work of eager volunteers and talented professionals. Now it includes many long-term members and their literal and figurative offspring!

 

Director Gerald Wolfe selected a remarkable and symbolic work for the January performance, Karl Jenkins' The Armed Man: A Mass for Peace. Read more about it in the ICC&CS report in this newsletter! It drew an overflow crowd and the longest standing ovation in recent memory. The April concert was powerful in a different way. Ernest Bloch's Sacred Service is moving and beautiful, and our performance of this work at Temple Beth El was felt by many to be deeply spiritual.

 

Voices Multicultural Chorus once again filled Ford Hall with a star-studded Tribute to Broadway in the spring. Featuring talented and dynamic Ithaca College student soloists and an orchestra scored by another studJoin Our Email List here! ent, the concert bridged the campus/community as does Voices Director Baruch Whitehead, Associate Professor of Music Education at Ithaca College. With Assistant Director Lorrene Adams, the multi-faceted chorus performs a wide range of music from around the world. In January, the chorus contributed its "Keeping the Dream Alive" concert to the community celebrations of Dr. Martin Luther King's birthday.The concert featured guest bass/baritone Kenneth Overton and the community's newly-formed Dorothy Cotton Jubilee Singers.

 

Now working with Director Thom Baker, the Ithaca Gay Men's Chorus (IGMC) continues to grow in many ways. Open to all men, the IGMC performs its major concerts during the fall and early spring, together with numerous other performances around the community. Musical styles vary from classical to popular to humorous, and the chorus consistently fills the First Baptist Church space with music and laughter.

 

All of the choruses meet weekly during the academic year, and registration for the choruses is open in the early fall and again following the first major concerts. During the summer, many from the choruses meet for the 8-week Summer Sing. Directed by Katie Howell, this extremely popular session is often the introduction to ICC for people who are new to the community. The larger Ithaca community is further served by the ICC Community Sings workshops. The ICC opens these free-standing events to all singers in the community, providing them an opportunity to work with a skilled instructor on some element of choral singing.

 

The Ithaca Community Choruses would not have continued and grown for 35 years without the dedicated engagement of numerous volunteers. Each chorus is managed independently by a steering committee and an "umbrella board" comprised of representatives from each chorus. Returning to join me in leadership of the board for a second year are Ken Brown, Treasurer, and Jack Miller, Secretary.

 

An astonishing amount of behind-the-scenes work serves the overall ICC organization. For example, Annie Wakely Wall has provided our bookkeeping and financial management for many years. Fundraising is primarily a collaborative activity, and funds are shared among the choruses using a formula based on the chorus census. Pam Swieringa has been coordinating the soliciting of advertisements in our large program shell, used in our six major concerts. Elizabeth Einstein collected additional significant funds through sales of Dewey Neild's calendar of regional waterfall photos. We are deeply grateful for Dewey's continued artistic and valuable support.

 

We continue to appreciate the resources made available through the Community Arts Partnership: our choruses have received generous grants again this year, our volunteers benefit from CAP workshops, and for the first time, we had a booth at the Artist's Market  in July, which gave us an additional opportunity to share information about the choruses with the community at large.

 

We are deeply grateful to our donors for their continued generosity. Many individual chorus and community members contribute substantially to our support. This year we received a remarkably magnanimous gift from an anonymous donor, and we are particularly grateful that individual for contributing so generously to the choruses.

 

As you will see in the rest of this newsletter, our choruses are vibrant and our organization is strong! Please read on to hear about our exciting plans for the 2012-2013 season. Thank you for your continuing support.

 

Susanne Morgan, ICC Board Chairperson

VOICES Multicultural Chorus has a tradition of expressing our love of the rich heritage of world music through major concerts and musical community outreach. This past year, under the direction of Baruch Whitehead and associate director Lorrene Adams, our concerts paid tribute to Dr. Martin Luther King Jr. and the exciting tradition of Broadway music.

 

Our outreach began early in the fall with the first of our two performances at First Unitarian Church given in gratitude for the use of their annex for our rehearsals. The second performance took place in May. It is always a great pleasure to perform for this church.

 

Our winter concert, "Keeping The Dream Alive" / A Tribute to Dr. Martin Luther King Jr., was performed at St. Paul's United Methodist Church on January 14th.  Guest artists, included Mr. Kenneth Overton, Bass/Baritone from NYC and Ithaca's Dorothy Cotton Jubilee Singers performing under the direction of Baruch Whitehead. VOICES' selections brought together songs from Haiti, South Africa, Venezuela, Macedonia and a moving selection, "Chorus of the Hebrew Slaves," from Verdi's opera "Nabucco."

 

In tribute to Martin Luther King Jr., The Jubilee Singers performed "Walk Together Children" and Mr. Kenneth Overton presented a stirring solo performance of  "I Have a Dream."  The tradition of the Negro Spiritual symbolizing hope, faith and perseverance was brought to our audience by Mr. Overton and The Dorothy Cotton Jubilee Singers. VOICES and the Jubilee Singers were privileged to join Mr. Overton in singing two additional spiritual pieces: "I Got a Home in Dat Rock" and My God is a Rock."  The audience joined in singing the final selection "If I Can Help Somebody" a composition based on a quotation from Martin Luther King's Sermon at Ebenezer Baptist Church. 

We were privileged to have our piano soloist and rehearsal accompanist of years past, Jon Ris, filling in for Josh Condon in his absence and joining us for this performance.  Jon is currently pursuing graduate studies at Temple University.

 

In keeping with our primary mission of promoting community through song,

on March 25, Voices joined with several other community choirs in "Sing A New Song: Spiritual Voices of Ithaca", a concert organized by Temple Beth-El with the express purpose of bringing the community together through song. It was a wonderfully inspiring afternoon filled with music from many different traditions and cultures followed by a reception during which we had the opportunity to get to know one another a little better.

 

 "Tribute to Broadway" was the theme of our annual spring concert held at Ford Hall on May 17. The Broadway favorites, performed by VOICES and the talented Ithaca College students, spanned 60 years of fabulous Broadway tradition performed with full orchestral accompaniment. With Baruch serving as artistic director and Lorrene as associate director, the audience was treated to musical performances from Oklahoma, South Pacific (Inner Voices), Fiddler on the Roof, West-Side Story, Les Miserables, The Lion King, Ragtime, Wicked and more. We were pleased to have both our own VOICES members and Ithaca College students give solo performances in numerous selections.

 

Our piano soloist was Joshua Condon, a brilliant piano student at Ithaca College who has studied at the Eastman School of Music.  We look forward to Josh's return for our coming season.

 

On October 1, VOICES performed at the State Theatre, joining many talented community musicians in the Little Apple Fall Follies. The fundraising event was sponsored by the Rotary Club of Ithaca and the Savage Club.  All proceeds benefited Rotary and Savage Club community grant programs.

 

Baruch and Lorrene bring enthusiasm and joy as well as their musical talents to VOICES each week. They strive to improve our musicality as well as our understanding of vocal music while creating a relaxed atmosphere in which all members feel comfortable learning great music.

 

Through the music we sing, we strive to present an authentic rendering of the languages and complex musical rhythms of cultures from around the world. We look forward to our 2012-13 concert season where we will present a winter concert rich in holiday music from around the world.  We especially hope you will join us as VOICES celebrates its 10 Year Anniversary in the spring of 2013.

 

Sherrie Norman, co-president, VOICES Multi-cultural Chorus

 

We began the 2011-2012 program year expecting to end the year about $5000 in the red.  But thanks to the generosity of our donors, community grant-makers, and the local businesses that place ads in our programs, as well as our successful ticket sales, two of our three choruses actually ended the year in the black.  And overall we did considerably better than expected.

 

The Ithaca Community Chorus & Chamber singers presented a large concert in the Fall semester, which cost over $12,000.  And Voices Multicultural Chorus, for the second straight year, gave a Spring concert with a full orchestra and soloists, costing almost $8000.

 

Our ambitious programing, fortunately, was matched by very successful fundraising.  We were the grateful recipients of $2,450 in public funds from the Community Arts Partnership (CAP) of Tompkins County and a $500 grant from the Strebel Fund for Community Enrichment. We give a special thanks to all the local businesses that placed ads in our concert programs – be sure to read our program shell at our concerts, and support the businesses that support us!  Further fundraising by chorus members included sales of a calendar by Dewey Neild, gift-wrapping at Barnes and Noble, and two vocal workshops.  Members also participated as hosts in our annual Bed & Breakfast Program during Cornell graduation.  We were also surprised and pleased to receive a third generous gift from a donor who had already given us two large gifts last year.  Thank you!

 

 

One of our missions as "community" choruses is to give back to the community. Our annual Paul Gibbons Scholarship Fund awarded $660 to the Community School of Music and Arts for vocal scholarships to local high school students. To make our music available regardless of ability to pay, many chorus members were given dues scholarships, several local non-profits were provided with complimentary concert tickets to distribute to their clients, and we performed at several local events without charge.

 

In all, we produced six major concerts. Member dues, concert ticket sales, and fundraising activities contributed 67 percent of our income in 2011-2012, but a full 33 percent of our support came from our donors, community grant-makers, and the local businesses that place ads in our programs.

 

The Ithaca Community Choruses is a registered, not-for-profit, 501(c)3 organization.

 

Ken Brown,Ttreasurer, Ithaca Community Choruses

To begin his third decade as director of the Ithaca Community Chorus and Chamber singers (ICC&CS), Gerald selected two twentieth century pieces that speak to contemporary issues. In January, the chorus performed Karl Jenkins' The Armed Man: a Mass for Peace. This powerful work portrays the buildup to war, its horrific consequences, and the dream and possibility of peace through dramatic orchestration and text from the Bible; the Islamic Call to Prayer; the Mahabharata; and poetry of Swift, Kipling, Mallory, and Toge Sankich.The event drew a large audience, in part because of the relevance of the work to the world today, and in part because of coverage from The Ithaca Journal and the Ithaca Times, both of which ran feature articles.

 

In the spring, the chorus performed Ernest Bloch's Avodath Hakodesh, a masterpiece filled with passion, power, longing, and joy. The chorus sang this piece in Hebrew with cantor and organ in the Methodist Church and repeated the performance the next day with piano for four hands for an exceptionally appreciative audience at the Temple Beth-El. Along with Bloch's work, the chorus also performed Bernstein's Chichester Psalms with its infectious rhythms and beautiful lyrical sections.

 

For the 2012-2013 concert season, Gerald has chosen works from the current era and distant past. Our January concert will feature the two great choral works of Francis Poulenc, Stabat Mater (1950) and Gloria (1961). Both display the composer's unique colorful style and will be performed with full orchestra and soprano soloist. Our April concert will feature one of the greatest works of all time, J. S. Bach's St. John Passion (1724). Using a more intimate orchestra, this earlier work is less ornate than his St. Matthew Passion, but remarkably dramatic and powerful.

 

Our chorus attracts around 80 returning and new members. Last fall, we were delighted to welcome a good number of new, younger members who were eager to sing Jenkins' work. Most remained with us in the spring, and we hope to see them again this fall. It was gratifying to see friendships being formed across generations and the camaraderie that evolved throughout the year. Gerald and the chorus were well supported again this year by Alan Giambattista, who will continue as our accompanist this coming year, and we continued to appreciate the help of our dedicated section leaders, Siu-Ling Wong Chaloemtiarana, Marilyn Crooker, Joe Cooke, and Mike Billing.

 

Volunteer involvement and leadership keep the chorus vibrant, as always, with many members of our chorus performing vital roles behind the scenes. The 2011-2012 year saw many changes in the ICC&CS steering committee. Mary Royer agreed to serve as president, and Deborah Campbell, Kelly Doolittle, Hilary Dorsch Wong, Adric Garlick, and Linda Loomis joined the committee as new members. Deborah Campbell took on the role of secretary, and Tamara Lovell continued as treasurer, while also guiding the rest of us in our new roles throughout the year. Barbara Friedman helped with all things computer related. Most of last year's steering committee is returning this year, and we are delighted to welcome Jackie Magagnosc and Matthew Stedinger as new members. We wish Barbara Friedman and Tamara Lovell the best in their well-deserved retirement from the steering committee.

 

Rehearsals for the fall semester will begin on Wednesday, September 12. The chorus especially hopes to attract more new members and will step up its efforts to inform the community of all the chorus has to offer. We are looking forward to an exciting year and to welcoming new members, as well as those who have sung with us in previous years.

 

Mary Royer, president, ICC&CS

 

IGMC had a very busy 2011-12 season beginning  with 'Reprise', an evening of our favorite songs, right through to 'Quodlibet', our Spring concert which included everything from 'The Pirate Song' to 'Lux Aeterna'. 

 

And along the way, our Director Thom Baker  arranged for us to sing at various venues including The State Theatre, The Kitchen Theatre, The Unitarian Church, Porch Fest,  Northstar Restaurant and our first Gay Wedding!

 

Our upcoming Fall Concert is scheduled for Saturday, October 27, 2012…just in time for Halloween! Our Spring concert will be scheduled in March 2013 (specific date TBA).  And we are planning an upcoming 'singing fund raiser' led by Thom Baker. 

Our first rehearsal is scheduled for Tuesday, August 7,2012 at 7pm at The First Baptist Church on DeWitt Park.  All singing men welcome!

 

Jack Miller, IGMC Secretary

Click here for IGMCinfo

Gibbons Vocal Music Scholarship Report

The Gibbons Vocal Music Scholarship program was established in 2001 to honor the founding

director of the ICC&CS, Paul Gibbons.  Every spring for the past 11 years members of our three choruses have enthusiastically donated funds to support the vocal education of a local high school student.

 

In 2011 ICC decided to collaborate with the Community School of Music and Arts; CSMA now administers the Gibbons scholarships, greatly expanding the number of deserving students we can reach. In addition, the scholarship can now be awarded for membership in the CSMA Ithaca Children's Choir as well as private voice lessons. In 2011-2012 the Gibbons program helped support one 16-year-old girl's private voice lessons at CSMA, and one 17-year-old girl's participation in the Ithaca Children's Choir. This student has been involved in the Children's Choir since the Fall of 2003.

 

We are delighted that our new partnership with CSMA allows our scholarship dollars to reach more students, and we hope that our support of such deserving high school students will help nurture a new generation of choristers who share our love of singing.

 

Our 8-week summer chorus continues to engage people from all choruses and the community. Directed by Katie Howell, it draws 70 singers for a fun summer experience.

Click here for Summer Sing Information

Watch for notices of Saturday workshops open to the entire community!

Announced here.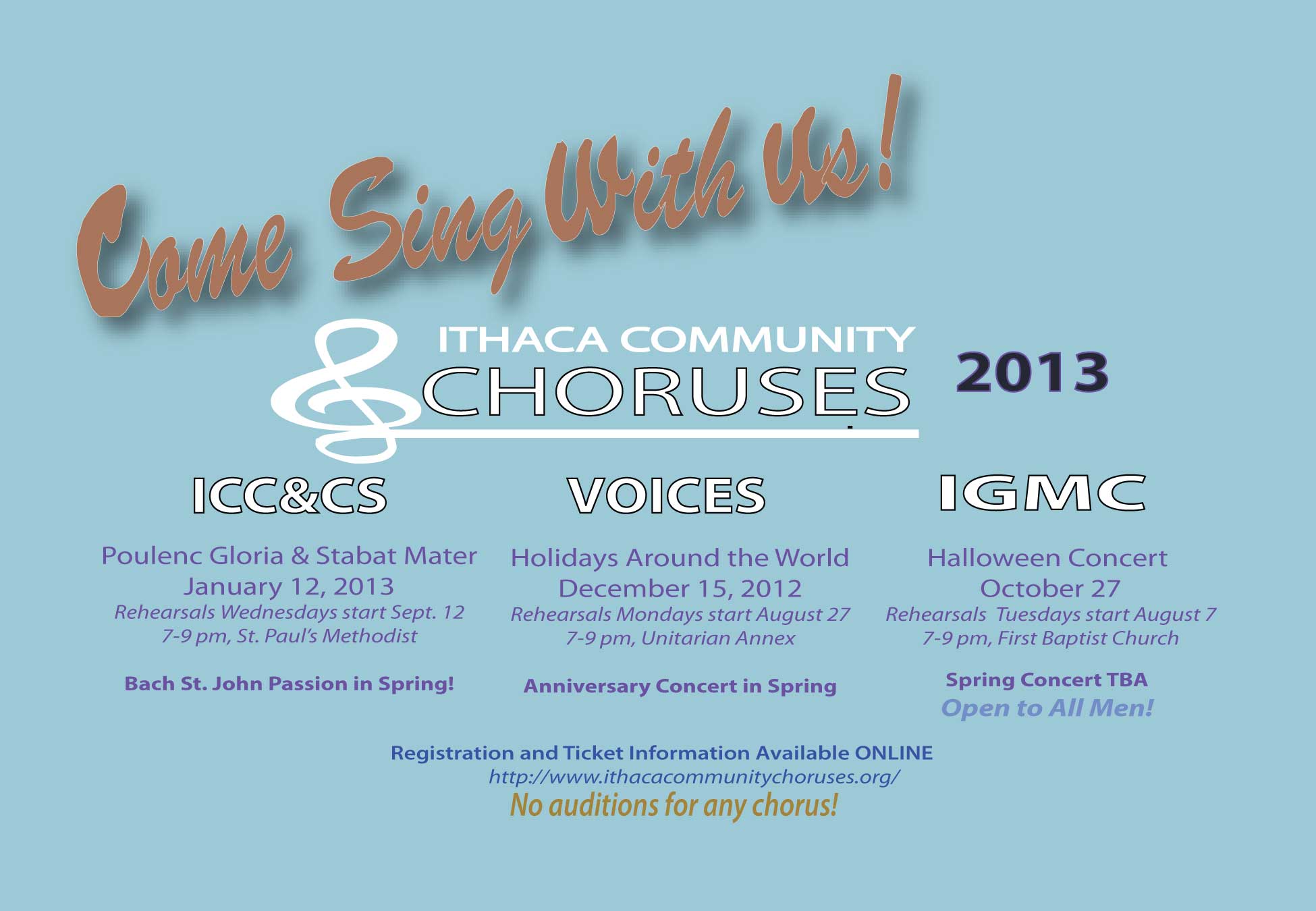 Thanks to Susan Crowell for our postcard!
Volunteers at the Artist's Market! Susanne Morgan, Matthew Stedinger, Jack Miller, and Kelly Doolittle