Have You Renewed
Your AFMW Membership?
President's Report - Dr Sharon Tivey
MWIA Congress Vienna 2016 report - Dr Melanie Dorrington
Call for membership to MWIA committees
Sexual Harassment and Bullying in the Workplace
World Health Assembly report - Dr Natalie Yap
Travel Grant funding opportunities
Notice of forthcoming Face-to-Face Meeting
MWIA September 2016 Issue
Call for membership to MWIA committees
NEWSFLASH
: There is a call for membership to join the MWIA committees namely:
1.    Centennial committee
2.    Scientific committee
3.    Financial committee
4.    Ethics and Resolution committee
5.    Strategy and Membership committee
6.    Communication and Social Media committee
More information is available on the MWIA website

www.mwia.net

, click on opportunities for MWIA members.
Applications including a covering letter stating why you would like to join a committee and what experience you bring, together with your CV should be sent to afmw@afmw.org.au
Travel Grant funding opportunities
Scholarships available for young medical women to attend international MWIA meetings
Women medical graduates

Must be a current financial member of your state's medical women's society (MWS) (or the AFMW if no MWS exists in your state)

Must have been a full member of your MSW for 6 months or more

Advantageous to show an ongoing commitment to your state MWS

Member of yMWIA (you can sign up on

 

http://mwia.net/young-mwia/ )

Must write a report about the meeting attended for inclusion in the AFMW newsletter and website

Grants are for partial funding of travel and/or registration costs associated with attending conferences, you must be able to fund the balance of costs

 
Applications: 
Send your CV and covering letter stating why you would benefit from an AFMW travel grant to
afmw@afmw.org.au
Applications for meetings to be held in the first quarter of 2017 are due by 11th November.
Notice of forthcoming Face-to-Face Meeting
The next
AFMW Face-to-Face Meeting
will be held on 19th November at St George Hospital in Sydney.
Need some new wheels? But dreading the thought of trading up to a new car, with the hours of tyre kicking and haggling required?
Automotive industry veteran Kaine Ransom knew there was a better way, founding Automotive Vehicle Brokers Australia, to streamline the process.
Kaine does all the legwork, providing quotes within 48 hours. Should you proceed, your new car will be delivered to your door, anywhere in Australia in just over a week, depending on stock availability. 
Finance options, from novated leases to consumer finance, can be arranged.
Tapping into his wide network and exploiting his collective buying power as the endorsed service provider to many high level professional organisations, Kaine guarantees the best price. 
Enlisting Auto Brokers to source the car can save thousands of dollars. The independent service is free and Auto Brokers receives a fee from the motor delivery trader.
With a lifelong passion for cars, Kaine Ransom has been negotiating better deals for customers for 16 years.
An independent operator with his finger on the pulse, Kaine is the preferred provider for a number of professional organisations.
A keen family man, he is active in his local junior footy competition as an assistant coach and Auto Brokers is a club sponsor.
Obituary Professor Atsuko Heshiki
It is with great sadness that we announce the passing of Professor Atsuko Heshiki, who was MWIA President from 2007-2010. At the time of her passing, she was Chair of the Centennial Committee, a position she felt passionate about.
She will be greatly missed but fondly remembered for her dedication to MWIA, her successful career as a Professor of Radiology, her lovely personality and her command of ballroom dancing.  MWIA extends heartfelt condolences to her husband and daughters.
MWIA September 2016 Issue
Read the latest Medical Women's International Association news update here.
October 19-22, 2016
 Taipei, Taiwan
World Medical Association General Assembly
Grand Hyatt, Taipei, Taiwan
March 13-24, 2017
 United Nations, New York City
Priority theme

: Women's economic empowerment in the changing world of work
Review theme:

Challenges and achievements in the implementation of the Millennium
Development Goals for women and girls (agreed conclusions of the fifty-eighth session)
May 21-26, 2017
 Geneva, Switzerland
World Health Assembly of the World Health Organization
August 25-27, 2017
 Hong Kong
Western Pacific Regional Meeting
Website under development
AFMW/MWIA Golden Jubilee Certificates for 50 years of Medical Service
Do you know of a medical woman doctor who graduated 50 years ago or more?
Honours to Dr Catherine Yelland
We would like to acknowledge the achievement of Dr Catherine Yelland, who was appointed President of the Royal Australian College of Physicians in May this year.
Dr Yelland was a previous
president of the Queensland Medical Women's Society, and
 committee member of the AFMW. Congratulations!
AFMW members are able to attend the World Health Assembly's events.
10-14 October: 
Manila, Philippines 


Regional Committee for the Western Pacific: 67th session
The World Health Assembly is the decision-making body of WHO. It is attended by delegations from all WHO Member States and focuses on a specific health agenda prepared by the Executive Board. The main functions of the World Health Assembly are to determine the policies of the Organization, appoint the Director-General, supervise financial policies, and review and approve the proposed programme budget. The Health Assembly is held annually in Geneva, Switzerland.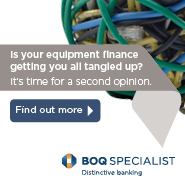 BOQ Specialist is a proud sponsor
of the AFMW e-Newsletter.
This means that AFMW Members can attend various events and meetings.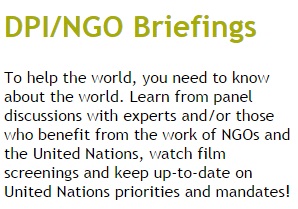 AFMW Leadership Skills Database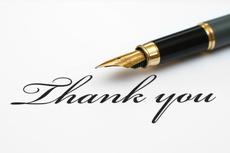 Would you like to thank a teacher, mentor or senior colleague who has made an invaluable contribution to your medical journey?
AFMW has established the Thank You Initiative to give our members a way to formally express their gratitude for the invaluable contributions of their mentors and teachers. 
Read more.
My best wishes to you all as we head into spring.
AFMW Council recently met by teleconference and in addition to our usual business, such as receiving our Treasurer's report and being updated on state activities, we heard from several attendees of the recent MWIA Triennial Meeting held in Vienna. It was wonderful to hear about the varied meetings, poster presentations, general assemblies as well as the very important and enjoyable networking that occurred with other medical women from all over the world. As well as the triennial meeting (next one will be in 2019 in New York) which is highly recommended, you may also want to consider attending the next Western Pacific meeting (Hong Kong in 2017) or other regional meetings. We do have some sponsorship available for these MWIA meetings – details can be found in this newsletter.
Bullying and discrimination issues are still making the news – I am still not sure if any changes are occurring at the work interface but I am pleased that these issues remain in the general consciousness.
I am very pleased to advise that Dr Yen Cheng is our new AFMW newsletter Editor. All of our Council are very grateful to her for agreeing to take on this role. Her enthusiasm for the role is very much appreciated.
We are about to prepare the Annual Report which will be ready in mid-November. As always, much of the work will be co-ordinated by Ms Melissa Morey. We will advise you when the digital copy is available for your perusal.
Medical Women's International Association (

MWIA) Congress Vienna 2016 Report
Dr Melanie Dorrington, AFMW's yMWIA representative
As I prepared my application for the Australian Federation of Medical Women's (AFMW) travel grant to attend this years Medical Women's International Association (MWIA) Congress in Vienna, I read some of the information that was released regarding congress. This information included CV's of the candidates for president elect, as well as for some of the executive committee. Simply reading about what these women had achieved was both inspiring and daunting. Reading the achievements of MWIA is certainly awe-inspiring. Decisions from OUR congress are taken to the United Nations (UN) and the World Health Organisation (WHO), to whom MWIA reports, as being what medical women of the world think. [For those who don't know, like me, MWIA also has international affiliations with: the UNs Department of Public Affairs; the Council for International Organizations of Medical Sciences (CIOMS, board member); the European Women's Lobby; the World Medical Association. MWIA has other partnerships with: the Partnership for Maternity, Newborn and Child Health (PMNCH); White Ribbon Alliance, specifically with Respectful Maternity Care; Kota Alliance; Zonta; and the Conference of NGOs (CoNGOs).] 
Some may wonder why having such an organisation as the MWIA is required. They may ask why a separate "Women's" association is required, can we not simply resort to solely having the World Medical Association? This question, I think, is answered when we look at the issues that continue to arise for women, and also specifically medical women. I am a member of the Facebook group "Medical Mums & Mums-to-be (Aus & NZ)", where we frequently see training and breastfeeding at work issues, for example. The Austrian Medical Women's Association President, Dr Edith Schratzberg-Vecsei, also spoke to this issue in her opening address to congress, raising how practice can be isolating, and that having medical women's groups allow us another way to connect to a broad supportive community. She also pointed out that "medicine happens in the context of society", and we need to be able to "discuss issues as medical women". The congress was a place for us to meet others, find new friends, exchange ideas, and reflect on what we are doing. 
One workshop that I was interested in was on surrogacy, which was presented by a Swedish doctor. Surrogacy has been legislated against in Sweden. The argument in Sweden is that a woman's body should not be treated in "this way", that surrogacy is abuse and objectification of women's bodies. My feeling is that a woman should be able to choose what she does with her body. They discussed concerns on the effects of relationships if friends or family are asked to be surrogates and decline, and also the risks associated with pregnancy and childbirth ('risks are too high for gains so small'). Statistics from Australia were quoted which demonstrated an increase in the number of international surrogate pregnancies, despite this technically not being legal in Australia, alongside a decrease in the number of surrogate pregnancies within Australia, ie an increase in commercial surrogacy which was of particular concern to the Swedish. My feeling in terms of this is that we should be asking how surrogate mothers are found – I would be interested in how often friends and family are offering, rather than being approached, and how often other forums are required to find a surrogate. I believe that more information is required to assist interpretation of data that is already available, especially in light of how the data is being used. 
When it specifically comes to Gen Y Medical Women, it seems that a lot of countries have low representation in their medical women's associations. A young medical woman from Sweden, Dr Desiree Lichtenstein, presented on what they have done to try to increase Gen Y involvement in the Swedish association. They started with a strategy of focusing on events targeted at Gen Y, creating opportunities such as a target for 25% of the board to be <35 years old, removing barriers to events such as costs, and creating an inclusive environment. As a result they now have a mixed board, more active members, new ideas and focuses, and an increased engagement in social media. 
I really enjoyed helping out with the Ethics & Resolutions Committee - putting the resolutions together to present to congress, learning the thought processes around how different countries could consider an issue or wording, and the strength of wording. Some of the important issues that had resolutions written, even if not passed, or presented, to congress, were female genital mutilation, Zika virus, education, and health workers and bullying/harassment/violence. 
I would like to thank the AFMW for the opportunity of attending this triennium's congress, and I hope that I can become more active within the movement in Australia and internationally, as well as locally. 
yMWIA.
Just before the end of congress most of the young women attended a brief meeting to discuss having an active young women's movement, due to some issues affecting young medical women solely, or predominantly. An interim board was elected by those present. They are pictured below - Dr Genevieve Koolhaas (Netherlands), Chair, Dr Sonia Adesaa (UK), Co-Chair, Dr Marion Okoh-Owusu (Ghana), Secretary General, Dr Samia Osman (USA), Public Relations Officer I, Dr Adaobi Agbata (Nigeria), Public Relations Officer II.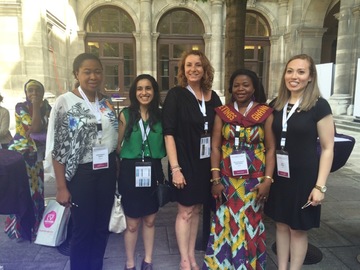 Are you interested in being part of a newly formed yMWIA group?
The Young MWIA's full name is Special Interest Group for Young Female Doctors and Medical Students. 
It is an opportunity for the younger members of the profession to meet and discuss issues relevant to their stage in their careers.
A yMWIA member is considered to be under the age of 40.
Resolution No. 1 Domestic Violence
 Resources Proposed by Germany Seconder Australia and Brazil
Whereas domestic violence is a serious women's health and societal problem.
MWIA resolves that all countries develop an integrated service, available to all women affected by domestic violence, for immediate help.
MWIA resolves that resources such as costs for cell/mobile phones, a hotline and social networking are made available, and paid for by the state/government.
Resolution No 2 Ketamine
Proposed by Nigeria Seconded by Egypt. Corrected, original proposer Claudia Morrissey.
Whereas, the plan by the UN Commission on Narcotics to schedule (place on the restricted drug list) ketamine due to its use as a recreational drug, has been strongly advised against by the WHO. This has been supported by the World Medical Association (WMA) and the World Veterinary Association (WVA), because of its use for pain relief in surgery as well as it being the only injectable combined anaesthetic and analgesic for animals.
MWIA affirms the role of Ketamine as an anaesthetic agent and an alternative drug for short term pain relief, for example, after surgery, in resource poor settings.
MWIA resolves that it rejects the scheduling of ketamine because of the health, agricultural and economic
i
mplications, particularly in resource poor settings.
Resolution No 3 Cessation of female genital mutilation.
Proposed by the Executive Committee 
Whereas the claim that FGM is a religious practice has not been substantiated, as there is no reference to any procedure altering female external genitalia in any religious books. Neither is FGM a harmless cultural/traditional practice.
And whereas the WHO and UN consider Female Genital Alteration (FGA) in any form in the absence of medical indication a human rights violation.
And whereas there is a suggestion to re-classify FGM into 5 categories rather than the Internationally recognised 4. The proposed 5th category would include "nicking", for which there is no clarity, is an added risk, and is simply an attempt to medicalize FGM.
MWIA acknowledges that FGM is not a prescribed medical practice.
MWIA Resolves That: FGM has no medical benefit and is a human rights violation, any form of FGM, including "category 5" of FGM, should never be practised.
Resolution No 9 Refugees and Asylum Seekers
Whereas the number of refugees and asylum seekers has increased dramatically in the last decade, with millions of displaced people including women and children, the resources of host countries are overwhelmed. Many of those in camps have no passport or proper documentation, so cannot be resettled.
And Whereas in some countries, Health Services and Education for these people are limited, often with no provision of safe obstetric care services, immunization for children, and no policing to protect those within the camps from rape and violence.
MW IA Resolves to:
Advocate for the introduction of initiatives for work with Individual Governments, NGOs, and the UN to allow processing of refugees who are without proper and appropriate documentation.
MWIA also resolves to encourage Aid Agencies, Health Care providers and Educators in individual countries to urgently provide basic health services, start schools and improve security for individuals in camps.
Resolution 10 Vaccination/immunisation
Whereas vaccination has become subject to rigorous scientific development, with assessment of safety and efficacy, the resourcing and equity of vaccination programmes vary across the globe.
Noting reported issues about vaccine hesitancy and even fake vaccines, promoted as safe to the public
Noting that sometimes vaccine information is used in an unorthodox manner for intelligence gathering, thus compromising the safety of public health workers
MWIA Reoslves To: Supports that vaccines should continue to be subject to rigorous scientific development, with all necessary assessment of safety and efficacy
MWIA Condemns the use of vaccination programmes for any other purpose, be it research or experimentation that is not fully consented to by the individuals involved
Condemns the use of vaccine data for intelligence gathering 
Resolution 11 Surrogacy. Proposed by Sweden
Whereas children should never be for sale, MWIA stands against commercial surrogacy, as this always involves the exploitation of women.
MWIA resolves that Commercial surrogacy must be eliminated as it often involves racism, and the women who are most financially disadvantaged
This is in accordance with earlier resolutions: 1992:12, 1992:2 and 2013:7
Further resolutions are still being finalised
Sexual Harrassment and Bullying in the Workplace
All doctors have the right to train and practice in a safe workplace free from bullying and harassment. However, the hierarchical nature of medicine, gender and cultural stereotypes, power imbalance inherent in medical training, and the competitive nature of practice and training has engendered a culture of bullying and harassment that has, over time, become pervasive and institutionalised in some areas of medicine.
Sexual harassment and bullying in the workplace in the medical profession has been a topic receiving much media attention. This topic was also addressed in a poster presentation at the MWIA Congress in Vienna.
SEXUAL HARRASSMENT AT THE WORKPLACE, AN IMPEDIMENT TO GENDER EQUALITY: A PILOT STUDY – Dr Dabota Yvonne Buowari (Medical Women's Association of Nigeria)
To investigate the occurrence of

sexual harassment at the workplace (SHWP)

 amongst doctors, measures and strategies to prevent it, and policies on SHWP.
This is a pilot study conducted in 2013 during an international forum for female doctors. It is a cross sectional survey in which an 18-item questionnaire was used. Participation was voluntary.
The survey consisted of thirty-three female doctors from eight countries. Respondents that have been sexually harassed at the workplace are 9 (27.27%), in the form of verbal, unwanted torch, gestures and rape. Six (18.18%) of respondents have been shown items of a sexual nature at the workplace, 4 (12.12%) have received SMS and emails from someone at work which are sexual in nature, 16 (48.48%) have policies and a reporting system for SHWP. According to 8 (24.24%) who reported SHWP faced retaliation. Employment decisions or benefits were tied to SHWP.
There is a need for all hospitals to put in place policies to prevent SHWP, and when it occurs, the perpetrators should be punished accordingly to prevent its reoccurrence. There should be a formal reporting system for SHWP
                         ----------------------------------------------
You can read the Australian Medical Association's position statement on Workplace Bullying and Harassment here. 
This should be read in conjunction with their position statement on Sexual Harassment in the Medical Workplace
here
. 
You can also view the Royal Australasian College of Surgeons' Action Plan on Discrimination, Bullying and Sexual Harassment in the Practice of Surgery, a response to the report of the Expert Advisory Group here.

AFMW is a proud partner of the Australian Human Rights Commission's National Anti-Racism Strategy.
WHO World Health Assembly Report 2016
I was fortunate to be granted the opportunity to attend the 69
th
World Health Assembly earlier this year with three other inspiring Medical Women's International Association (MWIA) women in Geneva, Switzerland, Dr Clarissa Fabre (incoming President-elect of MWIA), Dr Shelley Ross (Secretary, MWIA) and Professor Shafika Nasser. The World Health Assembly is the peak decision- making body of the World Health Assembly and is attended by delegates of the 194 Member States and focuses on the key health priorities and agenda proposed by the Executive Board. 
Over the course of six days, the heavy agenda covered several key topics including antimicrobial resistance, safety of health care workers in areas of conflict, the Framework of Engagement of Non- State Actors (FENSA), migration and health as well as the importance of maternal, adolescent and child health. Of note,
'The Global Strategy for Women's, Children's and Adolescents'
Health was thoroughly discussed over several meetings and side-events. The health of women, children and adolescent's is essential to ensuring a prosperous and healthy future for all. The Global Strategy which was launched in September, 2015, by the UN Secretary-General Ban-Ki Moon focuses on three key objectives: Survive (end preventable deaths), Thrive (ensure health and well-being) and Transform (expand enabling environments) which are aligned with the Sustainable Development Goals focuses on enabling this target group to achieve their potential for health and well-being in all settings by 2030. It continues to expand on the unfinished Millennium Development Agenda and aims to ensure that no one is left behind. 
The technical briefing on this strategy focused on providing technical resources and new evidence to member states to support them in the implementation of such strategies into their national programs and policies. The panel consisting of global health leaders from varied sectors and settings 
such as Dr Flavia Bustreo, Assistant Director-General for Family, Women's and Children's Health, WHO, Dr Geeta Rao Gupta, Deputy Executive Director, UNICEF, Kate Gilmore, Deputy High Commissioner for Human Rights and Her Excellency Marie-Claude Bibeau, Minister of International Development and a Francophonie, Canada discussed the challenges and opportunities for implementing such a strategy in member states. Moreover, the importance of accountability and multi-lateral and multi-sectorial collaboration of such a strategy was reinforced by government and 
non-government organizations who noted these areas to be a key driver for success.
A focus on adolescent health (a neglected target group in many countries) was highlighted by Dr. Margaret Chan, WHO Director-General who stressed that we must act to improve health outcomes for young people as 'for the first time in history 1.8 billion people are adolescents." This in addition, to the Lancet Commission on Adolescent Health and Wellbeing which was launched in May, 2016 has provided some much needed traction on this issue. As the MWIA community, we have the opportunity to contribute and advocate for young people to ensure that they reach their full potential. I was fortunate to have a meeting with Dr Matti Parry, Technical Officer, Reproductive Health and Research (RHR), Adolescents and at-Risk Populations (AGH), WHO and Dr V. Chandra-Mouli Scientist - Adolescent Sexual and Reproductive Health, Department of Reproductive Health and Research who provided me with some key areas for which we as members of VMWS, AFMW and globally as MWIA can make an impact at the individual and organizational level are: 
1.
Promoting sexual education within our networks (both at the clinical and government level) 
2. Disseminating information in regards to implementing standards to improve adolescent friendly services (including advocating the development and application of these standards at a local an national level)
3.
Keeping informed on the numerous resources written by the WHO including
the adolescent job aid
(which is currently being updated) to ensure that we, as clinicians are appropriately engaging with adolescents in health services and conversations around family planning 
Many individuals say that the agenda of the 69
th
World Health Assembly like the Sustainable Development Goals are ambitious. However, an ambitious agenda ensures that we can achieve better health for all and that no one is left behind.