---
We hope you are renewed and refreshed after the Jewish holiday season.
---
NEWS & OPINION
Rabbi Shalom Lewis of Marietta, Georgia thinks the world is filled with bloodthirsty Muslims just waiting to kill us, and that we better open our eyes. Maybe Lewis should open his eyes.
---
ARTS & CULTURE
Joshua Harmon's comedy has little original writing, little story, and a lot of yelling by a clearly hysterical Jewish woman. If such misogynistic stereotypes of women pass as "brave comedy with tragically high stakes," then something is seriously wrong with theater reviewers.
---
LIVING JUDAISM
---
THE KOSHER TABLE
---
COMMUNITY
---
CALENDAR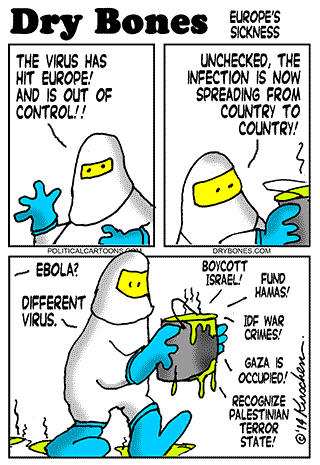 Tuesday, October 21: Nat'l Council of Jewish Women lunch.
Sunday, October 26: The Friendship Circle Walk 2014.
Monday, October 27: JSPAN 2014 Social Justice Award.
Yours,
Cartoons Courtesy
of Yaakov "Dry Bones" Kirschen http://drybonesblog.blogspot.
com/ and The
Cartoon
Kronicles @ http://cartoonkronicles.com.