I have some reading material to help you pass time on a snowy Sunday. The 2016 Maryland legislative session just began, but I've already taken many important votes. Below you can read some updates on how we handled Governor Larry Hogan's vetoes of key legislation.
I also have information to help you deal with the snow emergency and an invitation to a free criminal expungement legal clinic.
Stay warm & stay safe!

Delegate David Moon
Progressive Democrat
---
MY VOTES TO OVERRIDE GOVERNOR LARRY HOGAN'S VETOES
- Last year I co-sponsored four bills that passed the Maryland House & Senate but were later vetoed by Governor Larry Hogan. Among the proposals that Hogan killed were efforts to: 1) stop corporate tax-dodging, 2) defend marijuana decriminalization, 3) protect your rights when police seize your property, and
4) restore voting rights to ex-felons
.
To override these four vetoes, we needed 85 votes in the House
and 29 in the State Senate. I have good news to report on 3 out of the 4 vetoes, so far:
I VOTED TO RESTORE MARIJUANA DECRIMINALIZATION
: Governor Larry Hogan wanted to keep a loophole allowing police to arrest residents for possession of marijuana rolling papers and pipes, even though they couldn't be arrested for the marijuana itself.
We successfully reversed the Governor's decision by a vote of 86-55
, with only one vote to spare! The State Senate also voted to override the veto and restore marijuana decriminalization in Maryland.
Mission accomplished.
I VOTED TO STOP CORPORATE TAX DODGING
: Another bill that Governor Larry Hogan vetoed, was a proposal to stop online travel companies like Travelocity and Orbitz from cheating on their taxes. Currently those websites charge consumers hotel taxes, but they only turn some of the money over to the state and instead pocket the rest.
We reversed the Governor's decision by a vote of 89-52
, and the State Senate joined us on the override.
Mission accomplished.
I VOTED TO PROTECT YOUR RIGHTS WHEN POLICE SEIZE YOUR ASSETS
: Governor Larry Hogan also vetoed a
bill to restore the American principle of "innocent until proven guity." Currently, police can seize your cash and property, without ever charging you with a crime, and the burden is on YOU to prove that the assets are not related to crime.
We voted to override the Governor's veto by a vote of 90-51
, and the State Senate followed suit.
Mission accomplished.
I VOTED TO RESTORE VOTING RIGHTS TO 40,000 EX-FELONS
: The last bill I co-sponsored that Governor Hogan vetoed was legislation to restore voting rights to Marylanders who have served their time & been released from prison. In the House, we voted 85-56 to override the Governor's veto, with no votes to spare!
The Senate is scheduled to vote on this override February 5th

.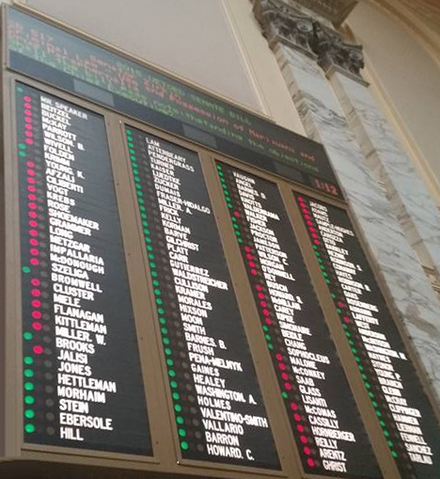 Vote tally from the marijuana decriminalization override.
---
FREE EXPUNGEMENT LEGAL CLINIC - SATURDAY 4/23 - Get help from volunteer attorneys to clean your record at Montgomery County's 1st expungement & shielding legal clinic. Take advantage of Maryland's new laws regarding expungement and shielding of criminal records. More info at www.SilverSpringExpungement.com.
Saturday, April 23 - 10 am to 2pm
Free Expungement & Shielding Legal Clinic
Silver Spring Civic Buildging
1 Veterans Pl, Downtown Silver Spring
SNOWSTORM INFORMATION FROM SEN. JAMIE RASKIN

- Our State Senator Jamie Raskin is circulating the following information and resources regarding the snowstorm:
County Information

: MC311, the County's informational call center opened at 6 a.m. and will remain open around-the-clock for the duration of the snowstorm and clean-up. Contact MC311 by phone at 3-1-1 or 240-777-0311, or visit www.MC311.com.
Power Outages

: We are expecting power to go out in some places due to the severity of this storm. Please report outages right away to Pepco by calling 877-737-2662. You can go to Pepco's website to report an outage, check repair status, and get estimated time for the power to be turned back on: http://www.pepco.com/pages/connectwithus/outages/outagemaps.aspx
Road Plowing

: The County will be prioritizing emergency and primary roads for snow removal, then will move on to the residential streets. You can track the County's progress by clicking here: http://www7.montgomerycountymd.gov/snowmap/
Parking

: There is free parking in any of the county parking lots. Please take advantage of this opportunity to help clear the streets for snow plows and to make it easier for the County to remove the snow.
Sidewalk Snow Removal

: Residents are required to clear their sidewalks within 24 hours after a snow event. For questions about snow removal, call 240-777-0311 for residential streets and 410-582-5650 for state roads.
Frozen Pipes

: To report frozen pipes to WSSC, please call 301-206-4002.
Vulnerable People Hotline

: To report a concern about the homeless, elderly residents, children, or residents with disabilities, please call 240-777-4000.
Warming Shelter

: Warm shelters are currently available at two locations for those who might lose power: Margaret Schweinhaut Senior Center (1000 Forest Glen Road, Silver Spring, Md.) and the Longwood Recreation Center (19300 Georgia Ave., Brookeville, Md.).
Animal Information

: Due to extreme temperatures, the Montgomery County Police Animal Services Division is enforcing the Anti-Cruelty Conditions for Dogs law. The regulation states that "a person must not tether a dog under circumstances that endanger its health, safety, or well-being including: unattended tethering of the dog during a weather emergency." ASD Officers will be on-call, patrolling neighborhoods and responding to any animal-related emergencies. If you see an animal left outside that appears to be in danger, please call the Animal Services Division immediately at 301-279-8000.
SAVE THE DATE: DEMOCRATIC PRIMARY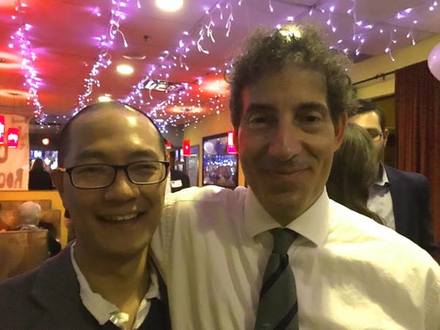 National Organization for Women (MoCo PAC)
Public Schools Retirees Association
Maryland Votes for Animals
Coalition of Asian Pacific Democrats of Maryland
Valerie Ervin &
Delegates Sheila Hixson,
Al Carr, Ana Sol Gutierrez, Jeff Waldstreicher,
Susan Lee & Aruna Miller
Takoma Park Councilmembers
Seth Grimes &