AFCNA socks, almost gone!

We bid on the closeout of 1000s of pairs of 
closeout Alpaca Fiber Co-op (AFCNA)
Hiker, Qtr Hiker and Dress socks.
There is just a small % left.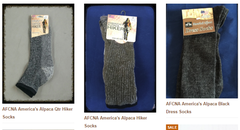 Get
 DEEP discounts on volume purchases
The socks come in cases of 120 (Dress) and 72 (Hikers).
Historically retailing in the $20-$25 range, bulk purchasers can get these socks right now for as little as $5/pair! 
The number of cases available for this special is limited.
We purchased ALL of the remaining Co-op inventory (at closing bid) of these items and are passing the discount prices to our wholesale customers on these popular items.
Some of our products are so popular we have 
trouble keeping them in stock! 
If an item is temporarily out of stock the
"Back-in-Stock" tool will automatically pop up
to you can get an automatic 
notice by email 
as soon as the item becomes available.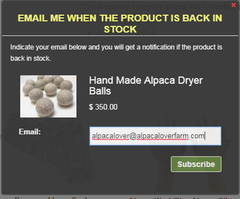 This tool comes up for ANY product that is
temporarily sold out.  It's a great way to get that
hard to get item as soon as they become available. 
So many new and back in stock items:
See ALL the Latest Items!