Immigrants without papers – the Sans-Papiers – have marched across France since 19 September and are arriving in Paris Saturday to meet President Macron at l'Élysée, his official residence.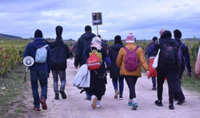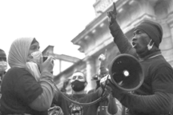 They are demanding Papers for All, Close down detention Centres and Housing for All. Sans-Papiers collectives, 280 organisations including national unions and city councils have supported their movement in France, and so have numerous organisations in Europe and beyond.
Outrageously, President Macron has refused to meet a Sans-Papiers delegation or even answer their requests, the police have so far forbidden them to reach l'Élysée.
It is critical to support them.  Like millions of other immigrants, they demand the same rights, entitlements, and resources as everyone else. People have the right to reclaim the wealth that was stolen during slavery, colonialism and right up to the present day – wealth that has enriched corporations, governments, institutions and the elite.