Veterans welcome home Sgt. Bergdahl!
By Gerry Condon, on behalf of Veterans for Peace, at the National Press Club and The White House. June 10, 2014
Five more U.S. soldiers were killed in Afghanistan yesterday. They were killed by a NATO airstrike, so-called "friendly fire." Who is to blame for these deaths? Certainly not Sgt. Bowe Bergdahl, who did not order U.S. troops into an endless and pointless war in Afghanistan.
Veterans For Peace has had few opportunities to applaud the actions of President Obama. We are profoundly disappointed that the president has continued the aggressive foreign policies of the Bush Administration. But today we can thank President Obama for a couple steps in the right direction.
President Obama did the right thing when he brought home a U.S. prisoner of war from Afghanistan. President Obama did the right thing when he released five Afghan prisoners of war from the U.S. prison at Guantanamo.
But President Obama did the wrong thing when he decided that U.S. troops will remain in Afghanistan for another 2-1/2 years, and then some. The deaths of five U.S. soldier yesterday is the kind of bad news we can expect as long as U.S. troops are in harm's way.
As Vietnam veteran John Kerry once famously said, "How do we ask a man to be the last man to die for a mistake."
Veterans For Peace wants to speak directly to Sgt. Bowe Bergdahl:
We love you, Sgt. Bergdahl. We have great respect for you and your wonderful family. We are happy that you will be reunited soon!
Click here to read more of Gerry Condon's statement.
---
GI Resister at European Court of Justice
In late 2008, US Army Specialist André Shepherd filed an application for political asylum in Germany. On June 25, 2014, the European Court of Justice will hear his case.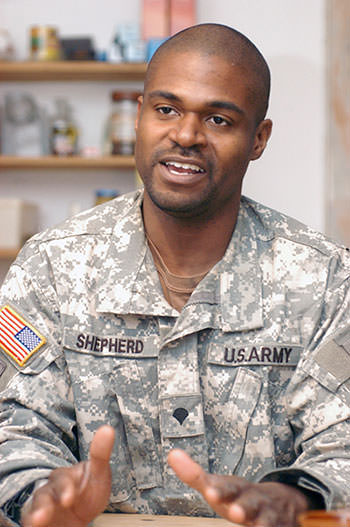 Please consider making a donation towards André Shepherd's defense at betterplace.org/en/projects/9032
By Connection e.V. (Germany). June 10, 2014
37-year-old André Shepherd was deployed to Iraq for six months as an Apache helicopter mechanic. After returning on leave to his unit stationed in Katterbach, Bavaria, he seriously deliberated the effects of U.S. military action on the civilian population in Iraq. After some time, he decided to go AWOL, and then seek refuge in Germany. He based his application for political asylum on the European Union Qualification Directive, which is intended to protect those who refuse to participate in a war or other activities that violate international law, and who may expect persecution as a consequence.
André's lawyer, Reinhard Marx, observed that in this important case, an AWOL soldier from the United States will, for the first time, be tried at the highest European court: "This shows the tremendous significance of this case."
To obtain a decision on a key question by a court requires from the defense not only a lot of perseverance, but also solidarity and financial reserves: for effective publicity, for the court proceedings and for attorneys' fees.
Therefore we would like to ask you for financial and moral help for André Shepherd at betterplace.org/en/projects/9032
Click here to read a chronology of André Shepherd's Application for Political Asylum.
---
Stand with Chelsea at Pride!
Gay Pride events are rapidly approaching in cities across the United States! Join us as we march in celebration of our heroic US Army WikiLeaks whistle-blower Chelsea Manning!
There are still several ways you can
support Chelsea Manning at Pride:
Donate towards new Chelsea Manning banners, posters, and stickers printed for Pride events around the country!


Contact your local organizer about volunteer opportunities. Bay Area supporters, contact Farah at farah @ couragetoresist.org to become a contingent monitor!


March in your local contingent!

Seattle, WA – Sunday, June 29
More info will soon be available on: www.vfp92.org

Minneapolis, MN – Sunday, June 29
Meet up 10:30am at 3rd Street & 2nd Avenue
facebook.com/events/700254726704015/

New York City, NY – Sunday, June 29
facebook.com/events/521331217995552/

San Francisco, CA – Sunday, June 29
Meet up 9:30am at Howard & Beale Streets
facebook.com/events/298467196976692/
Click here for more information on Chelsea Manning Pride Contingents in your community!