Ron Paul County Coordinators Needed
Join the National Ron Paul 2012 Campaign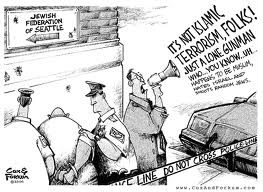 CAIR Tries to Scuttle CLEET Seminar
Last week we ran this story but the final three paragraphs were chopped off somehow. Here it is again in its entirety with the last three paragraphs highlighted.
In a recent newsletter, we wrote about a seminar called "Understanding the Threat to America," which took place on January 12th & 13th. CLEET advertised this seminar on their website and offered continuing education credit hours to the law enforcement officials who attended. The seminar featured a former FBI Counterterrorism Agent, an Army Major who formerly briefed the Joint Chiefs of Staff at the Pentagon and the retired Commanding General of Delta Force. Sooner Tea Party researchers attended the seminar and the evidence these speakers shared with us was nothing short of shocking.
To review briefly, in 2004 the FBI raided a home located in Falls Church, Virginia and seized documents from a secret sub-basement that contained the archives of the Muslim Brotherhood in America. The
seized documents
were classified until federal prosecutors introduced them into evidence in the case of
United States
v. The Holy Land Foundation,
the largest terrorist-financing trial in the history of the U.S. In November of 2008, a jury returned unanimous guilty verdicts on 108 separate counts.
The stated goal of the Muslim Brotherhood is to overthrow the government and replace the Constitution with Shariah Law. One of the documents admitted into evidence contained the following quote: "The (Muslim Brotherhood) must understand that their work in America is a kind of

grand Jihad in eliminating and destroying the Western civilization

from

within

and "

sabotaging

" its miserable house

by their (our)hands

..

. " CAIR, along with numerous other individuals and MB front organizations, was included in the case as an unindicted co-conspirator.
After our newsletter came out, CAIR tried to get CLEET to rescind its accreditation of the seminar. During one of the sessions, a law enforcement official stood up and announced that CAIR had filed a Complaint with CLEET. Based upon the evidence we've been able to gather, it would appear that CAIR desperately did not want the information presented in this seminar about them to come out. After seeing the overwhelming amount of jaw-dropping evidence presented, I now understand why.
The problem with CAIR's Complaint is the overwhelming weight of the facts against them. For example, Congress recently passed
a law prohibiting any state or local FBI offices from doing business
with "any unindicted co-conspirator" (to include CAIR). See link to Continuing Resolution. In addition, one of the presenters offered
a copy of a letter signed by a former Central Intelligence Agency Director
, a former Defense Intelligence Agency Director, a former Deputy Undersecretary of Defense for Intelligence and a former Defense Department Inspector General which read "While all four of us were in senior positions in the U.S. Intelligence Community and should have been aware of this information –
we were not
. We first heard this critical information from the two primary presenters." See link to SEG letter. One might wonder how it is that a former CIA Director had not heard of this information until our presenters showed it to him.
In addition, we spoke with Michael Hoehn, the Executive Director of the Alliance for Vigilance, the organization that sponsored the seminar. Hoehn, who is also a trial attorney from Washington, D.C., said "I spoke with a representative from CLEET as well as the legal counsel for the Oklahoma State Bureau of Investigation who attended the seminar and I asked them point blank whether they considered any of the information we presented to be inaccurate. Their response was 'no.' We intend to file a FOIA request to find out who exactly it is that is trying to put pressure on CLEET in an attempt to keep the truth from coming out." Hoehn added, "CLEET allows CAIR to train Oklahoma law enforcement officials. Why shouldn't we be allowed to present our case?" Hoehn's comments, however, leave open one important question: considering the fact that the FBI can no longer do business with CAIR because they are an unindicted co-conspirator in the HLF case, why is the state of Oklahoma still allowing them to train our law enforcement officials?
CAIR's Complaint filed with CLEET illustrates a crucial point that all of the seminar speakers hammered home repeatedly. An overwhelming amount of evidence was presented of numerous instances where Muslim Brotherhood front groups had engaged in information warfare operations to deceive, mislead and co-opt leaders at every level of federal, state and local government in order to get these government officials, who were often unsuspecting dupes, to do their bidding for them. In commenting on this practice, Hoehn said, "That's what the Muslim Brotherhood means when it says that its' goal is to destroy western civilization from within by our own hands." Thankfully, because of courageous action by the executive leadership of CLEET despite withering, desperate and outrageous criticism, it didn't work this time.
Now, CAIR has invited Oklahoma legislators to their conference in March to indoctrinate them presumably to get them to do CAIR's dirty work "by their hands." It will be interesting to see how many RINOs attend. Stay tuned here for a list of attendees. Shariah Law, coming soon to a neighborhood near you, compliments of CAIR.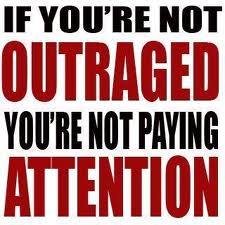 QUI TAM AND IT AIN'T SUSHI
By P.M. Editor
Lame mules, rotten provisions, and rusty, inoperative rifles were a bane to quartermasters during the Civil War, otherwise known as the "War of Northern Aggression" to those of us raised properly. President Abraham Lincoln prodded Congress to pass a law known as the "Informer's Law" or "Lincoln Law" that allowed citizens to bring suit against contractors and suppliers in the name of federal, state, or local governments. These so called "Qui Tam" lawsuits have recovered billions of tax dollars over nearly a century and a half but for some reason Oklahoma lawmakers saw fit to severely cripple the use of Qui Tam lawsuits.
"Worse than traitors in arms are the men who pretend loyalty to the flag, feast and fatten on the misfortunes of the nation while patriotic blood is crimsoning the plains of the south and their countrymen are moldering in the dust." — Abraham Lincoln
Bad mules brought about the Federal False Claims Act (FCA). Union Army defense contractors were selling lame or sickly horses and mules to the Army along with ill made ammunitions, rotting provisions. About what one would expect from a damned Yankee but human nature being what it is we still have the same problem with federal, state, and local contractors
So in March of 1863 Lincoln urged Congress to pass the FCA law that made it illegal for someone to present false claims or invoices to the U.S. government in order to cheat the government or pay the government less than what it was owed. One of the most important provisions of the FCA was the authorization of private citizens to act as a private attorney general in lawsuits to recover damages and penalties from crooked defense contractors. As much as 50% of the recovered money was the citizen's reward for exposing and prosecuting fraud.
These actions were known as Qui Tam actions, "one who sues for the king" from early English common law. Sometimes known as whistleblower lawsuits, the FCA eventually contained protection from retaliation from employers when allegations were made in good faith. Sometimes the government itself will file a false claims action known as sans qui tam actions.
During WWII a number of Qui Tam lawsuits were thought to be improperly benefiting individuals given the large amount of government defense contracting being done using publically known information so the FCA was whittled back by Congress in 1943. After the changes in the law, no Quit Tam suit could be brought if the government already knew of the fraud, even it the information was old and it was obvious that the government was not going to act. The reward to the citizen that brought suit was also reduced, leading to a virtual freeze on Quit Tam actions.
Then comes the 1980 reports of $500 hammers and $900 toilet seats that could survive a plane crash, which lead Sen Grassley (Iowa) to pass amendments to the original FCA bill, increasing the use of Quit Tam suits to fight illegal profiteering and fraud by increasing the reward for a successful suit, providing for treble damages, extending the statute of limitations, and adding deliberate ignorance and reckless disregard to the list of reasons why a citizen could start an independent lawsuit to recover fraud.
The increased reward, including attorney fees, brought in over two billion dollars in 2003 alone and over thirteen billion dollars since 1986 with over 70% of the recovered fraud coming from citizen enacted Qui Tam suits. Faced with treble damages, the current FCA scares contractors straight and has prevented untold amounts of abuse and fraud.
The rules are simple on Qui Tam suits. The citizen has to disclose the fraud to the government before filing suit, which is filed under seal till the government has time to look into the case. The government has the right to pick up the suit or to keep the record sealed for years if necessary. At that point, the Department of Justice or local U.S. Attorneys prosecute the suits or refuse to act. About 20% of all cases are picked up by government investigators and prosecutors.
If the government picks up the case, the citizen that filed the case accepts a lower reward as government resources are doing all the work. The success rate is remarkable as the prosecutors are picking and choosing which cases to accept, plus the specter of treble damages and court costs lead many contractors to settle out of court.
But if the government declines the case the citizen attorney general must go forward on his own resources, so the case is unsealed, providing the first notice to the contractor of being sued, and the case proceeds. During all aspects of the case the government is entitled to be kept informed and can intervene at any time, stealing the credit for solving the case and reducing the reward to the citizen. Specifically, the citizen may receive between 15 and 25% of cases that the government picks up, between 25 and 30% in cases where the government declines to prosecute, and this includes the tripled damages.
One of the arguments used last session to severely cripple Oklahoma's Qui Tam law was that individuals would reap windfall profits that should be returned to the state treasury. That argument neglects to consider that the recovered damages are triple the original fraud so the state recovers far more than was originally lost and does so in cases where they have refused to anything about!
Government contractors of all types are generally the target of Qui Tam suits but medical fraud, oil and gas royalties, education grants, housing programs, even postal rate fraud. Medical fraud recovery is by far the largest target these days as the welfare state expands to include millions of citizens.
In Oklahoma, one of the largest cases was brought by Roger Ediger against interest subsidy payments paid to Gold Bank from the U.S. Department of Agriculture. Ediger pulled in sixteen million dollars for the government. One would think that Oklahoma would welcome the assistance in rooting out fraud and corruption. But it seems that this isn't the case.
In November of 2011 attorney Jerry Fent lost a
state Supreme Court challenge to the new law
that crippled Oklahoma's Qui Tam suits. SB 331 had taken effect on November 1
st
, 2011 and had increased the number of petitioners required by tenfold and required that all petitioners be registered voters, discriminating against those not registered to vote. SB 331 had also increased the costs of filing the actions by requiring that the voter registration status be verified before submitting the petition.
SB 331 was authored by Representative Jordan and Brumbaugh who were apparently unconcerned about watering down our 1st Amendment rights to petition our government. With the passing of the new law, citizens will have to hire their own lawyer with their own money to file suit about unconstitutional laws. Fa-git-about reimbursement if the case is won.
Rep. David Brumbaugh, R-Broken Arrow, was quoted as saying "people do not file such legal actions, known as qui tam lawsuits, for altruistic reasons. "They do it for the 10 percent of the settlement they can get,"
Let's see if I have this right. In 1986 the "relator or whistleblower" recovered 15 to 25 percent with government intervention with the case won. If the government declined and the "relator" pursued it on their own and won they received 25 to 30 percent. Something just doesn't add up Mr. B. Not only do YOU think it unfair to be rewarded 10 percent for their efforts at bringing the scum to justice YOU want the "relator" to do it for free.
Rep. Mike Reynolds, R-Oklahoma City opposed the measure. "This is the worst bill I have ever seen in the Oklahoma Legislature". Reynolds said deleting the recovery percentage will remove a major motivation for taxpayers to file lawsuits when their research uncovers alleged wrongdoing by public officials.
Rep. Fred Jordan, R-Jenks, the bill's House sponsor, disagreed. "This bill doesn't take the rights of anyone away," he said. Any funds recovered should go back to taxpayers. "This will level the playing field," he said.
Excuse me Freddie, history has shown IF ANY GOVERNMENT ENTITY receives money it does not go to taxpayers. It gets spent so get off that wild and crazy ride. What are you smokin'!!
Humor me; I'm really trying to understand the thought process here. As the law reads a person has to be "registered" to vote in order to be a signature on the lawsuit. Does this mean an unregistered person can or cannot file a lawsuit? If this unregistered person can, they still must get registered voters as signatures. If that unregistered person cannot sign then how does it make sense they can file??? Your thought process is a very clear indication of what happens when you start your day with two scoops of stupid then proceed to your job and sponsor new bills. You may try bran in that bowl and clear something out before you go to work! All said and done; every person in Oklahoma really needs to register to vote so your asinine (no pun intended) butt gets voted OUT!!
Here are the votes of all your representatives:
OKLAHOMA HOUSE OF REPRESENTATIVES
Fifty-Third Legislature
First Regular Session
SENATE BILL 331 Fraudulent claims; modifying number of persons
required to institute certain action. Effective
THIRD READING PASSED
YEAS: 65 RCS# 510
NAYS: 34 4/11/2011
EXC : 2 2:57 PM
C/P : 0
YEAS: 65
Armes Hickman Nelson Shannon Banz Holland Nollan Shoemake Billy Jackson Osborn Stiles
Blackwell Johnson Ownbey Sullivan Brumbaugh Jordan Peters Thomsen
Casey Joyner Peterson Tibbs Condit Kirby Quinn Trebilcock
Coody Liebmann Richardson Vaughan Cooksey Lockhart Roan Virgin
Cox Martin, Sc. Roberts, D. Walker Dank Martin, St. Roberts, S. Watson
Denney McAffrey Rousselot Williams Derby McCullough Russ Wright
DeWitt McDaniel, J. Sanders Mr.Speaker Faught McDaniel, R. Schwartz
Glenn McNiel Scott Hall Mulready Sears
NAYS: 34
Bennett Hamilton Moore Renegar Brown Hardin Morgan Reynolds
Cannaday Hilliard Morrissette Ritze Christian Hoskin Murphey Shelton
Cockroft Inman Newell Shumate Dorman Kern Ortega Terrill
Farley Key Pittman Wesselhoft Fourkiller Kouplen Proctor
Grau McPeak Pruett
EXCUSED: 2
Enns Sherrer
CONSTITUTIONAL PRIVILEGE: 0
SENATE BILL 331 Fraudulent claims - number of persons required
Johnson (Rob) to institute certain action Third Reading
YEAS: 43
Aldridge Burrage Ivester Rice Allen Coates Johnson, C. Russell
Anderson Crain Johnson, R. Schulz Ballenger David Jolley Shortey
Barrington Eason Mc Justice Sparks Bass Ellis Laster Stanislawski
Bingman Fields Lerblance Sykes Branan Ford Marlatt Treat
Brecheen Garrison Myers Wilson Brinkley Halligan Nichols Wyrick
Brown Holt Paddack
NAYS: 0 EXCUSED: 5
Adelson Newberry Simpson
Mazzei Reynolds
NOT VOTING: 0
When Congress passed this law there was a 50% monetary recovery on lawsuits won to encourage and reward the exposure and prosecution of fraud. Our Founders had the morals and conviction of rewarding good behavior unlike some of our Holy Elected Officials today. Qui Tam lawsuits have a major impact on deterring fraud on the taxpayers and have been largely unchanged since 1986 despite periodic attempts by those it targets to gut it. This article is about the successful attempt of changing the law. They have succeeded in taking away all monetary incentive along with making it more difficult to file a Qui Tam lawsuit.
Our own lady in high places, Ms. Mary Fallin signed this new law with Democratic and Republican support. Are ya feelin' the yuk yet? Oklahoma is plagued with corruption at the highest level so there is no wonder why those in power want to remove the reward of doing the right thing. It is very clear those afflicted with corruption want to make prosecution as difficult as possible…they have succeeded. Makes me wonder if the elite are corrupt or just clueless…neither which is good for Oklahoma.
My final point…With all the discrimination flying around one would think the "Politically Correct" way to handle this would NOT be to discriminate against those who are not registered to vote. These "puffed up" public servants are never deterred from running an agenda and squashing ALL taxpayers that continue to foot the bill.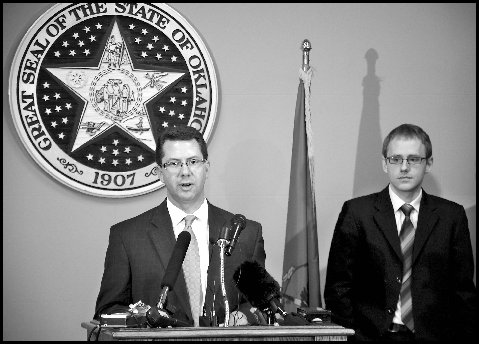 Speaker Steele plotting his Social Justice Agenda
By R.H. Editor
Last week we saw where House leadership was forced to admit that the agenda they created for 2012 was illegitimate and they were forced to hand out the 2011 agenda at their press conference. Part of that illegitimate agenda included the Speakers Soft on Crime Bill. I suspect we are in for another round of Soft on Crime legislation this year. You see the Speaker formed this board to study the Prison problem. Speaker Steele appointed people to this board who are Liberal, Social Justice minded individuals, including law enforcement officers of high rank.
Now just to make sure he got the right results, he appointed himself as the Chairman of the board. Sounds a little like justifying an agenda doesn't it? Now Speaker Steele needs to get the word out about the results of the board, so he calls in his friends at the newspapers. At his press conference Speaker Steele reports that we need to find more money for law enforcement and for district attorneys, more money for drug rehab programs, and mental welfare programs. This is dutifully reported in this article.
What Speaker Steele doesn't report is that he chaired the board that made the recommendations, or that all the people sitting on the board are tax and spend liberals. They phrase it as saving money on the prison system, but it would be an increase in spending at the district attorney, the police, drug rehab and mental health programs in the state. Granted more money is needed more mental health, but Speaker Steele needs to stop babying prisoners and trying to hide his Social Justice agenda in the form of prison savings. All Speaker Steele doing is turning dangerous felons loose on the public
Now this initiative has some very shady dealings attached to it. Some funding has been obtained from the Kaiser Foundation in Tulsa. You can see it here:
Justice Reinvestment Inititative
. You remember the Kaiser foundation; the same people who helped bring you the Solyndra Scandal from the Obama White House. This is another liberal organization attached to the project that Speaker Steele doesn't want anyone to know about.
Other people involved include District Attorney David Prater. Now you may recall he is being investigated for campaign fund violations, and misuse of power. Also included were State Senator Patrick Anderson, Representative Scott Inman, Representative Lisa Billy and State Senator Jonathan Nichols. In addition we have a representative from the Governors office, and former State Senator and current head of Oklahoma DHS, Howard Hendrick. Now there are many more people on this board. All of them are liberals. They can be found here. .
Speaker Steele, Council of State Governments unveil "justice reinvestment" initiative
.
I can only ask, how much more can we take. A good example of the type of individuals being released under the Speakers soft on crime bill can be
found here
. This was the 1st day of the new really need softer sentencing laws, or do we need to build more prisons? You be the judge.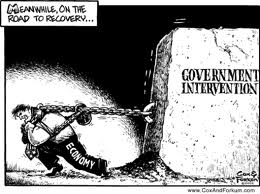 GREAT PLAINS OR GREAT SCAM?
By P.M., Editor
Michael Bates wrote an excellent story on the controversy in Tulsa over property tax hikes. Bates pointed out the sinking fund taxes that are calculated by asking the various government agencies to present a list of wants and needs to the County Excise Board for the coming year to cover general obligation bonds and court judgments. It is the Excise Board's job to analyze the requests before approving the requests but it seems that the Excise Board has been simply rubber stamping the requests and raising taxes without a vote of the people.
In 2011 the property tax increases included a request by the City of Tulsa for the final payment of the Great Plains Airline settlement even though the settlement was thrown out by the state supreme court. Only one member, Ted Kachel, asked the Board to delay the decision so that they could learn more on the issue but his motion died without a second.
The apathy of members of the board are stunning as they refuse to independently review property tax increases. Here is a audio tape of the meeting and a summary by Don Wyatt of Tulsa.
The problem of a weak willed Excise Board leads to tax increases as property values decline, increasing the cost of government as the public's ability to pay decreases. Imagine giving state, county, and local governments the ability to raise sales taxes during a recession without a vote of the people…
We covered how property taxes work in last week's newsletter. The Assessor's office determines fair market values of property then the County Excise Board sets the millage rate, or actual tax rate per thousand dollars of value, based upon the needs and wants of local governments. The Excise Board is supposed to review and investigate those wants and needs and act as a brake against unrestrained government spending but rather than go to all that trouble, the Tulsa County Excise Board has allowed a county employee to determine the millage rate.
Oklahoma law requires that excise boards consider cash in the bank and incoming revenues before approving requests for tax money but at one of the Tulsa Excise Board's meetings one board member asked that the district attorney office provide a better understanding of his responsibilities and another board member said he was "incapable" of analyzing the tax money requests.
Ken Yazel, Tulsa County Assessor, pointed out that property taxes have risen from 397 million to over 621 million in the last ten years while property valuations were declining, a system that will prove to be unsustainable in the future.
Yazel's Letter to Excise Board on November 4, 2011
Dear Ms. Gaines:
I respectfully request that an agenda item be added to the next scheduled meeting of the Tulsa County Excise Board to be held on Wednesday, November 9, at 2:00 p.m., to wit:
Discussion and possible action: Summary of background and evidence of false basis for City of Tulsa Sinking Fund request related to $7.1 million Great Plains Airlines judgment (Tulsa County Assessor).
The Oklahoma Supreme Court, Case Number 109449, decided 10/11/11, indicates that the City of Tulsa transferred money from their sinking fund to make payment of the $7.1 million settlement to the Bank of Oklahoma. This act was performed prior to any opportunity the Excise Board may have had to authorize the levy of taxes to make the payment. That act appears to be expressly prohibited by Oklahoma statute, 62 O.S. §365.5.
Therefore, at your next meeting I would like an opportunity to provide the relevant documents, an explanation of the sequence of events as enumerated in the Supreme Court Decision, and, in light of this new information, ask for your reconsideration of the levy you authorized in your meeting of October 19, 2011.
This is just another bunch of yahoos flexing their conjured up "MIGHTER THAN THOU" muscles. I believe after research on "disorders" this fits into the category of egomaniacs with inferiority complexes. I have come to believe they are suffering from a rare genetic disorder. Having this problem they are exempted from accusations of wrong doing or having any consequences for their actions. You can't blame them; it is wired into their DNA which makes these lost souls incapable of doing the job they were hired for. Following a job description is beyond all comprehension. It is once again the taxpayers pulling out their rubber mallets and attempting to pound common sense into their wittle bobble heads. A difficult task....but somebody's gotta do it.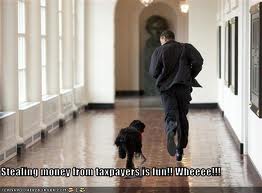 RINO'S Cutting Tax Credits? Look Out!
By R.H., Editor
It seems there is one bill that is sure to hit the floor of the full House already this year. That is because our RINO Republican leadership in the form of Representative David Dank, R- OKC, and Chairman of the Joint Legislative Task Force wrote a bill to cut tax credits. It must be nice to be in the leadership. That way you know your bills will reach the floor
The proposal would recommend an extension of the current moratorium on all tax credits for another two years. What would be wrong with doing away with them all together? This would be one way of doing away with crony capitalism in the state government. Sure they say they need the money to attract new business, but you'll attract the same businesses with lower corporate taxes and no personal income taxes.
They want to enact a Constitutional Amendment establishing specific criteria for tax credits. Why not a Constitutional Amendment for no personal Income Tax?
They want to end transferability of tax credits. What fool ever let them do that to begin with? Before long that program is going to look like a green energy program ran by the Department of Energy.
House leadership says their strategy would save between $250 and $300 million in fiscal year 2013. I'm no math wizard, but if their figures are anything like the Office of Management and Budget, we'll be lucky if it doesn't cost us that much. Government estimates are usually on the low side and usually wind up costing us more than what they say they'll save us. Obama care is a good example. The fund in Obama care that was suppose to pay for early retiree's until 2014 is already broke.
Now Speaker Steele has already made plans to seek a Constitutional Amendment should this bill pass. He is asking that House Joint Resolution 1089, that he authored, be approved. This would place the measure on the ballot in November for a vote of the people. If passed by the people, it would change our Constitution. Is this a good thing or a bad thing?
Let's look at the big picture. There are problems with tax credits starting with transferable tax credits that don't create jobs bug gin up tax credits by borrowing money. Then those tax credits are sold at 80 cents on the dollars to companies like Kaiser and other big insurance companies buy them to offset insurance taxes. There are old building remodeling credits and other government sanctioned activity that pay tax credits on the back end. But this is picking winners and losers in business, something the government has a poor record of success on. It would be much better for our state to eliminate the credits and increase the cash in the state treasury.
Secondly, unless you have a tax cut that goes with the tax credit elimination then you have a net tax increase (more incoming cash to the state). These tax credit eliminations should be coupled with tax cuts to the general public. Notice also just what industries were excluded from the tax credit ax: oil and gas, aerospace, the Goodyear plant in Lawton, and the Bridgestone in Ardmore, all big State Chamber of Commerce members. How about putting all the tax credits on the block, Representative Dank?
But he won't… Dank is tied into the State Chamber and the OKC Chamber, best friends with Oklahoman reporter Nolan Clay who authored many of the hit pieces on conservative legislators last year. Dank was a prominent Democrat and a lobbyist, derived a tremendous amount of his income from commissions selling insurance through CompSource through his retail merchant association. The retail merchant association bought a massive worker comp policy, then created a pool of retailers that took policies through his workers comp policy, where Dank benefited from the difference in rates on small business policies and enormous polices like he bought.. The more people came in, the cheaper Dank's rate and he made millions.
Dank lead the fight against right to work in the sixties and seventies and is a huge supporter of crony capitalism. So when Representative David Dank wants to cut tax credits, look out for what the other hand is doing and who it is doing it to.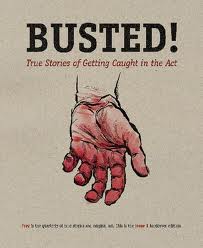 Will Speaker Steele Face an Investigation?
Last week we covered the fracas at the Capitol that lead a dozen House members from both sides of the isle to issue a public letter demanding an investigation into Speaker Kris Steele's alleged interference in a workers comp case. The McCarville Report published some of the early email exchanges between the two sides until State Chamber sources claim that State Chamber leadership gave McCarville a "dressing down" over his reporting on the issue. Since that day, the McCarville Report has focused on one side of the story, tarnishing Representative Mike Christian.
The fracas continued this last week with Speaker Steele's reply:
Members,

The latest email accusations from Rep. Christian concerning his workers' compensation claim are also false. I have no interest in getting into a back-and-forth email war about this matter, and I'm sure none of you have any interest in that, either.

But given the seriousness of this latest round of false accusations, please permit me to quickly present you with the facts rather than the fiction.
CompSource officials filed this week's motions to quash on their own, which is consistent with how this claim has been handled from the beginning. House officials had no involvement, nor did I. In this claim and all others, House staff defers to its counsel at CompSource. That's what occurred this week and throughout this process.

I have given no direction to House staff other than to defer to the guidance of CompSource. No evidence whatsoever has been offered to the contrary. And really, no evidence of any kind has even been presented.

It is telling that Rep. Christian is no longer making the accusations he made last week, but now has new allegations.

Last Friday, he first accused the House of releasing confidential records regarding his case. As I said Friday and as The Oklahoman reported Sunday, the House never released any records and never even had any confidential records in its possession. The Oklahoman reported further that reporters never even received confidential records, let alone from the House.

Last Friday, he also accused our general counsel of having "ex parte" communication with the judge. The Oklahoman reported that the judge said he has never spoken to our general counsel about the case and knows of no irregularities.

So here we are, a week later, and Rep. Christian is no longer making those accusations, but is now making a new round of false and libelous accusations.

Accusers must present evidence – not simply demand that attorney-client privilege be waived. The burden of proof is on the accuser. In this case, evidence has not been presented. The manner and forum in which these accusations are being made speaks volume to their legitimacy and to the motivations behind them.

Members, I look forward to our next session together and think we have great things ahead of us as a state. This sideshow should not distract us from our jobs. I look forward to seeing you all soon here at the Capitol!

Sincerely,

Kris Steele


A few hours later Representative Mike Christina fires back a reply:


Dear House Colleagues,

Many of you will be disappointed, but probably not surprised, to hear that Speaker Steele was not exactly open and honest with you in his response related to his interference in my court proceedings. While there were portions of Speaker Steele's message that contained Clinton-esqe half-truths and non-denial denials, there were also portions of his response that were simply untrue. Because Speaker Steele claimed it was my burden to bring forward evidence of his interference, I have decided to write this response ...

Speaker Steele claimed that there was nothing unusual about my legal proceedings and implied that he in no way intervened or interfered with the process. From his response, Speaker Steele would have you believe he was a disinterested bystander, wholly uninvolved with my proceedings and completely irrelevant to the outcome. Nothing could be further from the truth.

In a mediation proceeding regarding my claim held last year between myself and CompSource, I was surprised to find Ashley Kemp, the new House General Counsel, was attempting to intervene in my mediation. I was surprised because mediation sessions are typically conducted between the workers compensation insurance company and the injured worker, and the employer doesn't get involved with the settlement. That's not to say it is illegal for the employer to attend, but it certainly isn't the normal course of business. In fact, it is highly unusual.

Ms. Kemp candidly told me that it was her second day on the job and she was attending the mediation at the direction of Speaker Steele.

After approximately 3 hours of mediation, my attorney and the attorneys from CompSource came to an agreement. CompSource did NOT argue that my injury was unrelated to work. And, they DID agree that CompSource SHOULD pay for the reasonably foreseeable medical bills associated with my injury. In the end, my attorney and CompSource came to an agreement that seemed fair and equitable to everyone involved.

And that's when the Speaker intervened. Acting through House General Counsel, the Speaker told CompSource to refuse to enter into the agreement. The ONLY agreement he would accept is one that would pay for about HALF of the medical bills CompSource had just acknowledge would be reasonably necessary for my recovery.

The Speaker had NO reasonable or good-faith basis to direct CompSource to withdraw from our agreement. (In fact, by the way the Speaker tells the story, he had no idea what my medical or legal position even was, because he claims the House had none of the details of my case.) Surely you can easily see why one might just draw the conclusion that he was retaliating against me, for reasons that are very well known.

I have been open and honest about every detail of what I have told you. I have submitted myself to depositions where I have answered questions under oath regarding my claim. So, would the Speaker do the same? Would he allow his House counsels, current and past, to testify under oath about their contact with CompSource and the judiciary in my case?

Apparently NOT.

(See attached subpoenas to depose the House General Counsel. See also the attached motions to quash those subpoenas. See too the attached motions for a protective order.)

If the Speaker truly does invite us to examine the facts of what happened, I hereby request that he waive any attorney client privilege he may have with current and previous House counsels as well as any other relevant staff members and make them available for depositions. Otherwise, it is the Speaker's claims of openness and transparency that are obviously disingenuous.

Respectfully,

Rep. Mike Christian

Representative Christian's email sparked a heated response, leading Christian to respond once again:
Mr. Speaker:

I am so very sorry that you don't feel like being bothered for interfering with and retaliating over my workers compensation claim. But, just to be clear, I stand by my previous email although I did not reiterate every point for the sake of brevity. I will be happy to oblige you in that regard next week.

Tonight, however, I am eating a nice dinner with my wife. And, rather than hiding behind legal process and the creative prose of your House provided, taxpayer financed letter writer, why don't you just waive attorney-client privilege and let's just see which one of us is telling the truth?

Rep. Mike Christian
One of the first things you learn in politics is that to respond to criticism means validating the criticism and empowering your opponent, putting him on your level even if he is far below you in political stature or reputation. You only respond when you are forced to, damage control so to speak, and Speaker Steele's email reeks is redolent of stories of Steele's vindictive nature toward those that disagree with his agenda.
Many of us have seen those that are handicapped manage to rise above their injuries, some actually become ennobled by their experience and more charitable from going through their loss. Others are like Gollum from the Lord of the Rings movies, twisted and corrupted by their loss, constantly fighting with their ego, while alternately loving and hating themselves.
In Speaker Steele's case, it remains to be seen if his lust for power has become a malignant influence that has twisted his mind as well as his body. Like Gollum in the Lord of the Rings, Speaker Steele's actions carry us toward destiny and one can only hope that Kris Steele doesn't go out like Gollum, clutching "his precious" as he descends into the depths of hell.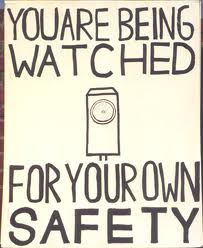 House bills to Watch This Session
Ownbey internet sales tax
By P.M., Editor
House Bill 2586
updates Oklahoma statute to define what constitutes a "physical presence" to ensure the definition includes businesses that are based in the state, but do not have a physical storefront.
Ownbey's legislation would require online-only retailers to charge sales tax in order to "level the playing field" between "brick and mortar" businesses and online-only companies. However, many experts state that shipping and handling charges more than offset any pricing advantage in sales tax that it is the selection and pricing that brings people online to shop.
"The Supreme Court has ruled that businesses who have a physical presence in the state are required to charge sales tax," Ownbey, R-Ardmore, said. "My legislation clarifies what that physical presence means so that companies understand what they owe and cities and towns receive the sales tax they are due."

My question(s) are...What are the unintended consequences? Is this going to pave the way for more government controlled bureaucracy expanding whatever department is responsible for the oversight? Possibly creating a new department where you call asking questions and get the "deer in the headlight" pause...and then transferred to someone else?
Leveling the playing field is great, that is until those online businesses decided to move to another state which does not have government fingers in their pie. Look at this article out of the Los Angeles Times Newspaper.
Is this one of those moments where determining a physical presence depends on the definition of what "is" is and which bureaucrat defines the meaning? Once the door is opened for government to police the internet will it ever stop and is this what you really want?
Contact: State Rep. Pat Ownbey Capitol: (405) 557-7326
Sunset Legislation
Chairman George Faught, House Government oversight and administrative rules, has a sling load of bills written to provide oversight and consideration for about two dozen agencies. Part of the process for creating an agency is to include the legislative obligation to consider if the agency is still needed, usually every four or five years. There are hundreds of state agencies in existence and it is good public policy to review the need so about two dozen entities are scheduled for sunset review every year and the chairman of House Government Oversight and Administrative Rules has to carry bills to review the agencies.
What is up this year?
HB 2236 re extends the Oklahoma Educational Television Agency, OETA. A smaller government minded individual would consider the hundreds of TV and cable stations not subsidized by the state and wonder if spend hundreds of thousands of dollars is truly a state priority in the current economic situation. There are some good people at OETA, Dick Pryor and his staff always treated the Tea Party fairly and the end of the government subsidy doesn't mean they will be going away, they will just have to depend on serving their constituents and donors to continue operation.
HB 2232, the Music Hall of Fame in Muskogee. That pork pie won't get the ax if old Amnesty George has anything to do with it being that it is in his home town. Why in the world would tax dollars be spent on such a ridiculous waste of money like a tourist attraction that can't pay its own way? Much like the vaunted American Indian Cultural Center that is sitting half finished south of downtown Oklahoma City, the Music Hall of Fame will never bring in enough income to be sustainable. More than a half million dollars has been flushed down the hole in Muskogee in the last decade for this money losing tourist trap. It is time to pull the plug and we dare Representative George Faught to live up to the Republican Party Platform and dissolve this useless pork project.
HB 2229 Wellness Council, created within the Oklahoma Employees Benefit Council, this tax money wasting operation meets quarterly with one person from each state agency appointed as the "wellness" coordinator for their agency. Each two hour long meeting is focused on health education to the various agency "wellness" coordinators to take back to their agencies. Useless…
HB 2228 Oversight committee on State Employee Charitable Contributions, picks the list of approved charities for payroll deductions from state employees. The usual suspects get approved, the United Way, assorted Muslim groups associated with unindicted co conspirators with links to terror groups…, the usual politically correct charities that can afford to lobby the Oversight Council and pay the huge administrative costs that go along with a well connected and well paid organizations.
Finally Amnesty George has three omnibus sunset bills, HB 2237, HB 2238, and HB2247, so if one of the agencies is facing the ax he can log roll it with five other organizations, Taxpayers and legislators should insist on individual bills not omnibus bills. Don't put the dogs in with the agencies that actually serve a governmental purpose.
HB 2443, creates a college (Higher Education Center) at Ponca City. For some reason, Representative DeWitt wants a new college in Ponca City even though there is one in Tonkawa just 15 minutes down the road. Dale DeWitt, the Republican Floor Leader that raised money for a Democrat challenger for a House seat, filed the pork, no doubt to please his local contributors.
This happened last year as well when RINO Pat Ownbey filed HB 2843 last session. It was innocent enough in the beginning, merely changed the name of an Ardmore college, but after passing the House and Senate, it came out of the conference committee as changing everything. The higher education center in Ardmore was affiliated with several universities including the one down in Ada but the Ardmore elite didn't like their connections to Ada, so Ownbey pulled a ruse, changed the name of the name of the higher education in Ardmore, then realigned the Ardmore Higher Education Complex with Southeastern of Durant.
There are already over thirty higher education organizations in Oklahoma. Education takes up over half of the state budget already so this bill needs to be killed.
Grove turnpike HB 2470 by Representative Doug Cox, Mr. Transvestite birth certificate bill himself. Cox wants to force the Turnpike Authority to build a turnpike between Grove and the Will Rogers Turnpike. It looks like a ten to fifteen mile turnpike that would need an expensive bridge over the Lake of the Cherokees. Sounds like another pork road to nowhere. I wonder if Representative Lee Denney has shared her "little smokies" reciepe with Doug Cox? Mmmm, bacon wrapped pork sausages.
Tag bills, for the love of God, have these idiots nothing better to do with their time?
HB 2629, creates an "Oklahoma for the Arts" tag.
HB 2672, creates a "Historic Greenwood District" tag
HB 2674, creates a "Booker T Washington" tag
And my personal favorite of the batch:
HB 2680 creates an "Fighting Addiction Through Education" tag.
Do you suffer from ubiquitous Oklahoma hay fever?
Legislators to the rescue with multiple bills to ban pseudoephedrine. HB 2205, HB 2375, HB2546, HB2551, HB 2819, and HB 2375 would remove the common over the counter drug and make it prescription only, meaning a trip to the doctor to get the prescription then waiting in line to have it filled at the pharmacy. If you are like a lot of small business people, you have a catastrophic policy so you pay your own doctor visits. Thanks Oklahoma legislators for making health care more costly and difficult all to pursue the war on drugs. What is next? Doctors being arrested for prescribing too much of the common drug like happens with chronic pain patients?
HB 2552, covers the sale of water and water rights; prohibiting certain contracts for or sale or exportation of water outside of the state without certain approval. If this bill actually does prohibit water sales out of state then it would be a good bill. Why send water to Dallas and Fort Worth to fuel industry when those same companies can relocate to Oklahoma if they need water?
HB2792, creates the Oklahoma Immigration Act of 2012, the same amnesty program that ripped George Faught's britches last session. Too many illegal aliens? Make em legal and flout federal law.
HB 2793, creating the Immigration Reform Act
HB 2798, creating the Immigration Act of 2012, backup in case HB 2792 is killed.
All three of these bills were field by Representative Charles Ortega, Mr "no need for cracking down on illegal aliens" himself. Someone needs to run against this old dried up turd of a legislator and let him get back to wooing the old ladies back home. Ortega was allegedly forced to resign as a deacon of his church after an adulterous affair came to light in 2011.
HB 2376 , another soft on crime bill by Sue Tibbs. Provides medical parole for sick inmates.
HB 2377 , increases electronic monitoring of inmates released after being convicted of a non violent crime. Representative Sue Tibbs's bill would immediately release any convicted criminal that had been sentenced to the state penitentiary and allow them to stay at home wearing an electronic ankle bracelet. Even more alarming is the provision
to free any and all non violent criminals currently serving time in a state penitentiary
under the electronic monitoring program.
So you burglarize homes for a living or sell drugs and finally get caught, then get nothing but a vacation at home. Plus state prisoners get dumped on county sheriffs but it will be the state that pays if one of the criminals commits more crimes.
HB 2270, HB 2844, HB 2846, are new taxes on nursing home designed to bring in matching federal dollars
HB 2536, mandatory recycling of beverage cans.
HB 2503, HB 2503, and HB 2504 are among a half dozen GRDA shell bills. Representative Weldon Watson is running them which makes us curious of the connection between the GRDA and Watson.
Pay raises for teachers, election boards, turnpike employees…. The list goes on, raises for everyone but the average tax payer.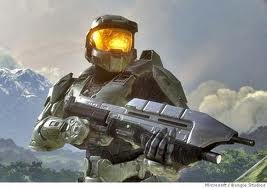 HB 2696 puts a one percent tax on "violent" video games.
Really! They have got to be kidding. They talk about ending the personal income tax out of on side of their mouth, and out of the other side they talk about raising the Tax on violent video games. Only a Democrat would come up with this, and he did. Rep. Fourkiller filed this bill promptly on January 19th.
Thankfully someone with some common sense has risen to the occasion. Cloaked in the auspices of protecting children, this is nothing more than a clear tax hike on Oklahomans that harm retailers, runs afoul of the spirit of the First Amendment and assumed that the Government- not parents- knows what is best for our children.
This tax, as proposed, would have a detrimental effect on Oklahoma retail employers who carry video games as part of their stock, According to the Oklahoma Employment Security Commission's December 2010 Economic indicator study "retail trade contributed to real GDP growth in every state 2010 and was the leading contributor in Oklahoma. The excise Tax would put a chilling effect on video game consumers.
While the legislation has the good intentions of protecting children, it ignores the fact that the average age of the video game purchaser is 37. Now these adults are buying these games for themselves and their children. As adults, they've already made the decision that their child is mature enough to play the game. They don't need a government bureaucrat making the decision for them.
Finally, the tax runs afoul of the First Amendment by attempting to restrain the sale of a certain type of media. Just last year the U. S. Supreme Court shot down a California law in Brown vs. Entertainment Merchants Association (EMA) that sought simply to restrict the sale of violent video games. A discriminatory tax such as this holds the same intent as that of other methods of prohibition. Do we really need to spend our tax dollars defending a law that we know will be tossed by the Supreme Court?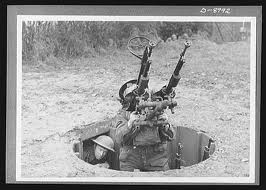 Speaker Elect TW Shannon is being proactive early this year by raising campaign donations for his supporters. Shannon is hosting an event on Sunday, February 5 from 6:00-8:00pm, at RED Prime Steak in Oklahoma City. A PAC, Political Action Committee is the beneficiary of the event with the money being returned to help re elect incumbents. As the Speaker Elect, Shannon will have the ability to raise funds from lobbyists and special interests to prop up his supporters against attacks from the State Chamber of Commerce. And he needs to do just that because the Steele/Hickman/State Chamber clique will be gunning for him all session long and through the primaries and into the general election.
Interestingly enough, the Republicans scheduled a caucus meeting last week and they chose to have their first meeting on opening day, February 6th at 11:00 A.M. in Room 432A at the State Capitol. Why? One would think that they would prefer to get the fighting over with long before opening day unless the State Chamber crowd has an ace up their sleeve.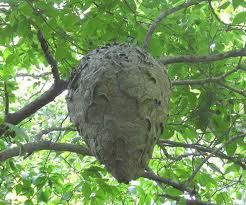 Bizarre but True

Senator Ralph Shorty kicked a hornets' nest this week with his filing of a bill that would outlaw food additives that were tested using aborted human stem cells. Bizarre as that sounds, there is a company called Senomyx that has developed a process using stem cells that originated in the 70's in the Netherlands, some sort of kidney stem cells. It turns out that several companies have cut ties with the company after news of their process became public knowledge.
I'll concede that there might be proper societal uses of certain stem cell lines for medical research to improve life, but this keeping cells alive for decades is, well, monstrous and macabre. Now if you show me that they can start growing brains to implant in certain legislators then I might rethink the issue.

Shortey said he was responding to a call for a boycott of major food companies that partnered with a biotech firm that produces artificial flavor enhancers, unless the firm stopped using aborted fetal cells to test their products and in developing artificial flavors.
Here are a couple of links that prove that the diminutive Senator Shortey (Ha! He is anything but tiny) was being attacked by pro abortion activists or for being a bit ahead of the curve.