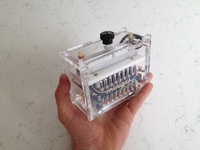 miniPCR is the groundbreaking personal PCR machine. Now in personalised colours!
Simple — no breakable Peltier elements

Durable — from classrooms to space

Proven peer-reviewed performance
Personal and transparent – not a black box!
Small and portable, miniPCR fits right on your bench or travels wherever your science goes.
Publication-quality results in an innovative format
5 x 12.5 x 10cm, 0.5kg

Portable and durable construction

Heated lid

8 x 0.2 ml PCR tube capacity (strip-compatible)

Programming flexibility, unlimited programs

Full control via Windows, Mac, Chrome OS or Android app

On-device microprocessor runs autonomously

GLOBAL VOLTAGE compatible 90-264V

Battery pack compatible for full power autonomy (optional)
Included with your mini8 purchase
miniPCR thermal cyclers are fully compatible with standard PCR tubes and reagents.
Backed by the miniPCR 1-year warranty and 30-day satisfaction guarantee.