I do believe Spring is finally here, I keep saying that, and then we have another cold spell , but hopefully it's here to stay. The sun is shining, it's getting a little warmer during the day and we can finally turn the heat off, YIPPEE!!
Mary is doing well, and getting better every day. Thank you for all of your prayers and concerns. We are planning on her being out for at least 6 weeks, if not 2 months. We are playing it by ear and her doctor.  

I know we have a prayer concerns for Kathy and her family, Linda and her family, and Kat and her family. Please keep these quilters and their families in your thoughts.

We have made some changes in the class schedule, we had to move some of Mary's classes out a little bit. I have updated the online calendar and our in shop class schedule, so you might want to check it out. I have also added a couple of classes, does this surprise you?
Since I didn't get a newsletter out last month, I am extending the sign up for the exchange blocks. Sign up will be through the end of April, then you will have May and June to complete your blocks and turn them in by June 30. I will divide all of the blocks and we will have our exchange block pot luck on July 18. There is a $10.00 charge when you sign up and that will be returned to you when you turn your blocks in. The background for the blocks will all be the same, but you may choose the fabrics for your stocking, and the pinwheels will all be red. Be sure to let us know!!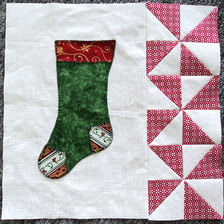 Exchange Block Quilt
I am going to start a big project on July 11, and it will always be on the 2nd Saturday of the month. A Flock of Feathered Stars. I couldn't pass this quilt up, but I also found it very daunting to think that this whole thing is paper pieced. Paper piecing is normally not my thing. Don't freak out yet. We will only make ONE block a month, and I have chosen Saturdays so that we will have more time to work on them. I think that if we have our fabric cut before hand, that we can manage to make one block a month. This will take 18 months, so it's a big commitment, but one that I think is doable. The class is $100.00 and you will need the book. I have a couple quilters already signed up, so be sure to let me know!!
Flock of Feathered Stars
Since Mary is out, I guess I can do what I want, right? Next week is my birthday, I'll be 49 (lucky the name is Holly, not Pinocchio).
So, to celebrate this great day in history, we will have a sale on Tuesday, April 7, with 15% off of everything (excluding sale fabric) and $5.00 off any class that you sign up and pay for. If you place a special order it will be 15% off as long as you pay for it that day.
Come in and celebrate with me!! They are even having a huge quilt show to honor my birthday, LOL.  
Don't forget to attend the Paducah Quilt Show April 22 – 25. It really is a must see.
Here is a picture of the Strip Night Quilt, surprise Mary!!  (She didn't know I was making it). This quilt will be offered in Twin, Queen, or King. Strip Night is on November 7 and at this point we are about half full. If you haven't let us know that you are coming, now is the time.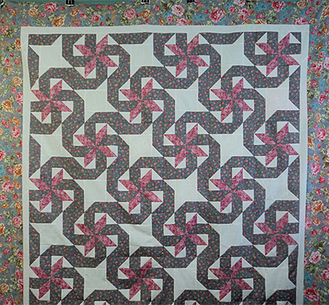 Strip Night Quilt
I finally received the rest of the fabric for my two Block of the Month quilts, the kits are being cut and now I can get started on making them. I think those are my next projects. Well, those and about 10 other things. Hopefully we can have them ready to go by June. I will keep you updated.
We have lots of new fabric in, which is perfect for a sale, be sure to stop by on Tuesday, April 7!
Holly and Mary