IN THIS ISSUE:

---
Sponsors this week:
The Carpenter Shop
358 North Rockwell
OKC, Ok
405-942-2644
The Carpenter Shop is a full line cabinet and countertop shop that travels all over the state building dream kitchens for discerning customers
okcgunshow.com
okcgs.com
Claude Hall has always take care of the Tea Party and the Ron Paul activist community at his gun shows.
His next OKC dates are:
May 19th - 20th,
July 14 - 15th,
Oct 6 - 7th
Nov 17 - 18th
Dec 15 - 16

This guy is a Noble Oklahoma based company that has great prices on electronics of all types and inexpensive toner and ink for your printer.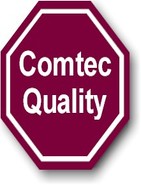 Comtec provides residential and commercial security systems in Oklahoma.
There is only one thing you really need to know about Comtec's quality and pricing, they do not require a contract for their services.
Customers are free to walk away if their service isn't top quality.
Rodent ResistantChicken Feeders!
$50 + Shipping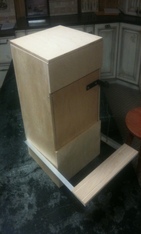 Advertise Your Business, Event, Or Service Here!
$25.00 per week, tens of thousands of Oklahoman
impressions every newsletter
Rep Shumate married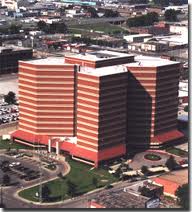 The New Oklahoma County Jail...
How Will It Be Funded?
By Ms. PM
In this article
back
in
December 12, 2009 County officials seemed to favor a new jail with the estimated cost of $350 million and a sales tax to pay for it. With the possibility of federal intervention, it would cost $260 million to renovate in a timely fashion to get the feds off the county's back.
Sheriff John Whetsel prefers a new facility over renovating and said that the county

will never address enough concerns to be accredited

. Whetsel said "The greenfield site is the way this county should go." The land is estimated to cost the county approximately $1.5 million.
Commissioner Willa Johnson believes Whetsel's information brought a clarity to her and felt okay going forward with the new jail construction. Commissioner Vaughn said the county would spend more on renovations and also ignore maintenance issues that were needed now.
In the funding options of this article there was little discussion on the option of renovating or adding on to the existing jail. Gary Bush, County bond counsel said that the only real option would be a sales tax to fund the bond. There was a budget shortfall to pay for it. Some of the other questions were how long to impose the tax and the possibility of permanently keeping part of it for maintenance. Vaughn, favoring the sales tax, stated that it would be easier for residents and studies indicate that approximately 40% of the tax would be paid by out of county residents.
The county engineer, Stacey Trumbo said that the $350 million was a worst case scenario cost for building a new jail or renovating the old one. If the costs came in under budget it would be returned to taxpayers. Yeah right, and Jabar Shumate is attracted to women.
This article
in January of 2012 stated that the Oklahoma County Commissioner Ray Vaughn of District 3 anticipated a bond to pay for building the new jail.
Vaught wants a model similar to the Tulsa facility which is one story so building it downtown isn't expected. Vaughn says that it will require 60 to 80 acres and that will not be found downtown.
State Rep. Randy Grau, R- Edmond had a feasibility study done on regional jails even though there were no laws in the state allowing this. Options were open as to what would be done.
In this article in September of 2012,
Sheriff Whetsel admits that the county jail
has gained accreditation.
Whetsel goes on to say "gaining the accreditation was the result of audits, mountains of documentation, facility tours and hearings.
In 2003 81% of voters defeated a countywide 2/5 % permanent sales tax to fund operations of the jail and sheriff's office. And the reasons were....lack of oversight and accounting transparency.
In this next article
the cost of a new jail/or renovation as of November 29, 2012 is now $290 million and voters may be going to the poll as early as March. This article touches on a lot of the same issues the previous articles talk about. The reason for using this news article was the price tag.
In this last article
the cost is $350 million and voters will be asked to approve a 10 year, half cent sales tax increase. Commissioner Vaughn says officials would look for enough land to build the one story complex and unlike previous links he doesn't give the approximate size of land needed. The cost is $60 million more than the last link states and this link was written one day after the other one. Sheriff Whetsel says "some deficiencies can only be fixed with a major remodeling or a new jail.
The chronology of events talked about over the years in these articles make it clear that things don't add up. Back in 2009 one of the main talking points for building the new jail according to Whetsel was that the old jail would never be accredited. It is amazing what a few years can do to change the shape of things to come.
The current renovations cost under $2 million according to Whetsel, and in 2009 it was estimated to cost $260 million. Commissioner Vaughn said it would cost more than $260 million. It almost sounds like the figures were padded for the renovation to make building a new jail more palatable.
Most of the issues were operational and not structural so many questions need to be answered before a new vote happens for funding.
Why can't the old jail be made larger? New construction is typically less expensive than remodel. Given that almost 2 million in funding has already been spent for partial renovations, adding new structure to existing would appear the most cost effective way to go, it wouldn't waste the almost 2 million already spent. Why were these non-structural issues never addressed until DOJ got involved?
How did this same sheriff just get re-elected after almost losing the control of the county jail to the feds? He has had sixteen years to address problems, what happened, and why did voters let him skate? Why did Whetsel not address the issues of violating the constitutional rights of detainees, inmate-on-inmate violence, excessive use of force by officers and inadequate access to medical care, when he was campaigning for the new jail back in 2009?
Also in 2009 Commissioner Vaughn thinks that out of county residents would be happy to pay 40% of the tax. Is he going to tell them or did we just accomplish that dirty deed? Is this simply another example of getting someone else to pay for what you want? Sounds a little too Obama-ish, and how many Oklahomans voted for his re-election?
The last thing Oklahoma needs is a new jail with a hefty price tag paid for by taxpayers. The occupants have been caught breaking laws and we continue to pay their way with high society fashion statements they will easily grow accustomed to. Jail is a punishment, not a free vacation spa funded by those that many times were harmed by law breakers along the way. There is nothing wrong in providing a jail that serves its purpose without all the bells and whistles.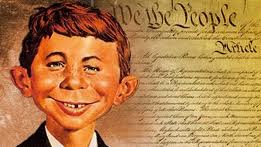 Are Oklahoma County Voters Satisfied
Or Just Not Paying Attention?
Well the election season is over. Oklahoma County can settle in for another four years of corruption at the Court House. There is one new player in the game, a handpicked successor, but other than that, all the other players either won with no challenger or won by wide margin. These results raise two questions. Are Oklahoma County Residents satisfied with their County Government? And are Oklahoma County residents aware of exactly what is going on at their County Government?
To begin with, you need to know who your county government is. You can find their names and positions here
. There will be one change in this lineup in January. Tim Rhodes was elected to the position of Court Clerk to replace the retiring Patricia Presley.
We asked the Oklahoma County Election Board to provide us with the results of all county races from 2000 through 2012. What we were given did produce some
interesting finding.
The only race that has received a challenger consistently has been the Sheriff's race. Through the years Sheriff Whetsel has won by an average margin of 62.99%. This is the only office in the county currently held by a Democrat. During his tenure as Sheriff, he allowed the County Jail to be so poorly run that it lost accreditation. This forced the removal of federal inmates and the loss of federal dollars that he depended on. This doesn't include 'he fact that during this last campaign, he was under investigation by the OSBI and the FBI for using inmates to make his campaign signs. How much is it going to cost taxpayers to run an election when he is indicted?
The one race that we see that consistently changes hands is the County Commissioner District 2 race. In the last four elections, there have been three different winners. Apparently the residents of District 2 are a tough bunch to please. This is a good thing though. The people should demand that their representatives listen to them and solve the problems that they have that are within their power to do so.
One of the distressing things that we see in these results is the fact that in far too many races the incumbent may receive a challenger in the primary, and win outright at that point. I say distressful simply because it is obvious that there is no opposition from the Democrats, most of which just changed party affiliation to run as a Republican but act like a Democrat.
Another problem I have is seeing where an incumbent is the only one that has filed for an office and not even having to receive an up or down vote in a primary. Part of the problem lies with the people. They see a candidates name on a ballot and say to themselves "I recognize that name, I'll vote for them." They'll see an (R ) or a (D) at the end of a name and say "I'll vote for them." What people need to do is their homework.
This is the environment that created the Court House Gang at the Oklahoma County Court House. Elections turn out to be a waste of taxpayer's because people overlook candidate's legal and ethical problems because of name recognition.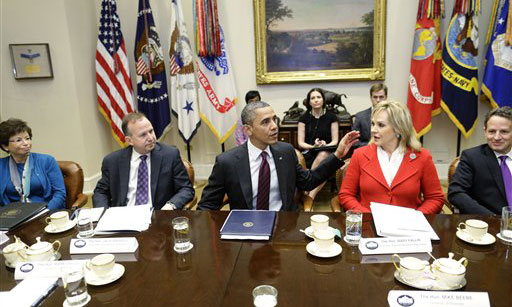 There is Something About Mary…
Do we really need to say anything about this? Or does the picture tell everything you need to know about Mary Fallin. Obama and Fallin planning on increasing our taxes yet again and beginning another spending binge under the guise of "saving the economy".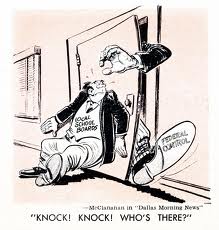 Get the Feds out of Local Schools
This article could very well be called the "Dumbing Down of Oklahoma Students." It has become clear that the Oklahoma State Department of Education, with the help of the Oklahoma State Legislature, has colluded with the U. S. Department of Education to implement National Standards in violation of the authority of the U.S. Department of Education's mission.
The U. S. Department of Education was founded in 1979 by President Jimmy Carter. You can read more about it here.
Every Republican President since then, with the exception of President George W. Bush, has attempted
to eliminate this Department. Every candidate for the Republican nomination in 2012 also listed this Department as one to eliminate. It is unfortunate that they have faced a Democratic House or Senate that has stopped them.
In 2008 we elected the Republican, Janet Barressi, to the office
Superintendent of Public Instruction. We all had high hopes of her getting the state out from under the thumb of the federal government and getting things back to where we were educating our children instead of indoctrinating them in the ways of the liberal mind set. So who is Janet Barressi? Here is a little information on her.
When Janet Barressi was elected to office, we all had high hopes that she would change the course of education in Oklahoma. Her public statements here
all pointed in that direction. What we got was a RINO Republican willing to do the U.S. Department of Education's bidding at every turn.
Here is a little information on the Oklahoma State Department of Education and their mission.

A list of all public schools along with their email addresses.

Here is a site you can go to and get the A-F score of your school district.

Finally here is a site that you can go to and see the population break down of students in Oklahoma Public Schools.
Things started off badly for the Superintendent as you can see here.
The results of this first board meeting would end up giving the superintendent unprecidented power from the legislature later in the year. It would also see that every piece of legislation that she asked for was passed and that turned out to be a disaster for Oklahomans.
One of the directives to come out of President Obama's Department of Education was the collection of data on students through a State Longitudinal Data System. Barressi asked for the law and the legislature passed a law developing what is known as the P-20 Council that year that
tracks students through the age of 20. Why? If this information is helpful to the school district it should be kept on a disk or thumb drive but not somewhere that can be accessed statewide or nationally. That is putting our children's information at risk.
Another change made to the states education system under our current Superintendent, with the approval of the House, Senate and Governor, was the switch to the Common Core Standards in our schools. You can read about the standards here.

Although on the surface they look good, they actually take away the ability of the individual school districts to set their own curriculum and make the curriculum throughout the state in compliance with the U.S. Department of Education.
There is one organization out there trying to stand up for the local standards of education in the state of Oklahoma. That is the
Oklahoma State School Boards Association
.
I would urge every school board member in the state to look at what they have to say.
During Mrs. Barressi's term in office, there was an audit conducted of an alleged non-profit organization formed within the Department of Education to fund a conference. Shady deals like this call into question the integrity of the Superintendent. You can read the report here.
Now it would appear that extraordinary amount of pressure is being put on the state to accept the core curriculum standards. According to this article
to get out of the "Race to the Top" you had to sign on to the Core Curriculum. If that wasn't bad enough, this article
more or less threatened the states into accepting the Core curriculum standards. Here's what the Secretary of Education had to say about the CORE Curriculum Standards.
Remember now, the Federal Government is not supposed to be setting curriculum for public schools.
Would a state like to get out from under these standards? Some would. But according to this article,
it's painful to do so. In fact it is so difficult that most states won't even try.
Now it would appear that a lot of these changes are being supported by the National Governors Association. We already know that Governor Fallin supports these changes, she signed them into law.
What is behind the CORE Curriculum? Why are these mandates coming into our state? The answer is really quite simple. This is a lust for centralized power. Just like Obamacare, this is a simple power grab. This article explains it well.
This video also does a good job of explaining it.
Will the Common Core Curriculum fix America's education problem? According to this report,
the answer is no. In fact there is a very real possibility that they may further dumb down American students according to this report.
So here we are again, spending hundreds of millions of dollars on federally mandated programs that won't work. What kind of madness is this?
What is not figured in to the cost estimate of the number crunchers and bureaucrats in D.C. is the human factor. This article explains it well
It's also time to think of a replacement for our current Superintendent of Public Education, Janet Barressi. She has been a more than willing partner in the federal takeover of our education system. She claims to be a Republican, but acts like a Democrat more and more each day. She has overseen the biggest decline in our education system in the history of our state.
In conclusion, the answer to the questions asked in the title, Is it time for more local control of our education system? The answer is Yes. They are virtually selecting the curriculum for our schools in violation of federal law. They couldn't do that without a compliant administration at the state level. It's time for a change.
Here are all the House members in two
fifty member blocks of email addresses
. Use Bcc in your email address header and email fifty of them with one email yet they won't know who else got the email.
Rem
ember to strip the unsubscribe link before forwarding this newsletter to prevent someone from taking you off our list! Use our forward this email link at the top of the newsletter to prevent being accidently unsubscribed.
Money is always needed for printing costs, postage, sign materials, and robo call costs. We are tightfisted; we will spend your hard earned money wisely and frugally as we do our very best to clean up Oklahoma politicians so we can begin to clean up our country.
You can donate by sending a check to Sooner Tea party, 358 North Rockwell Ave, Oklahoma City, OK, 73127 or visit Soonerteaparty.org and use the Paypal donation button.