In this slightly gloomy Memorial Day Occasional, you'll hear scary facts about deficient and declining aquifers, a world water crises only two generations away, and the doleful condition of Canada's wastewater treatment system. Crosses and flags on water towers and a night club inside a water tower. Leaky pipes in London, a thirsty golf course in Washington, turning sewage into water in Big Spring, TX, and racial discrimination in the form of wastewater service in Rochelle, GA. Flocculation, coagulation, and sedimentation using alum and Moringa oleifera. Hear what Iranians drink instead of water, who won the hotly contested fluoride election in Portland, who just made the EPA's Superfund list, how to get radon out of water and, as always, there is much, much more.

The
Pure Water Occasional
is a weekly email newsletter produced by
Pure Water Products
of Denton, Texas. We also publish the
Pure Water Gazette,
which posts new articles about water and water treatment daily, providing "vast piles of information in the Gazette's tangy, irreverent style" (
Pilot Point Star
). We invite you to visit
PureWaterProducts.com
, the most informative commercial water treatment site on the worldwide web.
If you would like to read this issue on the
Pure Water Gazette's
website,
go here.
At Big Spring, Texas a New Waste Water Plant Is Turning Sewage into Drinking Water
A
new wastewater reclamation facility recently opened in Texas. The $13 million plant in Big Spring mixes sewage that has been treated to drinking-water standards with treated water from lakes to produce a high-quality drinking water that meets all state and federal standards.
According to John Grant, general manager of the Colorado River Municipal Water District, the water that comes out of the reclamation plant is completely safe and if something went wrong the systems of the facility would shut down before the water was allowed to leave the plant.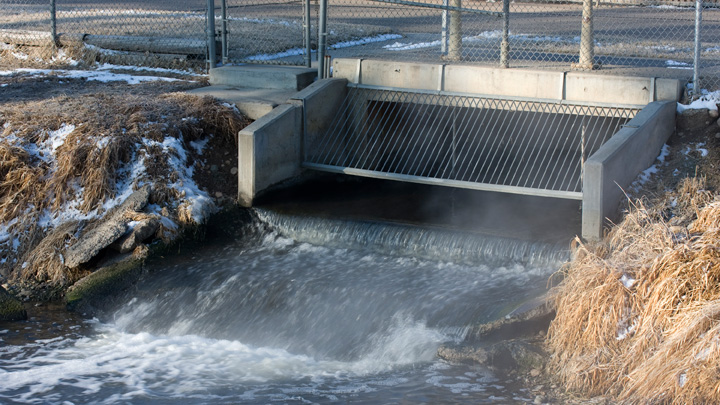 Processed and cleaned sewage flowing out of water reclamation facility.
The Big Spring plant will contribute 2 million gallons of water per day, which is only a small part of the total demand of the 500,000 people that depend on the Colorado River Municipal Water District for water. Residents of Big Spring, Midland, Odessa, Snyder and Stanton use about 40 million gallons of water per day at this time of year, but demand doubles in the scorching Texas summer.
The plant has been hailed as the first of its kind in Texas but it may not be the last. Reclamation facilities are considered a very efficient way to deal with drinking water shortage and its performance will make a difference in the area, as it is the first plant in the state to convert wastewater into drinking water. Such facilities are already operating in Tucson, Arizona, and in parts of California, as well as in other countries. Experts believe that other American cities will follow the example to cope with the growing population and increasing demand for water,
The Republic
newspaper said.

The facility was first launched about two weeks ago, when various tests were carried out. Water from three lakes is being treated, with one of them practically dry because of the ongoing drought. Water from groundwater wells located several counties southwest of Big Spring is also processed. People living in West Texas know that they cannot rely on a single source of water and they need to have several sources that can provide water when one or more of them run dry, Grant explained.
However, drought was not the main reason for the construction and launch of the facility, as plans started to be drawn up almost a decade ago and its construction started in 2011, which turned out to be the driest period for West Texas ever, he pointed out.
Andrea Morrow, spokeswoman for the Texas Commission on Environmental Quality, stated that authorities will be carrying out regular inspections to ensure that the water from the plant meets all standards. Over the first 12 months of operations, water samples will go through chemical analyses once every three months to check if it is compliant with state and federal regulations. In addition, the Colorado River Municipal Water District will have to submit monthly reports that include results from tests for disinfectant and microbial levels as well as for presence of lead, copper and arsenic, Morrow added.
History of Flocculation and Coagulation: How Water Treatment Plants Get Rid of Very Tiny Particles
Chemical precipitation or coagulation and flocculation with various salts of aluminum (e.g., alum), iron, lime and other inorganic or
organic chemicals are widely used processes to treat water for the removal of colloidal particles (turbidity) and microbes.
Treatment of water by the addition of chemical coagulants and precipitants has been practiced since ancient times, even though the principles and physico-chemical mechanisms may not have been understood. Sanskrit writings refer to the use of vegetable substances, such as the seed contents of Strychnos potatorum and Moringa oleifera, which are still in use today for household water treatment .
Judeo-Christian, Greek and Roman records document adding "salt", lime, "aluminous earth", pulverized barley, polenta as precipitants to purify water. Although alum and iron salts are the most widely used chemical coagulants for community drinking water treatment, other coagulants have been and are being used to coagulate household water at point of use, including alum potash, crushed almonds or beans and the contents of Moringa and Strychnos seeds.
How the Process Works
Chemical coagulation-flocculation enhances the removal of colloidal particles by destabilizing them, chemically precipitating them and accumulating the precipitated material into larger "floc" particles that can be removed by gravity settling or filtering. Flocculation causes aggregation into even larger floc particles that enhances removal by gravity settling or filtration. Coagulation with aluminum or iron salts results in the formation of insoluble, positively charged aluminum or iron hydroxide (or polymeric aluminum- or iron-hydroxo complexes) that efficiently attracts negatively charged colloidal particles, including microbes. Coagulation-flocculation or precipitation using lime, lime soda ash and caustic soda is used to "soften" water, usually ground water, by removing (precipitating) calcium, magnesium, iron, manganese and other polyvalent, metallic cations that contribute to hardness. However, reductions in microbial contaminants as well as turbidity, and dissolved and colloidal organic matter are also achieved in this process.
Because coagulation-flocculation treatment with alum, iron and other coagulants requires knowledge, skills to optimize treatment conditions, it is generally considered to be beyond the reach of most consumers. Most authorities consider such treatment to be best performed in specialized central facilities by trained personnel. This type of treatment is less likely to be performed reliably at point-of-use for household water treatment. Furthermore, the limited availability and relatively high costs of alum and ferric salts in some places present additional obstacles to widespread implementation of this technology at the household level.
Despite the caveats and limitations, alum coagulation and precipitation to remove turbidity and other visible contaminants from water at the household level has been traditionally practiced for centuries in many parts of the world. When potash alum was evaluated for household water treatment in a suburban community in Myanmar by adding it to water in traditional storage vessels (160L capacity) at 500 mg/L, fecal coliform contamination was reduced by 90-98% and consumer acceptance of the treated water was high. The ability of the intervention to reduce diarrheal disease was not reported. In another study, alum potash was added to household water stored in pitchers of families with an index case of cholera and intervention and control (no alum potash) households were visited to 10 successive days to track cases of enteric illness. Illness among family members was significantly lower (p < 0.05) in intervention households (9.6%) than in control households (17.7%). The authors concluded that household water treatment by adding a pinch of alum potash was effective in reducing cholera transmission during outbreaks and was an appropriate and low cost (1 cent per 20 liters) intervention.
Water News
When we think of racial inequality we do not usually think of inequality in sanitation and wastewater services, but an environmental group has singled out the town of Rochelle, GA as a provider of inferior service for its black citizens.
Full story.
The
Tehran Times
reported that 40% of Iranians drink less water than the world standard. Many Iranians maintain their health by drinking mainly tea.
Portland, Oregon resoundingly defeated a richly-funded effort to add fluoridation to the city's water. Sixty-one percent voted to keep the city's water fluoride-free.
Full story.
Worst Water Story? Three lighted crosses have been removed from the water tower in the southeast Idaho town of Roberts following a complaint by a resident to the city and to the ACLU. They were replaced by three American Flags.
Full Story.
London's aging water pipes are springing leaks and causing long closures of busy streets. According to one official: "The reality is that a third of the pipes under London were put in by the Victorians– and when things get old they break."
Full story from the BBC.
Local citizens and conservation groups are making a court challenge to Washington State University's Palouse Ridge Golf Course over its gluttonous use of irrigation water.
Full story.
Weirdest Water Story of the Week: The Night Heron, a decidedly illegal nightclub run by a group of adventure-minded artists in an abandoned water tower atop a vacant building in Chelsea, operated for eight weekends in March, April and May before being closed down by authorities.
Full story.
This week in the Pure Water Gazette
by Gene Franks
The use of replaceable cartridges gives modern water treatment equipment amazing versatility. The ability to use a standard filter vessel design that can be applied to numerous purposes, and to change the purpose at will simply by replacing the inner cartridge, allows filter users to address an almost endless number of water treatment issues.
A new study published by the U. S. Geological Survey and reviewed in
Water Efficiency
shows the alarming decline in 40 separate US aquifers. Currently, underground water storage areas are being depleted at the rate of 2% of Lake Erie per year and in some areas the water level has dropped 160 feet since the beginning of heavy irrigation in the 1940s.
Although Canada has recently enacted changes to its antiquated wastewater treatment systems, a leading clean water advocacy group calls it "one of the most backward countries" when it comes to dealing with sewage. Until very recently, Canadian law required only the most basic wastewater treatment.
Leading water researchers meeting in Bonn issued a severe warning that unless current trends are reversed severe water shortages will affect "most of the 9 billion people on Earth" within just one or two generations .
The EPA has declared the Riverside Industrial Park in Newark, NJ a Superfund Cleanup Site in response to a spill that occurred in 2009.
Benzene, mercury, chromium and arsenic were improperly stored at the Riverside Industrial Park.
Radon in Water
Below is a brief article on radon from the Pure Water Products' main website. Articles in the Water Treatment Issues section are informative, brief, and very accurate in detail. Most information is extracted from reliable sources like the Water Quality Association, the EPA, and the World Health Organization. The arrangement is good old-fashioned alphabetical order, so you don't need to know an anion from a cation or an organic from an inorganic to look something up. We invite you to make the WTI index your standard source for water contaminant information. We've got the basics covered, and we're adding more exotic items every week.
Radon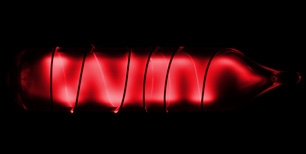 ---
Radon is a naturally occurring radioactive element found in most groundwater. It is the earth's only naturally produced radioactive gas and comes from the breakdown of uranium in soil, rock, and water. You cannot see or smell radon, but it can become a health hazard when it accumulates indoors.
Health Effects of Radon in Water
---

Over the course of a lifetime, consumption of drinking water containing radon can lead to an increased risk of internal organ cancers, primarily stomach cancer. Also, breathing radon released to the air from household water uses can increase the risk of lung cancer. However, radon in drinking water generally contributes a very small part (i.e., about 1-2 percent) of total radon exposure from indoor air.

---
Water Treatment for Radon
Point-of-use devices, such as those installed on a tap or under the sink, are not effective in reducing radon in your water. It is important to treat the water where it enters your home (point-of-entry device) so that all the water will be treated.
Granular activated carbon (GAC) filter systems have been very effective at lowering water-borne radon levels, but the radioactivity that builds up in the filter bed may be of some concern. Install GAC systems only outside of your home.
Aeration systems are also effective and do not accumulate radioactivity. Aeration systems mix the water with air in an outside-vented chamber. After aeration, the water is piped into the house free of radon.
---
Thank you for reading, and please stay tuned next Monday for another wisdom-packed Occasional.
Places to Visit on Our Websites
Please Visit