"My daughter Suzanne went AWOL days before her second deployment to Iraq as a result of her severe post traumatic stress disorder and military sexual trauma of her first tour. When she didn't return to Iraq, we were scared to death and did not know where to turn for help. However, we found Courage to Resist. The staff and volunteers were amazing and continue to support us through a horrible battle and ordeal."
—Sara Rich, mother of active duty Army Spc. Suzanne Swift
Dear Friend,
Courage to Resist supports soldiers, sailors, and Marines resisting this illegal and immoral war. We are a group of concerned citizens, veterans and military families who believe that supporting the troops who refuse to fight an unjust occupation war will play a critical role in ending the war. We organize speaking tours for GI resisters, attend court martials, rally at the gates of military bases, secure legal defense for resisters, raise funds, and provide personal support to resisters and their families. We also participate in counter-recruitment events in schools and communities around the country.
We are asking you to join us in doing all of this and much more.
In May 2005, we kicked off our efforts as an organization with a coordinated "national day of action" held in over 20 cities in support of military objectors Navy Petty Officer Pablo Paredes and Army Sgt. Kevin Benderman.
In 2006, Courage to Resist helped form the Friends and Family of Lt. Ehren Watada. We helped with the coordination of events around the country, provided administrative and structural support, distributed "Refuse Illegal War - Thank You Lt. Watada" materials around the world, and raised the funds for an aggressive legal defense that fought to put the war itself on trial.
As a result of these organizing efforts over a thousand people rallied at the gates of Fort Lewis, Washington on February 5, 2007 to show their support for Ehren and other military resisters.
"The idea is this: that to stop an illegal and unjust war, the soldiers can choose to stop fighting. If we want soldiers to choose the right but difficult path—they must know beyond any shadow of a doubt that they will be supported by Americans. To support the troops who resist, you must make your voices heard."
— Lt. Ehren Watada
In September 2006 we helped coordinate a press conference in Los Angeles for Army Spc. Agustín Aguayo to explain why he refused to redeploy to Iraq. "My husband is a conscientious objector, but the Army made him become a war resister," explained Agustín's wife Helga. "Following the rules, staying quiet for nearly three years got us nowhere."
In March of this year we sent staff member Lori Hurlebaus to a U.S. Army base in Germany with Agustín's family to provide logistical and political support during Agustín's court martial. Agustín was released from the brig April 18. We're now working on a "victory tour" this Summer with him and other recent military objectors!
Army Spc. Darrell Anderson, Marine L/Cpl Ivan Brobeck, and Army Pvt. Kyle Snyder are a few other resisters we are proud to have worked with over the last few months.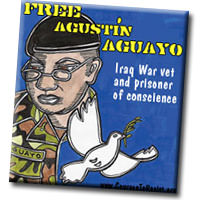 Marine L/Cpl Stephen Funk was the first military member to publicly resist deployment to Iraq nearly four years ago. "Although Courage to Resist had not yet formed when I began speaking out in early 2003, many on the staff—some war resisters themselves—played significant parts in my public campaign," says Stephen.
We are independent of any political organization, party, or group. Our "people power strategy" aims to weaken the pillars that maintain war and occupation. David Solnit is a Courage to Resist organizer and a co-author of the new book An Army of None. He explains it this way, "It's clear that the anti-war movement needs a strategy and as usual it is the courage of young people in the military, on the campuses and in the streets who, by example, show us how to assert our people power. "
Susan Galleymore is a "military mom" and a Courage to Resist organizer. She is also a G.I. rights counselor. She knows first-hand that thousands of troops have chosen being AWOL over deploying to Iraq. The vast majority do not speak out publicly for fear of reprisal from the military. She often hears GIs say "I just want to get this over with so that I can get on with my life." We need to find better ways to support these resisters as well.
So whether it's supporting the resisters who you might see in the news, or reaching out to those who have gone AWOL and will likely remain unknown to most of us, we think you feel the same way we do—that these brave military members are putting everything on the line to help us all end an immoral and illegal war—they deserve our support.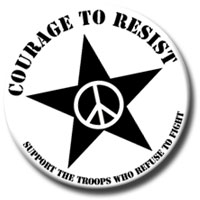 We need your help to continue this important work. Please send your gift of $30, $50, $100 today. While we have received a few small grants from veterans groups and war tax resisters, it's your gift of whatever that you can afford which is critical to our efforts in supporting the troops who refuse to fight.
Lori Hurlebaus & Jeff Paterson
Courage to Resist staff members of behalf of our organizing collective
P.S. As a special thank you, we'd like to offer you a Courage to Resist shirt or cap as a premium for your gift of $100 or more. Please make a note of your shirt size and style (men's basic t-shirt or fitted women's shirt) with your donation.
P.P.S. Would you like to share this special appeal with friends? Download and print the PDF version.