- "You Can't Polish A Nerd" at Soho Theatre

 - Not in the UK? Watch the Nerds on TV, Radio, YouTube

 - Free tickets to our next Radio 4 show try-out

 - "An Evening Of Unnecessary Detail" guest line-ups

 - A few of our favourite things to see and do in 2018 

 

 

 
Back at London's Soho Theatre for 7 nights in March
| | | |
| --- | --- | --- |
|   |   | It's time to welcome the new year, and a new version of "You Can't Polish A Nerd" in our favourite London venue. Will we see you there? |
We had an absolute blast doing ten sold-out nights there last January, so we're heading back with an hour-long version of our latest show. If you missed "YCPAN" on tour last year this is a whistlestop tour of some - or perhaps all - of our favourite moments: Measuring pi with a pie; making music with lasers; singing the periodic table; an infinitely recursive high-five; microwaving for science; plus a very funny song about bananas. 
Tickets have just gone on sale
 and prices start from £10, but because the Soho sell tickets with "dynamic pricing"
(algorithm nerds, this is your moment!)
the price goes up as the auditorium gets fuller. So if there's only one night you can possibly go, book early. Or if any date would work for you, just pick the one with the fewest tickets sold and you'll get the cheapest prices.  
Last chance to hear our radio show before broadcast
Both of our "Domestic Science" recordings filled up within a few hours, and our final try-out night is sold out, but we've added a bonus extra free show just for you lovely mailing listers. 




Thursday 25th January
The Bill Murray, 39 Queens Head Street, N1 8NQ

8-9.30pm (doors open 7.30pm) 

Free, but please buy a drink to make the venue smile 

 
Entry is ONLY via the guest list, on a first come, first served basis. To get your name on the door, email radiocomedyevents@bbc.co.uk with "DOMESTIC SCIENCE TRY-OUT" in the title, and the number of tickets you'd like in the email. Space is extremely limited, so please only ask for tickets if you really can make it along. 
And wherever you are in the world, get the broadcast dates into your diary - and don't forget you can Listen Again to every episode for 28 days after they first appear on the BBC website, through the magic of iPlayer.
All the info is here
.
Spoken Nerds on TV, Radio and YouTube right now
We three Nerds have been working on some fun bits and pieces since the tour finished. Here's a few to enjoy:
 

 

 

 

 

STEVE

has a new video about squirty stuff on his YouTube channel - click the picture on the left for more about the bizarre Kaye Effect. If you're in the UK you can also catch him on your telly in More 4's "The Complaints Department".

 

MATT has been popping champagne corks and analysing impossible Rubik's Cubes on his YouTube Channel - click on the left to be weirded out by his niche knowledge. Also look out for both Helen and Matt in the latest series of "Outrageous Acts Of Science" on Discovery Channel.

 

HELEN appeared on BBC Radio 4's "Great Lives" to rediscover the fire-fighting, electricity-wrangling, wave-analysing, tool-inventing, suffrage-protesting pen-pal of Marie Curie: Hertha Ayrton. Rejected by the Royal Society, but the first female member of the Institute of Electrical Engineers, click on the left to hear about this badass 19th Century physicist.  
If you like us you'll probably like these...
An Evening Of Unnecessarily Sold-Out Detail
A final one for Londoners: After three years, we have to finally admit that
An Evening of Unnecessary Detail
has not turned to be the killjoy night of excessive minutiae chat for half a dozen hardcore detail-fans that we expected, and continues to sell a couple of hundred seats every time we put one on. 
The current season runs on the last Tuesday of every month in Bethnal Green.
Tickets here
.
January 30th is already sold out, and February 27th is heading that way... If you haven't experienced the show yet, take a look at the collage of delights we have booked for 2018 already. Don't recognise any of them? Don't worry, you can trust us that they are all going to go into a ludicrous amount of detail, just for you, with the added bonus of new material from Matt, Helen and Steve every month.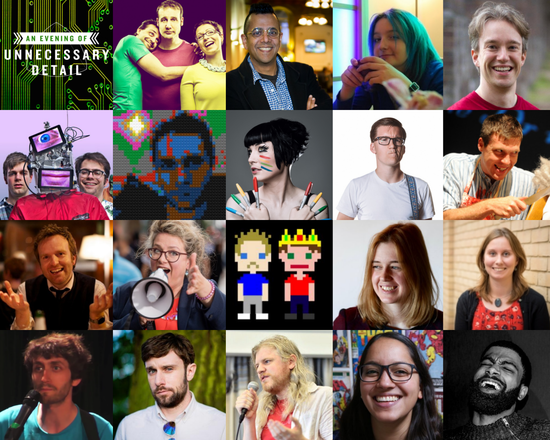 If you like what's in this email, please do pass it on.
We'll be back in February with links to listen (and listen again) to our new "Domestic Science" series on the BBC website. In the meantime we'll be on twitter, facebook and instagram so do come and say hello there.
Until then, stay nerdy, and have an excellent 2018.
Helen, Steve, Matt
You're receiving this because you signed up on our website, or ticked "yes" to news when you bought an item from our shop or a ticket to one of our shows. We don't want you to keep getting unwanted emails, so if you'd rather unsubscribe, click here.