Dear ,
I hope you have enjoyed this wonderful golden autumn season - now showing its other side with storms and rain.
There are again some news I like to communicate to you. In the next weeks a new Peace Silk satin in black will arrive here in Leipzig. Its name is TUSHITA 60 - you can order it immediately.
Also on the way from Jharkhand to Germany is the first Habotai in Peace Silk quality: ARUNA 40 XL in a width of 140 cm! So its is easier to make your cuts with less scrap.
The super wide Jacquard satin made from Peace Silk INDICA is reduced by almost 30%. Still available are about 9 meters of the natural white and the black-grey design. A wonderful fabric for heavy curtains or bed clothing. Or do you like to tailor a festive dress from it?
We sorted our mulberry silk cocoons very carefully and offer the best and largest cocoons for your skin care. Peeling with a cocoon on the finger is very popular in Asia - the people know its pleasant effect of silk for skin cleansing. Try it - instructions are added to every set!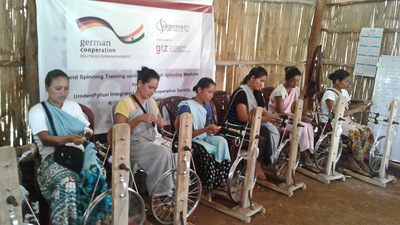 News from our eri sil project in Meghalaya: At the end of August took place a spinning training with a dozen of women in Umden/Ri-Bhoi district. They were trained in using the new introduced ring spinning wheel. By clients of Seidentraum three wheels wre donated to this weaver's association. Once again a warm thank you for your kind support! Photos of the spinning training you will find on the project website here.
The first delivery of this fine yarn will arrive latest at the end of November at Leipzig, also some ring spinning wheels for selling to you. It is a fantastic tool for spinning a very thin yarn from silk or other fibers.
Warm regards from Germany
Matias