Moogfest Announces Kraftwerk and Chic To Headline 2014 Performance Program 
Electronic Music Pioneers KRAFTWERK 3-D to present 3 Concerts at Moogfest 2014 and a
 dance party featuring music super producer Nile Rodgers and his band CHIC. Plus exclusive live performances from legendary composer Giorgio Moroder and artist Laurie Anderson.
Other Nighttime Performers Include, RJD2, Soul Clap, Daedalus, Dan Deacon, Gas Lamp Killer, Green Velvet, Sasha, Art Department, Escort and A Rare Performance From UK's Darkstar. 70+ More Artists To Be Announced.
General Admission Ticket Pricing Announced at $299* 
Limited Quantities of Daytime Tickets at $249*
Limited Quantities of Nighttime Tickets at $199*
ASHEVILLE, NC – December 19, 2013 – Moogfest 2014 is proud to announce a landmark lineup of musical acts led by Kraftwerk, German electro visionaries, and Chic featuring Nile Rodgers. Kraftwerk will play three performances across two separate nights. The Kraftwerk live experience is a perfectly synchronized audio-visual spectacle complete with pristine digital sound and breathtaking 3-D projections. It is a pure electronic art-rave that epitomizes Kraftwerk's musical and technical innovation, and embodies the spirit—and new direction—of Moogfest 2014. The other legendary headliner, Chic featuring Nile Rodgers, is recognized as one of the most influential bands of the disco era and has been nominated eight times for induction into the Rock and Roll Hall of Fame. This announcement also confirms that previously revealed daytime headliners, Laurie Anderson and Giorgio Moroder, will perform as part of the nighttime music program: Anderson with her one-woman live show, "The Language of the Future" and Moroder with one of his famous DJ sets. Only talent of this caliber could lead a long list of performers that include some of the most important DJs and musicians influenced by Moog and dedicated to musical innovation. Over seventy additional acts are still to be announced in the coming months.
This year's festival is a very rare U.S. appearance for Kraftwerk, marking their first performance for Moogfest and their first time ever in North Carolina. The Kraftwerk project was started in 1970 by Ralf Hütter and Florian Schneider at their Kling Klang Studio in Düsseldorf, Germany. Within a few years Kraftwerk had achieved international recognition for their revolutionary electronic "sound paintings" and musical experimentation with tapes and synthesizers. With their visions of the future, Kraftwerk created the soundtrack for the digital age. Their compositions, using innovative looping techniques and computerized rhythms, have had a major international influence across an entire range of music genres, while their use of robotics and technical innovations in their live performance illustrates Kraftwerk's belief in the respective contributions of both man and machine in creating art. In recognition of the quartet's boundary-pushing use of music technology Kraftwerk will be honored with the Recording Academy's Lifetime Achievement Award in January 2014. Their legacy is timeless and legendary, and their creativity will continue to influence and inspire future generations. 
Like Kraftwerk, Chic is closely linked to an important musical movement, and has been recognized as a leader in electronic music production. Chic's distinctive approach not only resulted in some of the finest dance singles of their time, but also created a template for urban funk, dance-pop, and hip-hop in the post-disco era, while Nile Rodgers remains a hugely successful leading producer, composer and performer. 
Other Moogfest 2014 musical talent announced includes the always ambitious Baltimore pop usurper Dan Deacon, Brainfeeder producer The Gaslamp Killer, deep house luminary Sasha, salacious New York rapper Le1f, globe trotting disco and soul funk duo Soul Clap, Animal Collective's Avey Tare's new band Slasher Flicks featuring former members of Dirty Projectors and Ponytail, and Chicago's acclaimed producer Green Velvet. Plus UK's electronic shape shifters Darkstar's third US appearance and Art Department, the brainchild of Canadian techno/house legend Kenny Glasgow and Jonny White, and more.
Moogfest by night celebrates the most influential musical masterminds of the 21st century recognized for the evolution in their sound.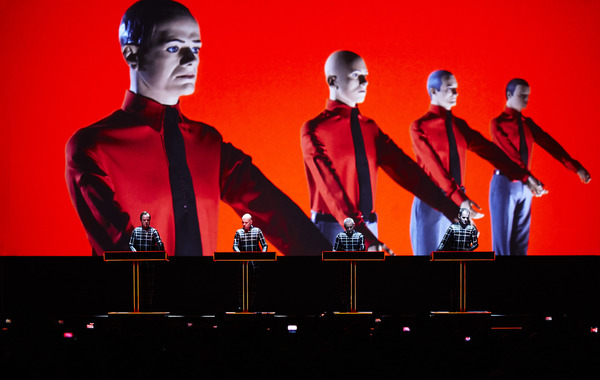 Moogfest 2014 Phase 2 Headliners and Nighttime Performers (in alphabetical order)
Avey Tare's Slasher Flicks
These artists will join in the company of the nightly music showcase curators including Experimental Record Labels 
Warp Records
,
DFA
, 
Fool's Gold
, 
Ghostly International
, 
No. 19 Music's Social Experiment
, 
RVNG Intl.
, and 
Driftless Recordings
. Plus Electronic Tastemakers 
Crew Love
, Brooklyn-based Cultural Organization 
AFROPUNK
, Detroit's 
Movement Festival
, North Carolina's 
Hopscotch Festival
, and Austin's 
Switched On
. 
With an experimental lineup of daytime conference programming led by cultural, artistic and technological luminaries, and punctuated by a diverse line up of landmark nightly performances, Moogfest 2014 honors the creativity and inventiveness of Dr. Robert Moog and pays tribute to the legacy of the analog synthesizer.
The daytime platform explores the synthesis of music, technology art and innovation with a participatory program of conversation and collaboration led by Futurists, Musicians, Scientists, Authors, Filmmakers, and Pioneers of Electronic Music Instrument Design, Alongside multimedia artist Laurie Anderson and electronic music pioneer Giorgio Moroder, Moogfest's Phase 1 daytime announcement includes film composer Cliff Martinez, futurist thinkers Jerome Glenn, Nick Bostrom and George Dvorsky, MIT Media Lab's Joseph Paradiso, sonification Professor Bruce Walker, Make Magazine's Mark Frauenfelder, OMNI's Claire Evans, SETI (Search of Extraterrestrial Intelligence) artist in residence Charles Lindsay, and more.
TICKET INFO:
Moogfest 2014 GA Day and Night Package: $299*

Moogfest 2014 offers a limited number of Night (Music) Only Tickets at $199 while supplies last.

Moogfest 2014 offers a limited number of Day (Conference ) Only Tickets at $249 while supplies last.

VIP tickets available at $499
Day
Five days of mind-expanding conversation, experimentation, and collaboration for creative and technology professionals across seven venues in downtown Asheville. The conference is guided by pioneers of music and technology, and co-curated by some of the most important thinkers of today.
5 days, 8 venues, over 60 talks, panels, discussion, presentations, and film screenings with futurist thinkers, inventors, entrepreneurs, designers, engineers, artists, and musicians. First announcement (Phase 1) HERE.
New Media art installations and interactive technology experiences and exhibitions
Film screenings
Experimental performances
Workshops and other interactive educational forums
Open-source hardware hackathon
Day programming Hours: Wednesday 3pm-7pm, Thursday - Sunday: 11am - 6pm, Sunday 11am - 3pm.
Night
Five evenings of landmark musical performances by new trailblazers, early pioneers of electronic music, and major headliners.
5 nights, 10 venues, over 100 artists including concerts, experimental performances, and new music showcases.
Night programming hours: Wednesday - Saturday: 7pm - 2am, Sunday 3pm - 6pm.
Moogfest VIP Package - $499*
Includes all benefits of the GA ticket PLUS:
VIP's Get in First EVERYWHERE
Priority Festival Check In
VIP Entrance at Each Venue
VIP lounge at US Cellular Center with Private Bar and WiFi
Reserved Seating and Areas for VIPs
Moogfest 2014 Program
Moogfest T-Shirt
Moogfest Gift Bag
Exclusive Invitations to VIP Only Events
Plus Much More To Be Announced…
*Plus Applicable fees
Moogfest is also offering a limited run of unique VIP experiences for the true synth aficionado at www.moogfest.com/tickets
Moogfest also hosts free events open to the public:
4 day street festival, including new media art installations and live music
2 day North Carolina Tech Expo & Interactive Job Fair
5 day new electronic instrument pop-up shop
Interested in learning more, read other press releases to date:
About Moogfest:
Since 2004, Moogfest has been a gathering for the musicians that worked closely with Bob and his instruments. In 2014, Moogfest is amplifying its vision and becoming a 5-Day event dedicated to the synthesis of technology, art and music. Moogfest honors the inventiveness of Bob Moog and the legacy of the analog synth with an experimental line up of daytime conference programming and landmark nightly performances. Moogfest takes place April 23-27th, 2014 in downtown Asheville, NC.
About Moog Music:
Moog Music is the leading producer of analog synthesizers in the world. The company and its customers carry on the legacy of its founder, electronic musical instrument pioneer, Dr. Bob Moog. The company hosts Moogfest, a five-day festival celebrating the intersection of music and technology in honor of Moog's innovative spirit. All of Moog's instruments are hand built in its factory on the edge of downtown Asheville, NC.
MEDIA ACCOLADES
NPR: "One of the year's most eclectic and unusual music festivals."
The New York Times: "At Moogfest what once seemed primitive is now claiming the future."
Huffington Post: "The unusual music festival takes up the experimental spirit of electronic music innovator Bob Moog and pushes it into even more far-reaching nooks and crannies of the ever-expanding genre."
DJ Times: "Celebrating electronic-music instruments, the wide range of sounds made with them, and the legacy of Robert Moog, Moogfest once again distinguished itself as one of America's most vital music gatherings"
Mountain Xpress Asheville: "When it comes to booking acts, Moogfest's only stipulation is that artists are pushing boundaries in their respective genres."
For More Information On Moogfest, Please Visit:
Moogfest 2014 Media Applications Available HERE
For All Media Inquires Contact:
SiouxZ Magnum PR
917.328.1593