---
| | |
| --- | --- |
| | November 2018 |
Reduced stress. Increased productivity. Improved well-being.
Forte Organizers helps individuals and families stay organized at home, as well as teaching business people organization skills at work.
This time of year we reflect on those things we are grateful for, whether they be our family, friends or health. In these Dayton Daily News articles, Lori helps us see that happiness isn't about how much stuff we have, but instead it's about the people and experiences in our lives.
Thankful For Fewer Emails...
Are you overwhelmed by your email inbox at work? Here are four simple tips to reduce the number of emails you get daily. Doing these things can reduce your stress and significantly reduce the number of emails you receive.
Send less email: This may seem like a no brainer. The fewer emails you send, the less you will receive. Pay attention to what you are sending. Is it really necessary?
Pick up the phone: Sometimes this is the fastest way to communicate.
Create a junk email account: When subscribing to various websites, newsletters or placing online orders, create a special email for these things. This way your main inbox will be less cluttered.
Take time to unsubscribe: If you find you have fallen victim to unsolicited junk mail, schedule a specific time each week to unsubscribe. Just taking 5-10 minutes out of your week to do this can reduce the number of emails you get.
Harvest Those Photo Frames...
When working in people's homes, we often stumble upon boxes filled with pictures still in the frames. Our clients no longer want to display them, so they pack them away. Doing this takes up a lot of precious storage space.
Instead of storing them this way, take the pictures out of the frames. Storing a small stack of photos takes up much less room then it does saving a large box (or boxes) full of frames.
If you aren't going to use the frames for displaying more current photos, sell them at a garage sale, gift them to family members or donate them.
There are no scheduled public classes for November and December due to the holidays. We will start up our seminars after the New Year. Watch for dates and times in upcoming newsletters, on Facebook and listed on our website.
Donationtown.org
is a free internet resource that will help you find charities in your area that will pick up donations for free.
All you do is:
1) Go to their website and enter your zip code
2) They'll show you a list of charities in your area that pick up
3) Schedule a time for your donation pick up!
Lose Your Stuff, Find Yourself...
We are thankful for these wise words from Lori's book, "Lose Your Stuff, Find Yourself."
"Everyone is affected by clutter, from children to seniors. Let go of the things in your home that hinder learning, or create health problems and safety issues
."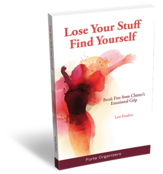 Pick up a copy of Lori's book by using this link:
Amazon.com
Just Hit Reply...
What is one thing that you have learned at one of Lori's seminars that you are thankful for? Just Hit Reply and let us know!
One More Thing...
"Be thankful for what you have; you'll end up having more. If you concentrate on what you don't have, you'll never, ever have enough." ~Oprah Winfrey
We at Forte Organizers are very thankful for all of our clients and those people who attend our seminars. Our wonderful "followers" make what we do rewarding and worthwhile.