Newsletter Headline Here...
FEATURING JOHANNA SAPAKIE
POLE COACH/POLE CHOREOGRAPHER TO JLO IN UPCOMING MOVIE "HUSTLERS"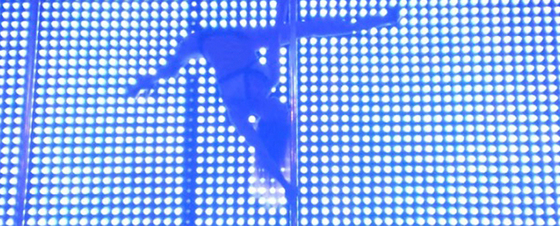 OPEN TO ALL MEMBERS AND CLASS PACKAGE HOLDERS
Learn the basics of pole dancing from "Hustlers" film lead choreographer and personal coach to J. Lo, Johanna Sapakie! No previous experience required. Johanna will teach you beginner pole technique to the tune of the film's official soundtrack. Class will end performing your newfound skills in a sexy and dynamic routine! Get ready to make it rain....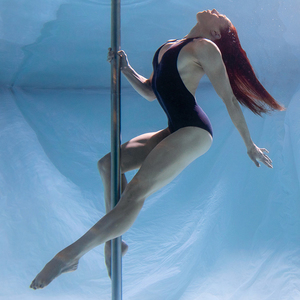 WORKSHOPS
ACRO POLE FLOW L3 & L4 MASTER CLASS
WEDNESDAY, AUGUST 21ST
12:00 - 1:30 PM
Focus: Finding smooth connections and beautiful movement quality while working intermediate/advanced pole combinations on spin pole. Practicing the art of sinuous strength as applied to INT/ADV tricking and choreography combos.
ACRO POLE FLOW L1 & L2 MASTER CLASS
WEDNESDAY, AUGUST 21ST
3:15 - 4:45 PM
Finding smooth connections and beautiful movement quality while working beginner/intermediate pole movements on spin pole. Practicing the art of sinuous strength as applied to BEG/INT tricking.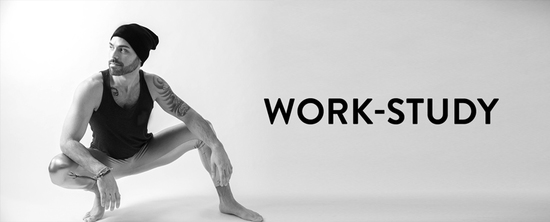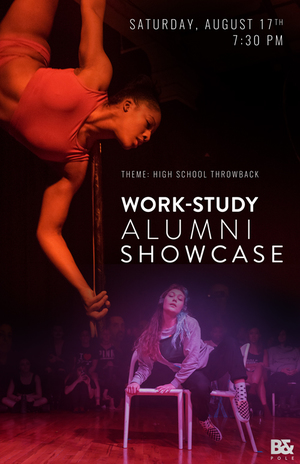 SATURDAY, AUGUST 17TH
7:30 PM // $30
 
Come and enjoy amazing performances from our current and past work-studies!
Performers:
Abigail Williams
Dalijah Franklin
Donna Carnow 
Irmingard Mayer 
Zhanna Nova 
Regina Armand 
Christina Vargas 
Katerina Justova
Xin He
Priscilla Tapia
Shelby Joy Cole
Mariangela Ciccone
Samantha Marsh
Alex Hernandez
Mallory Barnes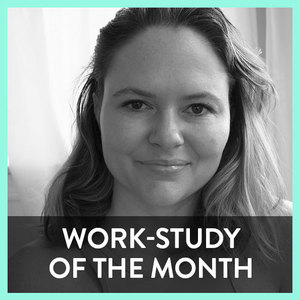 JULY 2019
Our work-study of the month for July was Emily! Professsional, helpful, and on top of the rigging game, Emily knows what she's doing, and she does it well! To show our appreciation, Emily will receive a free private lesson with the instructor of her choice! Thank you for everything.
The Body & Pole Work-Study Program is a one year professional development program where work-studies are nurtured, supported and empowered to discover and achieve their unique goals. We are now accepting submission for 2020, check out our website for details.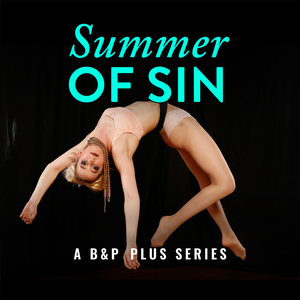 B&P PLUS
CHECK OUT THE B&P PLUS TAB FOR THE FINAL CLASSES IN THIS SUMMER SERIES!
This summer, we're getting HOT and SINFUL! Join us for a new B&P Plus series in celebration of ALL the deadly sins.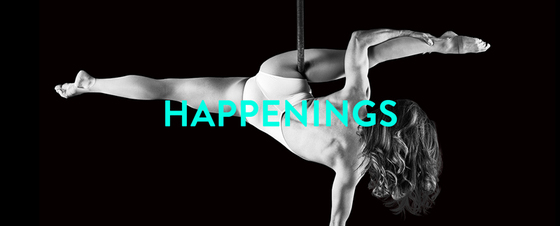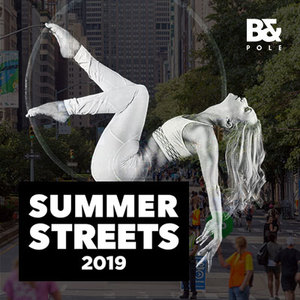 BODY & POLE SHOWCASE
SATURDAY,
AUGUST 10TH
11:00 - 11:45 AM
FOLEY SQUARE
Body & Pole is going to be at this year's Summer Streets 2019, providing an outdoor aerial showcase from 11:00 AM - 12:00 PM!
Summer Streets attracts 300,000 people over three Saturdays in August. Park Avenue and Lafayette Street are closed to vehicles for seven miles, creating car-free space from Brooklyn Bridge to Central Park. Activities are FREE and are designed for all people of all ages and abilities.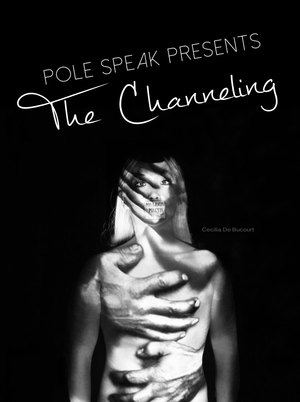 POLE SPEAK
"THE CHANNELING"
SATURDAY,
SEPTEMBER 14TH
DOORS 8:00 PM
SHOW 9:00 PM
COST: $35
Pole Speak, returning this Full Moon evening to Body & Pole for their fourth show, is a company of artists utilizing the pole to evolve their own stories; by integrating vulnerability with improvisational movement, they strive to explore the human condition. Pole Speak was originally 
envisioned in 2013 by Tracee Kafer and co-created with Dr. Jess Linick.
This rendition of Pole Speak will revolve around the concepts of resonance, channeling through movement, and creating a temporary yet tangible connection with the audience. This is an immersive and interactive show, and as an audience member, your own stories may become a collaborative aspect with the dancers pieces. 
Performers: Tracee Kafer, Jess Linick, Irmingard Mayer, 
Caitlin Goddard, 
Emily Sanderson, 
Blaine Petrovia,
Sam Doblick, 
Donna Carnow, Jane Fish, & Max Nguyen
elevatED TEACHER TRAININGS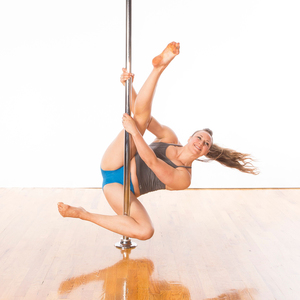 UPCOMING TRAININGS
Body & Pole (New York, NY)
September 30 - October 2, 2019
Pole Level 2 | 2019
Body & Pole (New York, NY)


November 6 - 8, 2019
Flexibility | 2019
Sweetwater Dance Studio (Bronx, NY)


September 20 - 22, 2019
Ever thought about teaching, or just want to take your training to the next level with a deeper understanding of body mechanics and movement exploration?  Join us for one of our upcoming elevatED Teacher Trainings in New York!
MICHELLE NATOLI
Michelle headed to Oceanside, CA to teach workshops at Darkside Summer Pole Camp, August 1-4, and will be teaching workshops at Pole Expo, August 22-25. @michellenatoli @darkside.fitness @poleexpo 

SAM STAR
Sam is competing at PSO Nationals outside of San Francisco on August 10. She is also teaching workshops and judging USPSF Nationals at Pole Expo Las Vegas, August 22-25. @lithiumkitten @polesportorg @uspolesportsfederation @poleexpo

DONNA CARNOW
Donna is competing in PSO Nationals on August 10. @donkakong @polesportorg 

SAMMY WONG
Sammy will be guest performing and judging at PSO Nationals on August 10. @sammyisdancing @polesportorg

BRENNA BRADBURY
Brenna is traveling to Vina del Mar, Chile to lead a 20 hour Advanced Aerial Yoga teacher training, and aerial dance and hammock workshops, August 15-18. @brennabradbury 

JENI JANOVER
Jeni will be in Frederick, MD for Liquid 2.0 Certification, August 17-18 and then heads to Las Vegas to teach workshops at Pole Expo, August 22-25. @jenijanoisliquid @liquidmotionct

JESSI COLON 
Jessi is performing with Adira Amram & The Experience in Vinyl Vaudeville, The Silliest Show on Earth, at FME Festival in Rouyn-Noranda, Quebec on August 29. @jessijamzzz @fme_at
We are honored to help you learn, create, and transform.
- The Team at Body & Pole
Body & Pole, 115 West 27th Street NY, NY 10001