Thanks for being part of our storytelling community!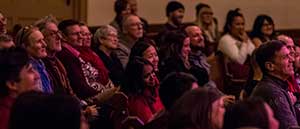 Join us one week from today for our
Urban Tellers® on Friday, March 1st
, over at
The Old Church Concert Hall
. Maybe you missed our latest version of Shackleton's Antarctic Nightmare? No worries, you can catch it on Friday, March 15th right here in Portland at Nordia House or Saturday, March 16th down in Dallas (near Salem) at The Majestic.
Friday, March 1st Urban Tellers®
What do smuggling groceries into Cuba, dancing your ass off, and learning to speak Swedish have in common? Find out next week when you hear
the real, true stories of the people of Portland.
This

Urban Tellers® features Katie Skurja, Steve Eggerts, Karen Lasher, Victor Bencomo, Chalice Stroebe, and Penny Walter. Hosted by Lynne Duddy and Lawrence Howard with music by Rogéri at 7 pm for Social Hour and stories at 8 pm.
$15 Advance | $20 Day of Show | $5 Arts for All
Shackleton's Antarctic Nightmare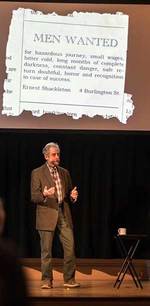 Shackleton's Antarctic Nightmare returns in an amazing collaboration between storyteller Lawrence Howard and cellist Laurent Nickel, with visuals by experience design developer Michael Hill.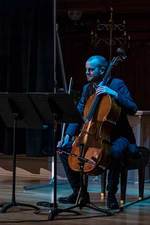 Together, they've created an immersive audio / visual experience that absolutely delighted audiences in January.
This is the story of how Ernest Shackleton and the 27 men of the Trans-Antarctic Expedition of 1914 survived on the ice and eventually came to safety. It is a heroic tale of hardship and suffering, of courage, determination and fortitude.
Friday, March 15
Nordic NW: $15 NNW Members | $20 Non-Members | $5 Arts for All
Show starts at 7 pm and runs until 10 pm with intermission
Saturday, March 16
The Majestic: FREE! Thanks to the generous sponsorship of the Friends of The Dallas Library and The Dallas Rotary Club.
Show starts at 6 pm and runs until 9:00 pm with intermission
Portland Story Theater's 2018-2019 Season is generously supported by The McIvor Family Charitable Fund; Tonkon Torp; Diane Ponti and Ward Greene; Ronni Lacroute, John Moe, Polk Family Charitable Fund; Dana and Steve Dennis; members of the Portland Story Theater Board, Founding Circle, and Narrative Network, and many other individual supporters, as well as by the Oregon Community Foundation; The Collins Foundation; James F. and Marion L. Miller Foundation; Meyer Memorial Trust; The Kinsman Foundation; The Autzen Foundation;
NW Natural Gas; and
The Oregon Cultural Trust. Thank you!
Photo Credits: Kelly Nissl, O'Dubhda