2017: THE YEAR OF SONY
MAJOR PLEDGES INVESTMENT IN BUSINESS
KANTAR: GIFTERS STRAY AWAY FROM MARKET…
…AND ZAVVI A STAR PERFORMER
…TRAIN SET TO ARRIVE AS WELL
HAMMER STRIKE FROM SIGNATURE
THING OF THE PAST, FOR THE FUTURE
---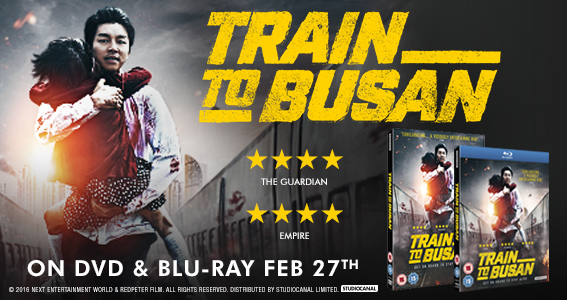 ---
If you can't read this newsletter or see the ads, please click here
It Was A Good Week For... Sony, with T2 Trainspotting opening at cinemas, number one in the midweek video charts and a killer presentaiton under its belt…
It Was A Bad Week For… The Scottish edition of The Sun, suckered into thinking there was a high quality illegal T2 Trainspotting illegal download available. There wasn't…
The year of Sony… that's how the studio is dubbing 2017 as it unveiled a slate of titles due in the coming year at a major presentation to the trade this week. As well as revealing a raft of big titles, including the weekend's big theatrical release T2: Trainspotting, Sony Pictures Home Entertainment restated its commitment to the UK industry and its future. "We are committed to the long term health of this category and more specifically you and your business," Aodan Coburn told the assembled retailers, both physical and digital, "we have a shared future. The UK is an amazing environment for us to do business. It's the best place in the world to understand how we evolve and meet the needs of the consumer." Pledging further third party relationships and deals, an investment in staff and ongoing research into the business, Coburn said: "My message is Sony is open for business and committed to the industry."
The major has ambitious plans for the year, aided by a strong slate of titles across film and TV, taking in family and more grown-up fare. It is aiming to see its box office market share at anywhere between 12 and 15 per cent this year, up to three times its 2016 figure of 5.5 per cent. It has set five goals to fulfil this year – to outperform the new release market as a whole, to redefine the role of catalogue, to drive EST penetration, to take a fresh approach to marketing and to drive gifting across all formats. These goals, and we'll have more on this next week, were outlined by Sony's Richard Benson, who had earlier nailed SPHE's colours to the mast in terms of its support for the category in a market that is likely to see further consolidation. As he said: "We're proud to work n this industry, we're committed to home entertainment and committed to unlocking growth potential. We're not going to consolidate and cut costs, we're going to invest." He pledged further investment in research ("not just into what people are buying, but how they are buying") and the major is also planning to have a regular consumer panel to enable it to further learn about consumer behaviour. Benson and others further stressed the importance of partnership with retailers across the board.
And what of the product? We'll have a closer look at some of the key titles and other elements from the presentation on our website and on the next newsletter, but in the meantime, here are some top level highlights from the year ahead for Sony (and a bit beyond too). Of course Sony has enjoyed big TV success with programmes that have already aired on Netflix in recent years, notably Breaking Bad and its spin-of Better Call Saul as well as House Of Cards, and it has another one in the shape of The Crown. As producer Andy Harries told the retailers and others present: "I really do believe if it's marketed correctly, it could do really well. People keep asking me when the DVD is out, because they can't get Netflix and they really really want to watch this programme. It's an exciting opportunity." There's T2 Trainspotting, which was screened after the presentation, and a new epic Stephen King adaptation, The Dark Tower, starring Idris Elba. Life is a sci-fi thriller set in space ("a truly impressive vision," as SPHE described it) and beyond this there's also arguably the most eagerly waited sci-fi sequel ever, namely Blade Runner 2049. Back down to earth with a bump, or possibly a crash, bang, wallop is the next film from British wunderkind Edgar Wright with his first film shot full in America, Baby Driver. On the family front, there's The Emoji Movie and what amounts to a rebooted, all animated new Smurfs film, The Lost Village. Also coming in a new form is Spider-Man, although Marvel fans will already have seen Tom Holland in last year's Captain America Civil War and the webslinger is now a fully-fledged part of the Marvel cinematic universe, heightening his profile even further and laying the groundwork for the summer blockbuster Spider-Man Homecoming. And these are just the biggies too – there's a whole raft of further titles (again, more on these next week)and there were a few teased into 2018 too, titles such as the new Jumanji, starring everyone's favourite action hero, Dwayne Johnson, aka The Rock, and Peter Rabbit.
---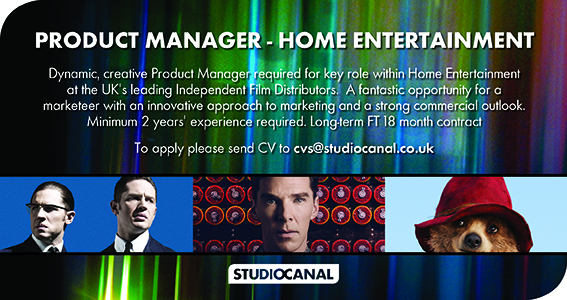 ---
The presentation came at a good time for Sony, as the company was celebrating a strong showing in the midweek charts according to the Official Charts Company's midweek bulletin, with the company's latest biggie, the remake of The Magnificent Seven, sitting pretty in the top slot at the halfway stage. It had, the organisation said, shifted about 44,000 in its first few days of sale, putting it ahead of another impressive new entry, for BBC Worldwide's latest instalment of Sherlock. Another newbie at number five came in the shape of Warner's acclaimed zombie tale, The Girl With All The Gifts. Meanwhile Trainspotting is enjoying a strong run in terms of drafting, putting it at number three in the overall midweeks. Other new entries include Blair Witch (number seven), The Infiltrator (at number nine), Captain Fantastic at number 14, and the latest from Steven Seagal, Killing Salazar, at number 17. Two places below that is another hit from BBC Worldwide, the latest Doctor Who tale, The Return of Doctor Mysterio.
Kantar Worldpanel has this week released its all important entertainment market update, which looks back at the quarter to December 18 across video, music and games. Kantar's figures, like others released, show a decline in physical sales, with video, down 12 per cent, faring worse than the sector as a whole (down 7.8 per cent). A lot of this walk Kantar noted, down to gifting becoming less important among an increasingly digital savvy marketplace. The company's Fiona Keenan said: "The increasing popularity of digital entertainment products is making it ever more difficult for retailers to maintain the relevance and excitement of giving physical entertainment products as gifts, and it's not been an easy Christmas as a result. Over one million fewer shoppers purchased physical music or video as gifts this quarter, equating to around £31 million lost. Gift cards for digital music and video aren't popular enough to offset this as yet, so it's vital that retailers think creatively about how to use their stores as a platform to promote online gifting. This Christmas was the first in five years not to feature an artist album in the top 10 most popular gifts. FIFA 17 topped the present charts this year – two places higher than its predecessor FIFA 16, which only achieved third place in 2015. Games took three out of the top five spots with Call of Duty: Infinite Warfare and Battlefield 1 joining the ranks as animations dominated in video, led by Secret Life of Pets, Finding Dory and The BFG."
One of the star retailers singled out by Kantar was Zavvi, with a strong overall performance and, in particular, on video too. Where it succeeded, Kantar noted, was on value sales, with average basket spend at Zavvi a whopping £20 above the video industry average of £14.54. Moreover, with a third of sales now online, Kantar believes Zavvi can kick on from here, as the report noted: "Zavvi was another strong performer this quarter, managing to increase its value sales despite the deep declines in the wider market. Its performance in video strengthened this position, and with a third of physical entertainment purchases now made online it can take advantage of increasing consumer demand for greater variety and convenience." It's performance will further have been buoyed by its strong Steelbook efforts, where it has led the market in terms of ideas and innovation. Commenting on its performance, product director for entertainment at Zavvi parent The Hut Markus Bhatia said "Our growth is as a result of our continued focus on engaging the superfan as well as giving priority to high value products that offer increased content. This has to be the model for us in a physical market that continues to show year on year decline."
---
---
Forthcoming releases now and the next two weeks sees some of 2016's biggest theatrical releases making their way to the home entertainment side of the business. In chronological order, first up is Monday January 30's release of Bridget Jones's Baby. It was one of the theatrical highlights of 2016 in box office terms, with a whipping £48 million haul. The campaign has kicked off with activity across TV, press, digital and radio. PR includes interviews with some of its cast and crew, while UK dating expert James Preece will front a news story about the dating habits of British women in the Bridget generation, and a themed Bridget Jones' dating seminar and screening will be hosted in week of release for Time Out readers, journalists and celebrities. Universal's Poonam Chudasama said: "I am personally a huge fan of the Bridget franchise, and the new film delivers everything you expect and more. Whilst it has been a long birthing process, it's also been highly enjoyable and I cannot wait to watch the film again."
Also out on Monday January 30 is another biggie, as Deepwater Horizon arrives on physical formats from Lionsgate on the back of its two Oscar nominations. Commenting on the release, the company's Ben Grunbaum said: "We're very excited to be bringing out Deepwater Horizon on DVD, Blu-ray, 4K Ultra-HD and vod on Monday. A fantastic film based on the heroic true story. We've supported with a substantial campaign on TV, vod, press and outdoor, showcasing the strong reviews and visuals of the film. Our publicity activity has also included taking some key journalists and influencers down to a mock up oil rig, firefighting experience in Gloucester. The two Oscar noms the film got last week were the icing on the cake."
And the following Monday, February 6, there's another of 2016's big theatrical releases, The Girl On The Train, arriving courtesy this time of eOne, and the company is putting a major push behind the releases. As eOne's Jeff Suter explained: "The marketing and publicity campaign for The Girl On The Train has been gathering velocity over the last few weeks and its now full steam ahead. The book and film and have been a phenomenal success and Emily Blunt's recent BAFTA nomination has helped ensure continued interest in the film. As you would expect we will have a huge above the line campaign across all the usual touch points and this is alongside fantastic in-store set-up across traditional and non-traditional outlets; with exclusive editions available at Sainsburys and HMV. We also have an amazing PR and social campaign in place and this will be breaking throughout the next few weeks to guarantee a continued presence across media all the way through to Valentine's day. All in all we are on track to deliver a great success for this number one box office smash."
Later in February, comes a first ever Blu-ray release for a former Oscar biggie, The Crying Game, celebrating its 25th anniversary this year. Due on February 20, its release is being preceded by a special screening, with many of those involved in the original film returning to discuss it and its impact at the BFI Southbank. Commenting on the release, the BFI's Phil Roberts said: "The BFI is delighted to be releasing a pristine new remaster of this iconic British film on Blu-ray/DVD. The original cast and crew are supporting the release through press, social media and a special reunion event at BFI Southbank on 15 February. We will also be promoting the film through our Flare 2017 festival channels targeting LGBT audiences, and hope to inspire a new generation of film fans to discover the secrets of The Crying Game - so please don't give away the twist!'
In to March now, and the trailer was unveiled this week for an apt release from Signature, West Ham supporter at its helm, of a documentary called Iron Men, which looks at the Hammers' final days at Upton Park, aka the Boleyn Ground. The warts and all look at the club has attracted plenty of interest from the club's supporters and beyond, with The Sun presenting the trailer on its website to acclaim. Signature's Emilie Barra said: "This week marked the debut of our Iron Men trailer launched by The Sun online and the West Ham United channels in unison. This epic documentary film depicts the move of West Ham United from the iconic Boleyn football ground to the Olympic Stadium. This is the story of their last ever match at Upton Park and the legacy of the legendary Boleyn ground, told by the fans. The film features appearances from Mark Noble, Slaven Bilic, Ray Winstone and many more and has been described as "essential viewing for football fans" and "unmissable" by the Mirror Online. The film will be out to own on Digital HD from March 3 and on DVD from March 6."
---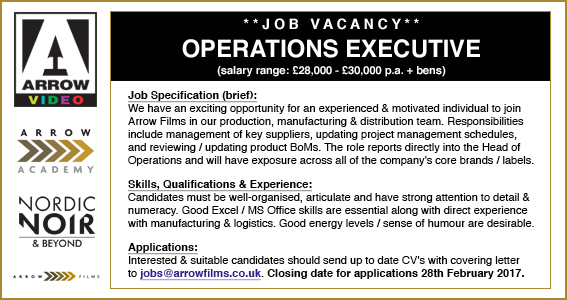 ---
Over on the theatrical side, this week saw the beginning of a big screen release of the original anime classic Ghost In The Shell, its first ever outing at cinemas. The move comes ahead of the imminent release of a big budget live action Hollywood take on the story, starring Scarlett Johansson in the lead and Manga's March home entertainment re-release for the original title, one of the label's biggest ever releases. Commenting on the screening, marketing manager Andrew Hewson said: "Ghost in the Shell is currently in the top 10 at the UK box office, so we are incredibly happy with the opening night result. Hopefully the level of admissions stays steady over the next week, and we get further holdovers for this! Over the last year we have changed the landscape for anime in the UK by taking a big risk and bringing more films to cinemas. We managed to convince cinema chains who up until recently would only support Studio Ghibli films that there's a real appetite and audience for anime here. Thankfully the successes of Dragon Ball Z: Resurrection, 'F', Boruto, Akira and now Ghost In The Shell have reinforced that fact. We are incredibly proud of these achievements and I'd like to thank our team who have worked very hard on all our theatrical releases so far. Our next big cinema outing is Yu-Gi-Oh! The Dark Side of Dimensions which is out on over 120 screens on the 1st of February." Manga's Charles Fotheringham added: "It's a fantastic start for Ghost In the Shell which sets us up nicely for the home entertainment release on March 20 and drafting alongside Paramount's ScarJo blockbuster remake…"
Meanwhile, with Sherlock sitting pretty in the Official Charts Company's midweeks, what news of its replacement, Apple Tree Yard. We talked about it last week, but it's worth mentioning again this week, following the wealth of coverage after its BBC1 primetime debut and discussion throughout the week. As we noted, Arrow is releasing the title on February 20 on physical formats, with digital releases following the assorted episodes, and the company's Tom Stewart said: "The reaction from both Critics and the Media in general has been amazing, achieving the status of the highest rated new drama on BBC1 for the past 10 months. With a current position in the top three on the BBCi Player, we would expect a consolidated audience of more than 7 million plus. As we know, the area of television series is fiercely competitive, so it's very encouraging to see a Top 3 position in the iTunes chart, which we feel represents a very strong indication for successful sales to come at release and throughout 2017."
Arrow Video teased its fans through its social media channels this week, urging them to like the imprint's Facebook page. And once the company reached the magic 50,000 mark it made a "surprise announcement", revealing that it had signed The Thing, John Carpenter's classic sci-fi horror, for release later in the year. No details of the date or any of the extras yet – rest assured, it will be getting the full Arrow Video treatment though – and if ever a film and a label were perfectly suited to each other then it's these two. Commenting on the announcement, Arrow Video's head of catalogue Kevin Lambert said: "The Thing is a huge cult classic so naturally we're excited to be working on it. Full details are still being finalised, but one thing I can say is consumers will be seeing Carpenter's film in the best release of the film ever! The discs are going to be loaded with new and exclusive special features and, of course, it will be wrapped in some tremendous packaging. It's going to be a beast."
Following from the news that horror specialist Shameless had signed up with Fusion for it sales, comes the news that, rather than following sister imprint to the sales outfit, as we initially suggested, associated labels Argent, Nouveaux and Cult Films have all signed on the dotted line with the ever-expanding Trinity Creative Partnership. Commenting on the deal, Trinity's Andy Lyon said: "We are excited to be working with the wonderful and long established Argent and Nouveaux label and we are honoured to be assisting the early growth of the recently launched Cult Films footprint, we are confident this will be a fast growing boutique DVD and Blu Ray label inside our diverse and wonderful collection of labels, Colt Films is going to be an important label for the UK collector. Our team at Trinity has a mass of experience with high end Blu Ray products of classic and cult movies so we feel that this is a perfect partnership. Trinity is in a period of very exciting growth and we welcome Garwin and his team to our family of independent labels."
---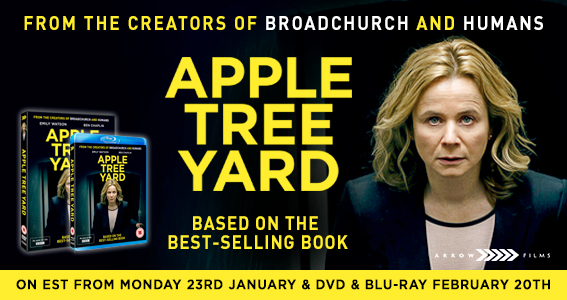 ---
QUOTE OF THE WEEK
An owner of copyrighted content such as a movie, TV show or a song has found and verified an instance of alleged copyright infringement (unauthorised uploading and sharing of a file) using your internet account and has sent a notice to your Internet Service Provider (ISP). The ISP has then confirmed that a computer or other device connected to your account was involved, and has generated and sent you a Get it Right Educational Email.
From the Get It Right website, and a page that has just gone live, giving a further explanation to consumers who've been sent a letter about their involvement with illegal downloads online… Letters are due to go out shortly… You can see more here…
Tradewide presentations are a lot less regular now than they used to be, so events such as Sony Pictures Home Entertainment's day-long event really should be supported. It was great stuff, from sneak previews, plenty of talent involvement, a full screening, a few drinks and even some bowling… Oh, and a string quartet doing Underworld songs too…
La La Land continues to dominate, despite three big new releases all challenging its position at the top of the UK box office charts. It has now taken a touch under £15 million in two weeks, holding off Split (just over £2.5 million), xXx: The Return Of Xander Cage (£1.62 million) and Lion (£1.26), which entered in the three positions just below it. The other new entry in the top 10 was Jackie with a touch over £660,000.
And La La Land was further celebrating after an incredible haul of nods received for this year's Oscars, the Academy unveiling the nominations for the awards this week. You can see them here (we're not going to list them in full, you should have seen this already by now…). The ceremony is on February 26…
A mere sniff of a Star Wars story is likely to send the Internet into overdrive, so a flurry of activity this week, chief among which was the announcement of the title of the next film due from the LucasFilm production line, aka Star Wars Episode VIII. And, in case you missed it, the film will be called The Last Jedi. Cue a flurry of speculative tweets and articles as everyone wondered who the titular final Jedi will be, with lots of nerds reminding everyone that Jedi can, of course, be plural…
Right turn Clyde! This week's remake news concerns Clint Eastwood's classic action comedy Every Which Way But Loose, which followed the man with no name and an orangutan called Clyde and all the kind of wacky scrapes they got up too. Well, man and ape will return, although neither part has been cast yet…
For the Adam Sandler fans…
Due from Signature (more on this soon)
More on this next week, but here's Lego Batman…
And more on this too, Fantastic Beasts announcement…
The king of comedy is back…
To subscribe to The Raygun newsletter, please email

info@theraygun.co.uk
with subscribe in the subject matter
To unsubscribe, email

info@theraygun.co.uk

with unsubscribe in the subject
For editorial or advertising queries, contact

tim@theraygun.co.uk