The Tea Party activists have been making life miserable for the RINOs at the Capitol the last few years and we are only growing stronger and more numerous. So it is no surprise that more and more progressive Republicans are looking for greener pastures. The idea of spending a dozen years in the legislature then on to a cushy state job is becoming more and more of a gamble. The internet has enabled the sharing of information and made research easier for the general public, it is a white hot spotlight that will shrivel the unlucky or over reaching politician.
In the last few months we have seen several RINOs looking for a safer way to pad their pockets, former Representative Dan Sullivan and former Representative George Faught have left the House and over a dozen House and Senate members have already draw serious opponents in the primary of 2012.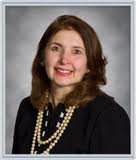 Dr. Lois Jacobs
This week we add to that list with Representative Weldon Watson whose voting record caused him to be targeted with voter education robo calls by the Sooner Tea Party last spring. Thousands of calls were sent into his House District, showing his constituents that he was not representing them, that he was weak and under attack.
Dr. Lois Jacobs,
a dentist in Tulsa and a current Tulsa School Board member, has stepped up to run against Rep Watson. Tulsa has a thriving Tea Party activist community so Dr. Jacobs will have an army of supporters in her campaign and will not be saddled with a Chamber of Commerce dictated voting record like Rep Watson has hanging around his neck.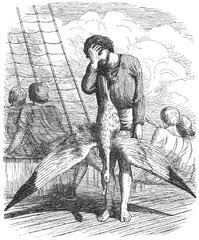 And speaking of having an albatross around your neck, defeated Speaker Designate candidate Representative JW Hickman has had enough according to our Capitol sources. Hickman has been overheard complaining that Speaker Steele was an albatross around his neck during the Speaker Designate race and he thinks that his future is blighted at the Capitol from his close association with the lame duck House leadership team. The word is that Hickman is going back to higher education after his term expires in 2012.
Another report says that Representative Al McCaffrey giving up his House seat to run for a vacancy in the Senate. McCaffrey is a Democrat, and has supported the HR 1004 Discharge Petition so he hasn't had to feel the sting of the Sooner Tea Party voter education effort. The Tea Party has left liberals like McCaffrey alone for the most part because he isn't a hypocrite like those that comprise the Dirty Thirty Two that supported State Chamber of Commerce Speaker Candidate Hickman. His constituents know what he is and return him to office so we have no quarrel with him.
Last week we reported that Representative Brumbaugh responded to us a few weeks back, promising several local examples of why his SB 331 bill was needed. Brumbaugh did come through with his examples on Monday morning, October 24th. I adjusted the formatting a bit to save space but otherwise the information is as sent via email:
As you know I spoke with my friend Charles Key this morning and he has encouraged me to continue a dialogue with you saying that you would be fair. Al, I am relying on that. I want to speak candidly with you upfront stating my voting record speaks for itself with a 90% Conservative Rating. My principles and business background do not facilitate me in picking winners and losers so I am driven by free market principles.
If you look at my votes on HB 1953 & HB 1008 you should see that. Enough said on that issue. I also want it to be "crystal clear" why I support SB 331 (Qui Tam Legislation). Not because I want to do away with any statutory remedy that will root out fraud and corruption in gov't or support one candidate over another in some state speaker designate race. With all due respect representing me in any other way would be disingenuous and quite the opposite. The Lord has blessed me (Rms 8:28) and I don't sacrifice time away from my family or my business at the capitol for something as trivial as that… period.
My main concern is always for the taxpayer and all these frivolous lawsuits that are hurting and trivializing the real fraud and corruption cases. Almost 2/3rdsare dismissed. We need to stop those who want to go on "fishing expeditions" and tie up our court system. This only brings up industry costs and discourages private investment in our communities. As Conservatives I should think we would insist on greater private investment and less taxpayer funding. When we allow these frivolous lawsuits to go on we also contribute to the real problem in our communities and state of bond indebtedness when we drive away investment with litigious activity that only hurts the taxpayer and discourages free market development. Business 101 Costs vs. ROI= Private Investment
Here are 2 of the cases that were dismissed this year: (1 of them affects the Broken Arrow community which I represent). As I stated in our earlier conversation these are only examples and represent no other opinion than what has been stated.
State Wright v. OK Corporation Commission # 108897 Court of Appeals dismissed for lack of jurisdiction
City of Broken Arrow v. Bass Pro Shops # 1041015 Supreme Courts & all lower courts dismissed for Summary Judgment
(FYI: case went on for 5 years and cost the taxpayers huge amounts of money)
(Background) On the later case I inquired through several sources (county, city, and developers) that a local developer bought the land, financed it through the bank, signed a lease with Bass Pro who put together a package and assigned it to the City. No taxpayer dollars were used, no tax credits were given, no sales tax rebates, no bonding indebtedness, no tiff district etc." Bass Pro pays the debt service on a lease. And as you know leases occur at every end of the spectrum in municipalities. From aviation companies at our public airports who have long term leases even down to the smallest transaction of those who lease small event space at a municipal auditorium.
Any infrastructure costs are the same that a municipality would traditionally provide to neighborhoods or shopping centers i.e.: water, roads, sewer, and electricity. I have no knowledge of what was negotiated and I make no claims on any additional knowledge or an opinion as to anything else as I was not involved in the transaction or served in any official capacity at the time of this project. This was well over 5 years ago.
…By every account 99% the whole community would agree this has spurred growth in Broken Arrow with 14 different restaurants, Target, two entire shopping centers, movie theaters, St John's Hospital, almost 4 million visitors and 40% who stay overnight, all the related revenue, and people who move into our community and buy homes. Helps with tax revenue and helps keeps citizen taxes down which is a good thing.
Is the point here constitutionality or not allowing people to redress grievances to their government…
I could 9 out of 10 conservatives and they would say do we "honestly think anyone would believe we would have had a problem getting 100 signatures to take Great Plains Airlines or Solyndra to court.?" All we are asking is for some reasonableness
Thank you for your attention in this matter.
State Representative David Brumbaugh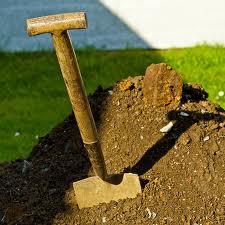 We appreciate the time it took Rep Brumbaugh to research and defend his position and it deserved to be included in our newsletter as we had taken him to task on two occasions. That however doesn't mean we are not going to poke holes in his logic nor will we shrink from calling a spade a spade. (By the way, that saying is not racist. It comes to us from Plutarch through Nicolas Udall's 1542 translation of Erasmus's proverbs. The use of "spade" as a racial slur came about in the 1920's, spade actually is a word for a shovel.)
Representative Brumbaugh,
First off we always try to be fair, we want good government and would much rather spend our time educating the voters of the worst offenders. We appreciate your views on the governments picking winners and losers in commerce, however I wonder if you have thought the matter through to a logical conclusion. As to the 90% Conservative Index, well, although we used to believe that the OCPAC/Oklahoma Constitution Conservative Index stood for something, it has been corrupted into a meaningless number. So much so that it has little value these days. But that is another story for another newsletter. What matters is how you voted last session and how you will vote in the coming session. And always remember that this is the internet age, the facts are a copy and paste and a click away.
HB 1953 was the closing fund bill, allowing Governor Fallin to spend tax dollars to bribe companies to move to Oklahoma. On
5/16/2011 at 5:35 pm
you were excused from voting, you didn't add your voice to the 24 conservatives, both Republican and Democrat that stood up against the bill. Indeed nearly one quarter of the House members abstained from voting on that bill. Just ten minutes later you did vote against the bill so you were present for the vote. Two minutes before that at 5:23 pm you were still standing strong. On 3/16/11 at 3:34 pm you voted for HB 1953, refusing to table the motion (to kill it) and at 3:29 the same day you had voted against the call for previous question (ending debate and forcing a vote on the issue). Anytime the public sees you voting against Benett, Key, Reynolds, Ritze, Christian, and Terrill is grounds for questioning your commitment to conservative values. And on 3:11 the same day you voted against conservative values by refusing to support to table the motion (to kill it).
At 3:03 you voted to table an appeal on the issue, joining with House RINOs and voting against conservative House members. At 2:40 you voted against conservative values on the motion to appeal the Chair. I am sorry Rep Brumbaugh; it looks like you were playing both ends against the middle on the HB 1953 issue before finally voting your alleged values.
On HB 1008 you voted along with the conservatives 100% of the time. HR 1008 was about tax credits so that issue must be one that you truly support. We applaud your voting record on that issue.
Your reasoning on the Qui Tam legislation, SB 331, gets much less coherent. If 2/3rds of all Qui Tam lawsuits are dismissed, I'd call that judicial corruption supporting tax fraud rather than an example that supports your position. One would think that of all the cases presented to the court, one alleging tax fraud deserves to be heard completely. And your reasoning becomes quite intertwined when you talk about supporting greater private investment and less government financing then argue that these suits hamper bond sales.
Now let's deal with your two examples of dismissed Qui Tam cases:
State Wright v. OK Corporation Commission # 108897
dealt with two employees of the State Corporation Commission that filed suit after public money from the Petroleum Storage Tank Release Environmental Cleanup Indemnity Fund was paid out on improper claims. The appellate court found that one of the ten signatures was not signed before a notary public, thus not meeting the statute standard of ten taxpayers signing a petition for Qui Tam. The appellate court agreed that there were 10 real taxpayers asking that the matter be investigated but they split hairs when they dropped the case due to the tenth taxpayer not having his signature notarized.
From the Prater affidavit a few weeks ago we learned that a notary seal can be added if the notary has a person state that they know the individual that signed a document and will vouch for his identity. In this case there is little doubt that the tenth signature was very likely someone known to the plaintiff.
Basically to use State Wright v. OK Corporation Commission as a defense of a vote for SB 331 is not a good move. The state didn't recover the fraudulently spent money and the crooks escaped by a technicality. If anything it argues the need to reduce the number of signatures because if one signature out of ten might be found wanting how many might fail the test if 100 signatures were required? And really, shouldn't a case stand on the facts, not be hampered by hoops and hurdles to get it before an honest judge?
Sloppy work here Representative Brumbaugh, this kind of work wouldn't pass in my cabinet shop. But I'll keep an open mind and examine the other example.
City of Broken Arrow v. Bass Pro Shops # 1041015
The Bass Pro Broken Arrow deal involved $24,000,000.00 in public subsidy.
This website
lays it out along with the massive subsidies from around the nation along with the failure of the Bass Pro shops to deliver nationwide on their economic promises. The vast majority of new tenants opening stores in or near a Bass Pro development were simply existing stores relocating to the higher traffic area. There were no new tax revenues, they simply cannibalized existing strip centers, malls, and other commercial building areas. What you are promoting here by defending the Bass Pro deal is that developers with lobbyists and access get the sweetheart deals while the average small business struggles to compete against government subsidized businesses.
The Oklahoma City Bass Pro shop was subsidized with $19,000,000.00 of tax money, has never reached the 45 million dollar in sales required for taxpayers to receive their 1.5% of sales in exchange for investing in the deal. Interestingly, many businesses need a minimum of 100 thousand dollars in sales per employee to justify hiring a front line employee. OKC Bass Pro has neverhad the 385 employees that their current sales would support nor did they ever approach the number of employees they claimed they would hire during negotiations. And how well paid is the average Bass Pro employee? $8.67 per hour... adding to the costs of social welfare taxpayer programs in the immediate area.
In the Broken Arrow Bass Pro case, the city of Broken Arrow agreed to stand behind the $20,300,000.00 note for the project built by private developers and a bank. This isn't a city renting a space in a convention center, it is guaranteeing a private development. In looking at the decision, it was founded upon the taxpayer's concerns being properly submitted to the lower court for consideration, not the proper consideration of said concerns. This is typical of all appellate courts on civil matters, they look at the process of law used, not the facts of the case. This allows a crooked judge to help line the pockets of the political class and escape proper scrutiny, one of the many loopholes the politicians and attorneys have woven within our state statures and judicial system. The defendants were even quoted as saying:
"that there are clearly at least issues of fact regarding when and whether the City Council was presented with these agreements for approval and their role in the decision-making process resulting in the May 17, 2004 resolution of the City Council doing precisely what these agreements did."
Again, matters of fact are not reconsidered in appellate court, a crooked judge is not held accountable for ruling against the evidence as long as he heard the evidence. The decision also discusses instances of where the complaining tax payer was correct in alleging serious Open Meeting violations but argued that subsequent approvals by the City Council ratified the same documents. I say dirty hands are enough to stop the entire mess. The taxpayer more than proved that the initial Bass Pro deal was a back room deal that was later supported by the City Council. Another point was the use of the City of Broken Arrow using summary judgment rather than going to court and allowing deposition and interrogatories to determine the true facts of the case.
In short your second example supporting making Qui Tam interventions more difficult is a poor one at best. They do not show a legion of lawyers trying to get rich by recovering tax money fraud nor do they describe fishing expeditions, both were for valid concerns brought by valid taxpayers. In both cases the taxpayers of Oklahoma were ill served by the judges. Your claim that no tax dollars were used nor were any bond indebtedness incurred ring hollow when one reads that Broken Arrows sales taxes are in hock from year to year. The annual automatic re obligation of sales tax revenues in itself is simply an attempt to evade the state Constitution.
This is not comparable to a public airport which serves a public need or a city auditorium, this is the subsidy of an ordinary business that competes with hundreds of other retailers in the area. Bass Pro could have leased space at the airport or at the convention center along with any other business or they could have enticed investors like other businesses do to obtain capitol.
I appreciate your honesty in stating that you were unaware of the infrastructure needs of the Bass Pro shop and how they were met. I can tell you that housing developers and commercial property developments are required to install streets, drainage, sewer, and other utilities before turning the area over to being maintained by the city and they must follow strict building codes to ensure that the areas are able to be maintained at a reasonable cost. Most people won't fault a city for building access roads up to a private development but that should be the extent of their support of a private development. Even that has its limits, the developer shouldn't be allowed to drive massive expenditures if they build in an inaccessible area.
As to the claims of 99% of citizens agreeing that the Bass Pro Shop has spurred development, I'd like to see your evidence of that. Most are going to understand that the new shops simply cannibalize other Broken Arrow and Tulsa businesses.
And almost 4 million visitors to Bass Pro Shop? Really? In 2008 the Grand Canyon received only 4,425,314 visitors. And Yellow Stone park received only 3,066,584 visitors in 2008. Anyone that has been to either National Park understands what 4 million people looks like. If you take the 34 million in sales for 2008, using your figure of 4 million visitors, that is only $8.50 per person in sales.
Bass Pro Shops reported
only 12 million in nationwide profits in 2007 with 35 stores, meaning a profit per store of only $348,571.00 per store Divide that by your figure of 4 million visitors and you get eight cents profit per visitor. Sad returns for Broken Arrow for spending 4 million in tax dollars and risking losing their sales tax money if Bass Pro defaults on the 20 million dollar loan.
Tulsa had no other way to expand other than north so development was already headed east toward Broken Arrow. North of Downtown was not a desirable area to expand into, nor was northeast of the Airport desirable due to the Hispanic areas. Add the airport itself and that left east as the only area for development. The Bass Pro deal might have lured tenants to that specific area but they were coming that way anyway. The Bass Pro deals are about funneling development into areas owned by political supporters and are nothing more than the government picking winners and losers in commerce.
SB331 did a lot more than increase the number of required Qui Tam signatures by tenfold, it also forced those taxpayers to hire an attorney and stripped any incentive for taking on the expense, risk, and massive amount of your time for standing up against corruption. The bill that you co authored has also reduced the 1st Amendment rights of your constituents. It isn't a matter of simply a tenfold increase in signatures; it is the systematic refusal of the judicial system to address these cases based upon the facts. Face it, your bill enables the good old boy system and makes tax payer fraud harder to recover. You should reconsider your stance on public financing for private projects as it doesn't support conservative values.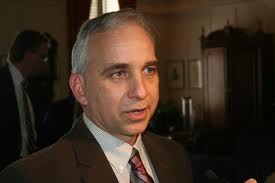 Oh what a sweet revenge it is to see the tactics of corrupt politicians turned back against them. According to a confidential Tea Party source inside the Tulsa Chamber of Commerce, a process server pulled a fast one on former Speaker Chris Benge. They like to drop names and take care of the good old boys so when the tactic is turned against them, one just has to laugh.
The unnamed process server had called several times that day looking for Benge to serve a subpoena but couldn't get past the front desk. So in the afternoon he convinces one of the ladies working there that he was an old friend of Tad Jones, one of the former leaders at the capitol and a friend of Chris Benge. So our process server gets permission to stop by and wait on Benge to show up, gets served refreshments and chatted up while he is waiting.
In walks Chris Benge, big smile on his face, wanting to meet a constituent and friend of his friend. According to our chamber source, Benge sticks his hand out to greet the unknown process server, and gets a subpoena slapped in his hand for his trouble! The process server allegedly said "I'm also friends with Representative Terrill and here is your invitation to the party in Oklahoma City." We are told that Benge kept a frozen smile on his face, but turned completely white (a challenge for the dark complexion Benge), and his eyes turned the size of dinner plates. Is Benge somehow connected to the influence peddling case that Prater is running against Terrill?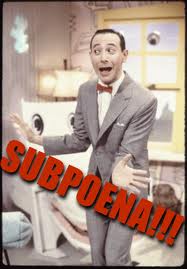 The Great Subpoena Stampede at the Capitol
Former Speaker Benge got slapped with the subpoena in Tulsa around 3:10 according to our inside informer. What came next was entirely unexpected. We know that current Speaker Steel had issued a Friday 12:06 email to House members and staff reminding them of House Rule 4.5 which states that House members must immediately notify House legal department of any legislative related legal issues and informing the members that House legal staff would handle any response. Is this the same Speaker Steele that refused to spend House legal resources defending legislative immunity issues that Terrill and others brought up in the Leftwich scandal? Now it is okay to defend a legislator's right to discuss matters without being dragged into court? Dang, I can't believe that I'm supporting Representative Randy Terrill on this.
I do not know what happened in the Leftwich scandal. What little I've read doesn't seem much different than Speaker Steele asking Leslie Osborne "What will it take for you to support Hickman in the Speaker Designate race?" The legislators all horse trade their votes on issues to get support for their favorite issues. All that said, what is wrong with legislators being subpoenaed like the rest of Oklahoma citizens? But in the end we have to fall back to the rule of law, the Oklahoma Constitution either protects what legislators do and say in session or it doesn't.
But, we are getting away from our story on the Great Subpoena Stampede. At 3:39 pm that Friday afternoon, there was a literal stampede of legislators looking for information that they thought they had missed in the Sooner Tea Party newsletter. Capitol sources tell us that over 50 individual House members and a handful of Senators were frantically reading old Sooner Tea Party email trying to find out if we were behind the subpoenas. Email and phone traffic spiked as they raced to figure out if they were getting a subpoena or not and what the Sooner Tea Party was up to!
A bit of digging around showed us that the subpoenas were the work of Representative Randy Terrill lining up individuals for deposition starting on Monday morning in Oklahoma City. The Subpoena Stampede just showed how widespread the selling of votes for favors is in Oklahoma. Add to that the substantial expense of having House legal staff representing 50 to 60 legislators attempting to escape from having to testify in the Leftwich case makes me wonder just what they are afraid of?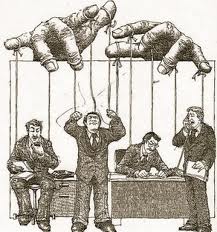 I've noticed one trait that House Speakers tend to possess after meeting Benge and watching Steele in action; they are usually weak individuals that are figureheads for those that actually pull the strings of power. People at the February 28th 2010 meeting between House Leaders and OCA leaders remember then Speaker Benge constantly looking over to Rep Ken Miller for approval after making a point, constantly repeating "Isn't that right Ken?" Rather that electing strong men of integrity and purpose, the position seems to fall to those that will do as they are told, completely alien to how the business world picks their leaders. Given this tendency to elect weak minded men one wonders what has gone on undetected at the capitol, who is actually in charge of the legislative agenda? I personally believe that this is why the State Chamber has become such a player at the capitol, they are filling a power vacuum, purchasing it with a little cash donated to specific leaders at strategic times. I am hoping that the election of TW Shannon breaks that mold.
Regardless of the outcome of the Leftwich scandal it is obvious that House leadership has laid the legislature wide open for scrutiny by the executive and judicial branch, gutting the separation of powers between the three branches of state government. I understand that both Leftwich and Terrill are arguing that a constitutional privilege of speech and debate protect them from investigation, something that Speaker Steele allowed against the duo but seems terrified to allow his supporters to testify in court. No doubt House legal staff worked all weekend to quash the subpoenas that were delivered last week.
The Leftwich case begins on Monday at the Oklahoma courthouse. We encourage Tea Party activists to attend the proceedings and to report any interesting information. One thing for certain in this case, it is the blind leading the blind, the corrupt trying to prosecute alleged corruption.
If you as a taxpayer have a problem with tax payer funds being spent to prevent legislators from testifying contact General Counsel Ashley Kemp at (405) 962-7603 and Speaker Steele can be reached at (405) 557-7345.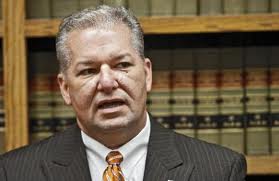 Prater Investigated by the OSBI
On Monday we received confirmation that Oklahoma District Attorney David Prater was being investigated by OSBI for campaign finance fraud. The
major affiliates
ran stories in Oklahoma City and Tulsa, and the Associated Press sent the news surging around the nation.
The Oklahoma wrote an article
, which quickly attracted comments on their online comment section. It became obvious that OKC defense attorneys and possibly assistant district attorneys were chiming in with their comments on the validity of the charges. The Sooner Tea Party logged in and waded into the comment fray, posting links to our info on the case, dramatically limiting the misrepresentation that Prater supporters were spreading.
Soon they were reduced to using sparse comments trying to chip away at the examples of under prosecuted or non prosecuted cases. Then when I posted the details of Prater's answers at H & H Gun range, the comments came to a complete stop. One interesting comment is worth mentioning:
"This makes me question the Amy Holder case even more her attorney Scott Adams got her off with a $5,000 fine and no jail for the death of a child. Did Prater show him favoritism too Hmmmm. However no surprise Oklahoma has a history of crooked DA's as well as other politicians. I have files that prove Prater and Bob Macy both have been crooked and our Oklahoma history proves there have been others."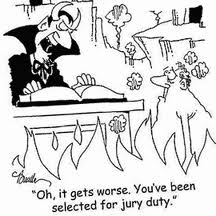 An interesting side story was my experience during jury duty last week. I was selected during voir dire on a murder trial and we were asked if any of us knew the District Attorney so I had to stand up before 75 jurors, the judge, the prosecution, and the defense and tell of our investigation into the David Prater case. As you can imagine, that set the prosecutor's heads a bobbing. I was actually relieved after hearing about the OSBI investigation coming out on Thursday, it made me look less like a kook to the fellow jurors!
Notice that the news stories are all about the campaign donations, not the under prosecution or non prosecution of the various felony cases that we outlined in our report. I wonder if this investigation is happening just to clear the air on Prater to sideline any stories about campaign donors getting preferential treatment? I know that Attorney General Scott Pruitt reads our newsletters as does David Prater. Perhaps some more info packets need to be mailed certified mail to document the other charges? Interestingly enough, Channel 9 showed the redacted affidavit from the restaurant owner in their story along with the cover letter from another source that listed who the restaurant owner was. We don't return address our manila envelopes to the media, just the certified mail envelopes to authorities. We want the media out there rooting around for info, not sure exactly where it is coming from. Most of them read our newsletter so it shouldn't be too hard to figure out who is feeding them info.
From watching the comments on the TV interviews, many attorneys admitted that fundraising went on at the victory party. I'm still trying to wrap my head around the statute of limitations on this case, obviously the five year limit covers this case or Pruitt wouldn't have put the OSBI onto the case. There is a statue of limitations on fraud that allows two years after discovery. I suppose it will all come out before November 20th when the five year statute of limitations is up, Pruitt will have to file something by then I would think. So no matter what the OSBI finds, it is obvious that there was a party, it was paid for by others, the donation was not reported as in kind or cash donations, the ethics commission required the reporting, and the expenditure was never reported.
Only News 9 picked up the Sooner Tea Party connection to the Prater investigation. They ran a story at 10pm Friday night where I was interviewed. Hadn't seen it yet as it isn't online. That is okay though, our job is to bring things to light, there is no glory in exposing the corruption, only in stopping it.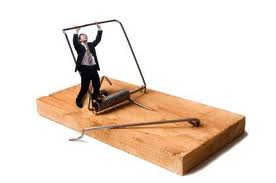 Further talking to Ethics Commission reporting experts tells us that the Ethics Commission couldn't take this case on because their statue of limitations runs only two years and that they are fairly weak on prosecution powers. The Attorney General has much more powerful statutes to work with. It is still unknow who asked Attorney General Scott Pruit to start the investigation. I would hope he did this on his own after reading the allegations in the Sooner Tea Party newsletter. I think that Scott Pruitt is an honorable man, had my doubts during the beginning of the race due to his big business background but so far he has done an excellent job as A.G. I believe that if he successfully prosecutes Prater on these campaign contribution lapses and investigates the influence peddling charges, he will have an even larger following among the grassroots community.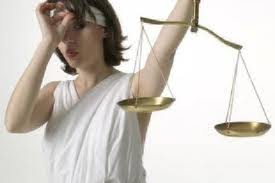 Oklahoma County District Attorney Office Refuses To Investigate
Current Floor Leader
& Chairman of Judiciary Committee
Representative Dan Sullivan Escapes
The next story below is a copy of a hate email that we got this week that excoriated the Sooner Tea Party for going after District Attorney David Prater. Besides the need of integrity in the office responsible for upholding our laws, there were practical reasons for cleaning up the Oklahoma City District Attorney's office. Here is one example.
Earlier this year during the Representative Dan Sullivan investigation, a police report was made after it was discovered that either Representative Sullivan, his attorney, or his realtor had forged the front page of a six page real estate document set, they even forged Mrs. Sullivan's initials on the forged documents.
Even before that, Representative Sullivan obtained a new mortgage on property that he was co owner on, the other owner, Mrs. Sullivan, was completely unaware of the new debt even though state law requires all parties on a deed to receive notice before someone takes a lien on their property. With Representative Sullivan's propensity to forge Mrs. Sullivan's signature as past actions have shown, there was more than enough concern to investigate the forged real estate documents.
Also part of the case was the attempt by Representative Dan Sullivan and his new wife to borrow money for a new home using Mrs Sullivan's credit. They went so far as to run Mrs. Sullivan's credit for a new home loan for a house she would never live in!
Here are the statutes that the police investigator thought were violated. These are directly from the investigator:
21-1531 False Personation
21-1533.1 Identity Theft
21-1561 Forgery 1 (Cannot find a specific statute for Real Estate)
Sadly, the dilligent work of the Oklahoma Police Department investigator was for naught when the Oklahoma County District Attorney office refused to prosecute. Below is the email outlining who was responsible for quashing the investigation. The term ADA refers to Assistant District Attorney:
I spoke with the ADA about your case and I have some unfortunate news. Based on the information you gave me the other day, it is the ADA's belief that it is civil. I will complete the report as I have it now. If you find anything with Arvest, just let me know.
Investigator Steve Vassar
Oklahoma City Police Department
White Collar Crime Unit / Internet Fraud
If you don't believe that this supports Oklahoma values, call the Oklahoma County D.A. office

(405) 713-1600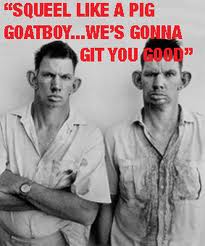 We don't actually get that many but they can be amusing when they do come in so we are going to start sharing them on occasion. In the example of letters to the editor ,we are including their names. Here is one of the outstanding ones that came in this week.
I cannot express how deeply disappointed I am with the direction your tea party has taken. I had thought it was a loose confederation of like-minded folks whose dispute was with the course our nation had taken fiscally. Now it seems that you have made it some personal vendetta against District Attorney David Prater. Is this the position of the entire tea party or just what you want to do? I know that you do not speak for me or my family in this matter.
Furthermore, did you think that no one would notice that you are seeking this attention just prior to the start of Randy Terrill's preliminary hearing for corruption in office? I don't know what shenanigans you are trying to pull but by selecting Democratic politicians to persecute while ignoring Republican ones but you only bring disrepute to the entire movement. Shame on you!
I and my family will no longer participate in any future Sooner Tea Party activities while you head this organization. When sensibility returns, then so shall we.
And our reply, albeit a bit cleaned up, where I give her a taste of her own medicine:
I cannot express how deeply disappointed I am with your not checking the facts before jumping to conclusions. The Tea Party is about saving our nation from ruin, that requires getting good government at all levels. Like many, our group started out by going to Washington D.C. in 2009 with the March on D.C. in September. There we found that we had zero impact, that if anything was to change it would have to bubble up from below. We learned the truth of the saying that all politics are local.
When we turned our attention to the Oklahoma legislature we found that many of the Republicans were slaves of the state chamber of commerce and would allow very little in the way of real legislation. Key to this are the 10th Amendment issues, getting the states back in control of the purse strings, defending our 2nd Amendment rights, and stopping the spending of Federal dollars by Oklahoma state, county, and local governments. We stop the runaway spending by stopping it here at home first.
We actually got four bills past the RINOs in the House and Senate in 2010, the Opt out of Obama Care bill, the Firearms Freedom act (a 10th Amendment bill), Open Carry, and the Anti RFID in the drivers license bill. Although we passed all four bills with veto proof margins, after the veto we saw five or six Tulsa area Republicans switch their vote to help defeat our bills. We thought we would be fighting liberal Democrats, not liberal Republicans.
Now it seems that your problem with all of this is that you are a David Prater supporter. We have seen this time and time again when we target a crooked or progressive Republican, the locals think that their guy isn't the problem even when we show them evidence of the corruption or their horrible voting record. In our world, corrupt is corrupt. Prater allegedly accepted nearly $13,000 over the allowed $5,000 donation limit per person per year, then refused to comply with the law by reporting the donation and the expenditure. That is a felony, that is corrupt politics. Even if that were the extent of the corruption it would be bad enough.
But if you read the newsletters you found Prater being forced to file charges on two of the three attorneys that were arrested in the Edmond police bribery case a few years ago. One, Samuel Kerr, grandson of the former governor Kerr, walked away scot free even though he was the one that solicited the retired officer to offer the bribe to the cop and his buddy. But the second cop was honest and turned them all in. Even after being forced by the threat of a bar complaint, Prater has drug his feet nearly three years on prosecuting the two attorneys, Welch and Ogle. Now it looks like Ogle is going to get a special plea deal using his new attorney, Derek Chance, husband of assistant D.A. Jennifer Chance, via David Prater. Remember that both Ogle and Welch were very large campaign donors to the Prater campaign in 2006.
And don't forget the two cops getting their charges dismissed for cooperating or getting a hand slap suspended sentence. This is for soliciting and accepting bribes! A drunk driver got his license restored because of this crime and he has been driving the streets. And did we ever mention that that drunk driver was an airline pilot?
And you support David Prater refusing to file charges against the former CLEET director after he allegedly brandished a gun during a road rage incident? Being arrested for assault with a deadly weapon and not being prosecuted because of his position is okay with you? Thank God that CLEET fired him over it, it might be the only justice those people ever get with Larry Birney.
And you support allowing Lewis B. Moon three years of continuances for spitting on a police officer, impersonating a police officer, drunk driving and resisting arrest? And you are okay with Moon's drinking buddy that was arrested with him, David Bedford, getting off with not being charged after being arrested?
As for the Sooner Tea Party speaking for you or your family, you are not active in the movement, you are not one of our supporters or I would recognize your name. How dare you criticize what others are doing when you refuse to stand up?
And you think we have an agenda against Democrats? That proves that you don't read our newsletters. The Democrats supported our discharge petition on HR 1004, the bill that allows all bills to get a fair up or down vote in committee. Every single one of them signed that discharge petition along with around 15 conservative Republicans. We spent all last session robo calling the 56 progressive Republicans that stood in the way of change. We spent thousands of dollars robo calling, we mailed their campaign donors to expose their voting records, we made examples out of two of them by dropping fliers on 75% of the homes in their House districts. We even voted to endorse a Democrat running for the old Boren seat.
Shame on you for your ignorance! Shame on you for supporting a crooked District Attorney! This has nothing to do with Randy Terrill, someone that we don't work with because don't agree with his police state method of running the illegals out of Oklahoma. We like the goal but not the tactics.
I am embarrassed that you call yourself Tea Party! We stand for good government, not enabling crooks. Go away if you wish, you won't be missed as you never did anything nor did you support the movement with a lick of work or monetary support.