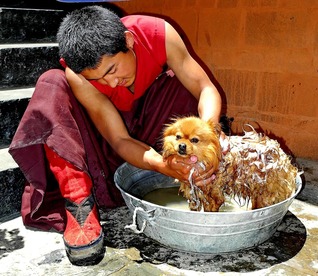 "Those who teach the most about humanity
aren't always humans." - Donald L. Hicks
==========================

============
HAPPY ♥

AUGUST

♥ BIRTHDAYS
TO EACH OF YOU PRECIOUS
SOULS BORN THIS MONTH!
==============

========================
==============

========================
After years of volunteerism at local animal
shelters and a horse rescue ranch, plus helping
my clients' pets around the world, I've done
thousands of surrogate muscle testing readings
and emotional release sessions on animals.
About HALF of all animals I've helped hold fears
of rejection in their energy systems and bodies.
This trauma negatively affects their energy,
behavior, joy, desire to participate in life and
deepen the human-animal bond. It can cause
separation anxiety and change a friendly
animal into a defensive, feral critter, such as
Rehomed, adopted and stray animals are
affected AS WELL AS animals who were
born into the homes where they STILL live.
About 20% of the animals I've done emotional
release work on have rejection trauma from
being weaned from their mothers, even if the
human caregiver waited the appropriate time
for the weaning to occur. It seems to occur

more in males than females.
Please watch this video, do the clearings on
yourself for your animal friends. If they don't
have rejection trauma, no harm will be done,
and you'll probably clear other hidden fears
you didn't know the animal had.
Bless you for your HOLISTIC caregiving!
Want to see other animal-related videos?
Contact me via my website with the exact
topics which interest you. Thank you!
THANK YOU for SHARING this info with other
folks into holistic well being methods!