Robin Long to be court martialed Friday
Robin, the first objector to be deported from Canada, will be tried this Friday for "desertion" at Fort Carson, Colorado. He faces three years in prison. Attend the trial and/or join the vigil. —>Donate to help defend Robin!
Jeremy Hinzman facing deportation
Jeremy was the first resister to apply for refugee status in Canada after arriving in January 2004. Last week he got an order to leave by September 23. —>Sign the letter, "Canada: Let Jeremy Hinzman stay!"
Skyler James resists war, harassment
Courage to Resist audio interview: An out lesbian, Skyler joined the Army at her parents urging. After a year of harassment, Skyler went AWOL prior to deployment.
Tim Richard turns against Iraq War
Courage to Resist audio interview: Tim enlisted in the Iowa National Guard in 1999. "I thought we would be doing disaster relief…" Tim now lives in Canada.
---
Robin Long to face "desertion" trial Friday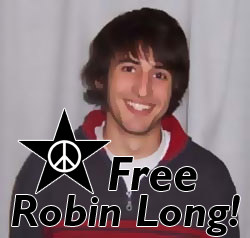 Courage to Resist. July 19, 2008
Please donate to Robin's legal defense. We are currently $1,200 short of the projected total expenses. Luckily, that is only a dozen supporters like you who might give $100 each.
Last month 25-year-old U.S. Army PFC Robin Long became the first war resister since the Vietnam War to be forcefully deported from Canadian soil and handed over to military authorities. Robin is currently being held in the El Paso County Jail, near Colorado Springs, Colorado, awaiting a military court martial for resisting the unjust and illegal war against and occupation of Iraq.
Robin will be court martialed on Friday for desertion "with intent to remain away permanently"—Article 85 of the Uniform Code of Military Justice. The maximum allowable penalty for a guilty verdict on this charge is three years confinement, forfeiture of pay, and a dishonorable discharge from the Army. If convicted, Robin is expected to be transferred to the Army's stockade at Fort Sill, Oklahoma.
At 19, the Boise, Idaho native joined the Army on the promise that he would not be deployed to Iraq. However, in April 2005 Robin was ordered to Fort Carson in preparation for deployment to Iraq. Robin recounted, "My superiors were telling me; 'You're going to the desert to fight rag heads'. It wasn't like I was going to Iraq to liberate the people." After his Army "battle buddy" didn't report for deployment by leaving for Canada, Robin also went AWOL and hitchhiked to Canada, eventually settling down with help of the War Resisters Support Campaign.
Send a letter to Robin
Robin Long, CJC
2739 East Las Vegas
Colorado Springs CO 80906
Check couragetoresist.org for updates on Robin's case
---
Hinzman family faces Canada deportation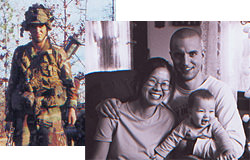 U.S. Iraq War resister Jeremy Hinzman and his wife and two children have been ordered to leave Canada by September 23rd.
In spite of Hinzman's four and a half years living, working and raising a family in Canada, the Harper government plans to deport him to the United States where he will likely face a court martial and a potential military jail sentence and felony conviction. This flies in the face of democracy and the will of Canadians: Parliament passed a motion in support of war resisters June 3rd, 82% of Canadians oppose the Iraq war (Strategic Counsel poll), and 64% of Canadians support war resisters (Angus Reid poll).
In July, while Courage to Resist joined Veterans for Peace to stage 14 delegations at Canadian consulates across the U.S., a Canadian Federal Court granted Corey Glass a last minute reprieve of at least several months while his lawyers appeal earlier negative rulings. We are hoping that another judge will do the same for Jeremy and his family.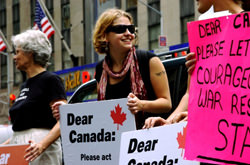 Corey's victory was related to a similar win for Iraq War vet Joshua Key. According to the Federal Court in Joshua's recent ruling, the regular abuse of Iraqi civilians at the hands of the U.S. military are systematic violations of the Geneva Conventions, and a basis for granting refugee status.
On June 3rd, Canadian Parliament made an historic vote in favor of anyone seeking refuge from fighting in the unjust and illegal occupation of Iraq. While this is an amazing victory, the motion is non-binding. The Conservative government led by Stephen Harper—a close ally of the Bush-Cheney endless war agenda—continues to move forward with deportations of war resisters.
Email and phone Minister Finley and Prime Minister Harper. Ask them to fully implement the June 3rd Parliament resolution to allow Jeremy and all war resisters to remain in Canada.
Minister of Citizenship and Immigration Diane Finley
Phone 613.996.4974; finley.d@parl.gc.ca
Prime Minister Stephen Harper
Phone 613.992.4211; pm@pm.gc.ca
War Resisters Support Campaign (Canada) contributed to this update.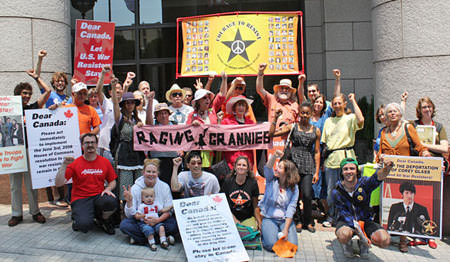 Courage to Resist rallies outside of San Francisco Canadian Consulate in support of war
resisters seeking refuge in Canada. July 9, 2008. Photo: Jeff Paterson / Courage to Resist