Dear Friend of PST,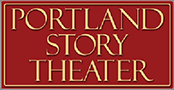 On Saturday, April 9th,

Portland Story Theater is partnering with PlayWrite, Inc. to create an Urban Tellers® show that will give voice to some real, true stories from a new perspective. Drawn from PlayWrite's new Youth Leadership Team, a group of program graduates and one PlayWrite coach have been invited to share their personal stories.
Jazz provided by Bamberger, Engel, Hines and Eave with special guest, tenor saxaphonist Dan Andreasen. This program is made possible through generous support from SAGE and the Regional Arts and Culture Council. Join us as we embark on a new path for Portland Story Theater.
Lawrence, Lynne, and Penny